Warning: this is longer than the Oscars, so feel free to fast forward to the good parts. These posts actually came about when people asked how we organize all the stuff we have on our to-do list. We explained that we basically just have one long run-on document, and when folks kept asking us to share it (and update it as we went along), it sounded like our idea of a good time. And it's high time that we actually updated it considering it has been ten months since we last shared it! Yowsa.
In an attempt to keep our eyes from crossing when we read it, we separated what we've done in each room from what we'd still like to do (so we have an active list and a wahoo-it's-done list) and there's an estimated percentage up near the title of each area to indicate how complete it is.
Ok, let's do this.
-The Front Yard (40% complete)-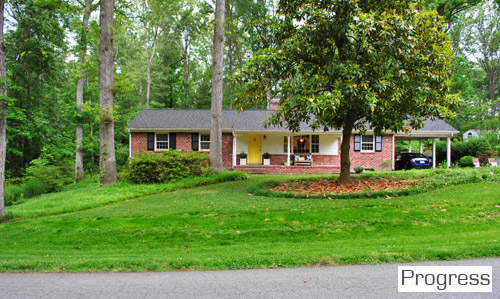 Done:
To Do:
we still have a lot of things to transplant/plant/trim/figure out (we tackled three of about ten garden beds out there)
-The Front Porch/House Facade (35% complete)-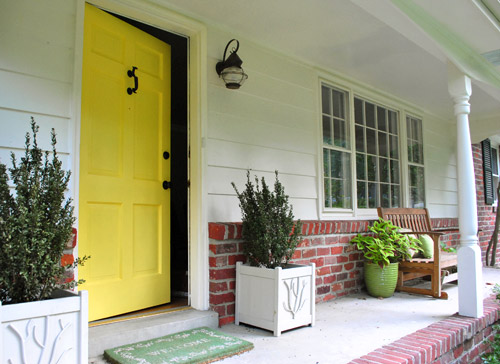 Done:
To Do:
frame out the porch columns so they're chunky and square instead of ornate and curvy
stain the concrete porch floor to gussy it up
add window boxes around the house
add shutters on the side and back windows (they're only on the front)
-The Carport/Garage (5% complete)-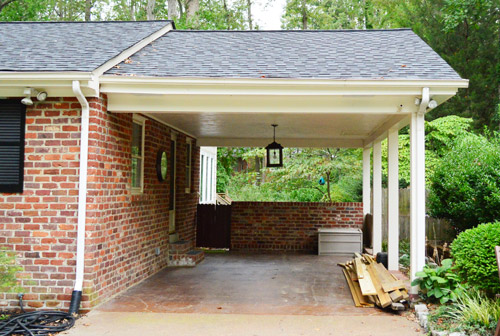 Done:
To Do:
we originally wanted to convert this into a garage, but now we're leaning towards beefing up the columns and adding a trellis arch around the front so it's all lush and pretty like a carport with a pergola instead of being closed in and dark like a garage (we'd lose some light from two windows into the laundry room and office if we closed it in). Maybe something like this (but with a covered top and a pergola out front along with beefier columns)?
-The Living Room (85% complete)-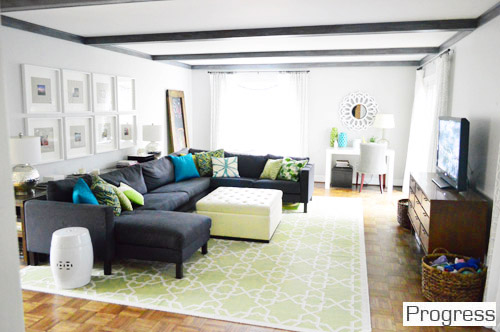 Done:
To Do:
add some overhead lighting since there's none (a pendant centered over the table near the back window and some can lights maybe?)
turn the fireplace in the kitchen into a double-sided fireplace that also opens up into the living room
refinish the floors down the line
-The Office (85% complete)-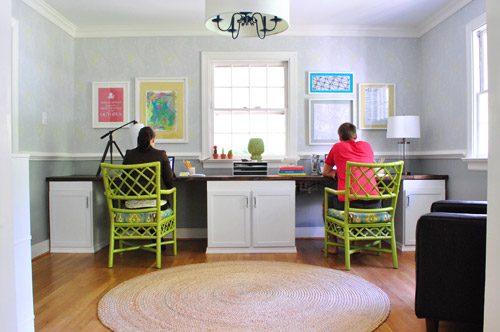 Done:
To Do:
add some window treatments? maybe bamboo blinds for some texture?
we've always dreamed of adding french doors between the dining room and office (for privacy and architecture)
we'd love to refinish the floors eventually
-The Hall Bathroom (100% complete)-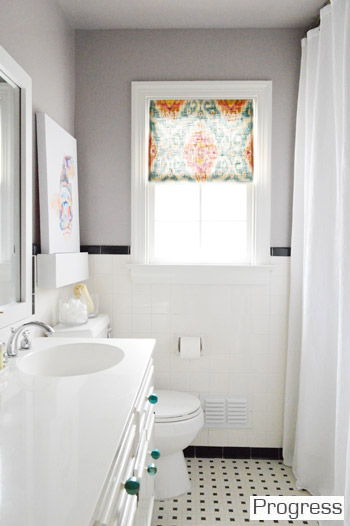 Done:
To Do:
-The Big Hallway (90% complete)-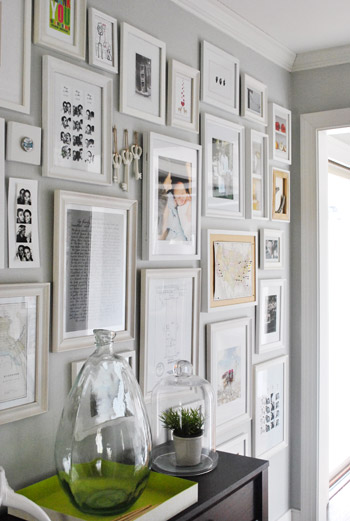 Done:
we're really happy with our frame collage and the console table that lives in there, so we're not planning anything major
To Do:
laying a fun patterned runner down on the floors would be nice
we'd also like to eventually refinish the floors
-The Small Hallway (5% complete… at least until tomorrow's big reveal!)-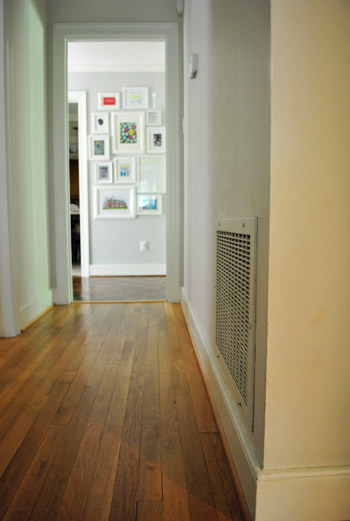 Done:
spray painted the old door knobs for all the rooms off of the hallway in an oil-rubbed bronze finish (update: they're still holding up great!)
To Do:
add board & batten
paint the walls
add crown molding
hang art
switch out the old light and ancient gold and gaudy doorbell chime on the wall
refinish the floors someday
-The Dining Room (95% complete)-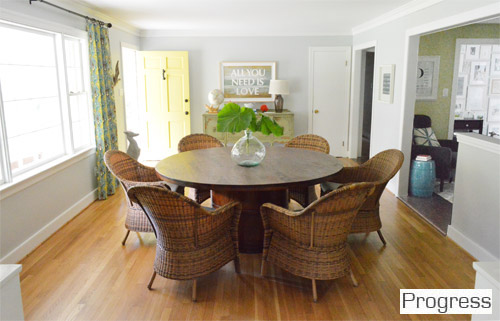 Done:
To Do:
build a giant lazy susan for the middle of the table, so it's awesomely functional when we host dinners (sometimes stuff in the middle is hard to reach)
eventually refinish the floors
-The Laundry Room (98% complete)-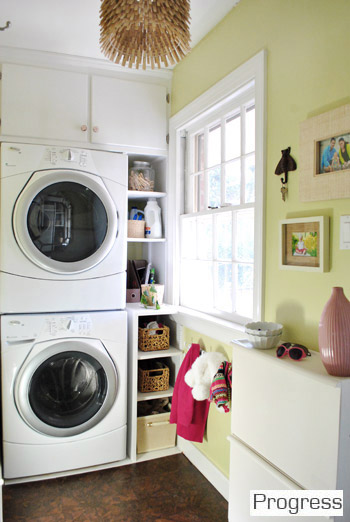 Done:
To Do:
Possibly add a window treatment (woot! this baby is one of the furthest along, maybe because it's only 3.5′ wide? haha)
-The Kitchen (85% complete)-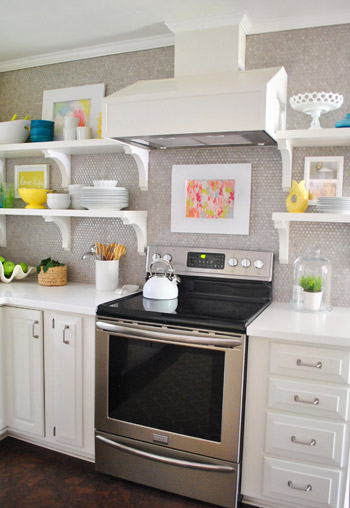 Done:
To Do:
add something to the back of the peninsula (trim, etc) to finish it off
possibly add a message board to the side of the pantry? (no chalk since we walk through there and don't want dust on our clothes if we brush against it)
add trim to the top of the cabinets (we tried this once and didn't like it, but we keep wondering if we should give it another go)
repaint the walls??? (this is a big wild card that we go back and forth on, so we'll have to see where we end up)
eventually reface the fireplace to have a chunky wrap-around wood mantel and a pretty stone/tile surround and hearth
-The Playroom/Big Girl Room (75% complete)-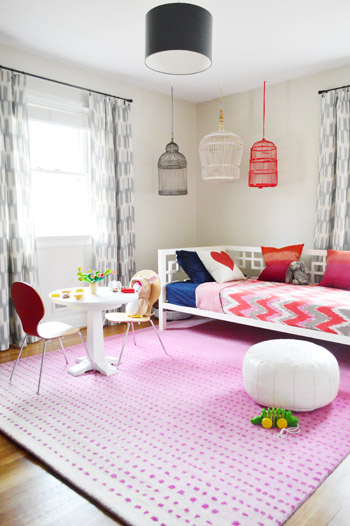 Done:
finally cleared out all the clutter thanks to a yard sale, a charity book project auction, and some good old fashioned Goodwill donations
painted the walls
made and hung curtains
got a rug
brought in a kid-sized table and two chairs for coloring & tea parties (we painted the backs of them red)
got a secondhand dresser with nine drawers for some pretty awesome storage
switched out the old ceiling fan for a pendant light
made a frame collage full of meaningful Clara-objects
hung three big birdcages on the wall to make an off-centered window feel more balanced
got all the storage out of the closet so Clara can use it
got a mattress pad & new sheets for the daybed & added more personalized art & toy baskets (more on that here)
To Do:
paint the ceiling
add crown molding
paint or refinish the dresser
refinish the floors down the line
-Nursery (90% complete)-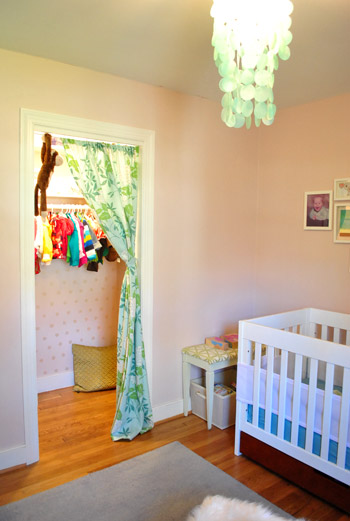 Done:
painted the walls
hung curtains
moved in all of her existing furniture
hung art and added baskets/toys
replaced the light fixture with Clara's capiz chandelier (the only light we brought with us from our first house since it was so sentimental)
built a play kitchen & play fridge for Clara
redid the closet by stamping the walls and sewing a beanbag to create a little reading nook
To Do:
hang more art on some of the bare walls
add crown molding
eventually refinish the floors
we're sure things will completely evolve in here if a future baby ends up using it as their nursery and Clara moves into her big girl room (but nope, I'm not pregnant)
-The Sunroom (60% complete)-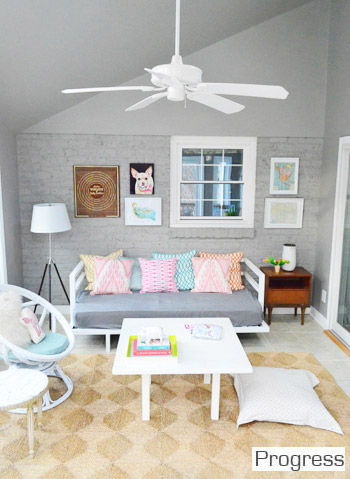 Done:
To Do:
furnish a few still-bare corners
add some window treatments?
eventually replace the flooring (the old beige tiles just aren't our favorite)
-Our Bedroom (80% complete)-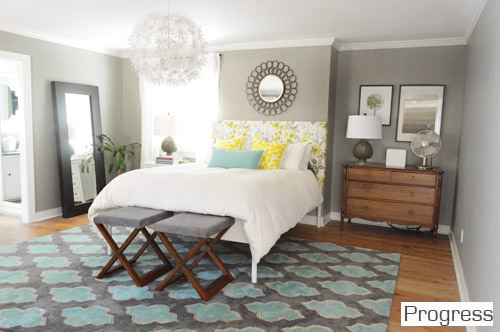 Done:
To Do:
possibly convert the window that looks out onto the deck into a french door someday?
possibly tile the entire back wall of the sink nook with something dreamy and gleaming (it's a small space so it won't cost much)
eventually refinish the floors
-Our Bathroom (75% complete)-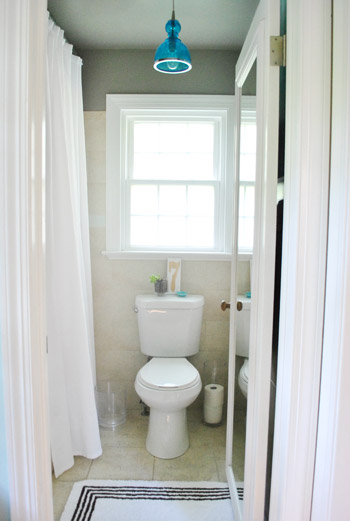 Done:
To Do:
in Phase Two we'd like to retile the floor (maybe with gray hex tiles) and possibly reglaze the beige wall tile so it's bright white (or add beadboard over it?)
-The Guest Bedroom (70% complete)-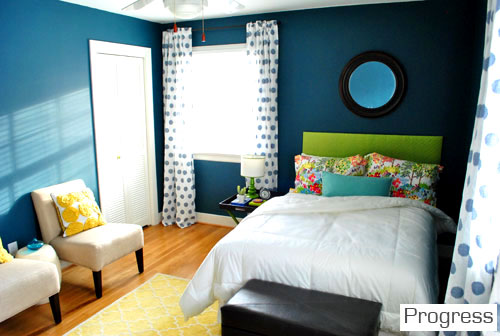 Done:
primed and painted the walls (we use a primer when we're going light to dark or dark to light with walls)
furnished it (mostly with leftover stuff from other rooms)
To Do:
hang art on those bare walls
add crown molding
paint the round mirror so it pops more (or replace it with something larger since it's a little small)
replace some of the older just-using-what-we-have furnishings (like our scratched six year old Ikea dresser that has seen better days)
eventually refinish the floors
-The Guest Bathroom (10% complete)-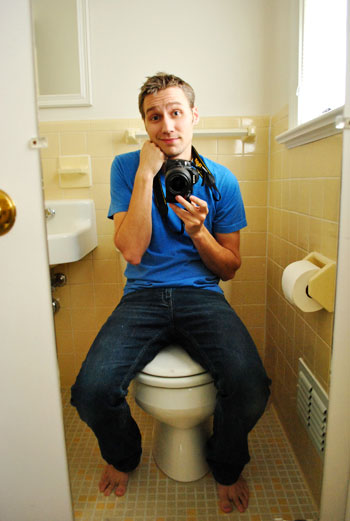 Done:
To Do:
paint the walls
possibly replace some of the tile (not sure what we want to work with and what we want to upgrade so that's TBD)
get a glass shower door instead of a weird cubby hole with a curtain
frost the window for privacy
hang more art on all the bare walls
-The Basement Workshop (85% complete)-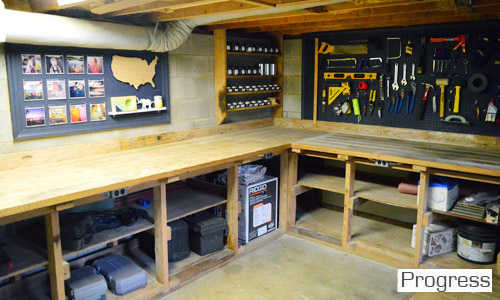 Done:
To Do:
paint the back door that leads to the basement
stain the floors and the wood counters?
-The Side Lot (10% complete)-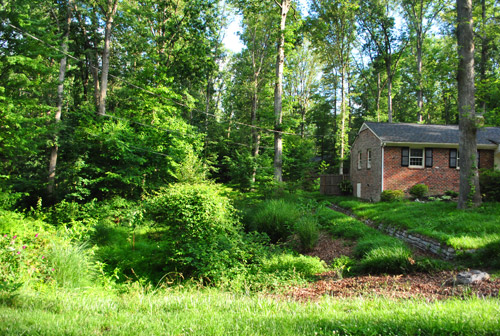 Done:
To Do:
Plant a bunch more trees (we want to naturalize it and make it sort of an orchard – now it's just a weed-and-leaf-fest)
-The Deck (80% complete)-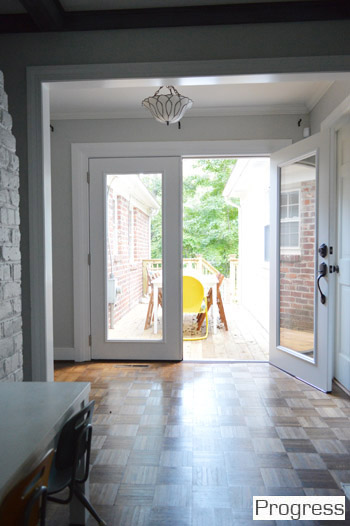 Done:
To Do:
stain/seal the deck (at which point we'll finally be "done" with the build, and will share a very belated budget breakdown)
swag some big bulb string lights over the deck
hide the utility box with paint or by building it out with a little cabinet
add greenery in the form of some plantings around the deck to screen the side of the steps and the AC unit
-The Patio (85% complete)-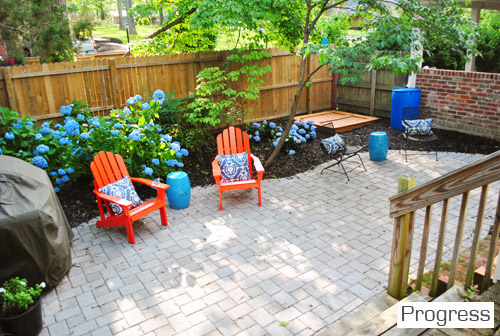 Done:
To Do:
continue to furnish the patio (other than two adirondack chairs, it's all just old furniture that the last owners left behind)
possibly add some lighting (string lights around fence or from trees?)
-The Backyard (90% complete)-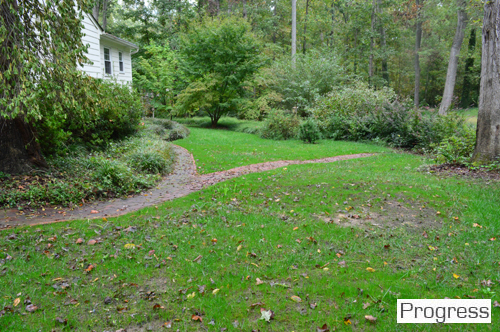 Done:
To Do:
remove the ivy growing up/chocking some of the large trees
plant some trees in the way back to naturalize that for more privacy (we'd love a nice grassy yard with a big woodsy forest behind that)
add raised bed gardens for vegetables, fruits, and herbs (we've been looking for a sunny spot for them, which is tough since most of our lot is shaded)
build Clara a swingset? (there's a public playground nearby so we're not sure about one at home too)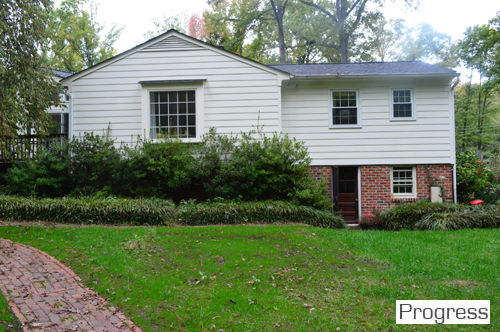 In summary, it's amazing to look back at all the done bullets and reminisce… but we still have a lot on the ol' to-do list as usual! Thankfully we've learned to just try to enjoy the journey and take things one day/project/victory at a time. And seriously, is there anything more fun than crossing things off? As for the method to our "project order," we don't really think there is one. We just do whatever we're in the mood for (barring anything that needs to be moved to the top of the list for safety or other extreme-urgency reasons). And we jump around from room to room just to stay excited and to avoid feeling too forced into doing something that we might not be ready to deal with yet.
We like to keep the bigger projects that we want to save up for in the back of our mind for a while (until we're feeling more sure about our approach so there's no shoulda-woulda-coulda going on later). Thinking about those long term/bigger projects keeps us excited to squirrel away as much loot as we can to make them a reality down the road. And seeing all the crossed off smaller items reminds us that bite-sized undertakings can really keep you motivated. After a big project, sometimes we're happy to take a breather and tackle the little stuff for a while. And other times we're psyched to keep our momentum up and start planning the next big project right away.
As of this very moment, we're thinking that we'd love to tackle these guys next:
adding crown molding to the three bedrooms without it
boxing in the porch columns
redoing the carport
renovating the untouched guest bathroom
So those are "on deck" when it comes to our to-do list. But enough about us, how do you make your house to-do lists? Do you keep them on your phone? On post-its? On a big online document? Handwritten in a notebook? How do you decide what to tackle next? Is there any method at all to your madness?