The wall is down (more here). Drywall is up (more here). Time for trim.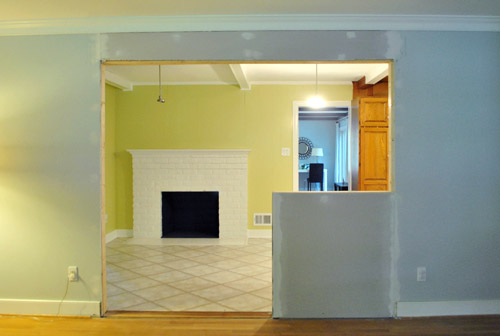 I actually kinda enjoy doing trim. Despite it requiring lots of focus and attention to detail, it's very satisfying to see all of those rough edges turn into crisp white borders. But before I could get to trim, I actually had to take care of the ledge on our half wall and the door jambs first.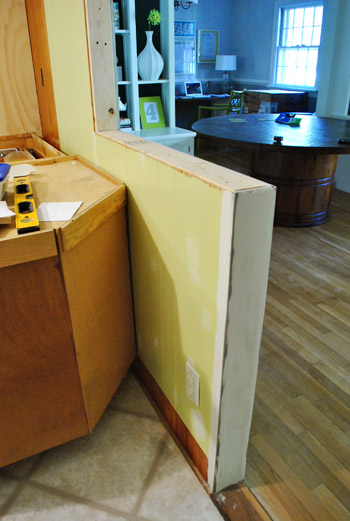 Our neighbors recently had a similar wall opening project done in their house (these guys), and we really liked how they treated their half-walls with a wood platform on top and trim beneath to dress it up a bit. It looks really finished and balanced and is also a great place to set stuff out when entertaining (like a few small dishes of nuts or candy or some pre poured drinks). So we bought this basic plank of pine that's eight inches wide and four feet long to use for the top ledge.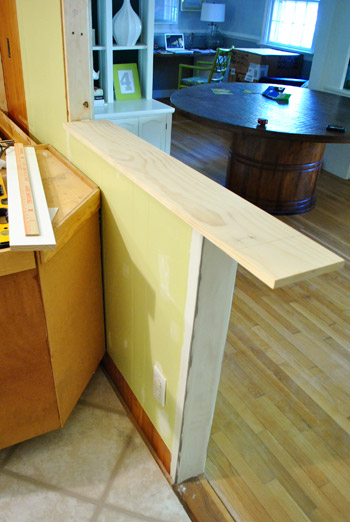 Obviously it needs to fit a bit better than that. On one end we just sliced it a bit shorter, but on the other we actually wanted to notch it over the wall so in the end it would have the same amount of overhang on each side (we had to factor in that it would have to extend beyond the trim on the inside angle, so it'll look crazy long until we add that a bit further down the page). So we both measured and marked the wood (twice, to avoid any weird little mistakes)…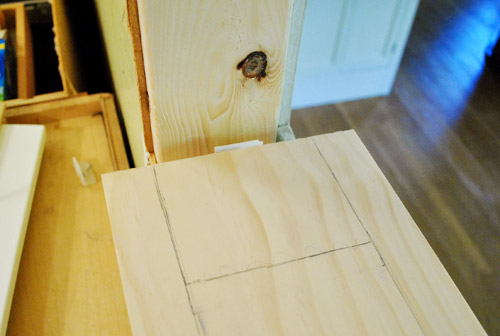 …and I ran outside to make the cuts in our driveway (using a jigsaw to cut the notch and a miter saw to get a straight edge on the other end).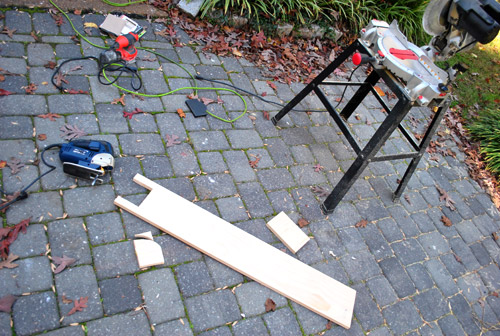 Before installing it, I also sanded down all of the edges to make them a bit softer. No one wants to slice their arm on a sharp corner walking through our new opening now do they?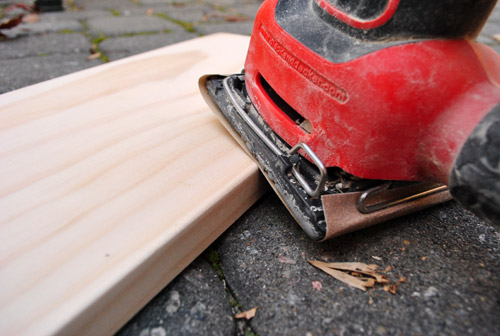 Fit-wise, we got lucky. Perfect on the first try. This was either a very good omen for the rest of my trim cutting, or a sign that it can only go downhill from here. See how it looks oddly long here? That's just because there's no trim on either side, which will end with just a slight overhang of the ledge under it to ground it like many of the windows in our house.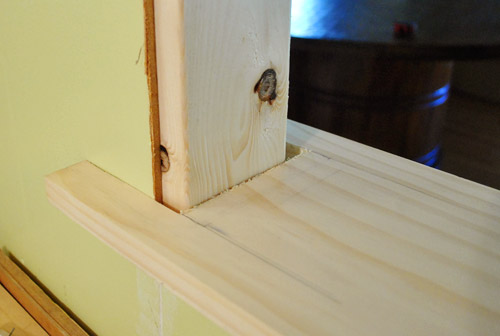 With a couple of nails on either end, we hammered that guy right into the frame and it was set (we'll eventually prime and paint it white like the trim). Then we could begin to set the door jamb in on top of it.
Fortunately our doorway was a standard jamb width of 4 5/8″ so I could rely on this pre-packaged door jamb kit they sell at Lowe's for about $18. Well, not completely. It was meant for a normal-sized doorway (aka a 3ft opening) so I had to buy another $6 side piece to help extend my top jamb.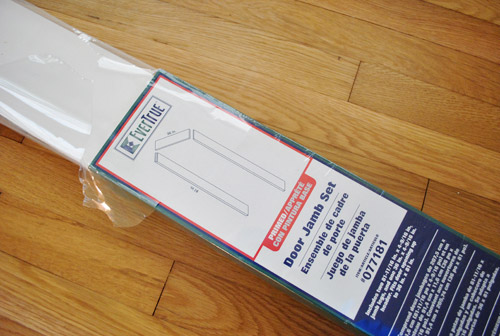 The reason you install a jamb over the wood that frames the opening is because the jamb is wider so it covers the sides of the drywall and paneling so that once the trim is added the entire opening is seamless and sealed (so you can't peer beyond the wood framing piece from the side and see the side of the drywall).
The instructions said to assemble the jamb first and then lean it into the doorway as one piece. That didn't seem very practical given our unique situation (aka: our uniquely sized opening), so we hung each jamb piece separately and it worked out really well. I cut the short side of the doorway first then together we held it in place and nailed it in with some finishing nails.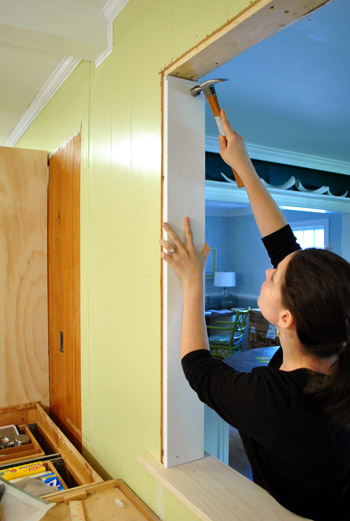 Then we slid in the short side of the top jamb and hammered again. It was finally starting to look kinda like a doorway. And trim would definitely seal the deal.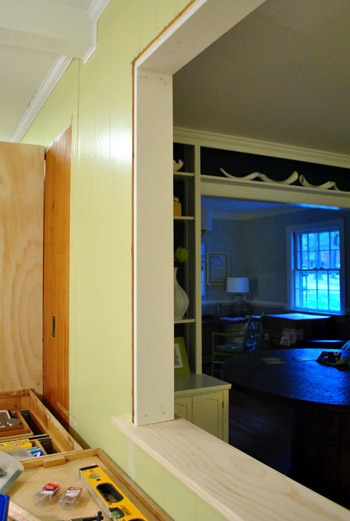 Here's where we had to line up the two pieces of the top jamb. Ideally we'd love to have one piece, but we couldn't find a 92″ piece. Fortunately caulk and paint will make this look pretty darn seamless. Especially since I took a minute to sink every finishing nail's head into the jamb with a nail punch (it's a cheap little manual tool explained more here).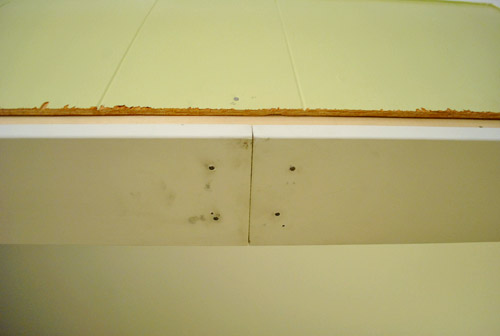 With the top on and the other side hammered in place, the jamb was officially done. So with that and the ledge checked off of our list, we could officially turn our attention to the trim.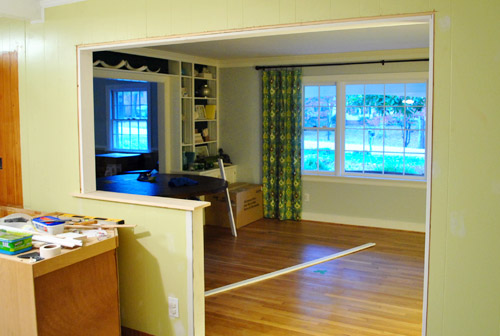 I'm not gonna go into crazy step-by-step trim installation here (you can read all about that when we re-trimmed our old bathroom). As usual it involved lots of measuring, cutting it on an angle with my miter saw, and hammering it carefully into place (using a nail punch to manually sink the finish nails to keep the trim ding-proof). This happened on all three sides of the doorway, in both the kitchen and dining room sides of the opening.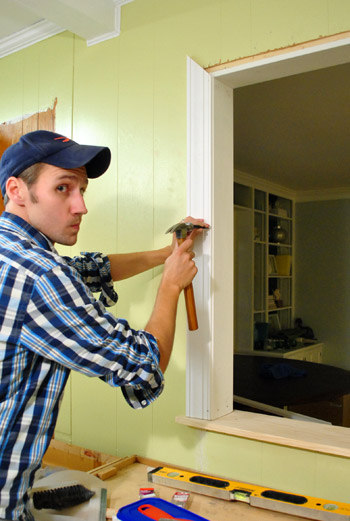 We also added some slightly smaller trim under the ledge to beef it up a little bit because:
we had seen our neighbors treat their half-walls this way and liked how it looked
the big picture window in the dining room along with many other windows in our house are treated the same way (with a ledge on the bottom that's grounded by some slightly smaller trim)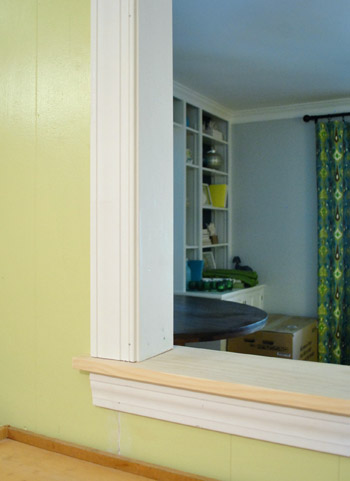 In addition to installing trim around both sides of the doorway, we also had to reinstall a bunch of baseboard that had to come out during demo. Fortunately enough of it was intact enough that I didn't have to buy anything new. Some the paint got scraped off during the removal and rehanging process, but once everything is caulked and painted again no one should be the wiser.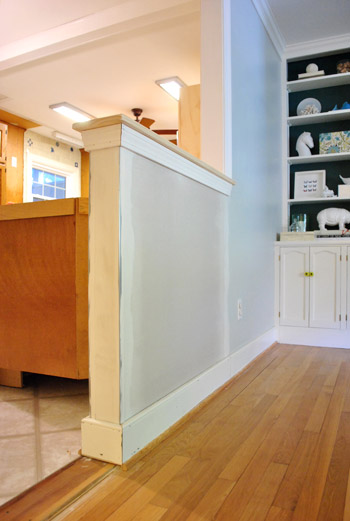 Some of this baseboard and quarter round may have to come up again when we do the floor, so we left some of it unfinished (like the quarter round where the transition will go after it's added). But we tried to complete most of it so that it looks as polished as possible during our construction phase (which will last the next couple of months).
So here's the room from both sides with the finished trim. Definitely looking more doorway-like, eh? Remember we'll be painting the wood ledge white like the trim so it's more integrated.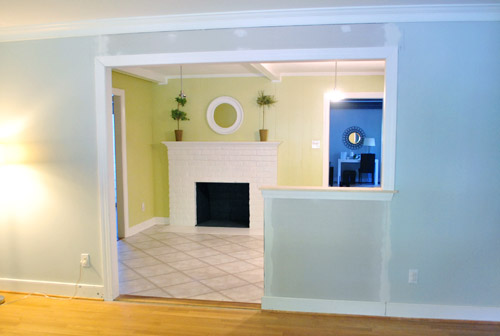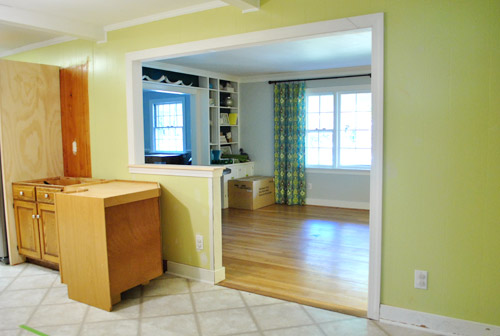 Now to make it look a bit more like a kitchen and dining room, we've moved furniture back in! Although the chairs in the kitchen are just placeholders (we'll get some counter-height stools that are a bit lighter looking – maybe even acrylic or something to keep things from feeling too heavy or wood-riddled). So excuse the chaos and busyness of things that are out of place and soon-to-be changed (it's a lot crazier and busier than it'll look in the end).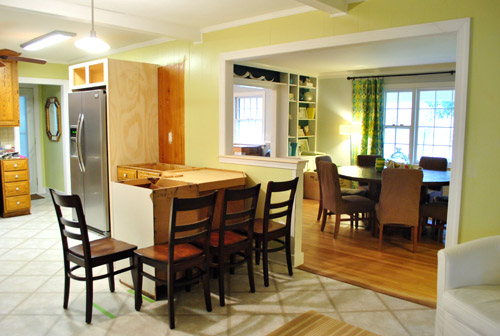 Of course there are still missing counters, walls, and trim that need to be painted, kitchen cabinets that need to be painted, and we have a million other kitchen updates to do (lighting, flooring, backsplash, yadda yadda yadda).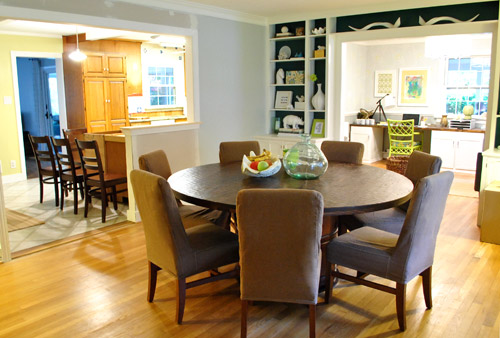 You might also notice that we acquired our last cabinet for the peninsula. Woot. See him there on the end? Guess how much it cost? Rhymes with "dero zollars."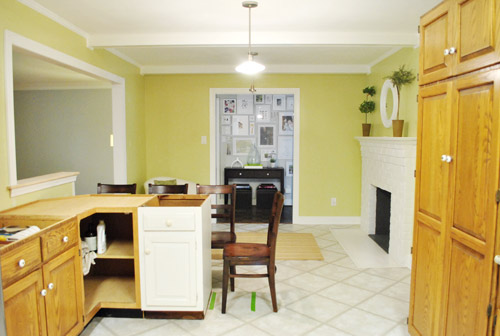 It's from the ReStore, and no we didn't steal it. When I told the guy I was looking for an 18″ base cabinet, he said they had one out back I could have for free. Apparently the donor left them outside where they endured a light rainstorm before the ReStore noticed them. So even though they hadn't gotten damaged, it was against their policy to sell them. So why not take it home and give it a try? We gave it a couple of days in the carport/sunroom to ensure that it had aired out and wasn't damp or anything. Then we looked it over and it checked out a-okay (no water damage/mold, etc). And the bonus? It's the closest match to our existing cabinet doors and drawers that we've seen (the doors and drawer are beveled so they're half-sunk, making them the same thickness as all of our half-sunk doors and drawers).
Oh and see the tape lines in the pic above? The first one marked where the peninsula would end and the second one marks where the 12″ counter overhang will end- so we can try to picture it as the rest of the room comes together.
Here are a few more shots to show you how much the opening is a game-changer around here. Even with full chaos going on, it's such a difference. It's so nice to have more daylight in the kitchen thanks to the opening. And once we paint the cabinets and install our new white counters it'll be even lighter in there (with mocha cork floors to ground things).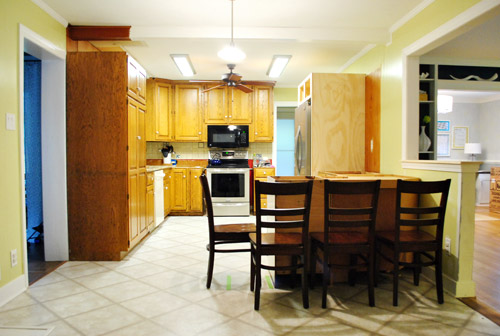 Here's a shot through the opening now that there's trim and the table is back and we re-hung the curtains. We love how the opening lines up so well with our big picture window in there.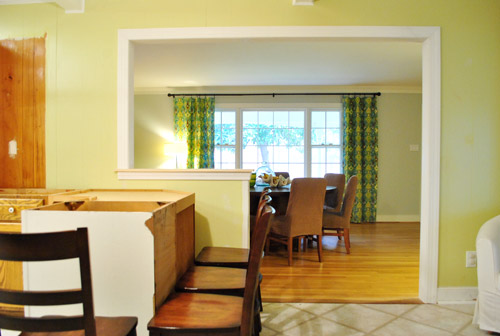 Here's the other direction. Now we can enjoy the fireplace from the dining room.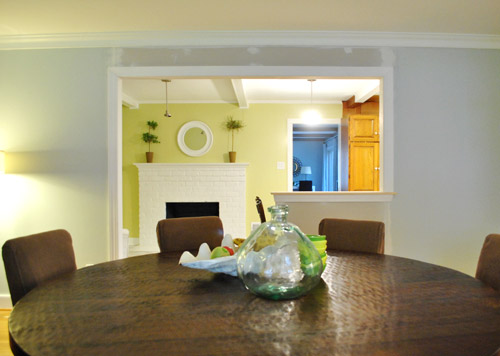 Here's another shot looking past the dining room into the office. Ignore the abundance of odd items on the dining table (a faux clam fruit bowl, a stack of serving bowls, and a big clear vase) and the big box and floor lamp near the curtains on the right (they're not permanent of course – just need to add a big chandelier over the table and install the new dishwasher in the box). So it looks crazier than it eventually will when things are settled.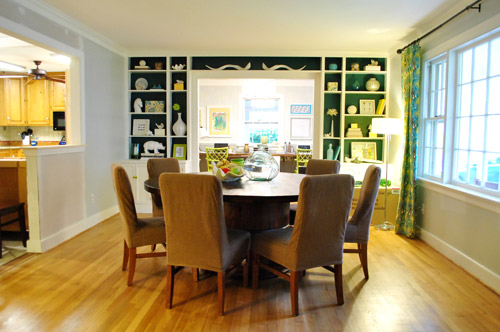 Here's that room from the other direction (still need to add a big buffet with some large art over it and a nice sized rug to anchor the entryway area (among other things).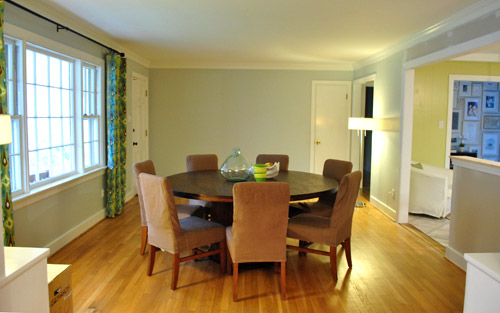 One of the coolest "bonus views" that we gained was the peekaboo into the hallway frame wall all the way from the office. It's so nice to see the sunny avocado kitchen framing the view.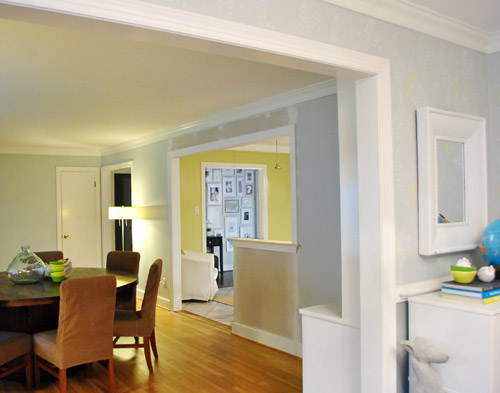 We sadly didn't manage to get any photos of Burger running through the new doorway (the little guy was a blur), but here's Clara loving the new route.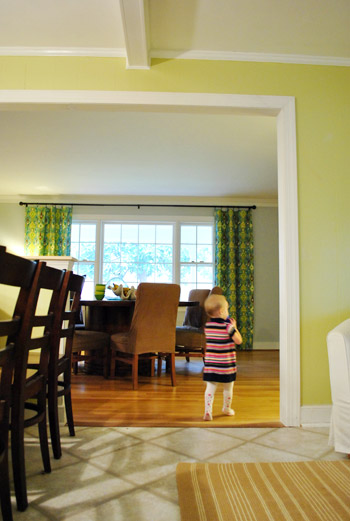 She's such a quick adapter. She just sees something new, smiles, and tries it out. A day later it's old hat. Like it's always been there. Although we'd argue that it should have always been there anyway. Burger is completely used to the new flow too. He cuts through there all the time.
Oh and since we always love taking a look back, here are some older shots from similar angles to some of the ones above taken right after we moved in last December: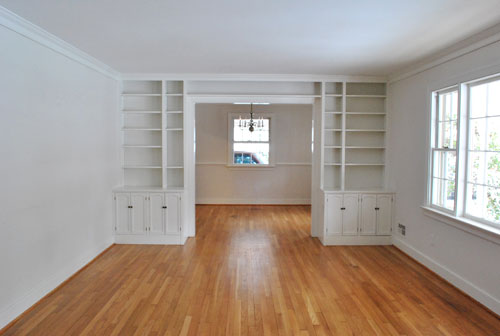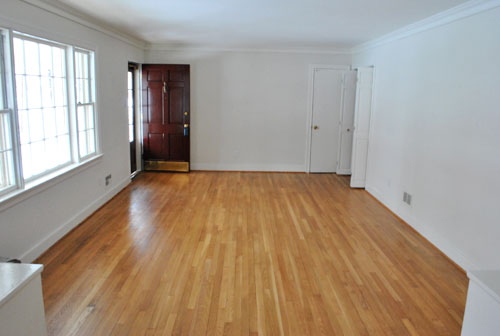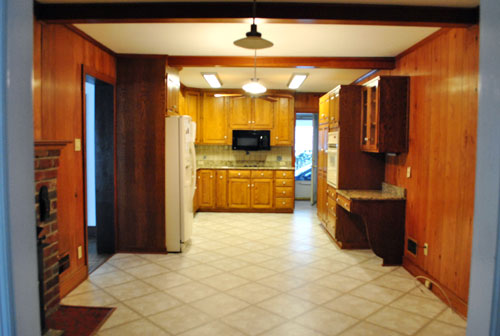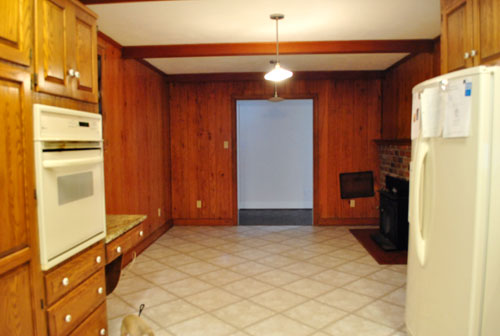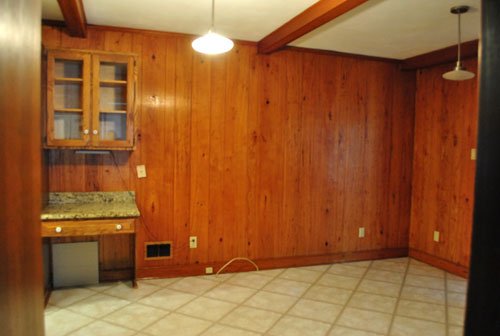 What a difference eleven months can make, huh? Still have lots to do, but it's getting there one day at a time.
Oh and when it comes to costs, finishing the entire opening ourselves was $90 (that includes doing drywall, adding door jambs and the ledge, and adding trim on both sides of the opening). It would have been $250 to pay the contractor to do that stuff, so we're thrilled that we could take it from here…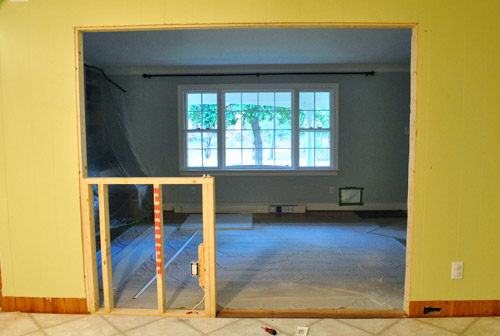 … and save 160 big ones.
What did you guys do this weekend? Any other door jam, ledge, and trim stuff going on? Any standing around and gazing lovingly at a new doorway? There was a fair amount of that going on here.