Hope you guys all had an awesome holiday weekend. We had some fun with our family (more on that later in the week) and are still sort of building up the ol' momentum again (after our big paneling project from last week) – but we did manage to squeeze in a tiny porch upgrade. See, when we were house hunting in the late fall of last year we snapped these two terrible shots of the porch: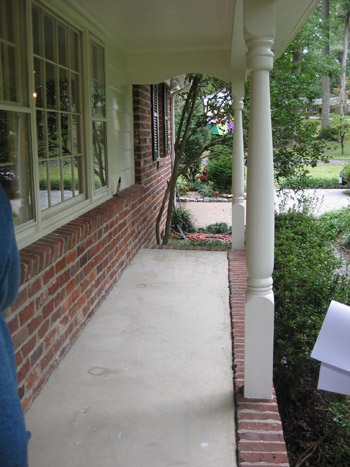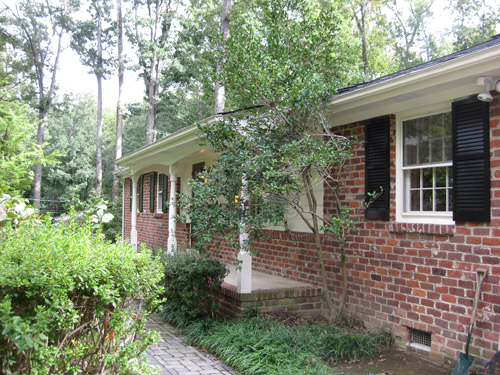 Then on moving day we plopped down the wooden bench (from Home Depot a few years back) which used to live on our first house's front porch… and that was the extent of the update. Blah.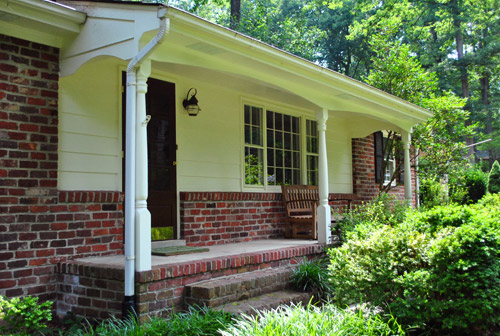 Pretty bleak huh? It's ok, you can yawn. We're right there with you.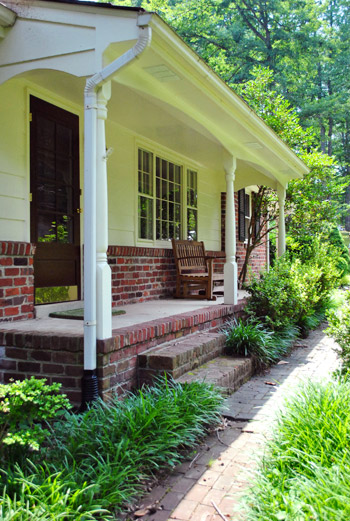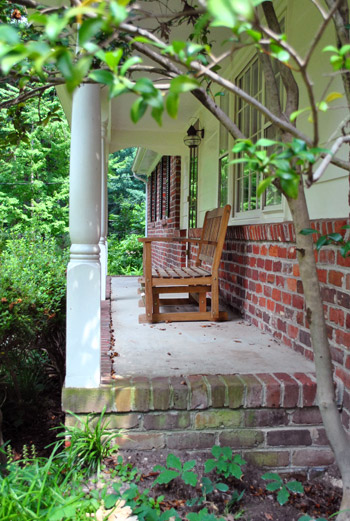 So we decided after more than a half a year of living here it was high time we brought all of our old planters out of the workshop/basement and actually used them again. Most insane part of the story: there was a hosta that was still alive and growing inside of a sealed tupperware bin in the sunless basement amongst all of our planters (we moved them by stacking them all into a large tupperware bin that we tossed into the basement in December and didn't even open until last week). Mr. Hosta is pretty darn hardy, eh? Anyway we hosed down the old outdoor pillows and planters to shake off the cobwebs and dirt (btw, all of them are from Home Depot – although I painted those square planters a while back which used to be wood toned).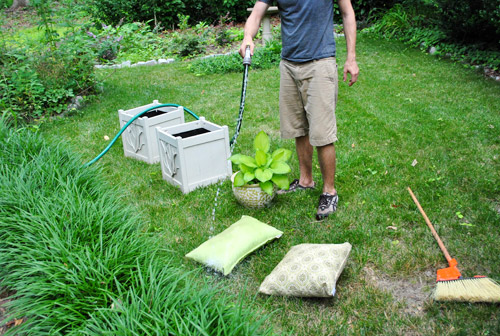 Since John had the hose out we even filled the bird feeder in the back. While joking that it looked like he was relieving himself. Yes, we're tweens.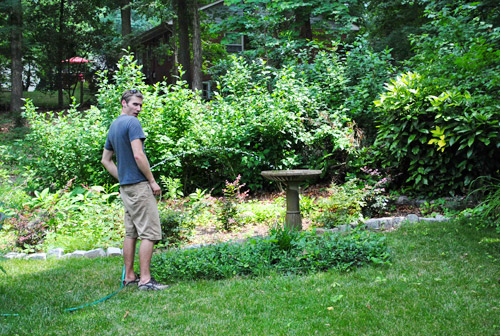 Then we ran over to Home Depot and grabbed a few potted plants/shrubs and plopped them into our already-owned pots that we (finally) set out on the porch. Here's a coleous that we grabbed for $6. They always remind me of my mom because they're one of her favorites too. We're suckers for those high contrast leaves.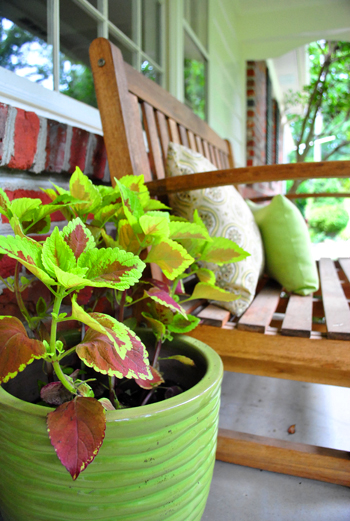 On the other side we have our already-owned little miracle (Mr. Hosta) and a feathery little $5 plant with purple flowers (don't remember the name but it's a shade-loving annual).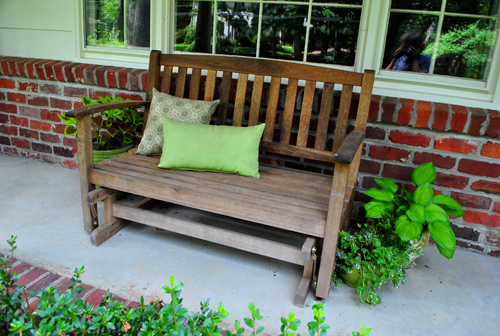 For either side of the door we got some hardy evergreen shrubs (can't find the tag with the name on them- boo) that should only grow to be around three feet tall and 16″ wide (so we hope they can live in those planters for the long-haul). But if they get too big we'll just transplant 'em and try something else. Maybe even something seasonal like mums in the fall and brightly flowering annuals for the spring/summer.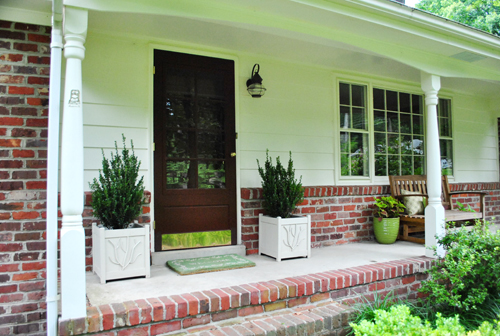 It's definitely not a dramatic overhaul but it's a sweet little pick-me-up until we can get to the larger porch projects that we'd like to tackle down the road. Like removing the scalloped header above the porch, framing out the columns so they're chunky and square, transplanting the too-large bushes that crowd the walkway…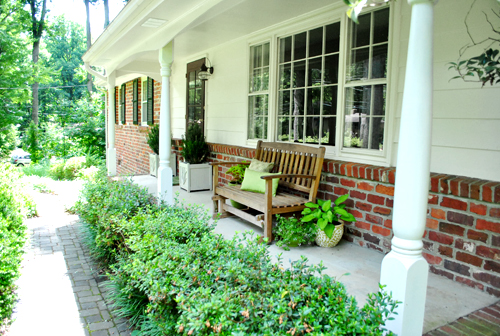 … replacing the dinky porch light with an oversized lantern-like guy (and possibly getting another one wired on the other side of the door for symmetry), and of course painting that bland front door of ours – along with updating the hardware and possibly staining the concrete porch floor.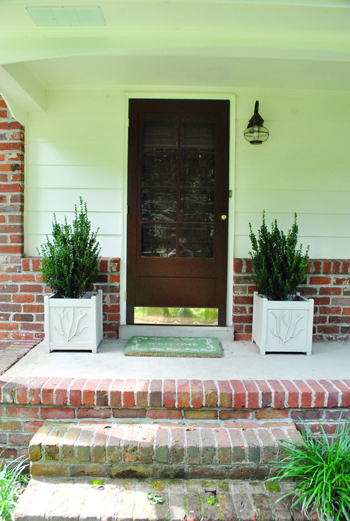 Oh and our old welcome mat from Target (which has to be at least a few years old now) still looks pretty good. Probably because we didn't use the front door to get into our first house (we went through the sunroom) and we don't use it at this house either (we go through the side door in the carport).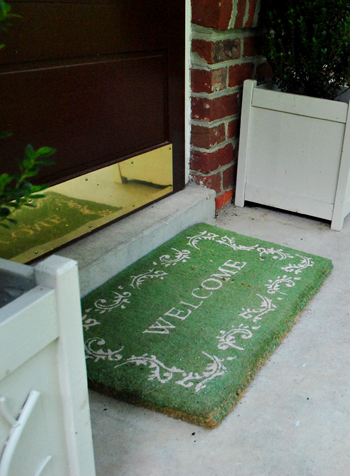 So although there's a lot more on the porch agenda, we're glad that we added a little life in the meantime. The whole planter rinse-down & plant run project took about two hours total. Now we just have to remember to water these guys (which should be 100% free thanks to our trusty rain barrel).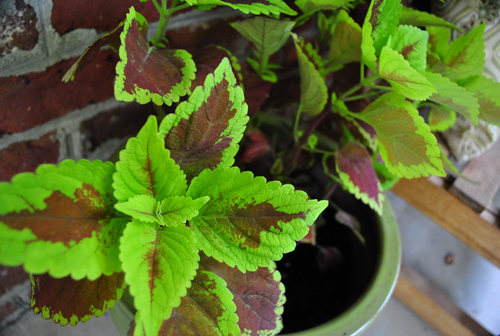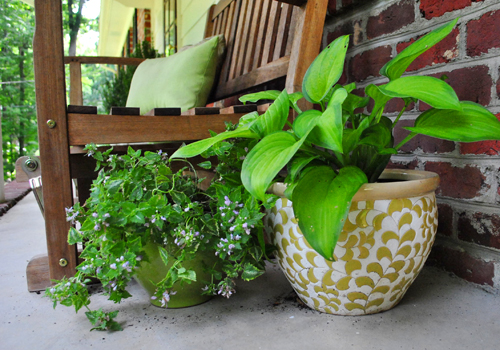 Of course when it comes to long term curb appeal plans, we'd love to be able to actually see the porch from the front of our driveway. Since right now the view is obscured by five million bushes and shrubs (even though I limbed up the ol' magnolia a while back). Yes, "jungle-esque" is an appropriate adjective for our yard.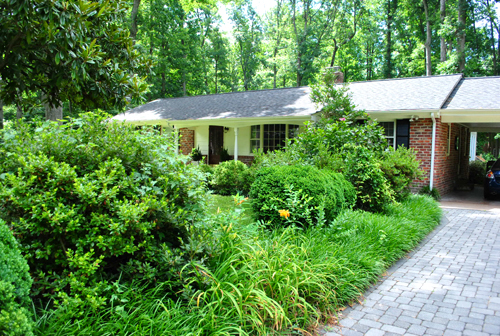 And of course we have big plans to turn the carport into an enclosed garage once we can pin down exactly what we want when it comes to doors and windows and all those still-to-be-decided details. Sigh. Someday. Has anyone else out there done any porch sprucing lately? Do you guys all use some other entrance than the front door to get into your house? Any other insane hosta stories of survival?
Psst- Clara painted us a masterpiece and we excitedly added it to our hallway frame wall. More on that over on BabyCenter. So proud of our little Picasso.