When it comes to our jungle-esque backyard, we last left off with transplanting/digging up one giant 15′ garden bed and leveling it all off in the hopes of growing some lush green grass. And we're back with a little backyard update (why yes we did spend the weekend getting muddy and why no, I still don't have Madonna arms, but maybe a third day of bush whacking will be the charm?). Much like any other "room" in the house, it's definitely a do-it-in-phases thing, especially since it's such a you'll-be-sore-after-each-phase process, but there's something awesome about digging around in the yard for a few hours while the bean naps and Burger sleeps lazily in the windowsill (slash "Supervises") because there's a pretty obvious change at the end of all that digging. For example, after three and a half hours of work on our second phase of backyard bushwhacking, here's the difference: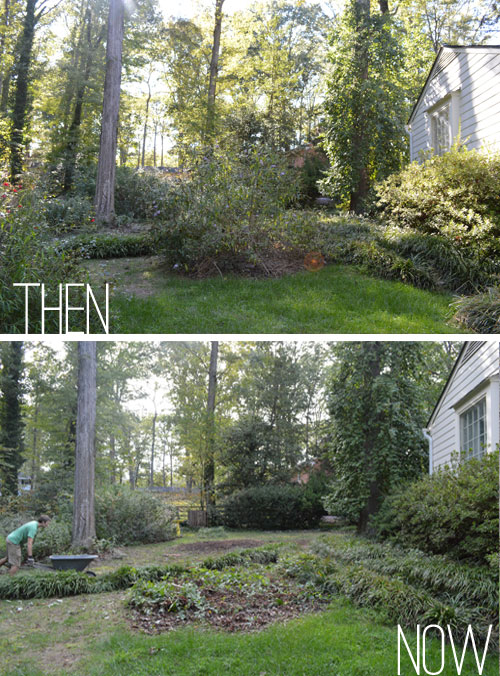 Yup, we tackled the second 15′ wide garden bed and got to work on digging out about 50% of the path-blocking liriope that went crazy and decided to grow so enthusiastically that it makes your legs all itchy if you walk down the path in shorts. Makes me twitch just thinking about it, actually. See how the path looks about 3″ wide in the back section of this photo that we didn't dig up yet?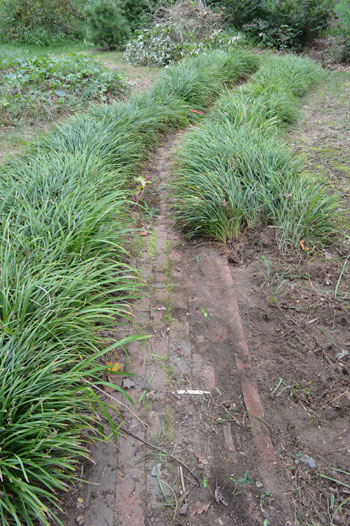 And see how we gained about 6-8″ of walking space on each side (for an estimated total of 12-16″ less of liriope once we get both sides done)? Raise the roof. That's about 300% more non-leg-itching freedom that we gained.
We put all the liriope that we dug up in the side yard where lots of it is already growing (and actually looks wild and free and pretty in a giant mass, so we're totally cool with it going bonkers and covering the entire wild area in our side yard).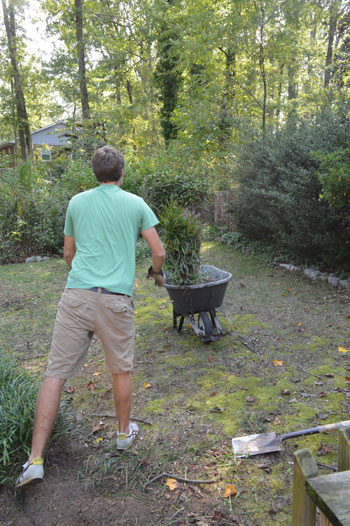 Digging up liriope isn't for the faint at heart. John started on this task while I cut down the second 15′ planting bed (trimming everything back and then digging it out at the roots to transplant it or remove it seems to be the most manageable method that we've learned to tackle such large planting beds). Meanwhile John was showing the liriope who's boss by digging up sections with his shovel (using the jump-on-the-shovel method to make sure he got all of the roots up so these guys don't sprout back up in the spring to surprise us). That's right, J-Boom put his back into it.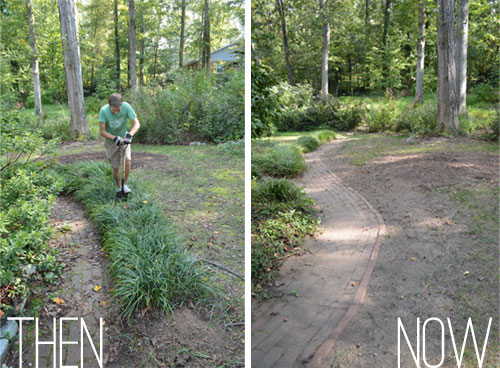 Then once I had the planting bed trimmed down (but not dug up quite yet) we looked at the clock and realized we should tag-team the liriope (I worked from the far end while John worked from the end where he started and we met in the middle) since Clara was going to wake up from her nap in about an hour and a half and we wanted to at least have that one leg-tickling side knocked out. We even had time to grab some dirt from a few bare spots back in the woods at the end of our lot and rake that into the holes that were left from digging up the liriope, so there weren't any giant pits in the yard. Whew.
The view from this angle is the most dramatic change. This is basically what you see when you walk beyond our side patio and turn to the left to see the backyard. Your eye used to stop about ten feet in front of you at that giant planting bed, but now it goes all the way back to that pretty maple on the other side of the backyard.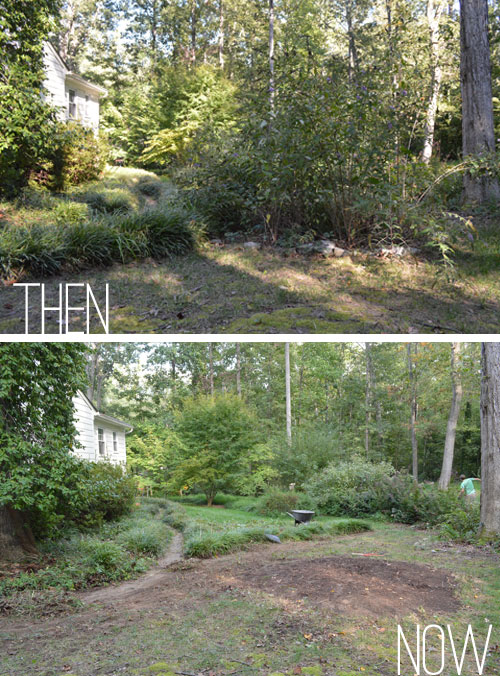 It actually looks like a backyard instead of a bonafide bushfest back there. Although we still have a few more rows of liriope to dig out along with actually leveling the 15′ bed that I trimmed down so it's all ready for grass seed. Not bad for one afternoon though. There's just something so satisfying about a little reclaim-your-yard bid-ness outside (especially since the weather has been awesome lately – not too hot and not too cold).
I know our backyard is really hard when it comes to orienting yourself since there are just a ton of trees and bushes that all look the same, but this is the old & new view just beyond the patio (the comparison above is the view if you walk about four steps forward from where the shots below were taken and turn 90 degrees to the left).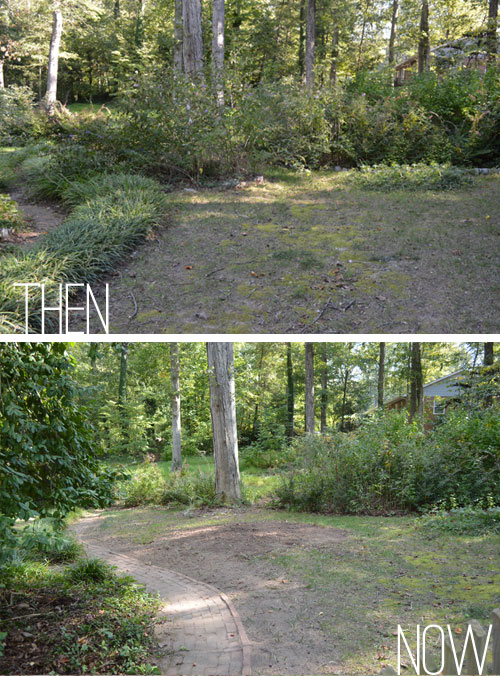 Maybe this terrible rendering that I did of our lot a while back (with our house sketched about ten times too large and the area around it dwarfed by the giant house in the middle of it all) might help you get your bearings. At least it helps you see where the brick paths go and where two two 15′ garden beds used to be in the back: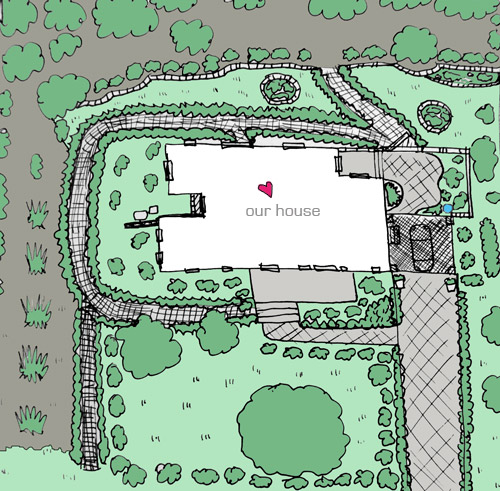 Oops, but it's old so it doesn't have the deck, which now fills in that odd alleyway area between the original house and the 70's addition on the left side of the house. Anyway, if all goes well we just think it'll just take one more phase of bush whacking back there to remove the rest of that crazy path-encroaching liriope, level out that last garden bed, and seed everything in the hopes that we can get a nice lush carpet o' green going on. You know we'll keep you posted…
We totally love that there's a big woodsy lot behind our house, but we're total suckers for a nice swatch of lawn in front of that for the bean and the burgs to run around on. I think it all goes back to our first house's backyard (ah spring, nothing ever looks this perma-green in the fall):
Grass in the front + woods in the back = our favorite kind of backyard mullet. So although our current house's backyard will only be about half as deep as our first house's was when it's all seeded and lush, we're cool with that. Still enough room for playing but less to mow and rake. Jackpot.
What did you guys do this weekend? Anyone else digging around outside and crossing your toes for a nice long kid-nap while you're out there getting dirty?