The deed is done! Rockport Gray is all up in this hizzy.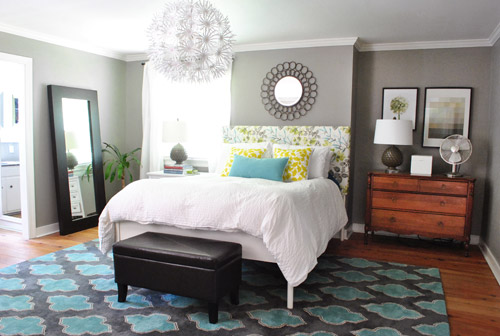 We love how much more things like the extra thick crown molding and the trim around the doors and windows pops now that the color is deeper and more… sleepy? Can you describe a bedroom color that way? In love.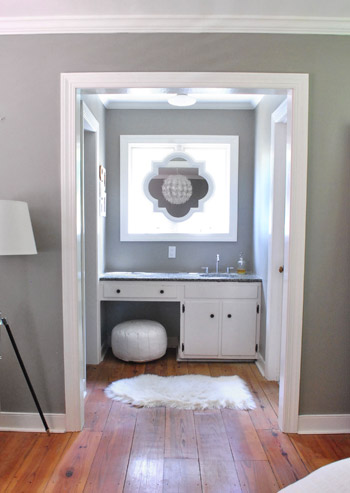 It's such a mutating color. Sometimes it looks lighter and grayer.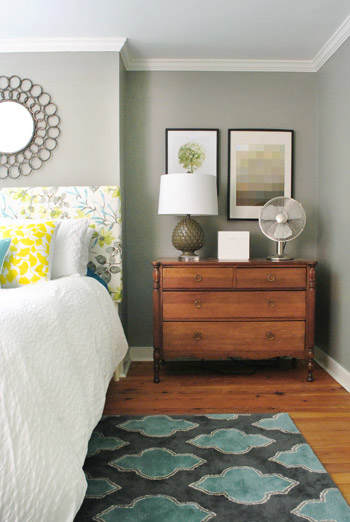 And sometimes it looks moodier and more mocha.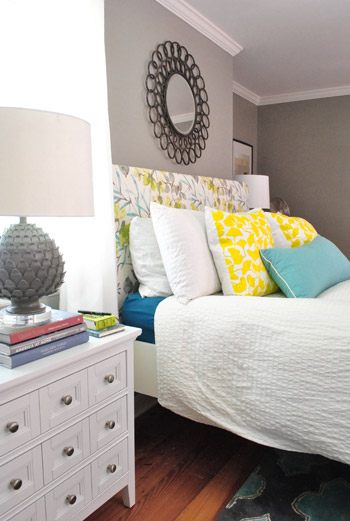 We think it looks especially good with our cheap-o Ikea curtains (Vivan panels for $9 a pop) and other crisp white things, like this old side table from our first house's den and the white lamp shade on our floor lamp.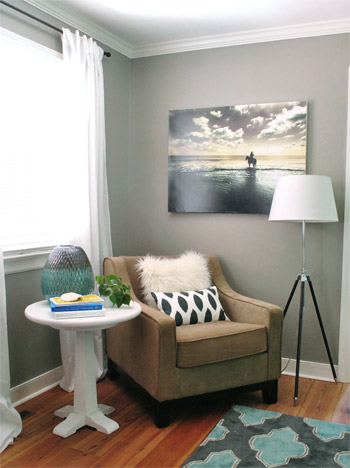 So yeah, we likey the new vibe in the bedroom.
Basically the room looked kind of soft and sweet with the light gray-blue walls before…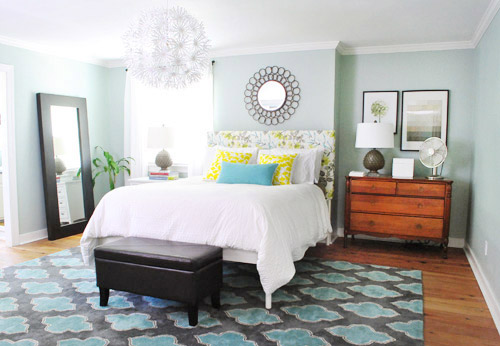 … but they were kinda similar to the walls in our first house's bedroom (which we did love, but after 4.5 years with it we thought it would be fun to try something different).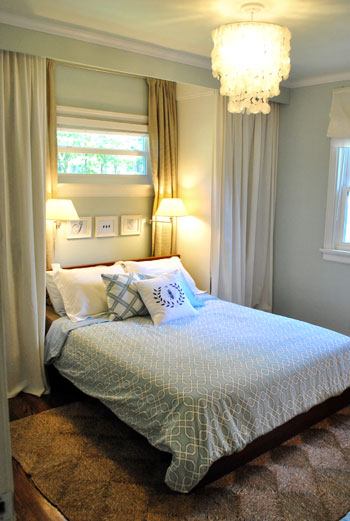 It also felt a little too blue when you factored in the blue in the rug, the headboard fabric, etc. We just wanted something with a little more oomph. See how these side by side shots show how much more the molding and the fabric on the headboard pops? Now they stand out and say I am molding/headboard, hear me roar.

These vertical images might help you see the molding effect more easily (since they're not as small). Doesn't the trim almost look like it has been beefed up and whitened in the picture on the right? It's all thanks to the contrast that the deeper and less airy color brings. Seriously, I didn't repaint the molding or anything.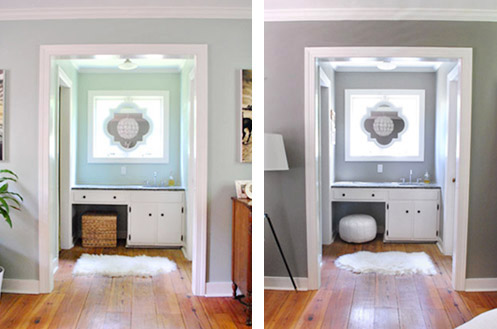 As for the process, we basically spackled any nail holes that we weren't going to be using anymore (like the ones that used to hold the art up over the bed when it was on the other wall) and then sanded them so they were smooth.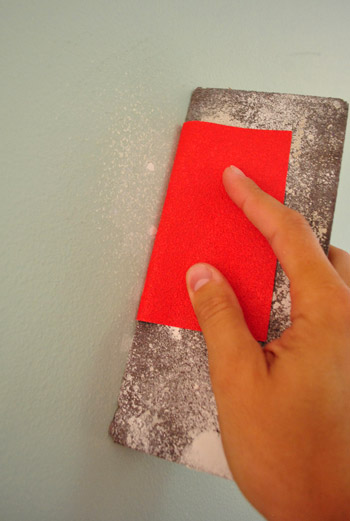 Then we moved a lot of stuff out of the room, and covered the remaining furnishings that we pushed into the center of the room with plastic drop cloths):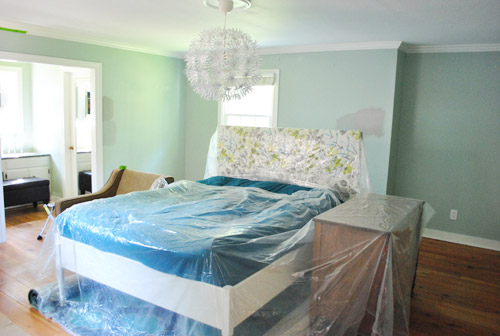 We taped off the crown molding too (since on a step ladder I'm less steady handed). But I can freehand all the trim around the windows, doors, baseboards, and outlets without tape – so that saves us time and tape.
It's amazing what an instant difference the new paint on the wall was. But it took us about five or six hours of prep/painting to get to that point. It's a big room (16 x 16′) and we were also painting the entire sink nook (which is like another small room that's attached with tons of windows and doorways to cut in around). So we just put on some music and got down to business. Painting business. Not funny business.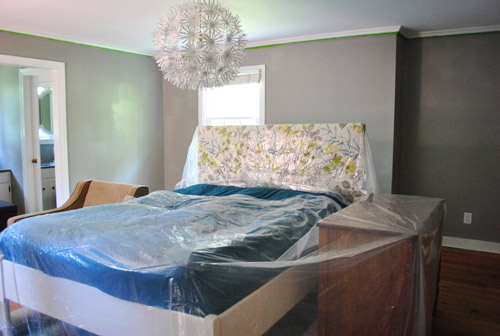 There was some of this (I'm the cutter-inner in the family and John is the roller):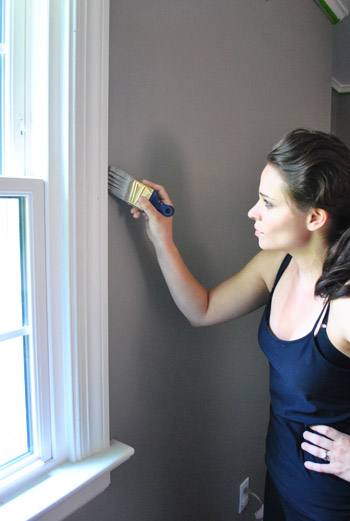 And some of this (we actually painted the ceiling above the sink nook a color for the book photoshoots back in January, so we finally got to repaint it back to white while we were doing the walls):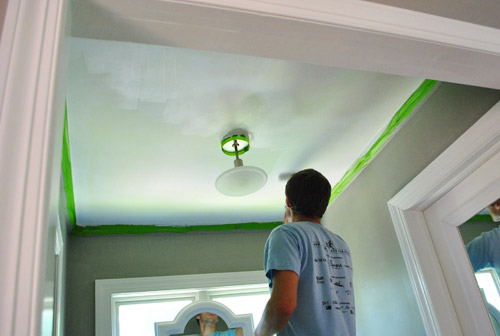 As we mentioned, the room is 16 x 16′ – and we actually used less than a gallon of paint for this entire paint job (including the sink nook). Maybe around 2/3rds of one? Benjamin Moore paint (this was Rockport Gray in their Natura base, which is VOC free) has great coverage, so when we used Olympic to paint this room for the first time we used the whole gallon since we needed two full coats, but this time we only needed one coat and a few touch ups as a second coat instead of a full second application. Oh and we went with an eggshell finish for anyone wondering (it's nice and matte but still a bit more durable and wipe-able than flat paint would have been).
There was still the same amount of house chaos even though we only needed one coat of paint this time. Because of course when you paint a room, at least one other room looks like complete insanity since all of the stuff from the room that you're painting gets dumped in there. Like our living room in this case: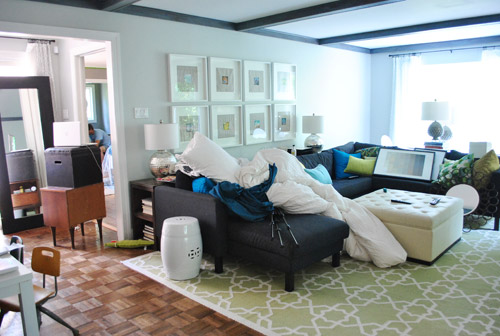 For those wondering where Clara was, her grandparents graciously offered to take her to the playground, lunch, and the library while we got this done. So thankful! We've definitely painted rooms while she napped and it has worked (like the bedroom when we painted it the first time) but it's usually just a lot more choppy because we both work hard for the two-ish hours that she naps and then one of us has to watch her while the other one works (ex: I continue to cut in while John watches Clara after she wakes up) and then we switch (I watch her while he rolls).
And since you know we like to move faster than Edward The Vampire play around with time lapse stuff, we even shot this video, where we condensed our day of work down to two minutes:
Here was our little setup to catch the process on our laptop's camera (which has a longer battery life when plugged in than our Flip HD, which can only record for an hour). Oh yes, we're high tech around here. There was ottoman on side table action (we used iMovie to make the video, which comes free with most Macs and has easy settings to speed things up):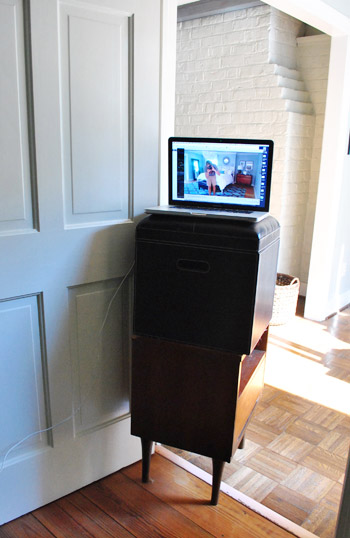 So whoop, there it is. Darker, moodier paint that makes us wanna sleep. Haha. And kinda makes us want to paint a whole lot of other rooms in darker tones since it's amazing how much more substantial the molding looks. But when we stop to think about it, ultimately we like the balance in the whole house's current palette, which consists of:
some light neutrals – like the soft gray in the living room and dining room
some happy tones – like the grellow in the kitchen and the light pink in Clara's room
some deep saturated colors – like the dark teal guest room and the back of the dining room built-ins
Should be fun to see what colors we end up with in the completely untouched sunroom, playroom, hall bathroom, and guest bathroom though. In the meantime, what are you guys painting? Anyone diving into darker colors? Or lightening up with something soft? Feel free to name your favorite wall color of all time – it's always interesting to hear what you guys are loving.