Permission accomplished!
Wait, before we get to the deck/permit stuff that this post is really about, we wanted to mention that we keep hearing from folks who had no idea that we have a family/personal/behind the scenes blog called Young House Life (which we started nearly a year ago – my how time flies). So if you're looking for photos of our messy house, pictures of us being weird, life-stuff beyond the home improvement happenings at our house, and Burger/Clara galore, that's the place. We usually post 3-4 times a week (very randomly) and you can get there by clicking the word "Life" under our header or by clicking the button that says "Our Family Blog" on the sidebar. We can be found chatting about everything from the Kool-Aid man and traveling with a toddler, to left-handedness, kid-babble, The Hunger Games and Clara's moves like jagger.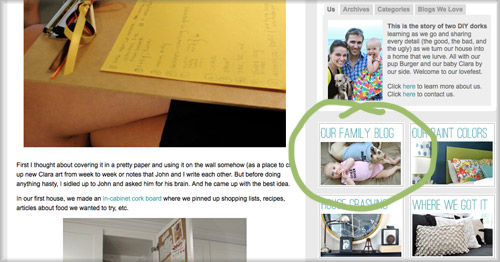 For example, today we're posting about what we did over Memorial Day weekend, complete with a photo of Sherry being overly enthusiastic on a carousel and me trying to have swagg (that's right, with a double g) along with a video of Clara riding a few boardwalk rides.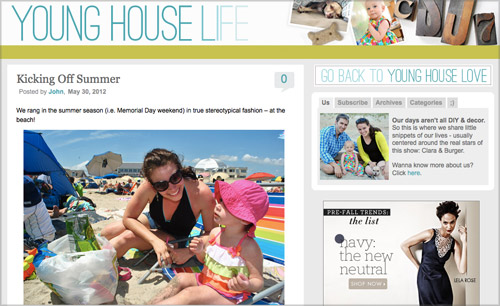 Just wanted to share that since the only time we really formally mentioned Young House Life was in a post last summer when we redesigned our entire site, and apparently there was a lot going on, so it might not have been the most clear introduction. Sorry about that!
But now back to our slow and steady deck progress. I must admit, this whole project makes me a bit nervous. Something about attaching a structure to our house that has to support human weight gives me shivers if I think about it too much. But at least it's only a few feet off the ground and not a second level deck or anything. Having to get a permit wracked my nerves a little more since we hear the county can be pretty particular about decks since they can definitely be dangerous if they're not built correctly – so there is a bit more going on with the county (like two different inspections throughout the process, etc). But, as this post title reveals, I did get our permit and work is officially, well, permitted to begin. Woot! So allow me to back up and tell you how we got here.
It started out with figuring out what we wanted, which is where this Photoshop sketch I did and the decision to go with wood decking came in handy.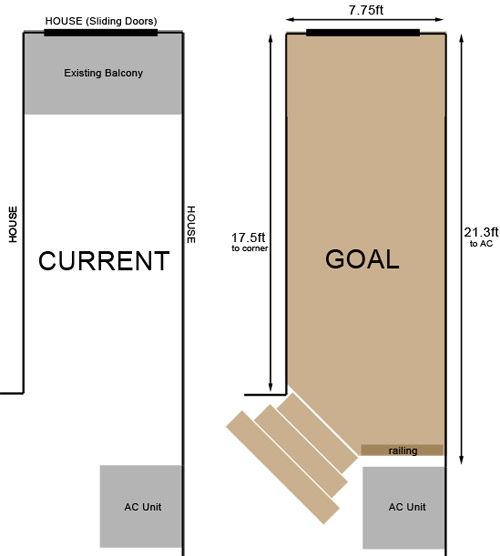 My little doodle hardly sufficed as a plan for building a deck, especially compared to what I saw reading through my county's how-to guide for obtaining a deck permit (which took me about five reads and lots of Googling before it stopped making me go cross-eyed). After a couple of false starts trying to draw up plans on my own, I threw up my hands (quite literally, actually) and told Sherry I needed help. She suggested I call two sources we've trusted in the past to help us plan projects: Home Depot and Southside Builder Supply (which is the place we bought materials for our last big outdoor project – the patio). SBS only does stone, so they referred me 84 Lumber (a lumber-specializing warehouse located about 30 minutes from our house) while Home Depot directed me to, well, Home Depot. So I decided to take both deck planning services for a spin to see which gave me the best plans and the best estimate.
Let's start with Home Depot, where I was invited to bring my measurements to their Pro Desk to have a plan and estimate drawn up.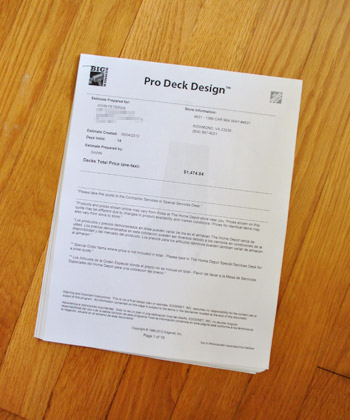 It was a fairly painless process. The Home Depot associate clicked through their planning software, asking me questions along the way like what kind of footings and attachments I wanted (which made me glad I had done that upfront research so I knew what I was being asked). After 20 minutes or so, they had printed up a pretty comprehensive deck design which they assured me was something I could bring right to the county for a permit. It was so thorough it literally outlined every wood cut I'd have to make.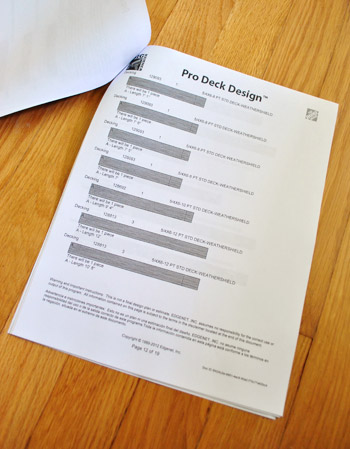 The shot below is actually the first plan I worked up with them (for a freestanding deck). I later went back and they happily revised it to be attached to the house, sparing me lots of post hole digging. They were also able to give me a version comparing the cost of composite to pressure-treated wood (which helped us make the wood decision here). I appreciated them not eye-rolling every time I asked for a change.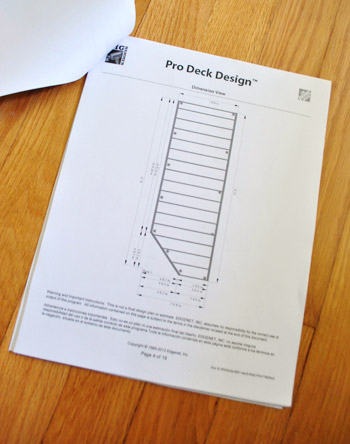 Overall I was pleased with the Home Depot process, especially since I always find it helpful to talk to someone face-to-face. That was actually one aspect I missed when going through the 84 Lumber design process. I spoke to someone in my local store by phone, but they said all the deck designs were done at their central office so it was best to just submit things using their online form.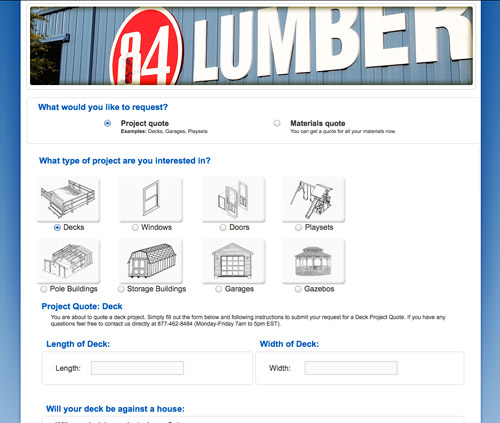 I put in all of my information and uploaded the schematics I had sketched along with a few photos of the space. Two days later I got an email saying my plan was attached. The plan wasn't as detailed as the Home Depot version, but seemed to be a better approach (from what little I know of these things).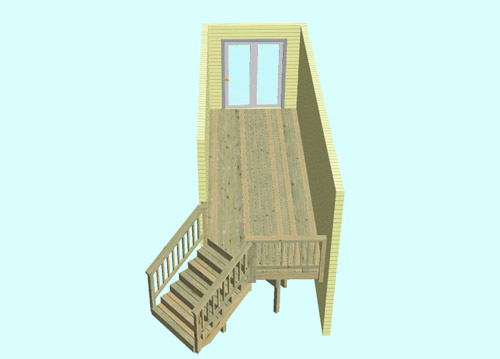 My contact there was very responsive to my questions by email and also made some revisions I requested within a day-ish. But I did kinda missed the human interaction element of it all.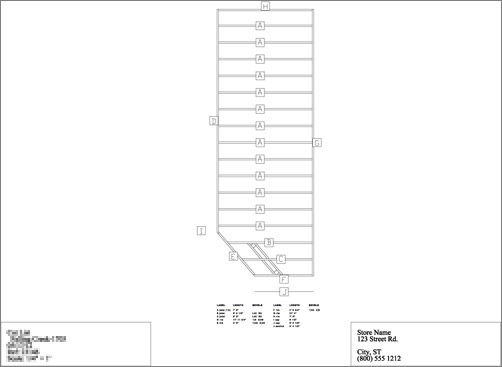 Ultimately 84 won out for us because their plan felt more straightforward and was about $400 less expensive to execute. Plus it felt good to go with a company that specializes in lumber for such a lumber-heavy project. They also happen to be right here in Richmond and they supply wood from our region (our deck's wood will come from somewhere right here in the south and will meet all of the requirements for human safety – like no arsenic, etc). We also plan to use an eco-sealer to keep it even safer for Clara and Burger- but more on that when we get there (we haven't even started that research yet).
So with two copies of my plan from 84 printed out, I gathered all of the paperwork that my county's website required (as well as some extras just in case). I'll admit I wasn't certain that I had the right stuff, but I told myself that the worst that could happen is that they'd send me away and say "come back with X, Y & Z."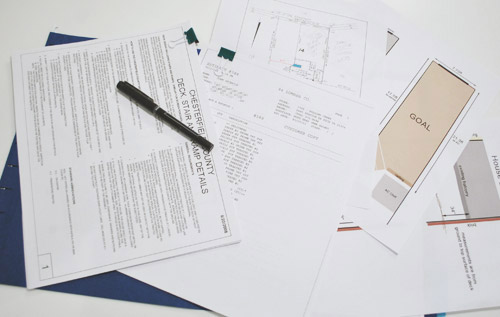 After speaking with someone at our county's Office of Building Inspection we decided to try the walk-through process where you can obtain a permit in one day, in person. For some reason I pictured this like a job interview or pleading my case to a judge and jury, so I dressed up a bit for the occasion. This is dressed up for me these days (shirt tucked in and not wearing tennis shoes or a hat). I figured it made me look professional, but still like I could construct a deck. Seriously, I put thought into this permit-getting outfit.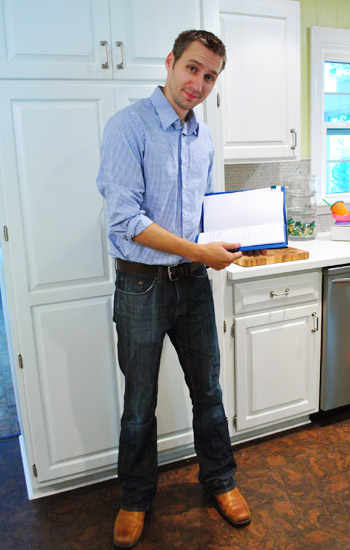 The actual process was very tame compared to what I had imagined. I spoke to a couple of receptionists, filled out a form, and was told to wait for my permit (and that they'd "let me know if they had any questions"). This sparked me running through all of the things I could be quizzed on – what size my joists were, what depth was I digging my holes, etc. I did my best to get lost in the episode of House Hunters that was playing in the waiting room.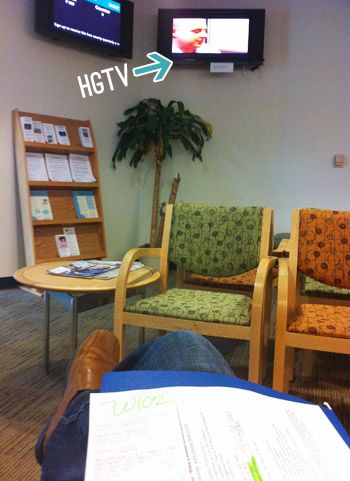 Just before the cross examination scenario could fully play out in my head, a nice woman walked out and handed me my permit: "you're free to begin work." Sweet!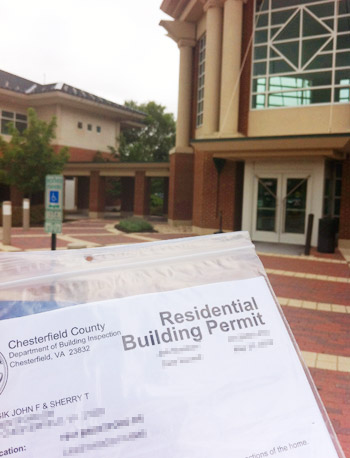 I'm still kind of surprised it was that easy. Admittedly I'm still a bit nervous about the notoriously thorough inspection process, but at least this has given me a good boost of confidence to move forward. And Sherry, Clara, and Burger all did the happy dance in the living room when I returned home with that important piece of paper. So I've officially ordered the materials from 84 Lumber and am currently waiting for them to arrive. In the meantime, we're gonna get started by taking down the old balcony. Demolition here we come! I actually planned to start on that today- and wop wop. Rain! Here's hoping tomorrow is nice and sunny.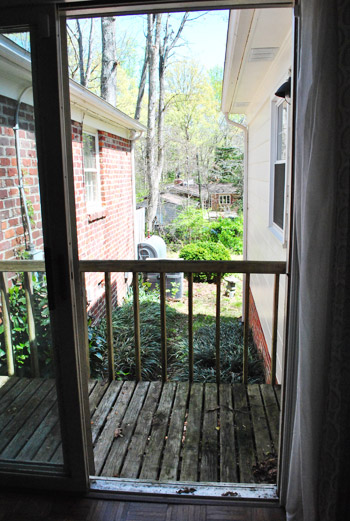 Who else has gone through the permit process and lived to tell the tale? Any interesting stories, tips, or disasters you'd like to share? Did you like my permit-getting outfit, or did I overdress? A few dusty contractors walked in and out with their steel toed boots and certainly made me feel a little less rugged by comparison.