The walls of Clara's big girl room are dry and the few items of furniture that we have (mainly just a daybed, an old side table, and two small wooden thrift store chairs that I don't think we've even shown you yet) are back in the room. So here's how it's looking now: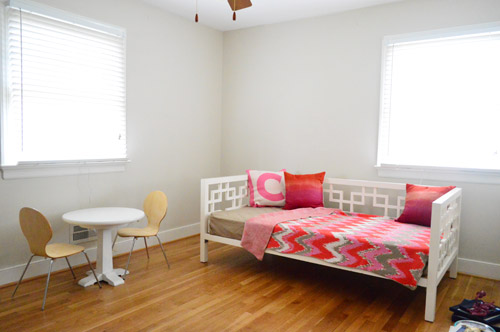 Totally done and magazine ready, right? Just kidding. But it's a huge improvement from this so we're psyched.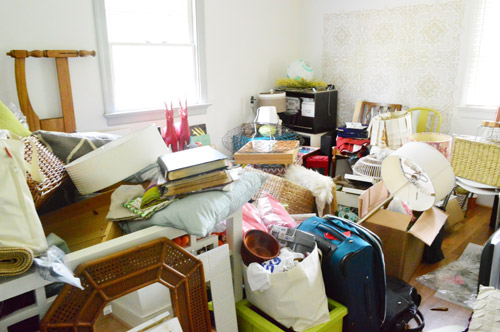 The new wall color is awesome. Pardon these not great pics of it (Monday's pics did it more justice). In person it's subtle and warm and cozy but not too yellow-y or peach. And since it's not too bold or compete-y, it'll allow us to layer in a ton of other colors. Highly recommend it.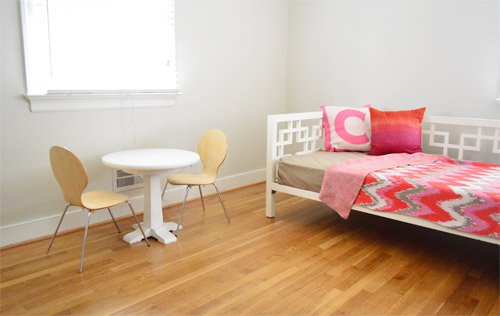 Oh but since the title says something about table tweaks, here's the scoop on that. Wait, first a little info on the chairs. We got them for $8 each at a thrift store in West Virginia on our way back from redoing Granny's bathroom way back in September. Then we just tossed them into the cluttered playroom and hoped we'd see them again someday. Haha. Now that it's all cleaned out, it's like discovering an extra room in your house. Amazing. Anyway, I think we'll paint the chairs a crazy bright color (red?!) and keep the table crisp and white.
Speaking of the table, remember when it used to be a side table in our first house's den?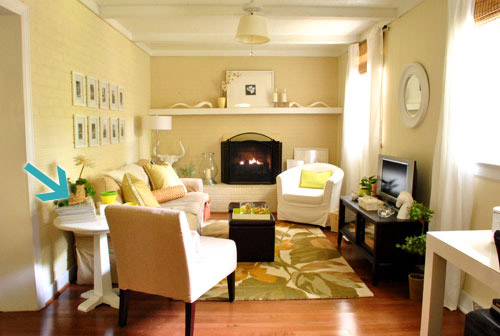 It was actually a side table from Target that we tweaked by adding a larger top and then painted white a few years back (originally for our bedroom, then it moved into the den once we found a TJ Maxx ottoman that worked better in the bedroom).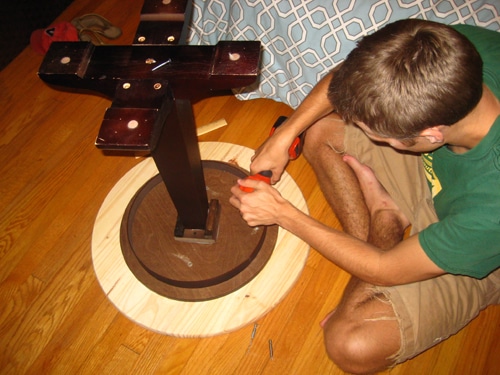 It actually hasn't found a home in the over-two-years that we've lived in our current house, so the poor thing has just been sitting randomly in the corner of the sunroom or the basement. Poor little listless side table. Until now. We realized that thanks to those two thrift store kids chairs the table would make a cute little spot for those chairs to saddle up to, but it was too tall to work as-is. See how it towers over the other kid-sized table that we made for the living room here?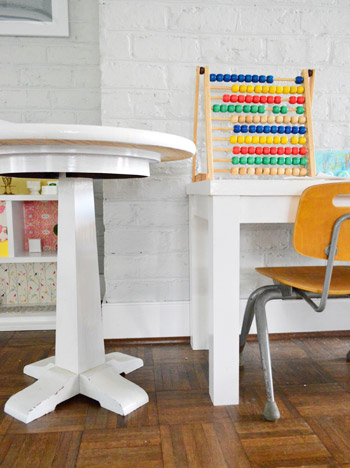 Well, it was nothing a little sawing couldn't solve. After unsuccessfully finding any screws to free up and remove the stem from the top, John sawed it off with a reciprocating saw and then went back with his Dremel to clean up the part we'd be attaching it back to later (so it was nice and level).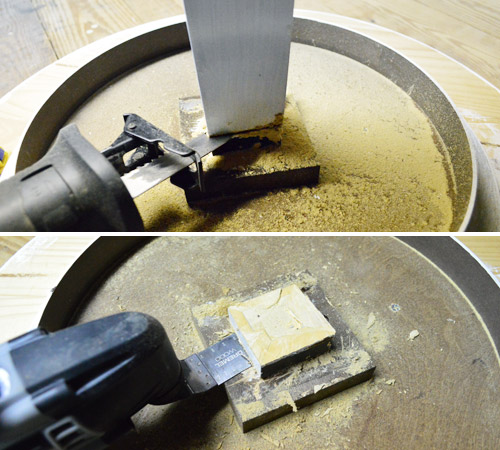 Trimming the 4-inches off of the stem proved challenging given the angle of the base. John's first attempt looked something like this. He's the first to admit that it wasn't his finest work.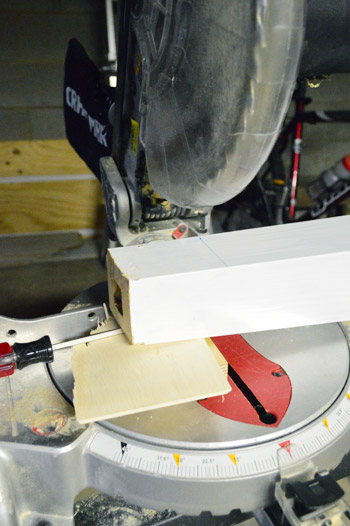 Especially since it resulted in a not-so-level cut.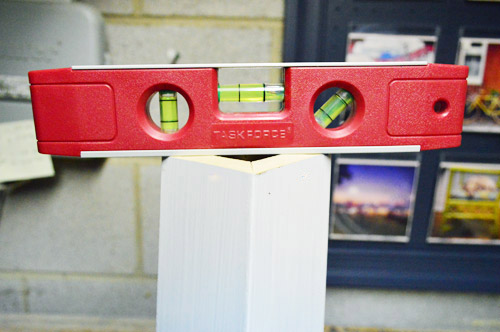 So he went back, remarked a level cut line around the stem on all sides, and then carefully shaved it down a bit more with his Dremel, being careful to stick to that line on all sides as he went.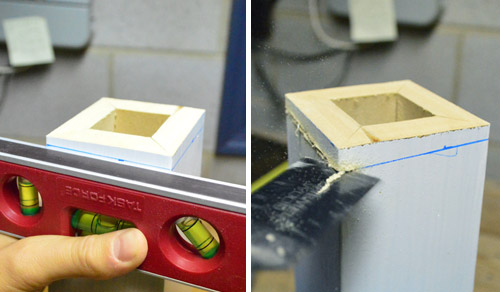 Much better. But it was about a 1/4″ shorter than we originally intended. So we had to throw it away. Just kidding, that quarter of an inch doesn't matter, thank goodness.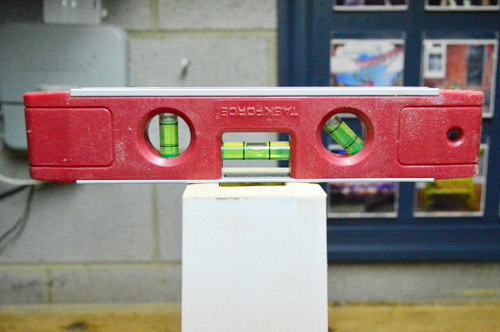 With everything cut, he used his Kreg jig to make some pocket holes to reattach the stem to the base. Sure the pockets show a bit, but it's so far under the table base that you won't see them unless you're under the table on the floor (Clara does that sometimes, but we don't think she'll mind 'em, haha).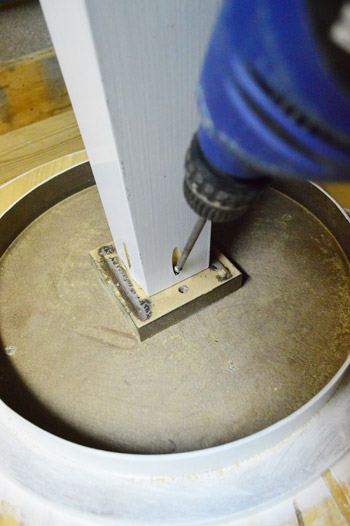 Now it's nearly the same height as Clara's drawing desk in the living room, see? (Note that this shot was taken while laying on the floor, so you can barely see those little pocket holes).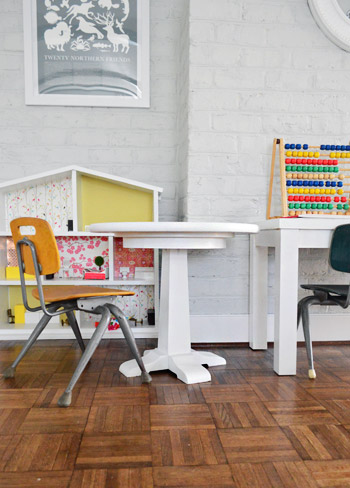 Now Clara will have a table for coloring/play doh/dolls/Gin Rummy in her room with her two thrift store chairs (which I fully intend to paint bright red as of right now, but you never know when I'll change my mind).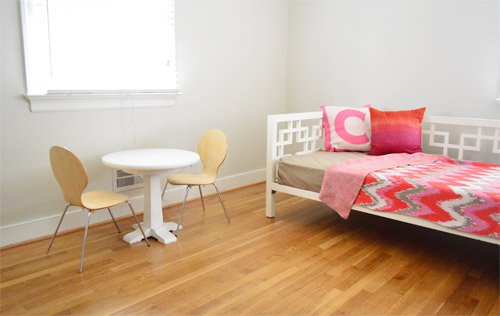 So that's what we've been up to in Clara's big girl room. I'd call it 7% finished. Haha.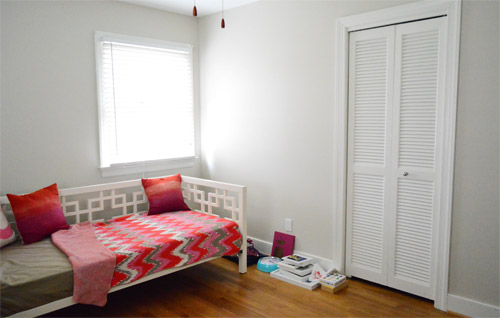 The blanket is my favorite (from a Joss & Main sale about a month or two ago). And the two tie-dye-ish pillows are from West Elm. I want to add more pillows of course (wouldn't navy look cool on there too?).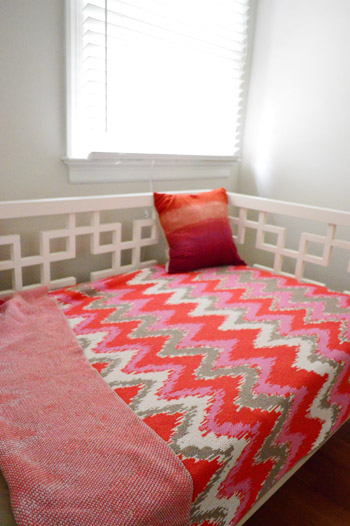 Oh and the pink C pillow was from the same Joss & Main sale as the blanket. Isn't it cute? Clara is OBSESSED with her big girl bed. The doc said not to switch her until she's uncomfortable in her crib or climbing out of it (the girl climbs into it but never out – go figure!) so we're happy to keep her contained to her crib where she happily snoozes… but man oh man, she sure looks cute in this bed. And someday she'll get to officially move in.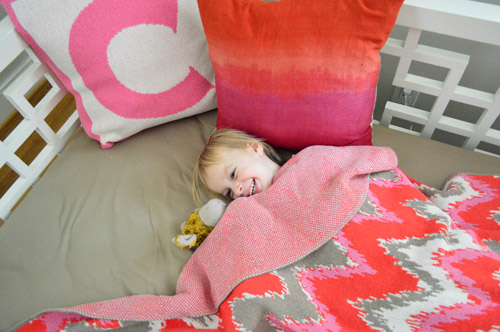 Until then it's a pretty fun playroom…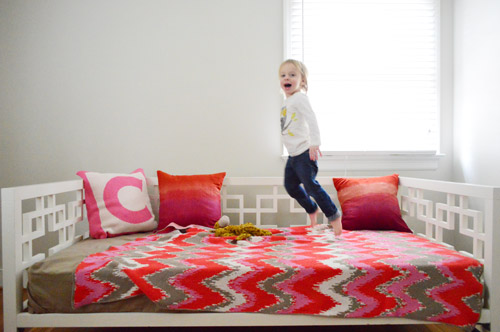 … which beats the heck out of the junk-room that it has been for the last two years by a long shot. She says hanging her head in shame. Oh well, better late than never.
We're still sorely missing some major elements in here, so here's what's on the agenda:
painting those chairs a bright happy color
bringing in a dresser (we'd love to find something secondhand)
making/hanging some curtains
adding a rug
hanging art on the walls along with a few other 3D objects that we have in mind (how's that for cryptic?)
installing a new light fixture
hanging a mirror at Clara-height somewhere in the room (she loves making funny faces and laughing at herself)
turning that junk closet into an actual clothes closet/reading nook
adding crown molding (along with tackling the other un-crown-molding-ed bedrooms on this side of the house)
adding accessories like more pillows, storage bins for toys, etc
You know we'll keep you posted as we inch along! What are you guys painting, tweaking, and cutting down these days? Anyone else finding thrift store chairs or converting old Target tables? Spill it.