But first, who framed Roger Rabbit? I dunno. I can't remember how that movie ended. But as for who framed out our hall bathroom mirror? We did.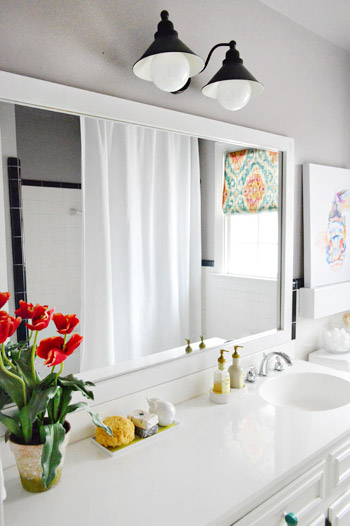 Putting a dressed up frame around a plain builder mirror is one of the easiest ways to upgrade a bathroom, especially if you're working with the tile and not doing a total gut job (which we thankfully are in this room since the classic b&w tile is in great shape). It's actually kind of crazy that we haven't really tackled this yet (well, we sorta did it here I guess, but this mirror has been naked for the last two years since we moved in).
There are companies out there, like Mirror Mate, who can make it super easy for you – but like the true DIY addicts that we are, we opted to try our hand at making this guy from scratch. It seemed like a pretty straight-forward task, despite the challenge of not having much space around our mirror to actually attach anything. But we'll get to that later…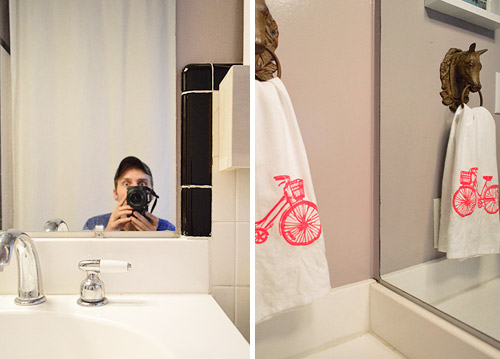 We opted for a super simple frame. After considering some more ornate moldings or window trim, we decided a flat chunky piece of wood would be best (and it'd match the chunky shelf nearby without competing too much with other more interesting items like our patterned window shade or the new vanity knobs). So first we picked up some 1 x 3″ pieces of pine in the lengths that we needed (I believe our total cost was $14). I was too distracted by the cutie in the cart to save my receipt.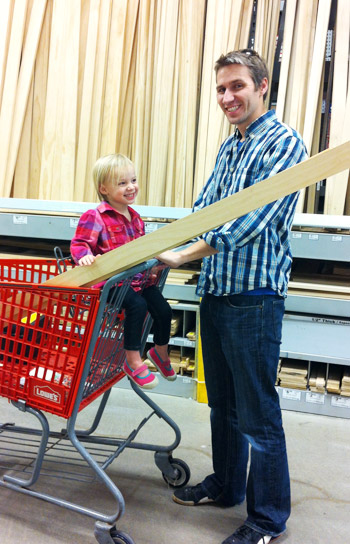 I used my miter saw to cut my corners on an angle, but if you are miter-saw-less you can also do a simpler frame that's kind of like this chalkboard frame that we built instead.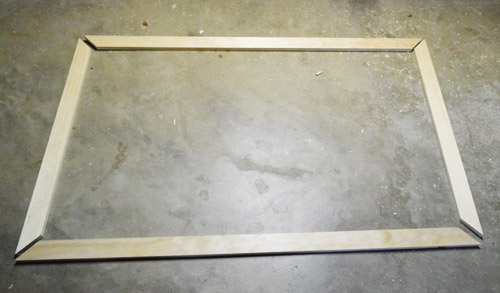 Another challenge of this project was to make the frame rest over the plastic clips that hold the mirror to the wall. No challenge that a little routing couldn't handle, right? So first I marked where I need to notch out the wood so that the clips would rest inside and the wood could lay flush against the mirror. I decided to be generous with my notches so I'd have some wiggle room when placing the mirror, which is why they're about twice as tall and twice as wide as the clips themselves.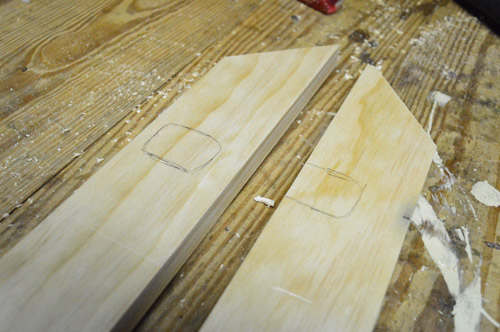 If you rolled your eyes at the word "router" and said "well great, I don't own no stinkin' router" – you're in luck. My router broke so I didn't have one at my disposal either. So here's the really simple (but not quite as pretty) way to get those notches:
I used a Dremel to make small grooves on all sides of my marked notch, just so I'd get a relatively clean edge. This step is TOTALLY OPTIONAL. I only did it because I'm particular. So if you don't have a router OR a Dremel you're still ok.
Use a small drill bit to make some not-too-deep pilot holes, fairly close together (see, if all you have is a drill you're cool).
Follow up by going into each pilot hole with a much bigger bit so the holes begin to run into one another.
Use a flathead screwdriver and hammer to gently chip or pry away any chunks the drill didn't get.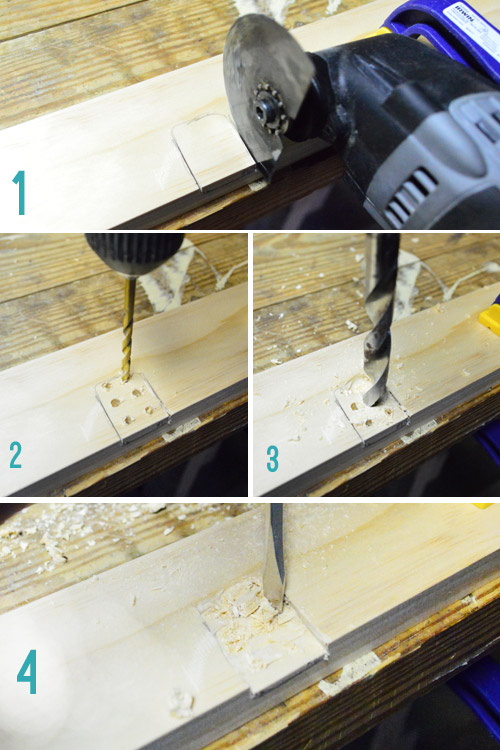 Again, not the prettiest result. But for a simple shallow notch like this (which won't be seen by anyone but the plastic clip itself) it does the job. Oh, and this one goes along the bottom of the frame which is why my notch won't be seen even though it goes all the way to the edge of the wood.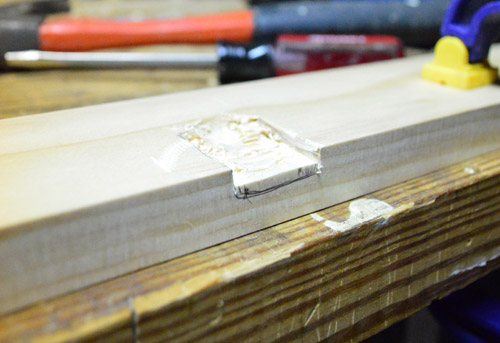 Once all of my notches (four in total) were made, I used my Kreg Jig to make pocket holes and then join my corners together.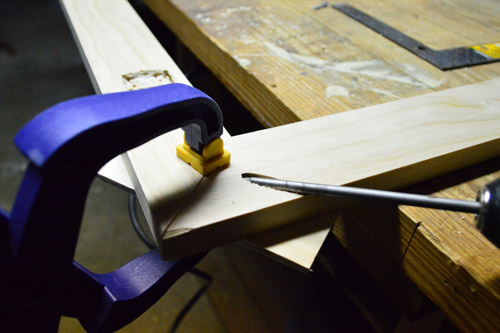 And ta-dah, my constructed frame: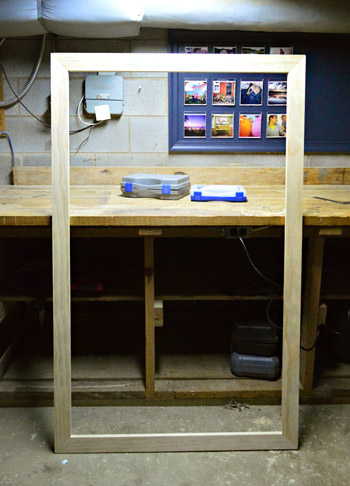 Before painting it, we brought it inside to make sure it fit and looked square and everything. This picture below gives you a better sense of how my unpretty notches will fit up against the clips (while still not being visible to anyone once the frame is in place).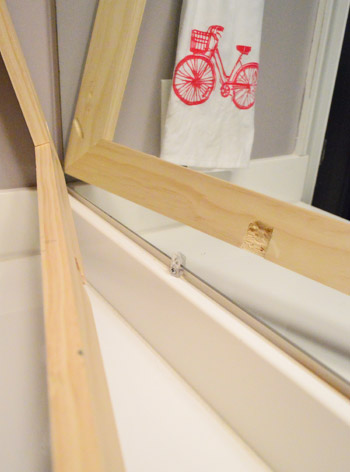 It fits!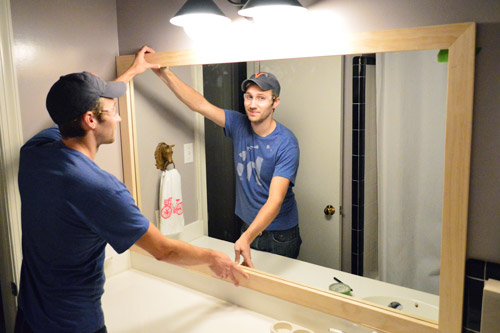 Fast forward about a day and I primed and painted the frame white (Decorator's White by Benjamin Moore in semi-gloss, using a small foam roller for a smooth result). While we were at it, we also painted the previously-grey-washed shelf in the background so everything would match (which Sherry mentioned in this post).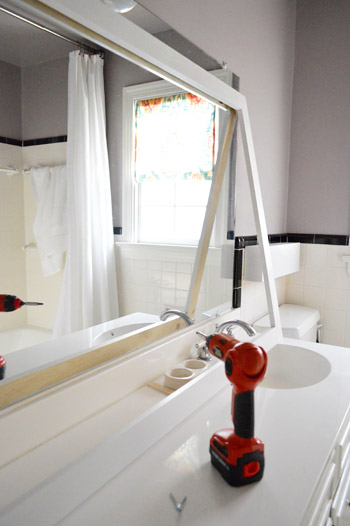 I've seen other folks do this project where they simply use some heavy duty caulk or construction adhesive to straight up stick their frame to the mirror itself. But since my last attempt at gluing something to a mirror made me wary of that trick, I wanted to rely on a few strong & secure screws instead. So when we measured and cut our frame we made sure it overlapped the top edge of the mirror (the only edge without a wall, the counter, or some tile in its way). That meant I could drive a couple of screws through the frame and into the wall without being anywhere near the mirror to make sure the frame wouldn't come crashing down on us. The whole contraption was pretty light, so it didn't have to be too heavy duty.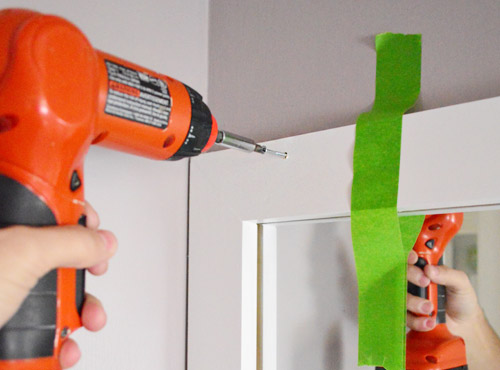 And then just to make sure the bottom of the frame didn't flap out or anything, we put a couple of dots of silicone caulk between the frame and the mirror just to hold it in place (we taped the frame down along the bottom until the caulk dried so it would hold it firmly for the long haul).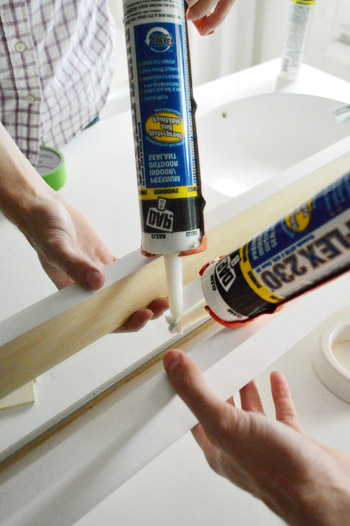 That was a few days ago and we've since removed the tape and even given Clara a few baths in there and it's still holding strong. Whew.
When all was said and done caulked and dried, we just filled those two screw holes with wood putty and painted them so they weren't obvious. Then it looked a little something like this.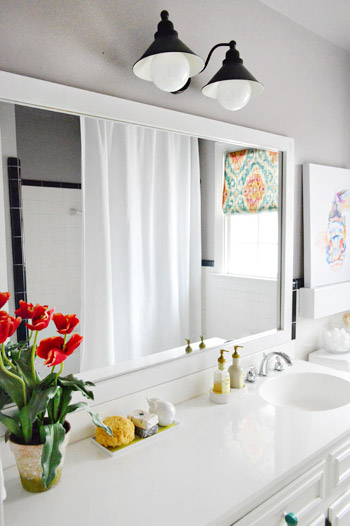 Isn't it such a cleaner and more finished look than this before-the-frame shot?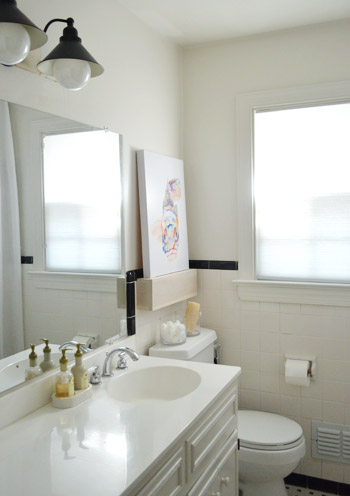 Even for a not-very-fancy frame, we're pretty darn pleased with how it polished off that big unpolished beast in the room. And weirdly enough, in person it makes the room feel taller since it somehow draws your eye up more than the frameless mirror used to. Which is a nice balanced look since we have an extra tall shower curtain on the other side of the room.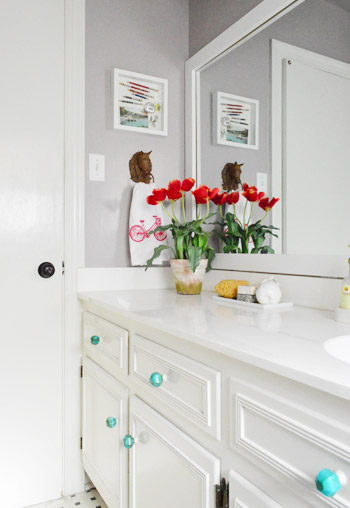 So blammo. New mirror frame for a total of $14 and about three hours of time if you count all the building, chipping out notches, priming, and painting.
And since that officially wraps up the last project on this portion of our bathroom upgrade, shall we do a quick budget breakdown? I think we shall.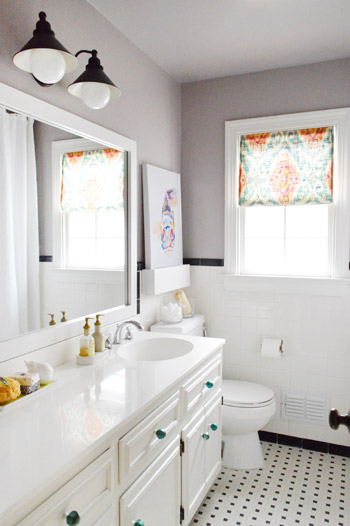 The total mini-update came in well under our mental budget of $200 (which is mainly just a random low number that we throw out when we don't feel like calculating a specific budget and we're not doing anything major like replacing tile).
New light fixture: $61 (from Joss & Main)
Shelf: $6
Paint (a quart of Elephant Gray by Benjamin Moore): $24
Fish art: $30 (from Joss & Main)
Knobs: $17 (from Hobby Lobby)
Window shade: $16 for yard of the fabric we used from Mary Jo's (although we only used $8 worth, so Sherry has leftovers)
Window frosting: $0 (leftover from other project)
Mirror frame: $14
Shadowbox: Already made
Accessories: Already owned
TOTAL: $168
*(if you didn't already have a shadowbox, window frosting, and some accessories, you might spend an additional $30-40 for a total of 200-ish beans)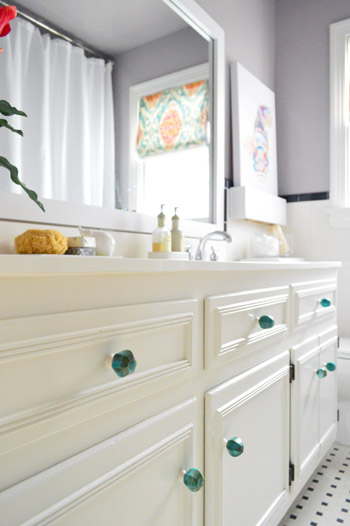 If we had to pick the stars of the room, though, it'd totally be the window fabric paired with the fish art. Both just wake things up and made us feel good about going pretty neutral on everything else.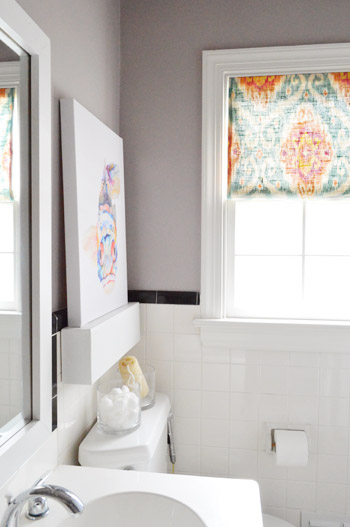 So there you have it. We can officially close the books on this bathroom for now. Although there's still another untouched bathroom on the to-do list (I'm talking 'bout you, guest bathroom).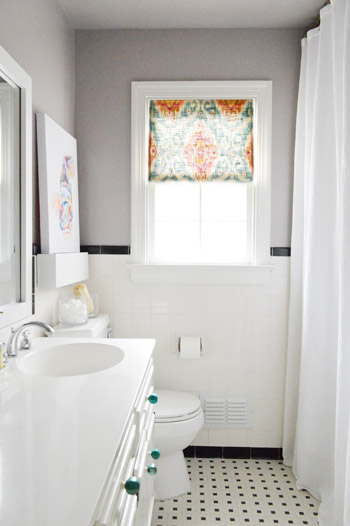 And now, much like The Talking Dead takes a fond look back at each zombie who is killed (please tell me you guys watch that), we shall take a fond look back at the bathroom that greeted us when we moved in back in 2010 (sorry about the bad lighting, Sherry grabbed the picture right as we pulled up in the moving truck before we carried in about five million boxes).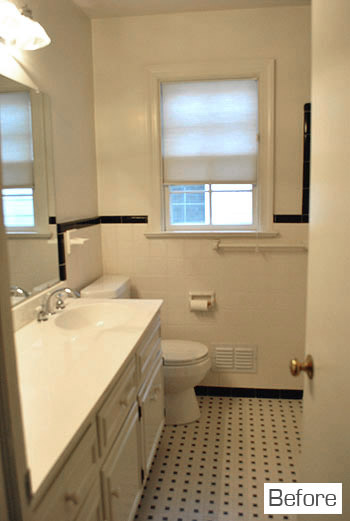 I have to say, I think this room's $168 upgrade is one of my favorite inexpensive room redos that we've done here. Doesn't the after shot almost feel like it could be a completely new bathroom even though we worked with the original 1960's tile?
What under-$200 upgrades are you guys doing around the house? Is anyone else making mirror frames or floating shelves or other semi-straightforward projects for the loo? Sidenote: I think Sherry's favorite line in our entire book was "who doesn't enjoy a gussied loo?." So there you have it, a window into my quirky wife's soul and a post about framing our bathroom mirror.
Update – Wanna know where we got something in our house or what paint colors we used? Just click on this button: