This is it. The big wall-opening week (aka: w.o.w). So… woot! The first order of business is to share a few details that we've been asked about a bunch:
how we went about picking a contractor
how we've dealt with permits
how we planned out the exact spot for the opening (would hate to knock everything down, only to wish we had shifted it a little to the left or the right)
First, here's why we need a contractor: we love DIY as much as the next guy, but there are some things that we're happy to leave to the pros, especially when it comes to the structural integrity of our house. We're no strangers to demo-ing out a small non-load-bearing wall (like we did to create the laundry nook in our first house)…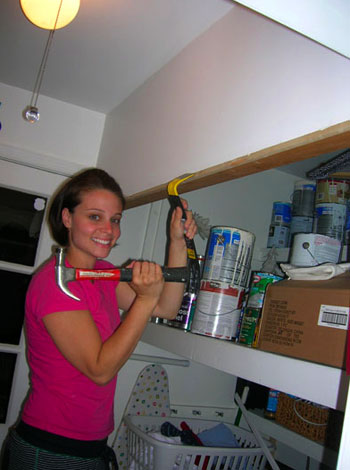 … but an 8 foot opening in the heart of the house which needs to be reinforced with a heavy-duty perfectly-placed header is definitely something we were happy to do with the help of an expert. You know, since "decades of experience" beats "DIY blogger of four years" when it comes to let's-not-break-the-house (more on how we choose what to do and what to hire out here).
So we set off to find the right person for the job by:
asking friends or family members if they had any recommendations (we even put out a call on Facebook to ask locals if they had a contractor they used and loved)
visiting their websites to learn a little more about the ten or so people we had on our short list
weeding 'em down to our four favorite prospects (based on the info on their websites and the specific recommendations that we got)
calling all four of our potential contractors to request an in-person estimate
In some miraculous home improvement blue-moon, they all came out and gave us a quote within a few days. We explained that we'd be getting multiple estimates (so no one assumed the job was theirs & so folks would hopefully give us their most competitive price). All of the estimates were for removing an 8 foot section of wall between the dining room & kitchen, installing a support beam above the doorway, adding additional support under the floor, reframing the doorway and threshold, building a short knee-wall for the kitchen peninsula, patching/adding drywall, and installing a door jamb & trim on both sides of the opening.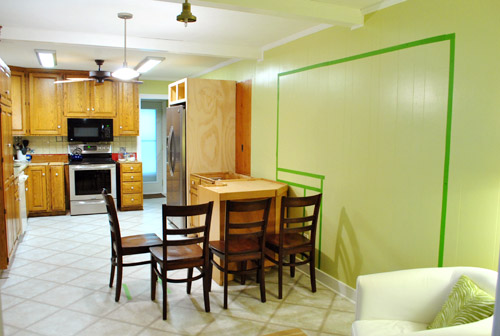 Here's where our four bids came in:
Contractor #1: Nearly $4,000
Contractor #2: Around $3,200
Contractor #3: $650-$1,000 (depending on the cost of materials)
Contractor #4: $700 if we did our own drywall, jambs, & trim ($950 if we didn't)
Is that crazy or what? And they're all licensed and insured Class A contractors with decades of experience, so it's not like any of them would do a bad job. They were all very nice too. We believe the first two contractors are used to doing much more major work (ex: additions in the 100K range), so it might make sense of their bids when you think about the giant undertakings that they're used to tackling. The first contractor actually included a port-o-potty rental and a dumpster fee as two of his line items (as homeowners who've had walls opened in our first house, we knew that doorway debris could be hauled in the back of a truck and that folks could use our bathroom to their heart's content).
Even before the bids came in, we felt the most comfortable with Contractor #3 (he does work for Habitat For Humanity on the side and is a father-son team, which is always awesome) and Contractor #4 (he's actually a friend of a friend – John was even a groomsman with him in a mutual friend's wedding – and he has 30+ years of experience).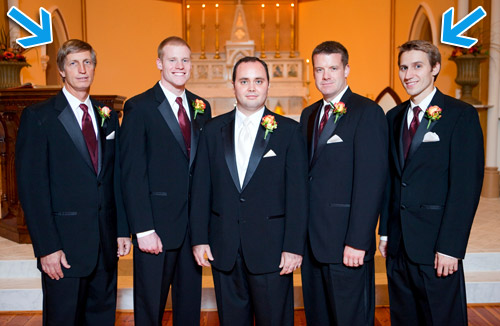 So although we loved Contractor #3, the opportunity to work with someone that we already knew (who had been doing this stuff since before we were born) was the deciding factor. Plus the other half of Contractor #4's team is a girl who is about my age, and you have no idea how much that thrills me (more than it should). So contractor #4 was our pick. Not to mention that he was willing to allow us to do the easier non-structural stuff (drywall/jamb/trim) ourselves – which we love – to save some loot. And let me tell you, $700 sounds like the perfect number after our first estimate came back at 3K over that.
We'll share more contractor info as we go, but now onto the whole permit thing. We fully believed that we needed a permit for this job from day one. And since a permit is only around $150, we were ready to bring our drawing down to the office and pay our fee (they award same-day permits here, which is really convenient). But before heading down, I decided to give 'em a call since all four contractors believed that if we talked to a "plan reviewer" and explained a few things we'd be told that we didn't need one.
So I called and was passed along to a nice plan reviewer named Jay and explained things. It's too much to get into, but it helped that our house is a one-story ranch (so the load on that wall was just partial and not a full second story of weight) and the fact that there used to be a doorway there about three decades ago helped as well (since it was already partially enforced). The verdict from Jay The Plan Reviewer: we didn't need a permit after all. So we're glad we called to save that money and time. These things differ by location though, so be sure to check with your local municipalities to learn about the rules in your area.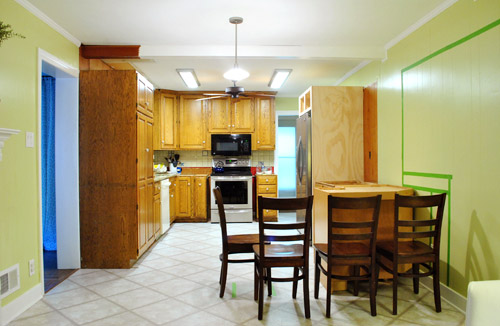 As for how we planned the exact opening's placement, we knew we needed to build in our fridge and relocate an existing 36″ cabinet (which used to live where the stove now sits) in order to begin finalizing the peninsula placement to pin down our opening. And when we found a corner cabinet at the ReStore we were finally able to judge exactly how everything would sit against that wall so we could decide exactly where to place the opening.
We're still looking for an 18″ cabinet to jut into the room to finish off the peninsula, but since the corner cabinet was the most important part of the puzzle (in order to pin down where we wanted the opening to be) we just taped off where the 18″ cabinet would end on the floor to picture things further and even brought in four chairs to help envision the seating area that will be created when we get that giant 3′ x 5′ counter installed (it'll have a 12″ overhang on the two sides where you see chairs).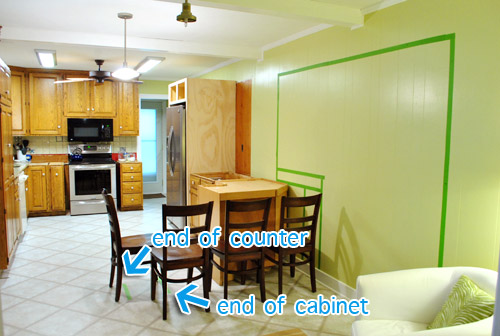 Then we just made sure that we had ample walking room beyond the stools and peninsula that will live on one side of the opening (we'll have about 4′ of walking space) and decided to line up the other side of the opening with the beginning of the peninsula (things lining up = looks intentional and balanced, as opposed to an afterthought). This will allow the entire 8′ opening to line up almost perfectly with the giant picture window in the dining room, which really should make the newly added doorway look like it has always been there (again, things lining up = looks intentional).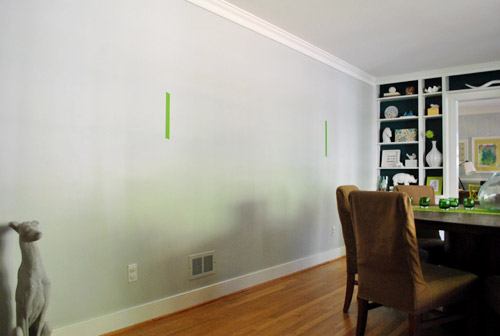 Oh and a few folks were wondering why we were opting for a half-wall instead of just doing a huge doorway with some sort of cabinetry on the back side of the peninsula that's accessible from the dining room, but we think a half-wall is the best choice for us because:
we didn't want the peninsula to look like an afterthought (like it was placed in the middle of a doorway without much planning)
we thought the half-wall would ground the peninsula, so it would feel solid and supported (instead of more like it's floating between two rooms)
we already have four base cabinets in the dining room thanks to the existing built-ins (so we don't need additional cabinetry/storage)
because of those existing built-ins, we thought an open bookcase, cabinet, or other form of built-in located less than three feet from the giant wall of existing built-ins would be a bit much
our threshold would be a lot more seamless (if the half-wall weren't there, there'd be an awkward strip of cork flooring between the peninsula cabinet and the dining room floor)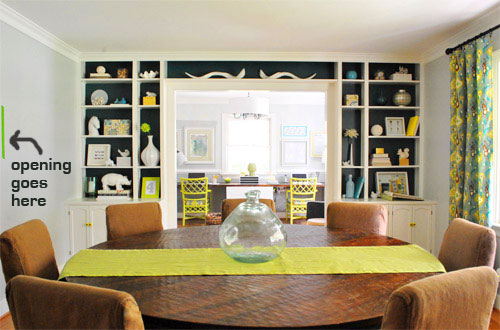 Oh and here's the google sketch-up of the view through our future doorway according to our little tape job…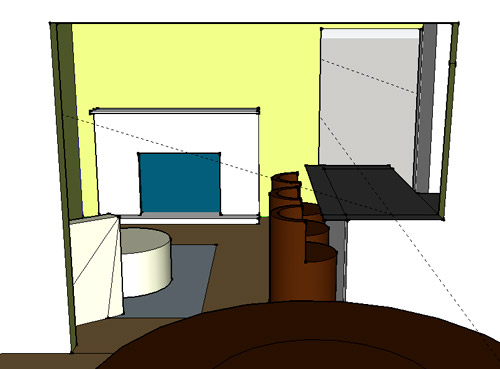 … and the full floor plan sketch to jog your memory of the top view (much more on that here):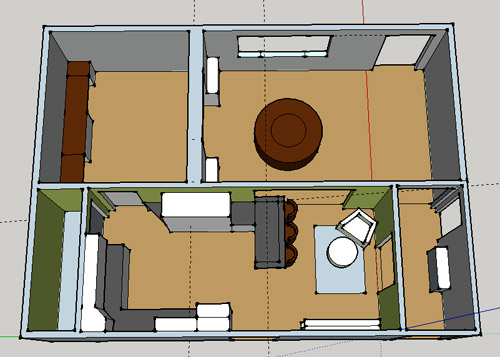 So that's where we are. Enough words. Bring on the demo pics. If all goes as planned, we'll be sharing those within 48 hours. Anything major on your to-do list this week? Do anything fun this weekend? Tell $herdog all about it.
Psst- The groomsman pic in this post was taken by David Abel.