Hallelujah, the patio is done!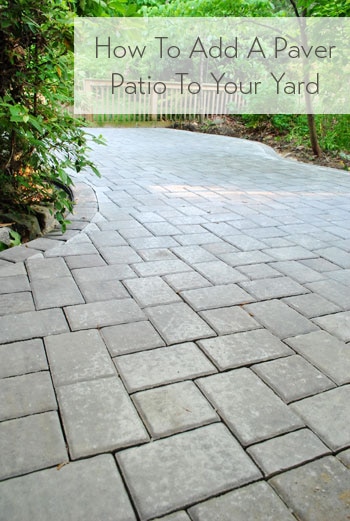 I've caught my breath a little bit and regained feeling in most of my muscles, so I'm back to tell you the end of the tale. Let's see, where did we leave off? Oh yeah, with us me passed out on the mostly-laid pavers late Friday night.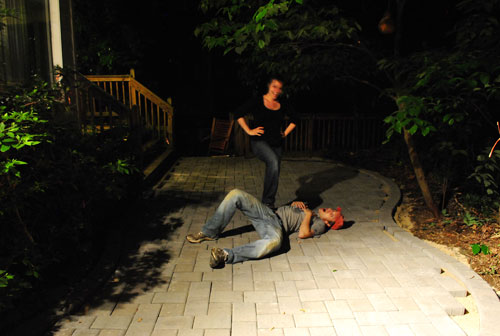 As you know from Sherry's post yesterday, we took Saturday off to have some family time / start Mother's Day early. Then on Sunday afternoon, I decided to take an hour or two to finish cutting the pavers around the edge. Apparently my day away from patio made me forget how much effort each step of this process takes. My "hour or two" turned into "seven or eight."
Allow me to demonstrate my process to explain why. Naturally, curved edges require lots of cuts. This I knew going in. But residual confidence from tiling our old bathroom had me ready to take on this more-than-beginner design.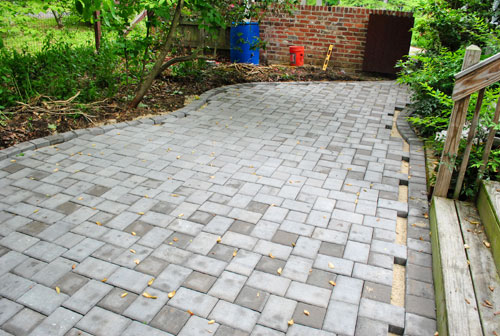 So to determine where to place each cut, I laid my full stone in place against the border pavers (which I've learned is called "a soldier course") and marked where my cut should go (the area that overlapped the border) with a pencil.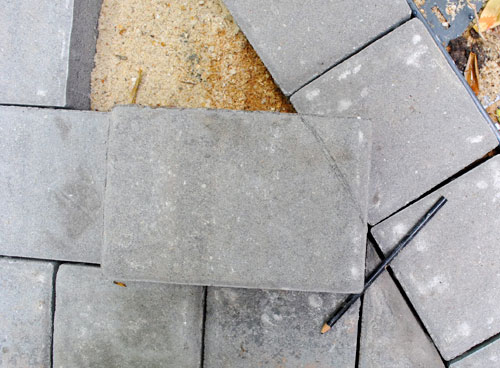 To cut, I entrusted my brother-from-an-inanimate-object-mother: the wet saw. You may remember I fell in love with this guy during the bathroom project in our first house. But after all of the recent patio craziness, we aren't so chummy anymore (we're not "tight" or "aight" as the kids say).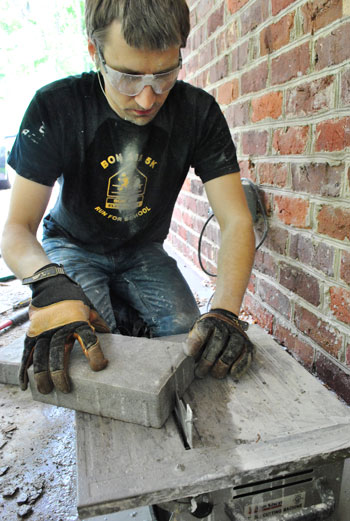 It's really not the poor saw's fault. He just wasn't meant for this type of job. But since he was free (aka, on loan from my dad, who paid $99 for it btw) I wanted to give him a shot, instead of dropping $700 on his big brother. The issue is that my blade wouldn't cut through all 2.5-ish inches of paver (those suckers were thick). So I had to do 2 cuts per paver – one, then another one from the other side once the paver was flipped over. Some particularly long cuts even required 4 trips down ol' Wet Saw Lane because part of the machine blocked the whole stone from sliding through all of the way. And even after two to four cuts per paver, I still had to break the stones apart with a quick chisel-like move (thanks to a hammer and screwdriver) to smash the piece in the middle that my blade clearly still couldn't reach: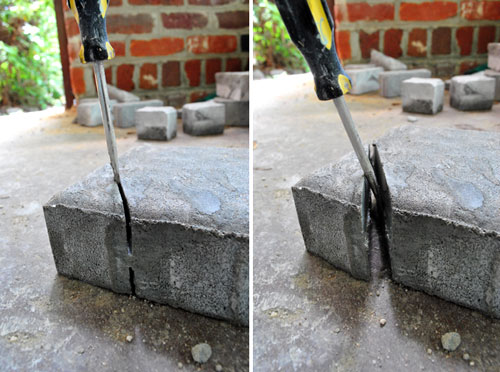 So multiply two to four cuts per paver by the 50+ stones that needed cutting and you'll start to understand why it took me so long. That $700 big daddy wet saw was starting to look well worth the money by about hour three. But I'm cheap. So I stuck with the borrowed (free) one.
Assuming my cut was accurate (which it wasn't always, unfortunately) all I had to do was lay the cut stone in place and tap it down gently with a rubber mallet (which we used when setting all of the pavers in the middle and along the border of the patio as well, just so they sunk slightly into the bed of sand and were level/secure).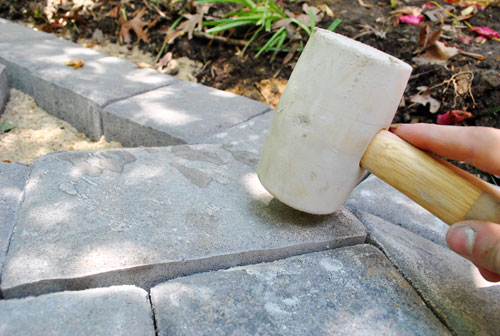 Despite all of the hassle, when it works – it's a beautiful thing (plus I later learned that the sand that I'd brush between the stones would camouflage some of the less perfect cuts really well).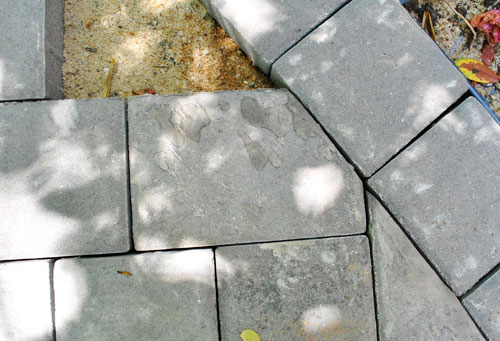 By the end of Sunday I had finished all of my cuts and even had enough energy to remove and re-attach one of our sagging gates (it threatened to scrape the stone a bit when closed).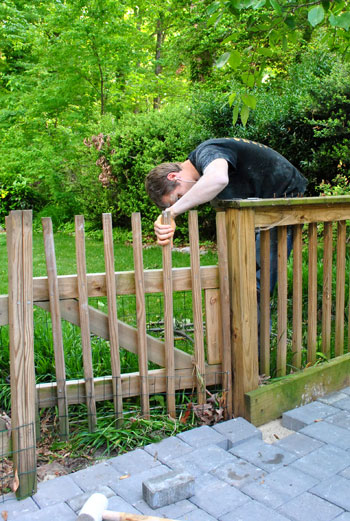 So here's the patio in all of it's pre-sand glory (the whiter edge pavers are just lighter from wet saw dust that hadn't been hosed off yet).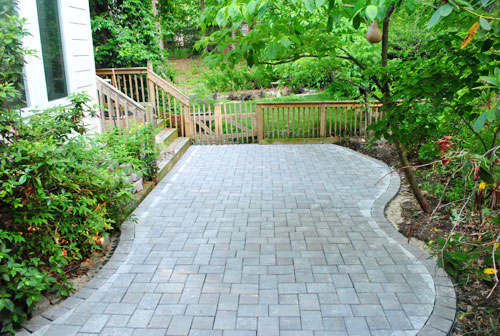 And here I amid all of my post-paver cutting sexiness. Happy Mother's Day to Sherry, right? That's spray from the wet saw all over my shirt and face (thank goodness for goggles, wish I had bought a mask). And notice the yellow hands? That's some sort of strange stain from my work gloves (apparently they don't like getting wet).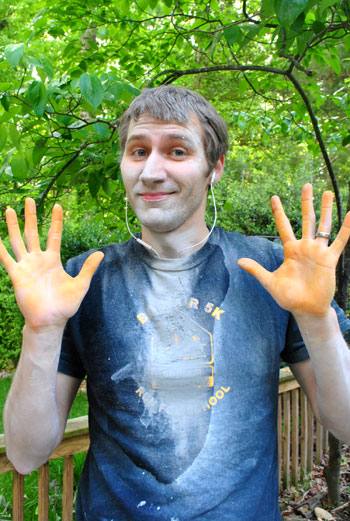 Oh, and since I promised more info about the pattern – here it is a bit closer: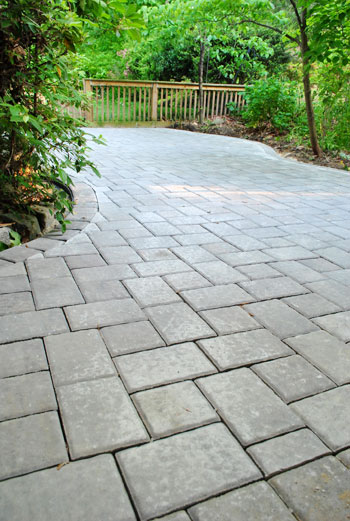 We've heard it called both an "I Pattern" and a "K Pattern" (so feel free to split the alphabetical difference and go with "J Pattern"). Although sometimes I see it as more of an "H" – made up of two 6 x 9″ pavers and four 6 x 6″s – and flanked by more 6 x 9″s on all sides. There's a diagram here that might make seeing the whole H thing more clear than our pic above.
The reason we opted for this pattern in the first place is because it's what the previous owners chose for the pavers in our driveway (and we wanted a cohesive look). Plus we like that it looks sort of like organized chaos. It appears random but there's really a method behind it all. We're nerds for that stuff. The lady at the stone yard warned us that it can be more difficult than some of the truly random patio patterns, but we honestly found it pretty straightforward once we got our first few pavers down. We just constructed one or two of those H-looking shapes and built out from there.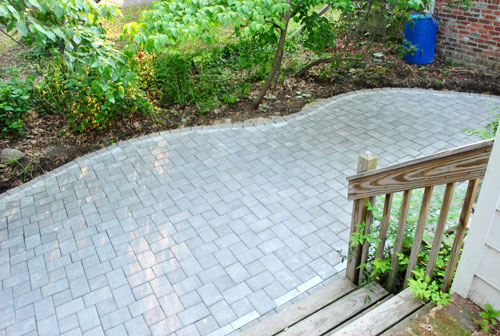 When Monday rolled around, I prepared for the final step by breaking out a broom and some leftover bags of paver sand (when I ran short on Friday and grabbed sand at Lowe's, I must've overcompensated a bit so I still had a lot left). The purpose of this top application of sand is to fill the cracks between the pavers so they don't shift. The process was pretty straightforward. Step one: dump sand on pavers.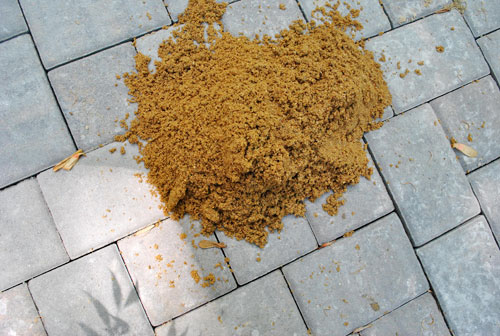 Step two: Push it around with your broom 'til all of the cracks have sand in them (this was just from one bag so far):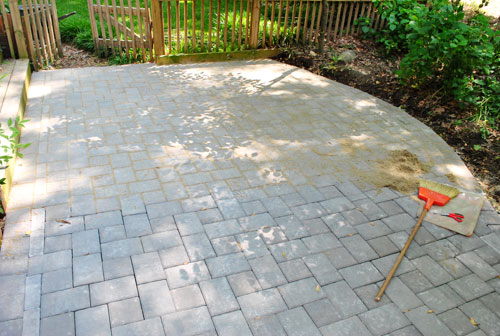 Step three: lightly mist the surface with water so that the sand slides down into the cracks.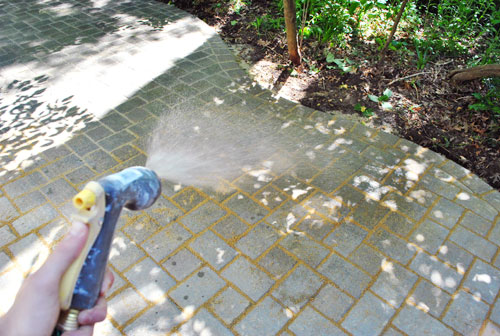 Though it really is more like a twenty step process, because like shampoo-ing, it's one of those "rinse and repeat" situations (or at least it was for me). See, my wet crack sand (wait, that sounds gross) did a lot of sliding between the pavers – making things not so pretty on top.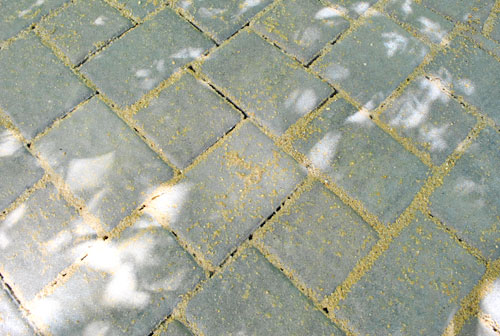 So I repeated. And repeated again. And then did some touch ups. This step seemed to take longer than I expected (consider it to be the theme of this whole project) but by Monday afternoon it all seemed pretty settled into place for a consistent and even look. And happily the yellow-orange tint to the sand disappeared when it dried out (it was really wet and clumpy when we applied it but it thinned and dried to a nice complementary gray tone).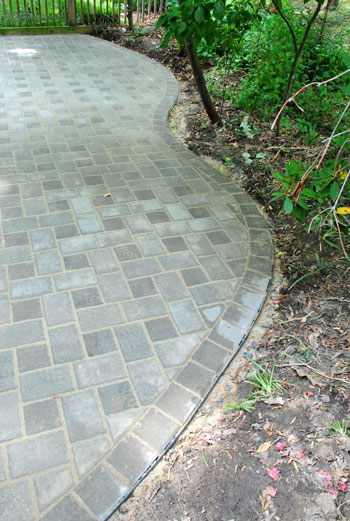 Oh and here's a note for all you fancy patio DIYers. If you have it in the budget you can splurge for Polymeric Sand (which basically gets brushed on and then misted with water, which turns it into a concrete-like consistency so it sets up hard to discourage weeds and all that good stuff). But thanks to our bursting patio budget, we opted to use standard paver sand which was about $100 cheaper (it was used on the patio at our last house which we enjoyed for 3+ years without much more than very occasional weeding so we knew it would work for now). And we can always upgrade to the good sand later (if we have $100 to spare down the road, it's as simple as spraying the sand out of the cracks with the highest hose setting and switching to the fancy Polymeric stuff).
Anyway, with my sand step done, I jubilantly (yes, I was beyond excited to be almost done) moved on to my last task before handing things over to Sherry, which was backfilling the edges of the patio with dirt (since exposed plastic edging is akin to VPL). I forgot to take an "after" of my borders all filled in with dirt, so let's fast forward to the real after afters. But first, let's enjoy a look back at two liriope-filled before shots: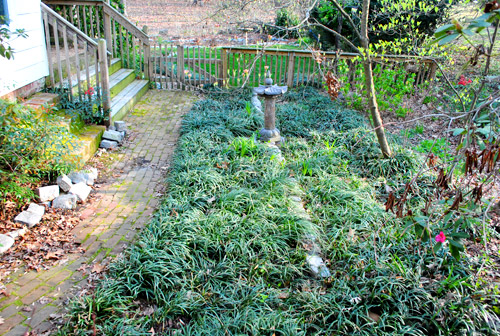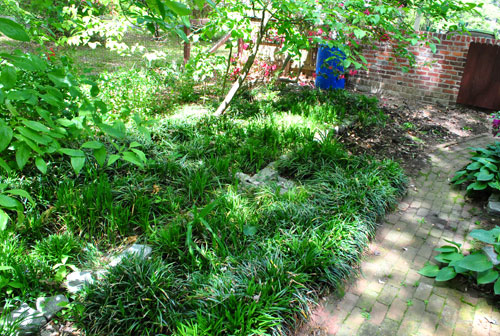 And now the patio-tastic after fest- complete with totally temporary furniture: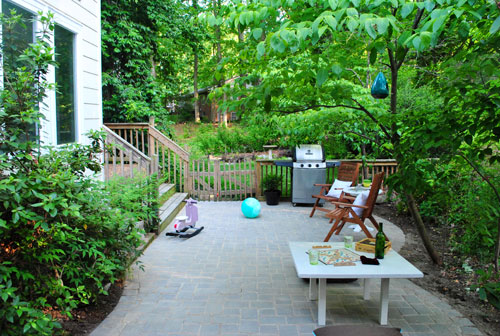 Since we sold all of our old patio furniture before we moved (which wouldn't have worked well in this layout anyway) this is all random stuff that we had in the sunroom/basement/cluttered playroom. Actually a lot of it isn't rain-proof at all, so Sherry just dragged it out there for fun (yes, after pics with temporary furniture is her idea of a good time because she thinks an empty patio reveal would have been "a real womp-womp"). I definitely agree that it helps with scale and stuff (and who am I to deny my wife of an hour of playing with already-owned pillows and random furniture?). I think we both just liked the idea of beginning to picture various ways that we can enjoy our new 300 square feet of added outdoor living space. And of course it'll look a lot better with not temporary furniture when we can invest in some down the line.
Our long-term dream is to have some sort of daybed/loveseat with a coffee table to create a casual "outdoor living room" along with a spot for a sandbox slash baby pool for Clara. Because we have plans for a big outdoor dining zone somewhere else (but with an "outdoor living room" situation on the patio, we could still enjoy casual meals there).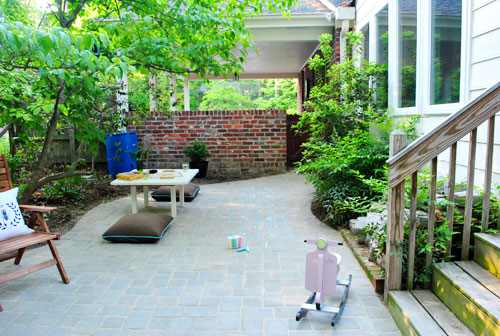 Of course Sherry went nuts with the whole fantasy world and played scrabble with herself to conjure up this cozy scene (and even got two water glasses to suggest that she wasn't out on the patio alone playing against herself). Busted.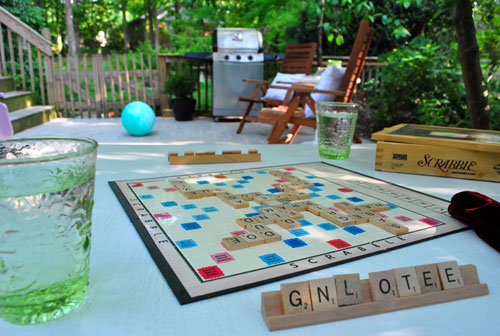 But speaking of playing, we do seriously hope this is a space that Clara gets a lot of use out of. Since we no longer have that huge driveway behind our old house, we've wanted a spot where she can be outside, minus the fears of her running into the road. So this gated-on-all-sides area is perfect for whenever she doesn't feel like playing in the grassy backyard beyond. Because chalk just isn't as much fun in the grass.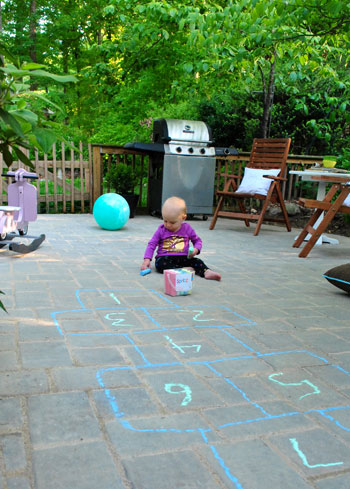 Although Clara may be a few developmental milestones away from actually enjoying a game of hopscotch, at least it's not too soon to tap sticks of chalk together.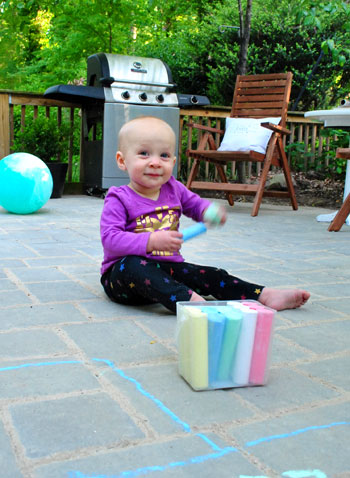 And she only tried to eat it twice. That my friends, is progress.
The only item in our 100% temporary patio layout that will be permanent is the grill. It's been hiding in my basement workroom since we moved because I had no other spot for it (it lived in the carport for a while but that was just weird). So from the moment we first started talking about Project Patio I had an area all planned out for this baby. And although I'm talking like I'm some big macho grillmaster, I've probably used the darn thing less than a dozen times. Hopefully its beautiful new home will inspire us to get better acquainted. Especially when we get some permanent outdoor furniture to go with it.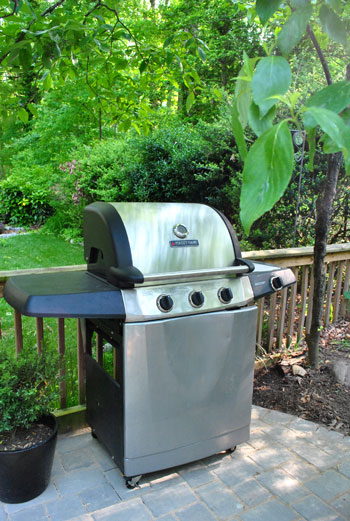 As for Sherry, she's more excited about the "crowning jewel" of the patio as she likes to call it: a ceramic bird feeder that she snagged at Marshall's for $9.99 a few weeks back. It's been sitting on the counter next to our bathroom sink (away from roaming Clara hands) just waiting for a new patio to preside over. And it looks a heckova lot better out here than it did near the sink.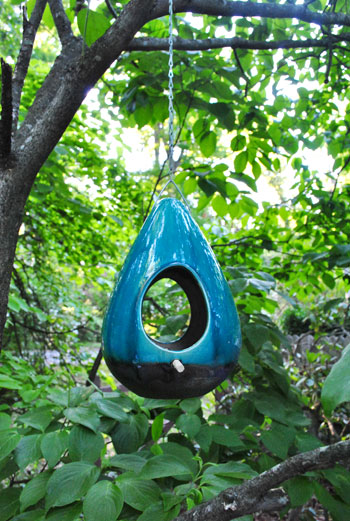 So there you have it, the end to our patio-building party. And it's just in time to start setting up for the real party (Clara's birthday on Saturday). Perhaps we'll challenge our guests to some hopscotch?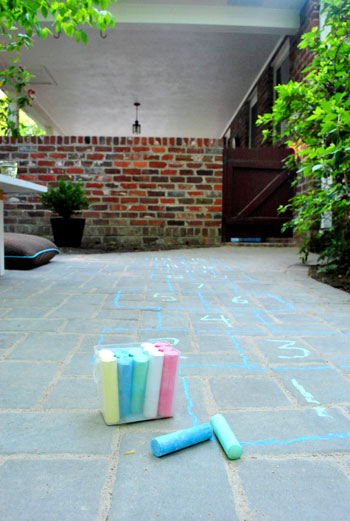 We wouldn't mind a few crossed fingers for good weather this Saturday. It rained on Clara's birthday last year so we unscientifically decided that it couldn't rain again this year (although the odds are probably the same every year). And as soon as we finished the patio I turned to Sherry and said "You know what this means right? We finished the patio in time so it's going to rain on Saturday. We jinxed ourselves." Here's hoping I'm wrong.
Oh and here's a rarely seen angle taken from the new lower patio looking up at the upper patio (which was always there) and the sliders in the living room and sunroom that lead out to it. That area was too small to accommodate our grill (let alone any larger seating arrangements) so we're so glad that we expanded our outdoor living space with the addition of the paver patio below.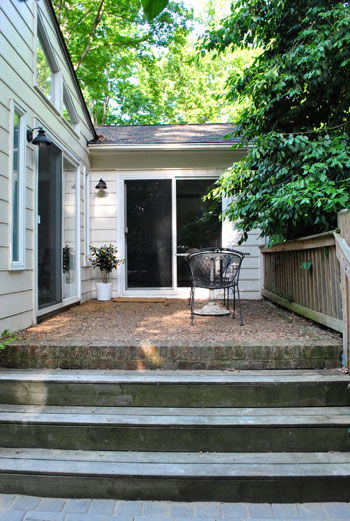 We estimate that we spent about 30 hours on the whole patio project, from planning to clean-up (but we did mess around with lots of curves and hit some crazy concrete during the demo phase, so it won't necessarily take everyone that long). And now for the big ol' budget breakdown:
300 square feet of Cottage Stone pavers (from Southside Building Supply): $621
Heavy duty plastic patio edging and spikes (from Southside Building Supply): $69.00
Paver sand (from Southside Building Supply & Lowe's): $107
Gravel (from Southside Building Supply): $240
Delivery for pavers, sand, and gravel (from Southside Building Supply): $145
Miscellaneous supplies (wood stakes, line levels, nylon string, and hand tamper from Home Depot): $40
Weed blocking fabric & crampons (from Home Depot): $30
Grand (ouch) total: $1,252*
*We actually paid $1,332 but got an $80 deposit back when we returned the bags that our gravel and sand came in.
We already chatted about how our original under 1K budget was blown here (well, in the waaay beginning Sherry proclaimed that this would be a two-day-under-$500 project, how wrong she was). But in the end we're happy to have spent what we did and to have worked our buns off to save nearly 4K instead of hiring a pro (estimates for a patio with curves of this size started around $5,000). Totally worth the blood, sweat, tears, and creepy orange glove-stained hands. But if you're asking me if I'd do it again tomorrow, the answer is: chiiiill. Let me relax for a hot second.
Psst- Want to look back on the entire patio process from beginning to end? Here's the first post (about planning), the second post (about prepping the area), the third post (about unexpected budget breakage), the fourth post (about further prepping the area), and the fifth post (about adding the gravel & sand along with the majority of the pavers).