We did it! Over the course of two nice long Clara naps (and with a little help from a friend) we managed to open up our front yard in what we like to call "Phase Two Of Ten Million" when it comes to slowly transforming our front yard. Why so many phases? Well it started out looking like this: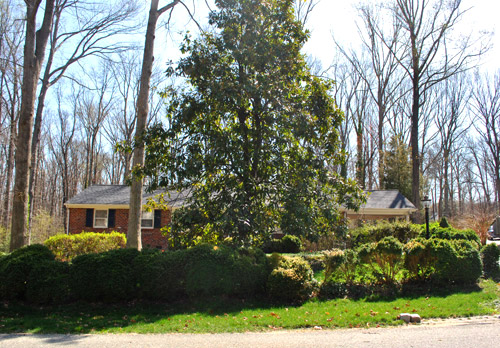 Much like our first house's yard, we figure it'll take a few years of tweaks to get it where we want it, so this phase was just about clearing things out for a you-can-actually-see-the-house-now effect (Phase One was limbing up the magnolia). In short: we dug up/transplanted/removed a ton of bushes (with the help of a friend of ours who took home some boxwoods in exchange for helping us get a bunch of them up). This post is full of photos, so I'll let them do the talking. Without further ado, here are the before and afters (we tried to take photos from the same angle for comparison). First there's the AFTER to the before above (don't mind the black feather wreath out there on the door for Halloween):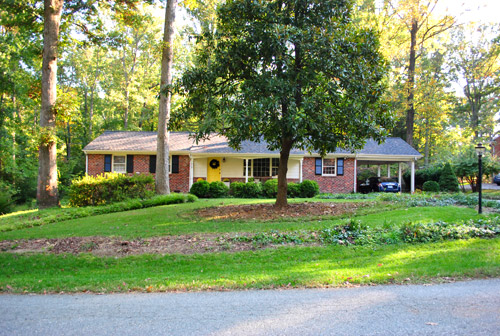 Here's another BEFORE for ya from the driveway: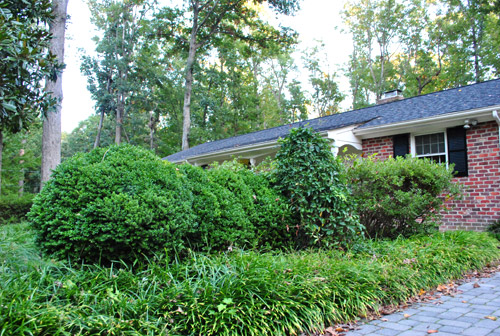 And another AFTER from the same angle (a little further away):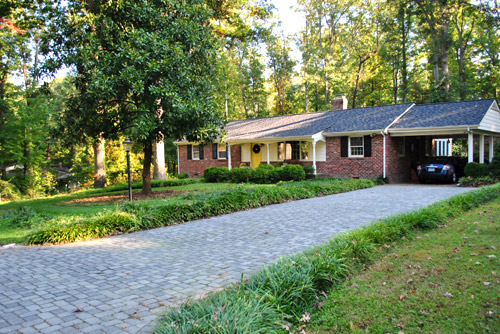 Another BEFORE: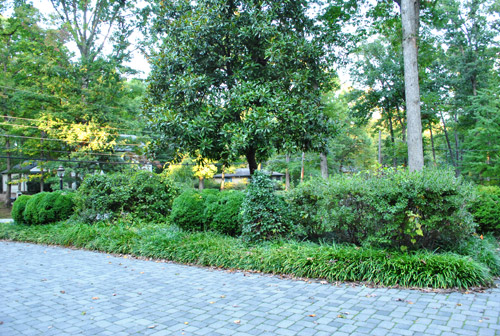 And the AFTER: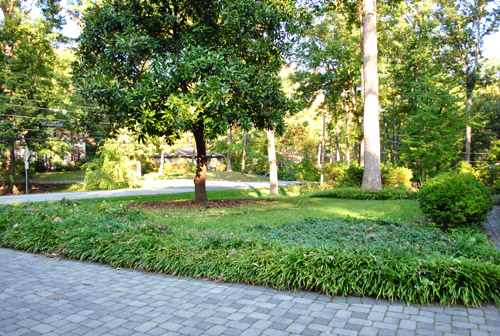 Here's a side-angle BEFORE: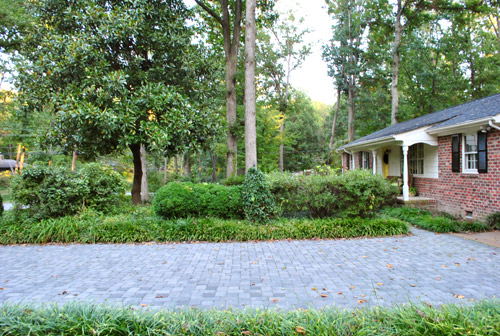 And an AFTER from the same POV: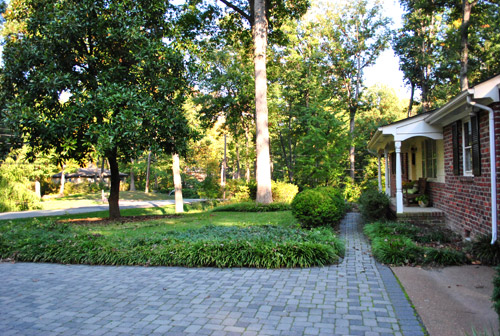 Another BEFORE facing more towards the street: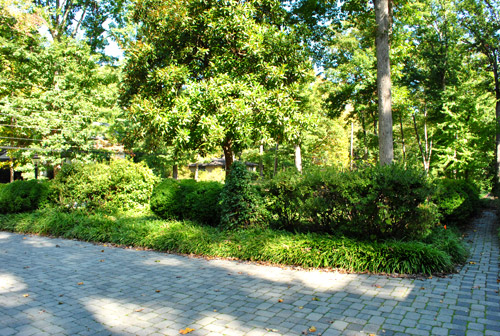 And the accompanying AFTER: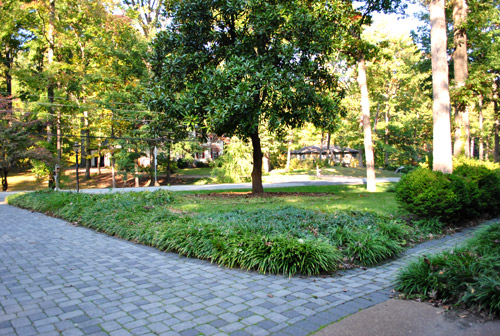 Here's a BEFORE from the other side (the bushes used to completely stop the eye so our yard felt way smaller):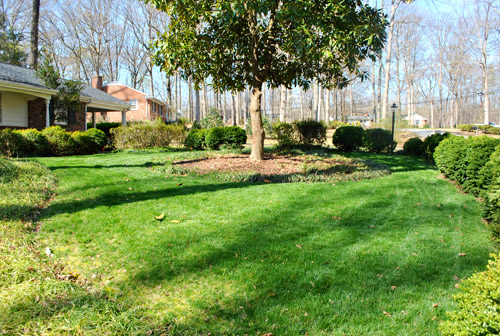 And here's the AFTER from the same angle: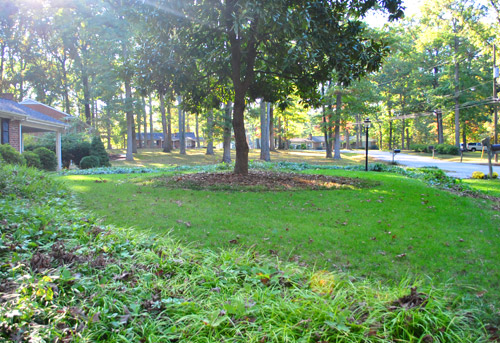 Yet another BEFORE: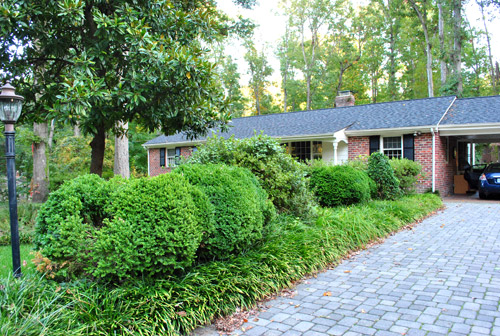 And another AFTER: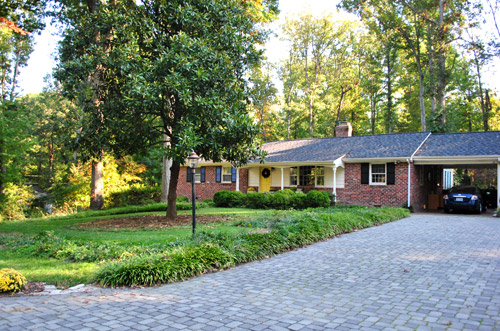 Here's how it looked from the front porch BEFORE: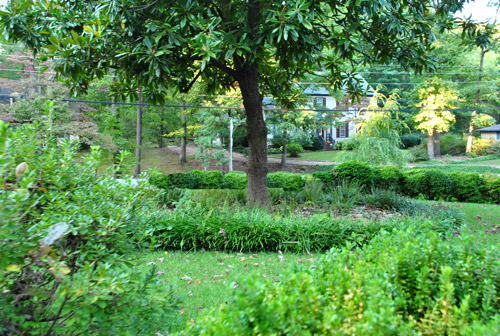 And AFTER: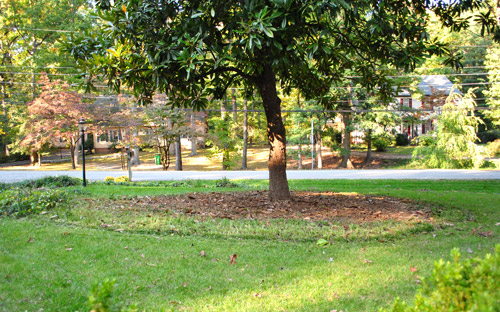 The only drawback? I got me a blister. So in that aspect it was exactly like Phase One (seen here). Totally worth it though. No pain, no gain.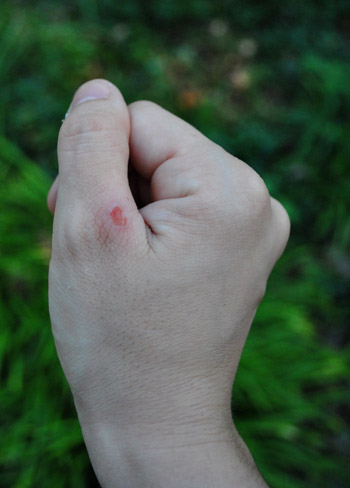 As for where we put the bushes that we transplanted, we just dug them up…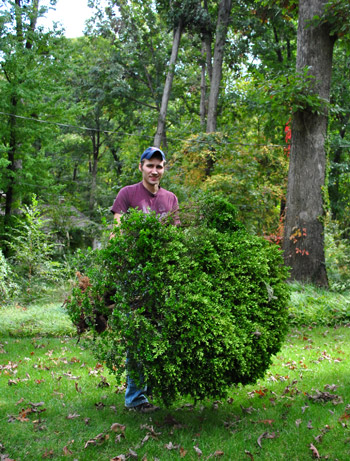 … and planted them in the naturalized parts of our side and back yard (and our friend who helped us dig made off with the rest of the healthy ones). Sadly some of the bushes were dead…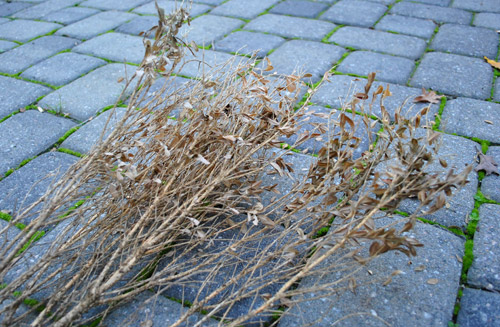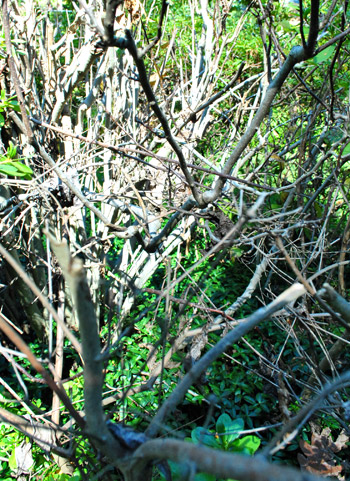 … so those just got removed with a sawzall (aka this reciprocating saw by Skill). Which was probably more fun to use than it should have been (it was actually our first time sawzalling, so we took turns and grinned like fools the whole time). And you know we loved the fact that this big curb appeal makeover was f-r-e-e (well, I guess it cost us a few boxwoods in return for some helpful friend labor, but it was foliage well spent).
As for our future lawn plans, we're definitely just getting started out there – so there are a lot more phases on the over-the-next-few-years agenda. We've got plans to:
dig out some ivy/monkey grass
lay down some grass seed in certain areas
layer in some low maintenance native (and less vinyl fence-like) plantings to soften things up around certain areas of the perimeter
landscape around the front of the house (there are hardly any plants on either side of the porch – so it's just sort of a mud pit in those areas)
do a million other things that are slipping my mind at the moment (one big one: convert the carport to a garage)
So this step was just about clearing things out to make way for some less house-obscuring choices and opening things up to let the eye travel a bit further in certain places. Feels nice to let the house breathe a little. And the neighbors have all been saying such sweet things about the change. Whew! Has anyone else been up to a few exterior tweaks? Do you do them during baby naps with the monitor outside on full blast so you can run in at a moment's notice? Do you hold your breath until the neighbors approve? We totally do.
Psst- We're over on BabyCenter talking about a Halloween surprise that we discovered on Sunday night. Let's just say Clara's in love. Here's the story.