What the dealio, guys? Remember how we mentioned a few times that we'd like to upgrade to an energy efficient front loading washer and dryer sometime down the line when we saw a killer deal (we heard they pop up around February since new models are often introduced then)? Well, one found us a lot sooner than we expected. Yesterday actually.
We were walking through Lowe's on Saturday when we noticed a sign that said 10% off all appliances. Not much of a deal, but enough to make us take a detour through the appliance section for fun. And while we were in that shiny-new-appliance-induced-euphoria, we noticed a big sign on an energy efficient Whirlpool Duet washer & dryer set that said $898 for the pair (marked down from $1198). Not a bad deal but not an earth-shatteringly amazing one either. But boy were they beauts.
We knew we liked Whirlpool Duet front loaders (they're what we had for over three years in our last house). And they'd work in our new laundry room since they're stackable. So we asked a salesperson if the 10% off offer that we noticed was valid on top of the posted $898 sale price for the pair. No dice. Since they were already labeled as an "in-store special" there weren't any added price cuts they could apply. So we called it a day and went home.
The very next morning (Sunday), as if by fate, John got an email saying all Energy Star washer & matching dryer sets priced over $397 each were 20% off for a limited time (hooray for signing up for the Lowe's mailing list when we moved). So we figured that it was worth calling Lowe's to clarify if we could use the 20% coupon on the $898 set we had seen. Although in all honestly we went into it assuming they would say no…
… which they did. Boo.
Then we noticed that on lowes.com the exact same washer & dryer were marked down to $399 each ($798 for the set instead of the $898 in-store sales price we saw earlier). And it appeared as though the 20% email offer that John received would work on top of that online sale price. Score. But we'd always rather purchase things from our local store than order them online, so we called the store back and explained that we wanted to order the set online for $319 a pop thanks to the additional 20% off the $399 sale price that we found online, but we'd be happy to come in and order directly from the store if they'd honor the $638 grand total…
… which they did. Yay.
Why the change of heart when we mentioned ordering them online? If Lowe's is anything like my old days in retail (I worked at Express on 34th Street in Manhattan for a few years during college) they're working to personally hit a sales goal in each store every day, so they'd much rather you go through them than order something online since it'll boost their daily numbers. Plus they're probably allowed to honor online prices if you print out and bring them those e-promotions and show them what you could get on their website (although we did have to speak to a supervisor on the phone before getting the all-clear).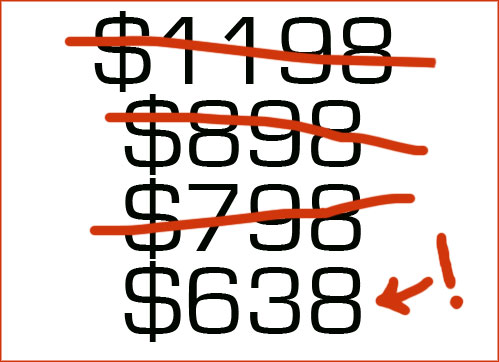 So that's how we practically bought one and got one free (saving almost 50%) when it came to a new Whirlpool Duet front loading washer & dryer. We plan to stack them in our laundry room in the place of our existing not-front-loading-or-energy-efficient current set so we save a bundle when it comes to water and electricity (plus they're a lot more functional thanks to the front loading washer capability along with the extra internal space and other brand-spanking-new features).
And while we're on the subject of saving energy, guess how many clams our new set will cost to run per year according to the Energy Star tag? Fifteen bucks. A year. For all those loads of clothes and cloth diapers that we're doing these days. Actually it'll probably be around $9 for the year because their $15 estimate is based on eight loads of wash per week, and we usually get by with about four to five including Clara's cloth diapers. You know how there's that crass term for people who are obsessed with celebs? Star effers? Well we're Energy Star effers. They're just so much better than the old electricity and water wasters of the past- like the older stackable washer and dryer that we inherited with the house.
Speaking of those, since they're still in great working order, instead of sending them off to a landfill we're hoping to sell 'em on craigslist soon since we have to wait a week or two for the new dryer to come in and get delivered. And if nobody bites on craigslist we'll donate them to the Habitat For Humanity ReStore (they do pick-ups, which makes things even easier). And we promise to share pics of the new ones (possibly with Clara playing Vanna White) when they arrive. Have you guys scored any after-holiday appliance deals? Or convinced a store to honor an online deal with some over the phone eyelash batting?
Psst- Thanks to a few smart commenters, we just learned that we can get a $75 rebate from the VA government for buying an Energy Star appliance thanks to this link, which would take our total down to $563. Squeeeeeeeee!