We're pretty sure Clara has a new favorite holiday (although it could be that Easter is just the first major holiday that she's finally old enough to really enjoy). Either way, someone had a fantastic Easter weekend.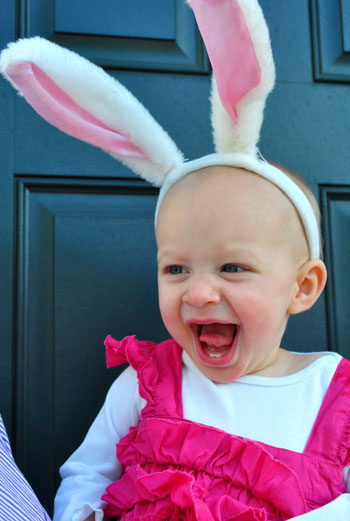 Her love of Easter could also be skewed because as far as she knows, the festivities stretch over at least 5 days. We actually kicked things off last Wednesday with an egg hunt at a local park with her older cousins Jake (who turns 13 today! Happy Birthday Jake!) and Olivia (age 10), since they'd be spending Easter weekend with their dad's side of the family this year.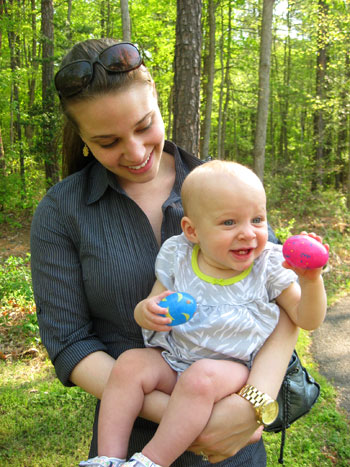 She found two eggs (aka, Sherry and I handed her two eggs that my dad had left out in the open for her and her 18-month old cousin Emanuel to find). It was love at first sight. Literally, she couldn't take her eyes off of them.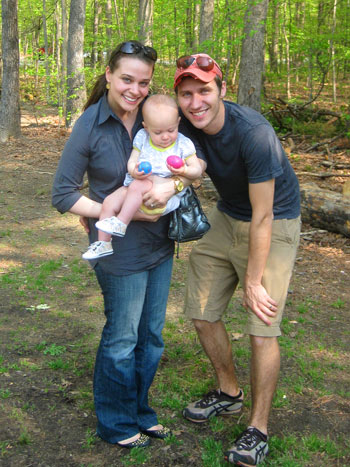 She refused to put down her beloved eggs as we continued to play on the nearby playground. Apparently the only thing better than swinging is swinging while holding an Easter egg.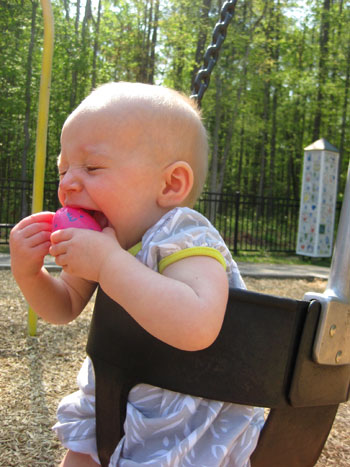 That was Clara's first of three Easter egg hunts. On Saturday we happened to be at the grocery store while they were hosting one (in the paper towel aisle, no less) for kids under seven. Clara left with one egg, a balloon, and a giant smile. But that of course was only another warm up for the official hunt that ensued on Easter morning.
The scene: the yard around my parents' beach house in Delaware.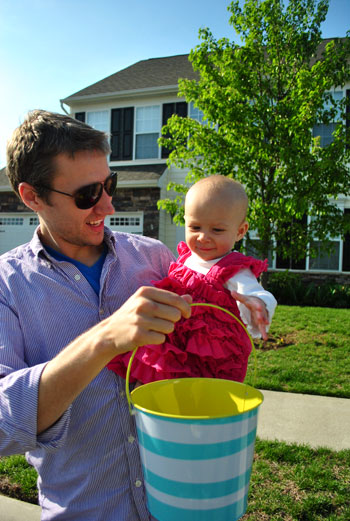 Clara's mission (which she happily chose to accept): collect nine eggs.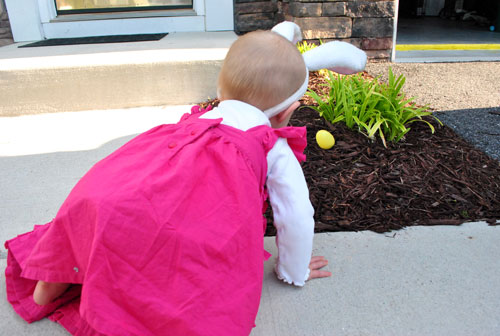 Since her love of Easter eggs was still fresh from her previous hunts, we actually let her do some of the grabbing this time around (though most of the eggs still needed to be pointed out by Sherry and me). And since she has recently become fond of putting things away, dropping the coin-filled eggs in the basket came pretty naturally (though one egg always stayed in hand most of the time).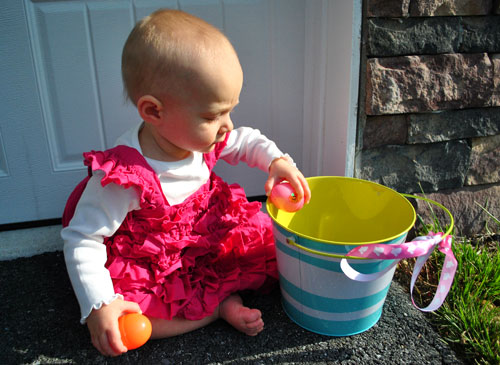 Her egg-huntin' bucket was actually her Easter "basket" for the day. It was a tin from Target that we found for a few bucks and not only does it fit in with her nursery colors, it also fits in with her love of buckets (which probably slipped down a notch thanks to her newfound romance with Easter eggs).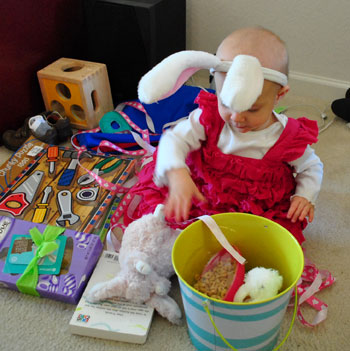 You can read more about how we assembled a baby-friendly Easter basket right here on BabyCenter today (complete with details about those wooden Easter eggs that Sherry dyed with food – no kidding).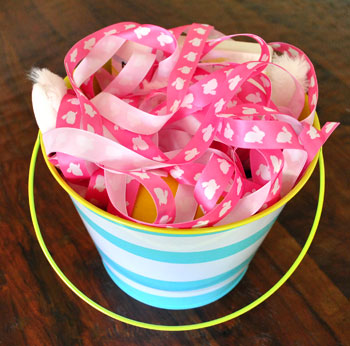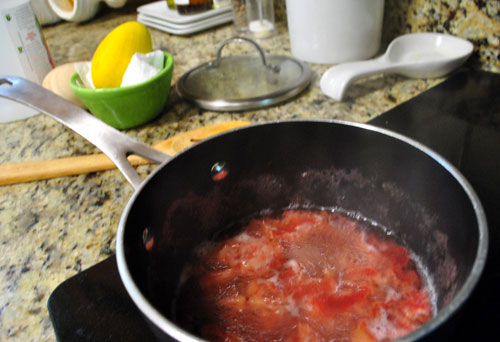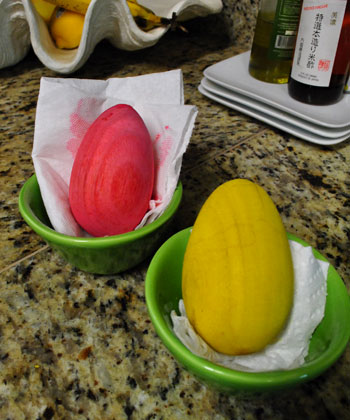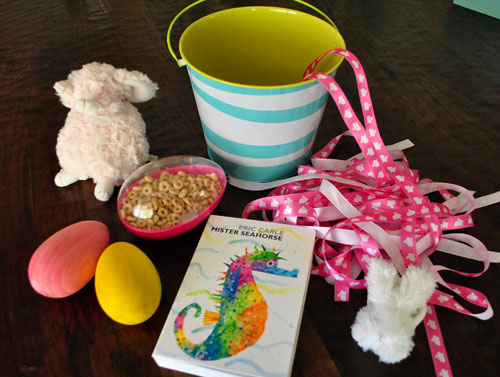 We also tossed in a bunch of Clara's other favorite things (from cheerios to a big pile o' ribbon, which always ends up exciting Clara more than the actual present that it comes with) so you can check out all those deets and some more pics here.
Oh yeah and of course we remembered to snap her weekly fabric-background picture, and we couldn't resist giving it a bunny-esque slant. Yes that's a real carrot. The girl loved it.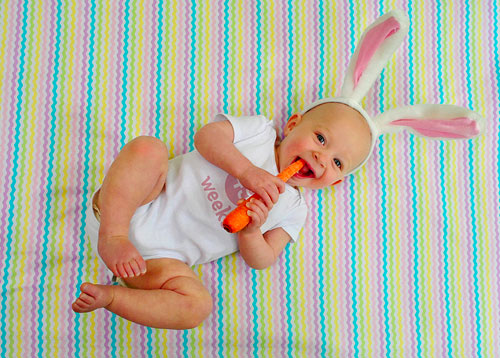 But as much as Easter baskets and egg hunts and bunny ears rocked Clara's little world, perhaps the number one reason that Easter takes the cake for her is sand.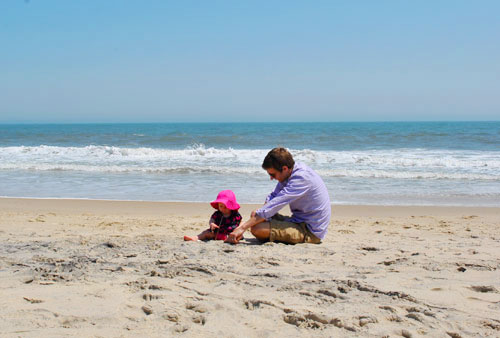 Since we enjoyed the weekend at my parents' house near Bethany Beach, Delaware and we were graced with 80-degree temperatures, Easter involved an impromptu trip to the ocean (on both Saturday and Sunday, actually). Though the breeze on the beach meant it wasn't quite bathing-suit weather, we definitely still had some good old fashioned beach fun.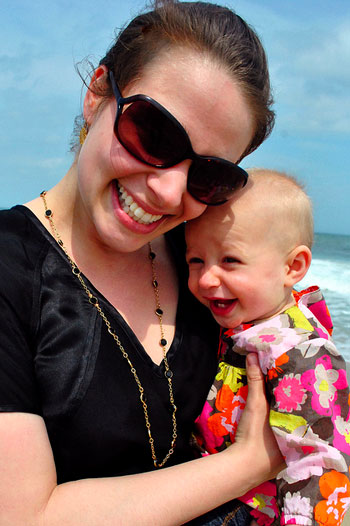 Saturday's trip got Clara reacquainted with sand, of which her only previous experiences involved being six weeks old and completely unaware of it and then having it blow in her face on our Valentine's Day trip to Rehoboth Beach (which she didn't like at all).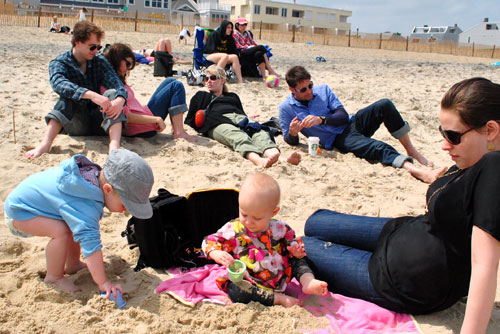 This time it was straight up sand love at first sight. There was lots of pinching it between her fingers, throwing it in the air and, yes, even a bit of "what does this taste like" going on (luckily the verdict was "not good" so that ended soon enough).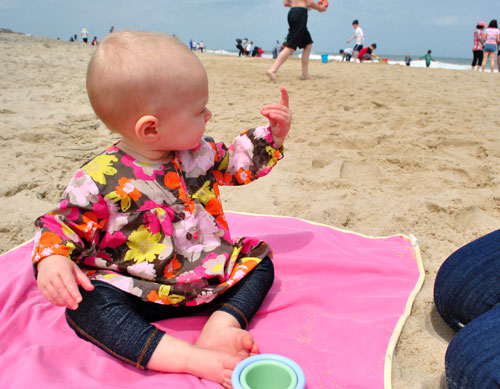 Sunday's trip was a bit more dynamic (since it was already established that sand = friend, not foe). So there was a sandy crawling session…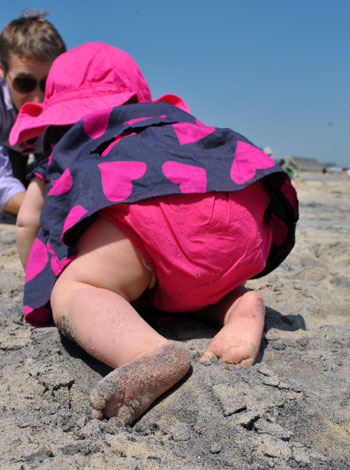 …a hunt for seashells and apparently surfer boys (though neither were quite as exciting as the hunt for eggs hours earlier)…
…a brief fashion show (involving her new sunglasses from the nearby outlets, which were tolerated for about 10 seconds)…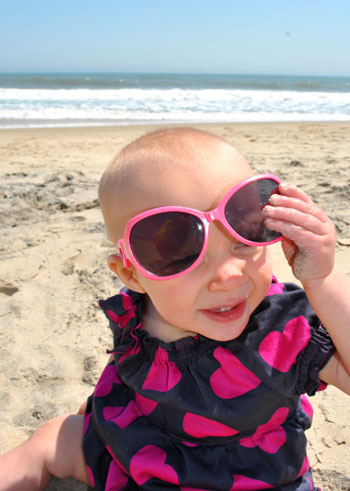 …and spending some quality time with her mommy (who ditched her usual uniform of black shirts) and her fellow baby cousins (Emanuel and my sister Emily on the left, John and my sister Katie on the right). And yes, this was the most flattering picture of three babies on a windy beach that we were able to achieve. They're squirmy little things.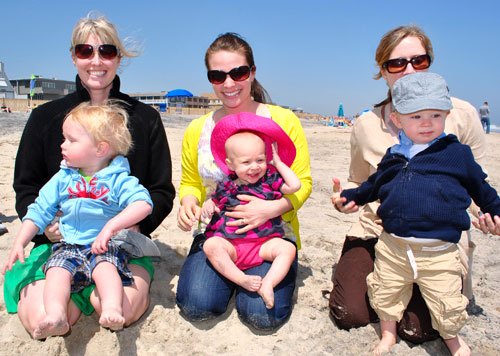 Of course, all of adventures that made Clara fall in love with Easter also meant that it was a pretty darn good weekend for us grown-ups too. In addition to all of this, our cousins/BFFs Cat and Travis (who we mentioned here last week) had their baby! The Easter bunny stork dropped off Edison Dean on Sunday afternoon, so we were even able to swing by the hospital on our way home on Sunday night for a brief meeting. Everyone's doing well by the way, including new big sister Elsa.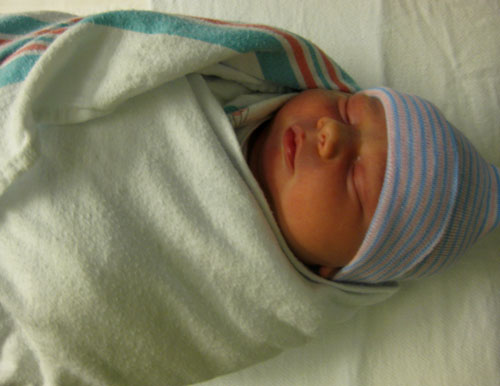 Oh and after all of that what-does-this-have-to-do-with-your-house stuff, Sherry and I were actually able to make some progress on our next big project all the way from the beach: patio planning. My dad is also planning to add a stone patio to the back of their beach house, so we helped him brainstorm a few shapes to choose from and even sketched out a general plan for the one that we're going to tackle momentarily on the side of our house behind the carport (it's accessible from the sliders in the living room and the sunroom). I'm sure we'll be blabbing a lot more about that as we go, but we'll leave you with these photos of the side yard where we'll be adding some fencing (for privacy) and a paver patio (for a lot more outdoor living space while keeping some of the green stuff around for shade/beauty):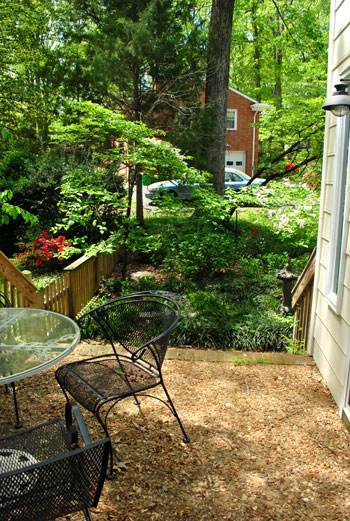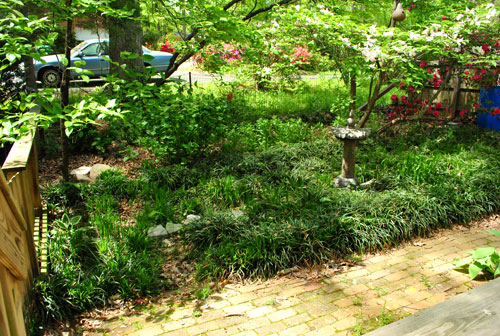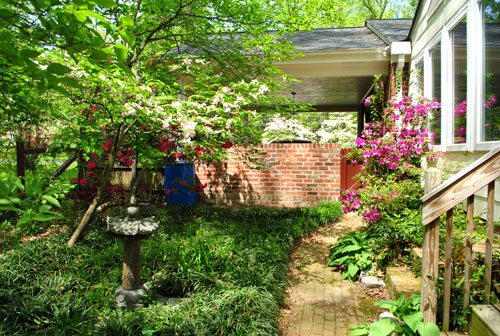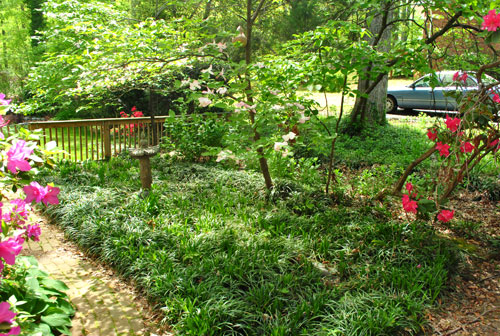 Here's our little sketch of the plan – at least as it stands today (Sherry had some Photoshop fun):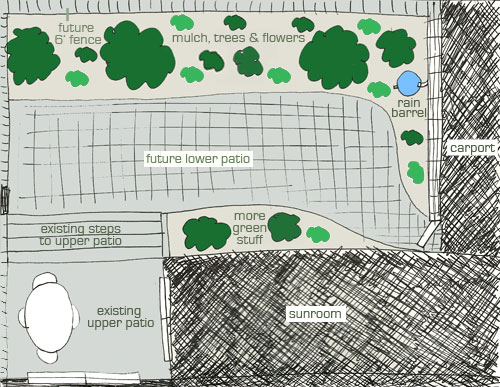 It's only early days though, so who knows where we'll end up with it. All I know for sure is that Clara's party is less than three weeks away and my charming-but-sometimes-a-bit-too-optimistic wife thinks we'll be done by then. Should be interesting. But enough about us (at least until this afternoon's post) – tell us about your weekend. Were there egg hunts and Easter baskets and bunny ears and prop carrots involved? Are there other born-on-Sunday babies that you know of?