Merry Countermas to us!
They're here. And they're spectacular.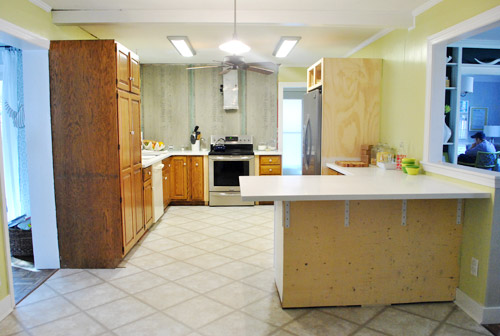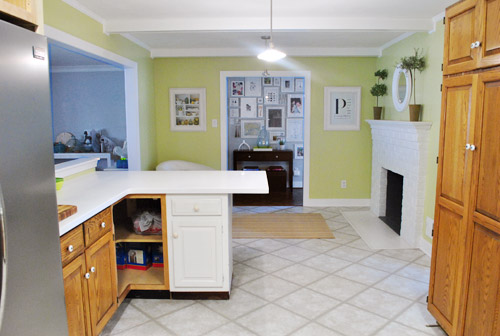 Just as a reminder, the cave room looked like this back when we moved in last December: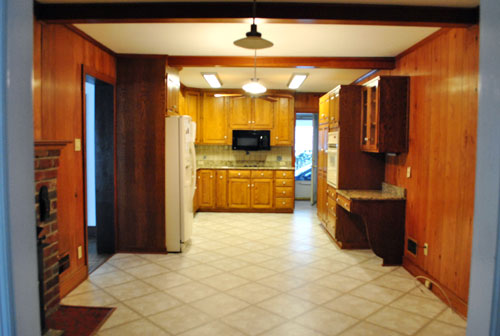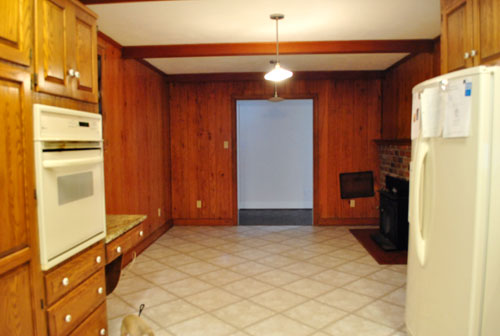 But back to our brand-spanking-new Corian counters. I didn't expect them to feel as chunky, heavy, and stone-like as they do. They're like marble without the veins. Seriously. Nothing plastic-y about them. And they're sleek but sort of matte too if that makes sense, which looks/feels really chic and sort of honed-marble-ish (according to our installer the white matte ones are the only ones that don't show scratches, which will definitely come in handy). So yeah, it's safe to say that we're completely smitten.
Of course things were looking a bit rough when they went in, but we're used to the room looking like crazytown by now: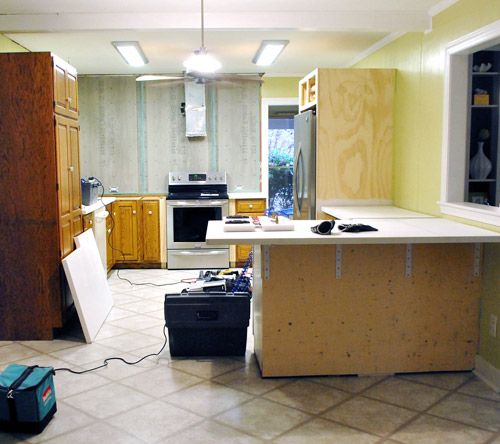 One of the coolest things to watch was how they made them completely seamless by filling the cracks where the slabs met with some sort of glue-caulk and getting it suuuuuper hot with these defibrillator-looking pieces: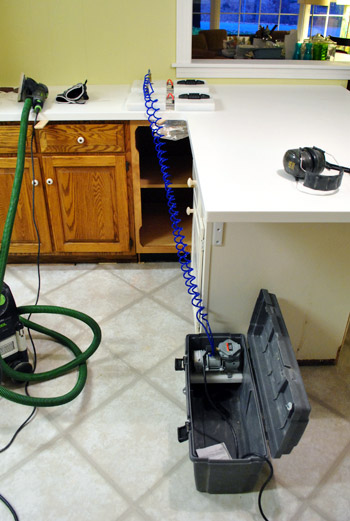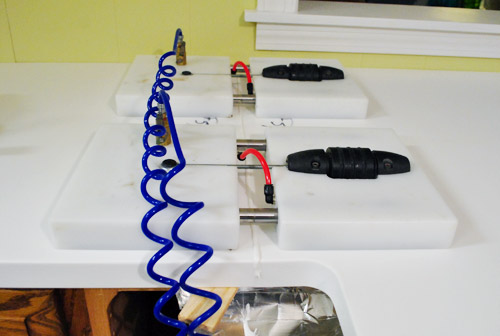 Then they were flash cooled and the installer polished them until the seams were completely gone. Seriously, I'll give anyone who can tell where they were a hundred bucks because it's impossible. Oh but for this step of the project Burger, Clara, and I went for a nice long walk and John shut himself up in our bedroom because it was a little fumey while the glue-caulk was heated up and cooled and smoothed down (but it thankfully wasn't a dusty or messy process, which was nice). So I didn't come back to chaos, just beautiful white amazingness with the fan going and the windows open.
Here's where one of the seams ran (right up this corner) before he worked his installer magic. No evidence of it at all, right? Three cheers for shape-shifting counters. And yes, that is a baguette. We're fancy like that.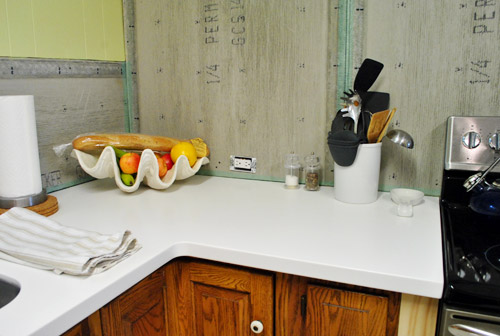 The guy was awesome about talking us through maintenance stuff. Here are a few of the fun things that I stood there and actually took notes about because I'm ridiculous (in my defense, the guy seemed to be entertained by my furious scribbling):
Corian is nonporous, which means stains can't penetrate it (and most of them can simply be scrubbed off, even if you don't catch them right away)
If stubborn stains (like red wine that somehow sits for a few days) do discolor the top layer of the Corian, a spray bottle full of 10 ounces of water and 1 ounce of bleach should strip the stain right out.
The white color runs all the way through the counter, so if some insane spot refuses to come out, it can be lightly sanded in a circular motion with extremely high grit sandpaper (400 grit) and then followed with a very fine buffing pad (which was provided to us by the installer along with the sandpaper). It's like they knew we were DIYers. So we don't have to call anyone in to "resurface" things in a decade or two if we feel like polishing them up because they essentially taught us how to do it ourselves.
Our counters are warranteed for 10 years, so if anything ever cracks or otherwise has issues they can come fix it for free (holla!) using the same method they used to fill the seams, which makes any prior damage completely undetectable.
So that combined with the fact that John's sister has had the same exact counters for five years with three kids and a big dog (and zero repairs/stains) makes us deliriously excited. And I'm happy to report that we're not being nearly as anal as we were with our first kitchen's granite counters (the light color of them really freaked us out in the beginning). We've jumped right into using our kitchen even more – so things like spaghetti sauce have already made an appearance without any disastrous results.
Oh but there is one problem. Our sleek new counters make our old cabinets look like crapola by comparison…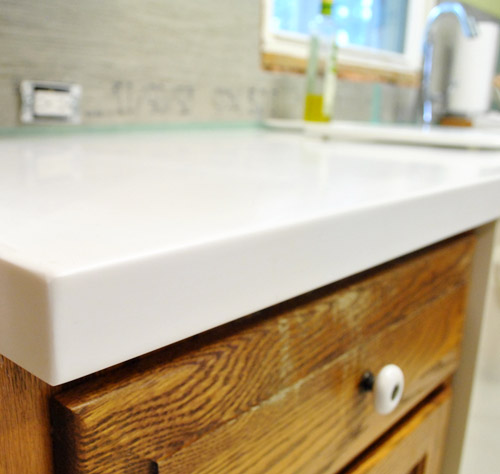 … but once we sand, prime, and paint them (along with fiiiinally replacing the eyeball hardware) they should be worthy of such pretty countertop company. Can't wait to rebuild/cut down some matching doors and get to the whole priming & painting step.
You can read all about why we chose white Corian and how much it costs here, and how the templating process went here. This post is just really about photos. Glorious, glorious photos of the counter that we waited 20 sinkless days for (read more about removing the old counters and sink here).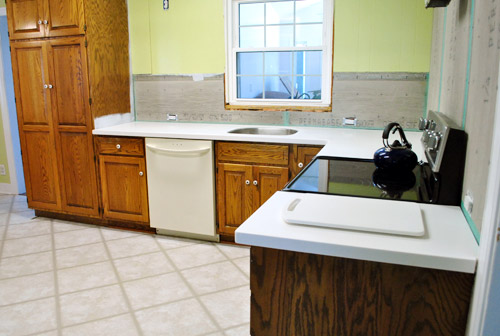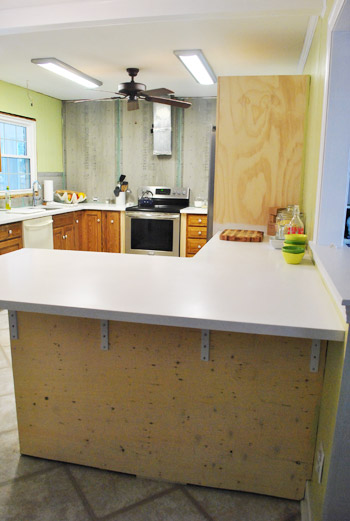 See that hulking 3 foot by 5 foot peninsula? Pictures don't capture how big it really is (it's larger than the wood dining table that we used to have in here). That baby is pure joy. So much space to spread out and bake/craft/eat/serve up appetizers, etc. The kitchen is pretty much 100% more functional and there aren't even stools there yet (or any wood trim pieces on the back and side of the peninsula to hide those ugly brackets)…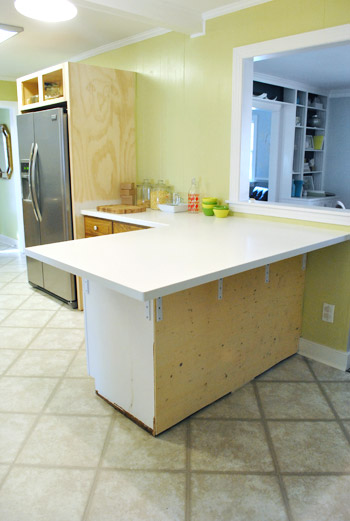 Oh yeah and see those counter edges on the peninsula above? They're gently curved, so there's no pokey part to stab Clara in the eye or John in the hip or me in the belly (yes, we're all dramatically different heights around here).
And for those wondering how we've been dealing with an in-progress kitchen and asking if we've been eating out every night, we've actually been really lucky to have a fully functional fridge, stove, and dishwasher this time around (which was not the case during our first kitchen gut job). So we've still been eating/cooking at home without counters and a sink (we just used a piece of plywood leaned on top of the cabinets as prep space with a cutting board and other platters and plates to keep us from actually prepping food on the plywood). But the whole washing-pots-and-pans-in-the-tub thing was getting old. So happy to have this guy back in action: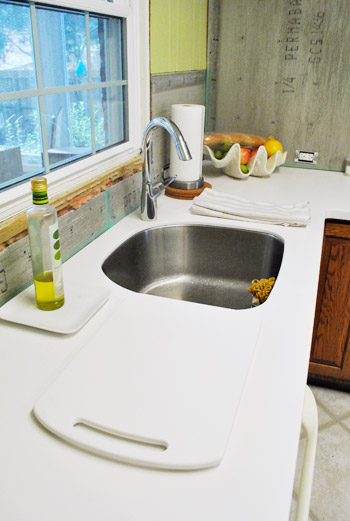 Our counter fabricators even left us a handy little cutting board that they made out of the sink hole for us, which can also be used as a trivet (super hot things shouldn't be placed directly on Corian counters, but we never put hot stuff on our old granite counters without a cutting board or trivet, so we should be cool). Oh and for anyone local wondering who we used for installation, we were beyond thrilled with Five Star (our installers) who were hired through Home Depot (where we ordered our Corian). More on that here.
Oh but wait, before the counters went in we hid a little time capsule behind one of the cabinets (which will only be found when our counters are someday removed).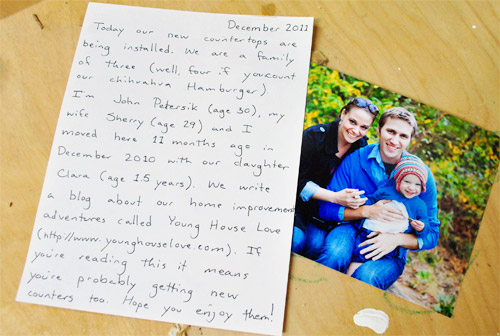 John sweetly wrote it. It reads:
Today our new countertops are being installed. We are a family of three (well, four if you count our chihuahua Hamburger). I'm John Petersik (age 30), my wife Sherry (age 29) and I moved here 11 months ago in December of 2010 with our daughter Clara (age 1.5). We write a blog about our home improvement adventures called Young House Love (www.younghouselove.com). If you're reading this it means you're probably getting new counters too. Hope you enjoy them!
Here's how we hid it behind the corner cabinet by the window (stapled to the back of the cabinet in a ziplock bag).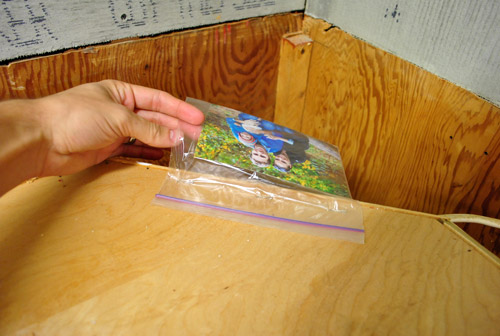 Ah memories. We can hardly picture the top of the cabinets anymore. Isn't it weird how your eyes adjust so fast? So next up we have to cut down and hang a cabinet for the built-in microwave next to the pantry, start trying to retrofit/build matching doors for the secondhand cabinets that we added to the room, prime and paint the cabinets, tackle the backsplash, hang our built-in range hood and floating shelves, redo all the lighting, lay the cork floors, install our new stainless dishwasher, add crown molding, etc. Whew. Might not be done until late January (we originally were aiming for early Jan) but we're inching slowly towards the finish line. Just taking things one day at a time seems to be the secret to sanity. That and washing things in the sink again. Oh man, it's good to have that guy back.
UPDATE: We're officially in love with our new counters. Check out the update post about them here.