We're about to hop on a plane back from Boston (which is thankfully not canceled, despite the snowy weather), so this post is up a little early for ya but your comments might not pop up for a little while. Anyway, we've debated potential colors for the walls in this hall bathroom from almost the day that we moved in. For a while we were on the deep blue train, but after putting that in the adjacent guest bedroom, we've been going back and forth between several other options. Dark? Light? Colorful? Muted?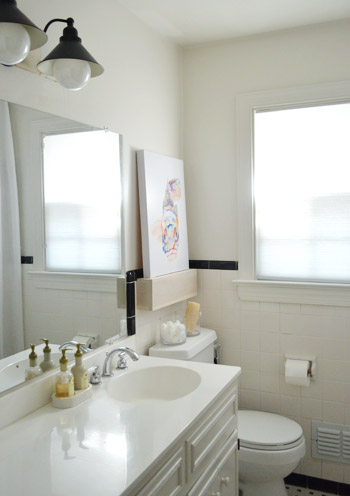 We finally found our focus when we put that bright fish painting on our whitewashed shelf. Suddenly we had a direction. Toned-down-but-not-completely-neutral walls with colorful accents (sort of like we've been doing throughout the rest of our house, but this time with a new undertone – plum). Yup, we went for it. Sherry flipped through our paint deck and plucked out Elephant Gray by Benjamin Moore (we went for a nice bathroom-friendly satin finish, and only needed a quart for the job). Like many of our walls, it was grayish – but unlike Moonshine, it had a warmer plummy undertone to it.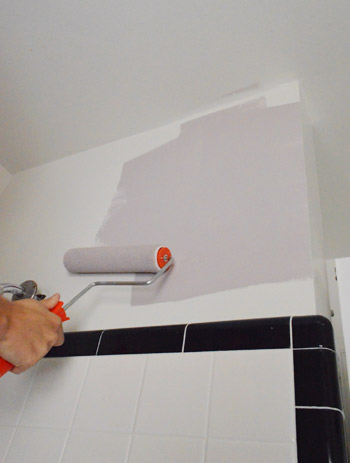 Just like we've done in our other bathrooms, we chose to paint the ceiling the same color as the walls. We find that in small rooms like these it actually makes the room feel bigger because the ceiling isn't some jarring white plane and it all feels seamless and lofty. The pic below is a bit grainy because I had to zoom way in. My painting outfit involved just boxers and while maybe I should be flattered that Sherry thought that was worth sharing, I decided we should maintain some mystery in my relationship with you guys…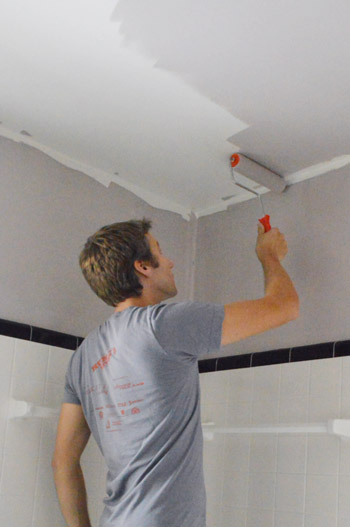 It wasn't until we finished that we both stepped back and said "oh yeah, this kind of reminds us of Granny's bathroom." We were both so happy with how her bathroom makeover turned out, perhaps it was a subconscious inspiration. They look more similar in these photos than they do in person, since Granny's "Hint of Violet" was lighter and felt more purple than gray while ours is definitely darker and more plummy (less pinky and pastel than Granny's).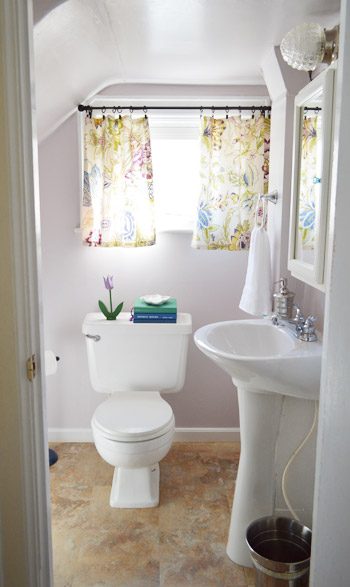 But either way, the idea of having a Granny-inspired bathroom in our own house is kind of awesome.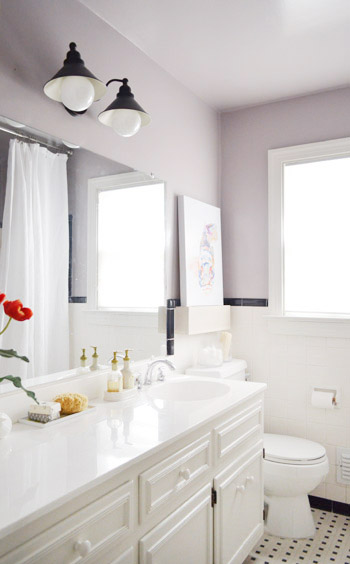 See how it pulls from the painting a bit, while providing a nice backdrop for the brighter oranges and blues – which we'll definitely be bringing out a lot more with some crazy bold fabric that Sherry wants to use for a roman shade.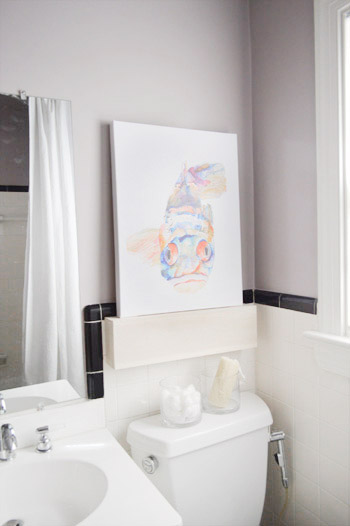 Here's the other side of the room too. It's nice that the soft and moody tone of the paint looks nice with some of the metal accents – like our iron horse head towel hook and the ORB light – to fit right in. But looking at these photos, it makes it painfully obvious how much we need to frame out that builder-bland mirror. Soon I hope!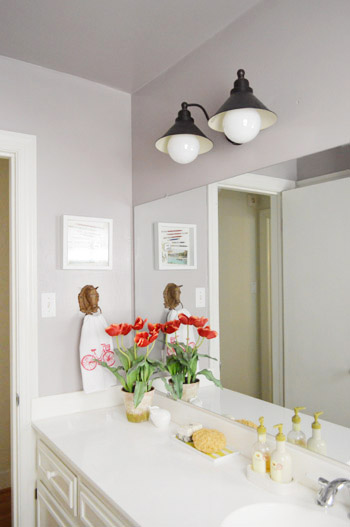 That's probably next on our list. Well, that or making a roman shade. Sherry's got fabric hanging around that she's been dying to use so we'll see who wins and gets 'er done first. #maytheoddsbeeverinmyfavor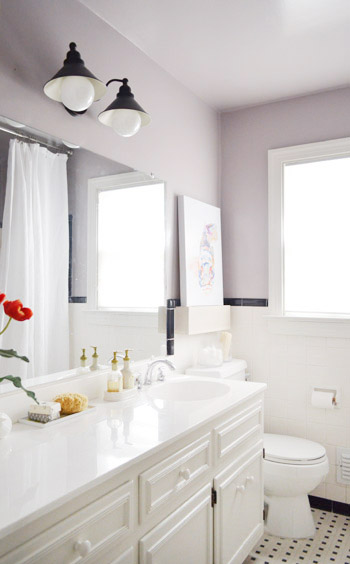 The best part about this latest update? That fact that we're making the existing tile work. I was not excited at the idea of busting that stuff out and starting all over, and it's in much better shape than the tile in our first house's bathroom, for which we're eternally grateful! You know we love to use what we've got. So thanks to just a quart of paint, the room definitely looks a lot more polished and welcoming than it did just a few days ago: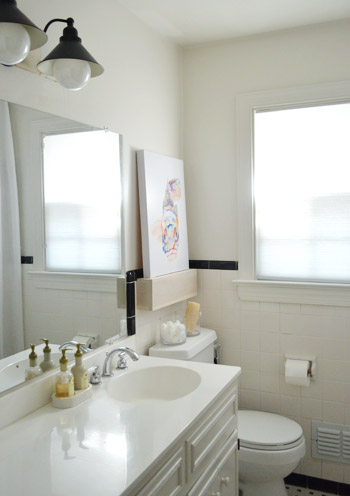 What are you guys painting? Are you psyched that we went with a plummy gray after dropping the word plum at least thirty times in the past two years since we moved in? I gotta say, I'm a dude and I love my plum bathroom. Just don't call it purple. For some reason that's not nearly as enticing…