Aw yeah, it's hall bathroom time, baby. We have about five phases of updates that we plan to share as we go, so here's phase one. We've been hiding something in our hall bathroom. What? You thought that giant empty frame was just there because it looked good? Nah.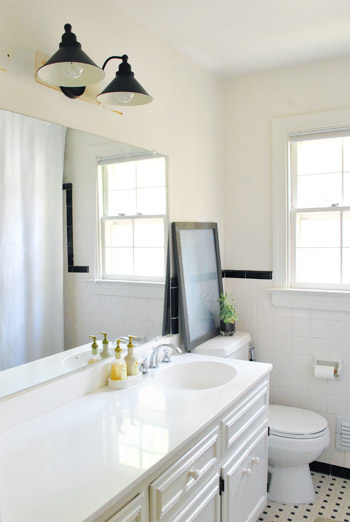 To better understand this skeleton in the closet atop the toilet, might I refer you to this 20-month old post by Sherry entitled "Sometimes I Go Crazy." It's about how Sherry got a wild hair and busted out one of several extraneous towel bars that were un-centered/overkill/everywhere in our hall bathroom.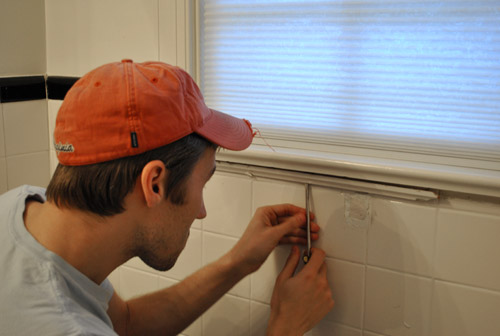 Thankfully we were able to cover up the resulting tile scab with some new trim, so we considered it a success.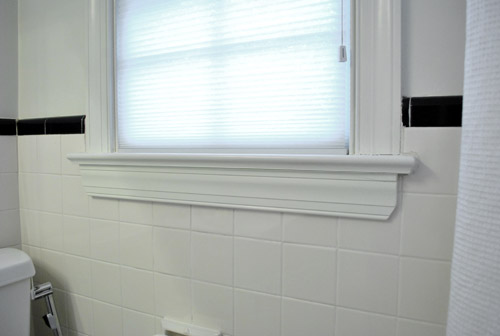 Not quite so successful? Sherry's attempt to bust out a weird soap dish above the toilet. So we've been living with this craggy eyesore for nearly two years, shrugging it off as "oh, we'll just dremel out a tile or two and replace them someday" (like we did here).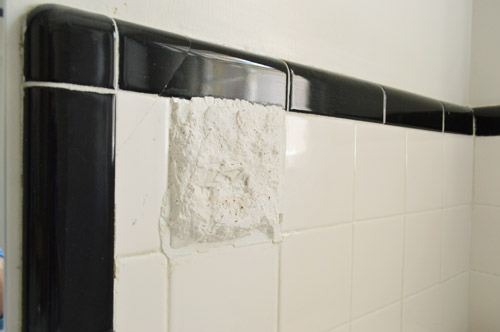 But then we came up with a better idea – something that would be functional and decorative – and cover that lumpy mess. A chunky floating shelf (to rest art, cute toiletries, etc). See, form + function + ugliness shroud = awesome.
Note: we somehow accidentally deleted a few of the early photos of this project, so bear with me as I try to explain this somewhat logically. I know, I know. Deleted photos? That's like a class 1 blogging misdemeanor. Tell it to the judge.
Anyways, covering up the existing damage involved making some more. This time in the form of pilot holes to help us hang our homemade shelf.
We decided to create a chunky, shallow shelf that was built following a plan similar to what Ana White shared on our blog for recreating the floating shelves in our old dining room. It involved building a "sleeve" over which a box (aka, the shelf) can rest and therefore appear to float on the wall. Since our shelf wasn't going to hold much weight, I made mine much less heavy duty than Ana's plans called for.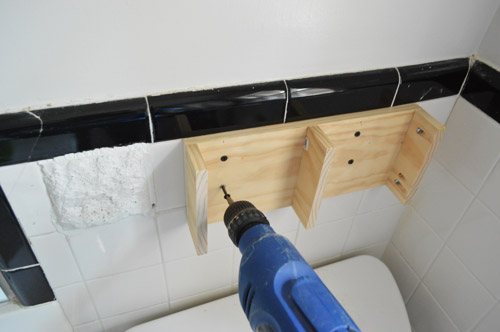 Here's the shelf itself. It was made from some simple craft pine from Home Depot. It was eight bucks total for the wood (the top was a thin piece of wood that was leftover from Clara's dollhouse). But you can see that I just used the Kreg Jig to make a flat plank with wood pieces shooting out as the "sleeve" (which I drilled into the tile and secured using a masonry bit) and the box was just made like you'd make a box (again with the jig). As for the measurements, it's 6″ tall, 21″ long, and 3″ deep.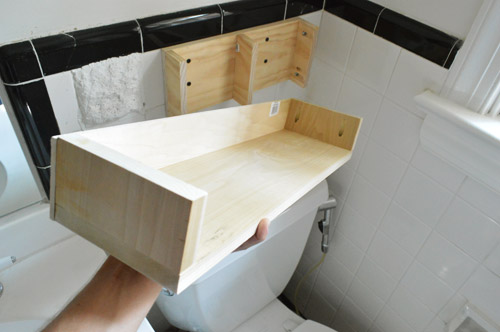 I didn't put a bottom on it since you'd never see that side of it… unless you were actually inside of the toilet tank. And if that's your view, you've got far worse problems than seeing the underside of our shelf.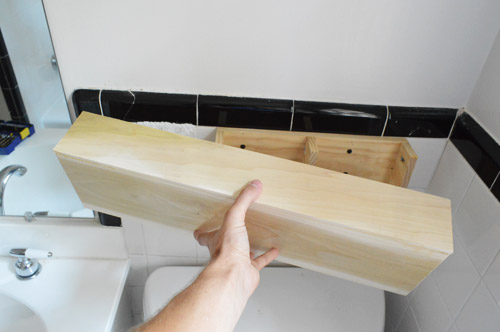 So here you can see how it the shelf box fits nicely over the "sleeve" AND completely covers up the ugly, busted up tile. Plus, this $30 fish print that Sherry snagged from Joss & Main is a nice shot of color too. Thank goodness it now has a spot to rest! It's actually a great height with the mirror, so it looks nice and balanced – like Bubbles (that's the fish's name) was meant to be.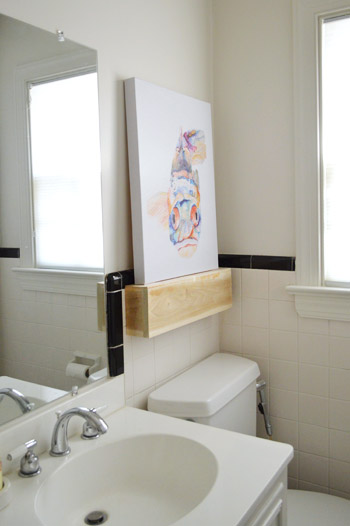 We went back and forth about whether to paint or stain the shelf and, if so, what color to pick. Not knowing yet what color the walls would be we didn't want to go too bold (we have big plans for a pretty bright window shade along with other colorful accessories like the fish art). So Sherry concocted a plan to whitewash it by dampening the whole piece with water first (just so the paint would glide on better) and then wiping some liiight gray paint over it with a paper towel (the color was Collingwood by Benjamin Moore – we had a test pot leftover from this project). She just smeared it around until it was her desired lightness and all pretty much the same tone (not blotchy or darker in some areas).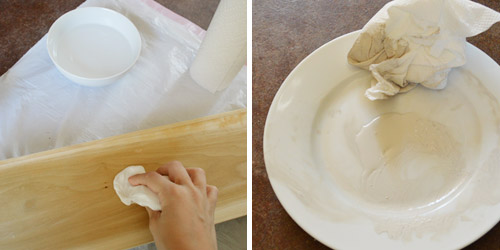 Here's the result. We liked that it still had some of that wood grain texture, but wasn't as orange as it was originally (the orange tones looked weird in our black and white bathroom- didn't want to go Halloween with it, ya know?).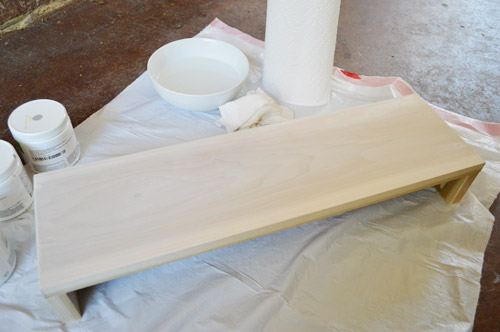 So here's the whitewashed shelf back in place, with the fish painting still acting as our touch of color in the room. But not for long. We have plans to cover the walls with a pretty bold color along with bringing in a bold patterned fabric for the shade and framing out the window and adding bright hardware to the vanity. In the words of $herdog, we got plans, yo. So this is just step one of a dozen. As usual. So it looks kinda bland right now, but we think it'll all make sense after a few more upgrades…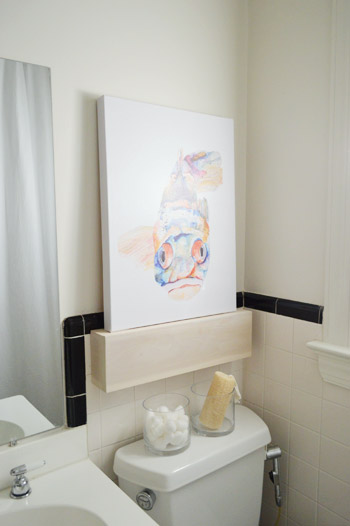 Happily, this little homemade shelf is much better solution for us – especially since it is far more functional than the soapdish was to us (have you ever noticed that toothbrushes of today don't even fit in them?).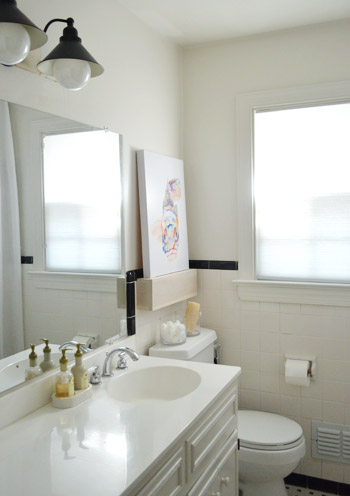 And after having done this, I think it's the push we need to finally put some paint on those walls (spoiler alert, we've already started!). And I promise to keep better tabs on the photos. Promise. And if the old shelf ones turn up I'll add them into this post retroactively! Until then, it's just a fish on a shelf hiding some broken old tile. Haha. Just a normal day at our house.
What did you guys do this weekend? Any cover ups going on?
Psst- Being in NY, CT, and NJ for the past few days, we witnessed the damage of Sandy firsthand – it's bad up there guys! Sherry's grandma still doesn't have heat or power, there's hardly any gas to be had, and most people along the coast were hit the hardest (her brother lives in Jersey City and the first floor of his apartment flooded). We're sending lots of love to everyone up there and will definitely be sharing more when we post a tour update at the end of this week.