It's high time for the winter Pinterest Challenge (not sponsored by Pinterest or anyone else, just dreamed up by Katie Bower to make us stop pinning and start doing). The whole Pinterest Challenge thing started around a year and a half ago when Katie called me to say that she thought we should challenge ourselves to make one thing each season that's inspired by all the fun stuff that we've pinned (and call it… wait for it… The Pinterest Challenge). It's a welcome slap of stop-pinning-and-start-doing. So slip into your Hoodie Pillow (please tell me you've seen that on Shark Tank), sip on some hot chai, and grab some supplies. It's time to get this DIY party started!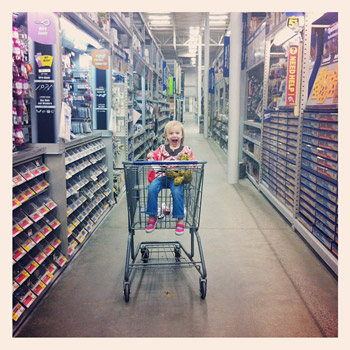 The only rule is to do your own personal take on something inspirational that you've pinned (and link back to the original creator of the project that inspired you, be it a company like Anthropologie or a personal blog that got your wheels a turning). We especially love to pin things from sites that have "Pin It" buttons since it indicates that they enjoy popping up on Pinterest. The project can be anything: big or small; decor or sewing or cooking related – or beyond!
The first time around John and I made a clothespin light for the laundry room, the next time I tackled homemade ornaments, then I faced my sewing demons and made a beanbag pouf for Clara, next I tried my hand at some homemade art, and last time we built a giant leaning chalkboard for the living room. This time when John and I were grocery shopping slash brainstorming (multitasking at its finest) we decided on something fun & large scale-ish (it'll alter an entire area of our house). And it's definitely something that has been pinned out the wazoo (there are at least a dozen tutorials over on Pinterest that we can't wait to reference). So without further ado… here's a clue for you. Can you crack the code?
The Wayans Brothers + Scott Baio = our project.
Now I'll fill space so you can't see the answer while you make your guess.
More space filling…
More space filling…
More space filling…
More space filling…
More space filling…
More space filling…
More space filling…
More space filling…
More space filling…
More space filling…
More space filling…
More space filling…
The answer: Wainscoting! We're planning to install it down both sides of our long hallway (this isn't the frame hallway, it's the one that leads to the guest room, hall bath, nursery, and playroom) – just to add some architecture and break up that bowling alley feeling of the long bare hall.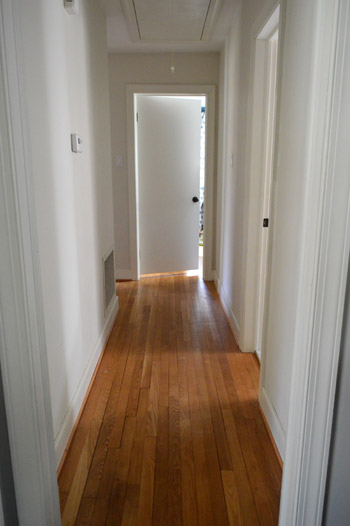 Actually if you want to be technical what we're going to do is probably closer to board & batten. So hmm, what's a good clue for that? A picture of someone yawning while swinging a baseball bat?
We already bought all of our materials so we're psyched to get started!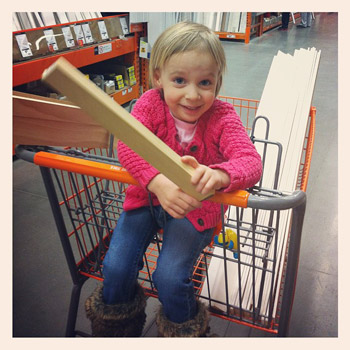 Think we can get it done in a week? We're definitely going to give it the ol' college try! Oh and you're probably wondering who else is playing along with me and K-Bo. Well, we thought it would be fun to ask different folks to "guest host" with us each time (both of whom have done something fun in the previous challenge), so we're thrilled to have:

So here's the part where I extend my arm with an alarmingly wide grin and a little bit of paint in my hair and humbly invite you to join in on the winter fun by doing your own spin on something you pin! We figured we'd give everyone (and ourselves) the weekend to work on stuff and reconvene next Wednesday morning (the 27th) to share our projects (you can check out all the amazing linked-up projects from past challenges here, here, here, here, and here). So just drop in next Wednesday to submit a link to your project and to see what we whipped up. In the meantime, do you have any idea what you'll tackle this time? Is it food, craft, sewing, painting, or furniture related? Perhaps a video full o' toddler chatter is on the agenda? I highly recommend it.
Psst- One more time, for the people in the back: regardless of the fact that I say Pinterest about thirty times, this wasn't paid or perked by them or anyone else. We're just eye-candy obsessed gals who are sick of coveting things and downright ready to do them. Well at least one of them…