Alternate post title: Trees: 0. Sherry: 2.
You might not remember what our first house looked like when we bought it so I'll remind you: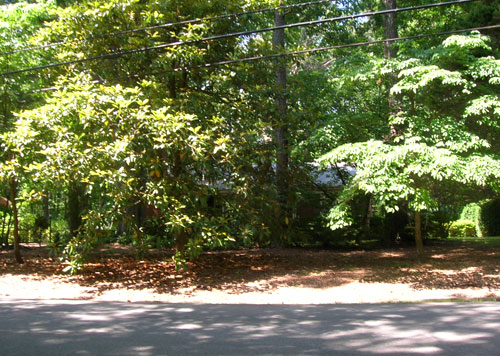 And this is what it looked like five hours after John left and I went crazy with a clipper (surprise!):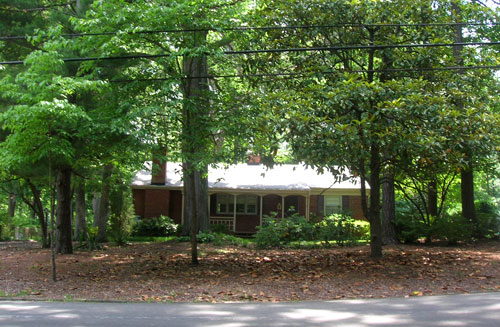 Three cheers for being able to see the house. And we gained a view of the neighborhood from our front windows. You know, instead of the view of a dense "tree fence." So much better. Plus it was free and gave me a nice little arm workout.
Of course that house's curb appeal was a pretty constant four and a half year evolution (these things take time) so when we left we finally had it looking like this: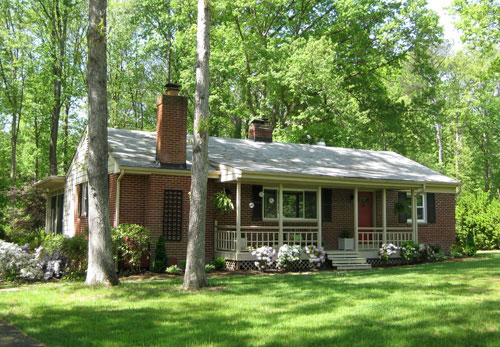 Isn't it amazing what removing some stuff and bringing in some other stuff can do? And we're huge fans of craigslisting bushes and trees that you don't need to give them a second life (we post "you dig 'em up and they're yours for free" ads and people come and do all the work to clear our yard – it's pretty amazing).
But I digress. Back to this house and my "me vs. tree" tally. I decided to surprise John while he was out picking up these craigslist chairs, so while he was driving to Mechanicsville and back (about an hour and a half round-trip) and Clara was inside napping (miraculous!) I realized I was free to go outside and go crazy on our giant blocks-the-entire-house-and-it's-all-you-see-out-the-window magnolia.
You think I'm kidding. Here's the giant ranch-hiding magnolia: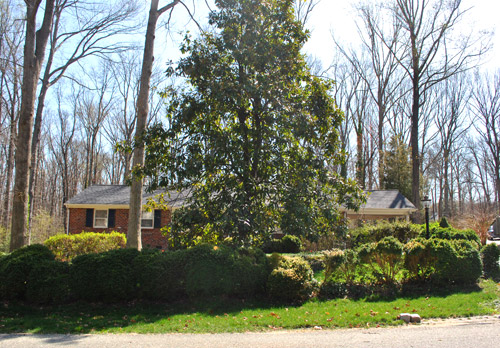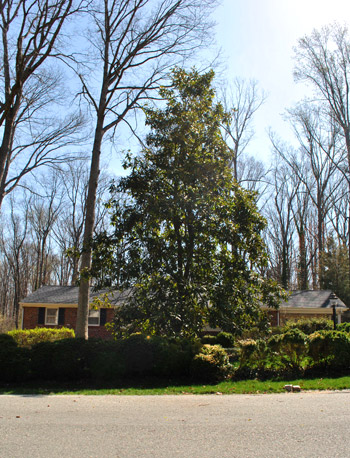 At first we thought we needed to get it taken down (it's just way too big to be right smack in front of a small ranch, and it blocks so much light). But when my mom visited she recommended that we try limbing it up as an it-can't-hurt solution to see if we could keep it – at least for a while. So I decided to give it a go. Couldn't hurt right? Although I was kinda scared my tree tally would end up tied (since the magnolia is a lot more monstrous than the other trees that I tackled by myself at our first house).
Here's what I used: a Corona branch clipper and a WoodZig hand saw, both from Lowe's about four years ago.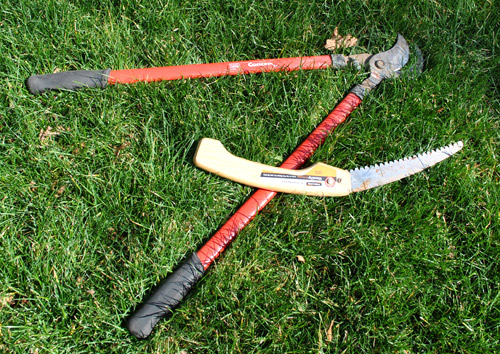 And here are my other supplies: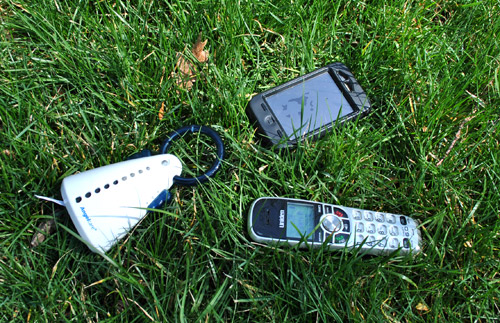 A baby monitor, my cell phone, and the house phone. In case Clara woke up, I needed to be ready to drop the clippers and spring into action. And in case John called, I needed to be able to answer the phone and act like I wasn't outside cutting down giant tree limbs so as not to ruin the surprise. John actually did call a few times so I tried not to sound too out of breath as I hurriedly dragged giant branches to the back of our property (one good thing about having nearly an acre of land is that there's always a wooded spot in the back for dumping trimmings).
My method was basically to use the branch clipper to get all of the thinner branches that I could reach from the ground (since the clippers were so long they extended my reach quite a bit) and then to use the hand saw while standing on a nice sturdy wrought iron lawn chair (I probably should have gotten the ladder but I'm too wimpy to carry it by myself) to get all of the thicker branches that the clipper couldn't handle.
The hand saw part of the job was the hardest (it only took about ten minutes to clip all of the low-hanging branches that I wanted to nix, but it took about 15 minutes per giant branch that I had to saw manually. And I tackled three of those for a total of 45 arm-cramping minutes spent sawing away. Oh well, still a better solution than me with a chainsaw (which I'm pretty sure would = death). Plus I am now the proud owner of Arnold Schwarzenegger arms.
Just kidding but how disturbing is that mental picture?
Anyway, the other hardest part of the job was dragging what felt like an entire tree into the back of our lot after trimming everything back (including a few dead boxwoods that I cut out from the front yard's perimeter while I was at it)…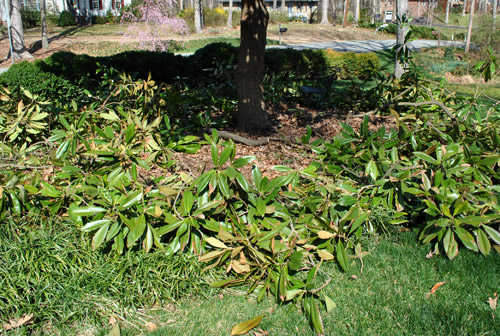 ….while panicking that John would pull up mid project or Clara would wake up and start screaming for me. Luckily I got everything to the back just in time to snap a few "progress" photos (let's face it, they're most definitely not curb appeal after pics)…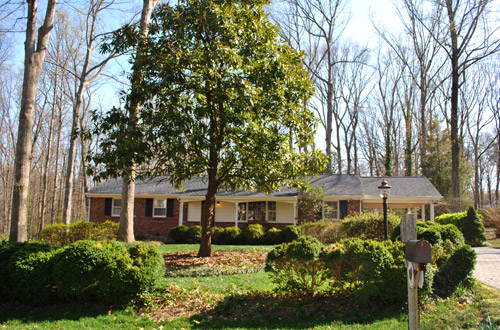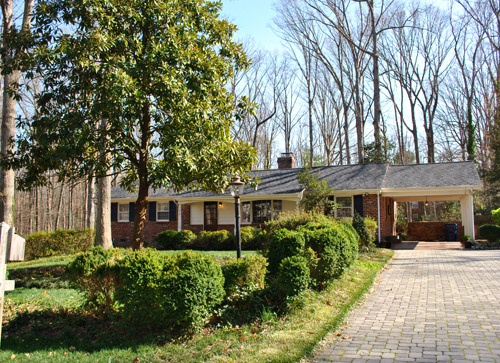 … and run inside, toss all of my muddy clothes into the wash, and even take a quick shower before Clara woke up and John got home. And since some of my best ideas happen in the shower, it was there that I hatched the plan to videotape John's arrival (I snickered at the thought of catching that what-the-heck-did-you do look on his cute surprised face). So here it is:
That's right. He didn't even notice that the bottom of the magnolia was missing (!!!) because he couldn't tear his eyes away from his weird wife waiting in the carport with the Flip cam. Foiled. But when he did walk around front to see my handiwork he was definitely shocked and extremely happy that I did all the work without him. Haha. Mission accomplished (I kept saying that all I wanted for my birthday was to limb up the magnolia so I finally made it happen, if not a bit late).
I'm sure our front yard will continue to evolve over the years just like our first house did (we've got a long way to go), but for a free 1.5 hour afternoon undertaking, it was totally worth it. Even if only for the light that now floods into the dining room and a view of the neighborhood that we gained (instead of a big old mass o' leaves out the front windows).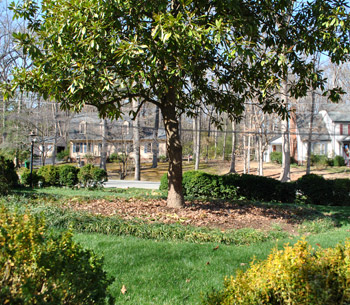 Point: me.
But come to think of it, I did end up with a clipping-related blister: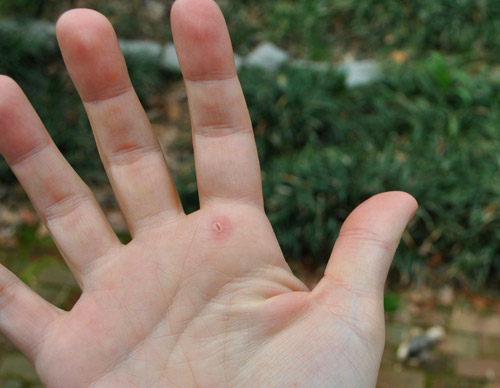 So maybe the tree deserves half a point for putting up a good fight.
Psst- We announced this weeks giveaway winners (along with a discount for everyone else). Check it all out here.