Our freshly painted laundry room is so bright and happy that makes me want to sing and dance like a crazy person. First I repainted all the trim (with Olympic No-VOC semi-gloss off-the-shelf white) and painted the annoying brown quarter round near the baseboards, so it blended in with the white trim. I applied three thin coats of the same Olympic No-VOC paint (no primer because I used the same method with success in the living room five months back and I'm lazy). Then when it came to the wall color, we decided to use the leftover paint that we used in the adjoining kitchen (remember when we painted that beastly paneling here?). Why that color? To brighten things up and connect the two spaces since you pretty much see the kitchen as soon as you step in the side door in the laundry room.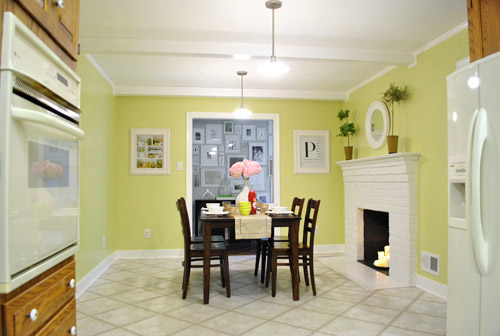 Since the laundry room is such a small space we knew a different color might interrupt the flow and make it feel a lot smaller than something that would connect slash elongate it. We might add a subtle stencil or some other paint treatment down the line if we want more mojo in there – but once we hang window treatments and a new dangly light fixture and add lots of other stuff (art, storage, etc) we're not sure if it'll be too much for the tiny room. So we're waiting on the whole stencil/stripe possibility.
Bee tee dubs (yes I just spelled out btw, and turned the w into a dubs) the color is called Sesame 381 by Benjamin Moore (color matched to Olympic's No-VOC paint in a semi-gloss finish). Our small semi-light-filled laundry room has a door and window that let in light from the carport, which isn't super bright but it's a lot brighter than our windowless kitchen. So the artichoke-ish grellow (green + yellow) tone:
is a smidge brighter
reads a little more yellow than it does in the kitchen
is so insanely cheerful
We're psyched. Who doesn't love a happy little laundry nook? As soon as I started cutting in I knew it would wake up the whole space.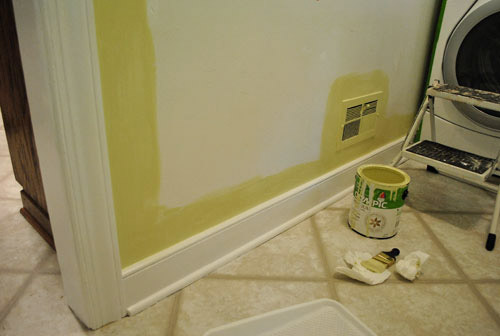 Here's what it looked like when we moved in: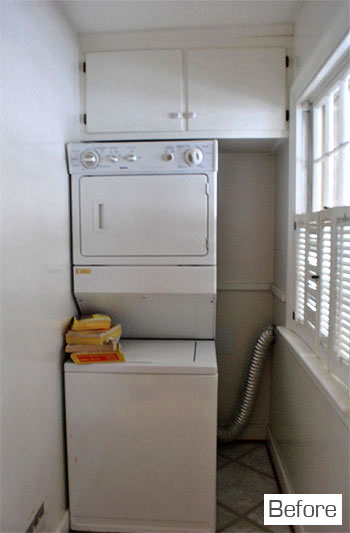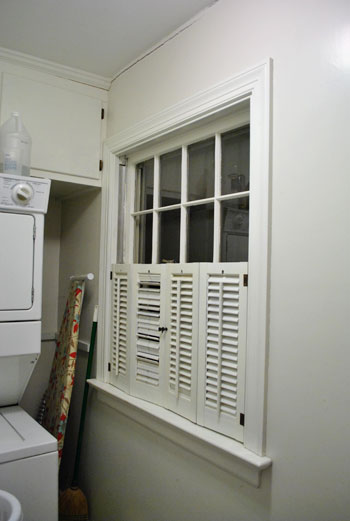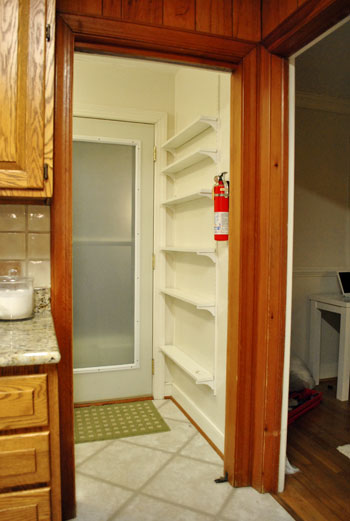 And here she is now with a slap of how-you-doin'-on-this-fine-morning color (along with some other changes covered here):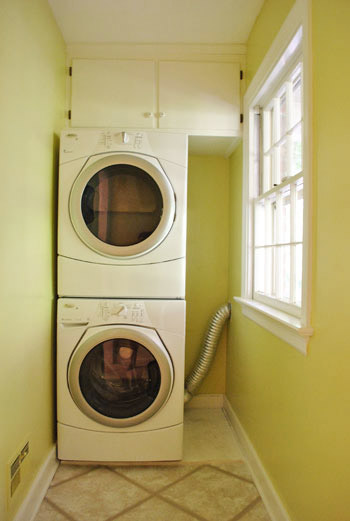 Oh and if you're wondering what that white board is in the pic above and below, we heard setting stacked appliances on a nice thick piece of plywood that goes against all three walls can stabilize the machine for a longer life. So we did it. And I painted it white because when we add shelving to that side of the nook it'll blend in like chin hair on a mountain goat. Made that up. Think it's catchy? Nah, me neither.
Some of these photos look a little more neon and booger-ish than it does in real life. In real life there's zero booger resemblance and it's definitely not neon. Which is a relief. It's light and sweet – like liquid sunshine. And here's why we knew this room could handle some happy color:
We'll add a ton of white shelving to temper the color (along with the white washer/dryer).
It has a window & a glass door as well as a doorway into the kitchen to break things up.
Eventually when we have wood floors in there it'll be even more subdued.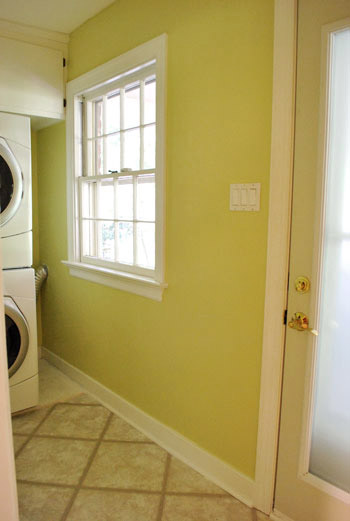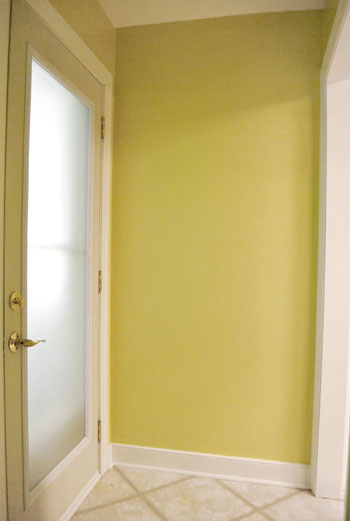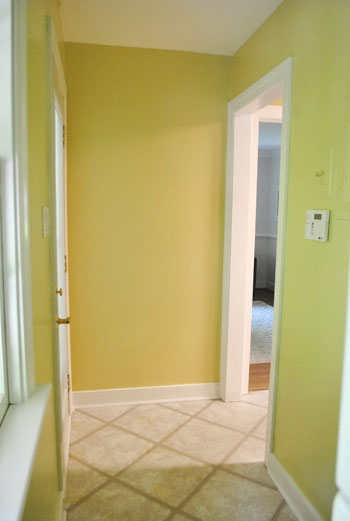 Oh and as for that crazy metal fuse box cover that we had going on – remember this?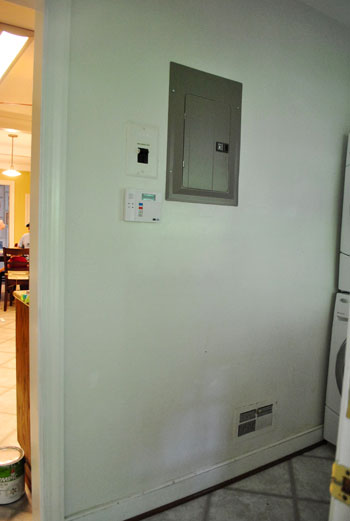 We just rolled/brushed a few thin and even coats of paint right over it. Didn't even prime. We did that in our last house to hide a just-as-obvious one in the corner of the den – and four years later it still looked awesome. See if you can find it here. Metal actually takes thin coats of paint really well (like spray paint) so by being sure not to glob it on and opting to do more thin coats (as opposed to fewer thick and globby ones) I got some nice coverage. And it still opens and closes easily (tip: do that a few times between coats to ensure that things still work smoothly and nothing gets gummed up with paint). In short: thin and even applications = the painting holy grail.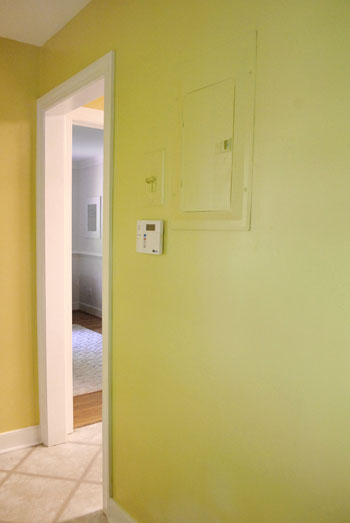 Total spent for this phase of the makeover: $0 (thanks to trim and wall paint that we already had leftover from the kitchen). Wait, we did buy a pack of rollers so it was actually $8. Of course we still have plans for adding a ton of function (and a good dose of looks-nice stuff, like art) to the room – and that blank wall in particular. So that painted fuse box won't just sit there looking, well, painted. We'll share those details as we go.
As for the to do list, here it is as it stands today:
Paint the odd brown quarter round near the baseboards glossy white

Redo all the dinged up trim (also in semi-gloss white)
Paint the walls
Replace our dryer hose with a safer all-metal one
Add adjustable built-in shelving in that nook next to the stacked washer & dryer <– we can't unstack them and put them on the long wall since the room is only 3.5′ wide so the doors wouldn't even open
Replace the hinges and knobs on the upper cabinetry
Get a new light fixture <- DIY something? maybe a small chandelier?
Add a window treatment (maybe a homemade one?)
Add other functional storage near the door for shoes, Burger's leash, etc
Hang some art to keep it cheerful and obscure the giant metal fuse box
Mmm, crisp white trim might also be the painting holy grail. Doesn't it look so great with warm greeny gold? This photo is probably the most true to life when it comes to the actual paint color and how it looks in there. It's a little lighter in person, but this is the yellow with a hint of green tone to a T. It's just like an artichoke heart.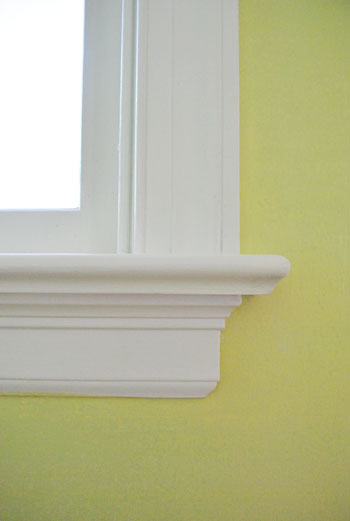 Suddenly I actually feel like doing laundry. Weird.
Psst- You guys were all so sweet about my haircut yesterday. Seriously, I almost got a cavity. And I definitely got all awkward and clammy and blushy. Basically the opposite of cute. Anyway, rest assured that my hair will never look that good again (you know stylists possess some other-worldly powers to create a hairstyle that no one can replicate at home). So stop being so dang nice. It's making me rashy.