There's something about being nearly a year into living here that makes it feel like we've accomplished a fair amount of "evolution" over the last 357 days (not that I'm counting…). I guess it's because living somewhere for a month isn't really a lot of time for tweak-age, but twelve of those in a row – well, it's enough time to get things going. Like living with a floor plan for 11 months (just to be suuuuure) and then knocking out a wall that we've wanted gone from day one: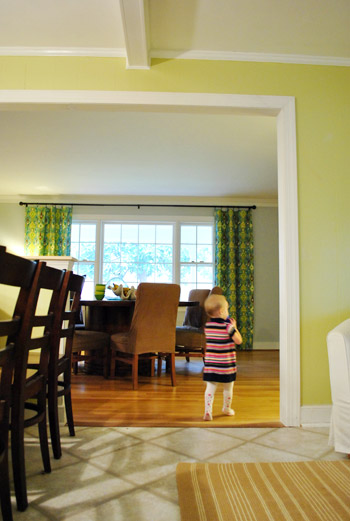 It's also enough time to make a few furniture and accessory changes as we transition from working with what we have (like random stuff carried over from our first house) and first-instinct choices to a few more thought-out decisions. Yup, these things apparently take time – at least in our experience (remember this post on that subject?). So here's the story about a pretty sizeable three-fer tweak of epic rug, ottoman, and chair proportions.
We haven't made any major furniture/accessory purchases since the just-moved-in phase when we got our sectional, our first rug, our bed, and our big dining room table. Then we went on a building/DIY kick for the next almost-year (making our $104 console table and our $124 wall-to-wall double desk and saving nearly 4K by laying our own stone patio and getting a ton of estimates to save 3K on our kitchen wall-opening). We've mostly just been picking up super inexpensive secondhand furnishings since moving in (like our $35 desk chairs, $25 dining chairs, and four secondhand kitchen cabinets for our in-progress remodel for under $100).
So after many months of building up the savings account and waiting for things that we loved to come along, it felt nice to actually buy them. And since we had some "store credit" towards Joss & Main from curating a sale with them as a side gig (more on that here), we loved that we could put that towards our living room tweaks, especially because it's one of our most used rooms, so we'll definitely notice and appreciate it. But now onto what we tweaked and why…
For the last almost-year we have loved our fluffy green shag rug (it was great for a wiggly crawling baby and a wobbly toddler – and was so thick and inviting that many an adult found themselves sitting/lying on the floor). But there are a few issues that have popped up as Clara has grown.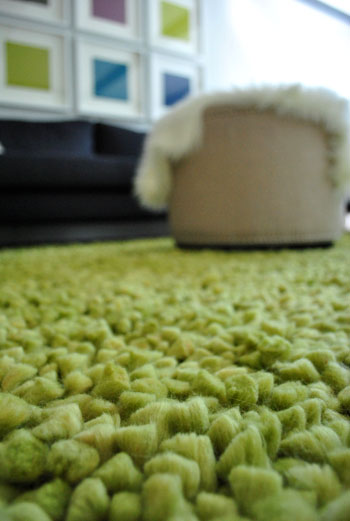 # 1. Let's just say that finding milk dripped and goldfish or cheerios crushed into our plush rug was less than pleasing. Yes, we're one of those casual families who doesn't have a no-food-in-the-living-room rule (I mean, peanut butter & jelly or a bagel with cream cheese isn't living-room approved, but dry crackers and a sippy cup of milk are). That's just how we both grew up and we really appreciate the this-house-is-not-a-museum vibe, so we plan to keep it that way. And although vacuuming or a bit of scrubbing (for spilled milk) got 'er done (and Burger was awesome about hunting down the occasional goldfish before we even knew it'd gone missing) the rug was still a bit higher maintenance than a lower pile one would be now that we have an energetic toddler.
#2. The size. In our first house both our living room and den rugs were just 5 x 8′ since the rooms there were so small. So although we knew that our new living room was much larger, somehow an 8 x 11' rug sounded like it had to be big enough for our 25 foot long room. Well… try as we might to "adjust" to it, it always felt a little small (we're definitely still learning how to decorate a larger space). Like our giant sectional was just baaaarely contained on the boundaries of the rug: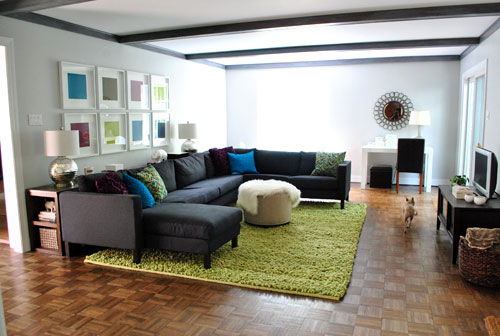 So when I saw this giant (10 x 14!) 100% wool rug for $599 (down from $798) on Joss & Main I got excited. And nervous. That's not exactly peanuts around here. But it's a huge rug – and rugs that size that we like are usually 1-2K (which made me fake ugly-cry on at least three occasions). It almost felt impossible to find something extra large, low pile, and our style that didn't end in three zeros. So $599 started to sound pretty good. At least good enough to contemplate for a little while.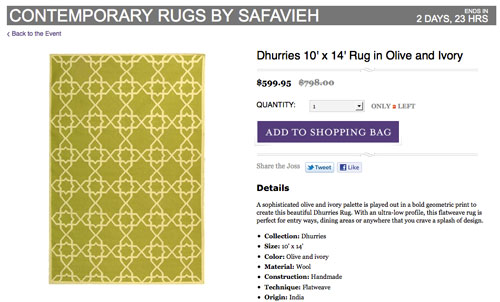 After mulling it over for a few hours, I decided to show John to see what he thought (we have a full agreement agreement, so we don't buy anything that we don't both love). That way if he nixed it I could just close the window and stop thinking about it. But when I went to show it to John, he had it up on his screen (he also gets Joss & Main alerts and had clicked on that rug and left it open on his computer to "talk to me about it" a little later). Crazy, huh? We were both secretly mulling over the same rug. It was meant to be. So we gritted our teeth and put in our order. I'm not going to say that we didn't have sweaty palms, but we went for it.
Since we'd been temporarily using a too-small placeholder-ottoman that didn't have storage which used to reside in our first bedroom as a side table, we also found ourselves pining after this big tufted leather storage ottoman. Again, it's not exactly a cheap addition to the room. At all. But nearly fourteen cubic feet of additional hidden storage was a huge draw (it's almost 3 x 3 x 1.5 with an easy-open hinged top). Of course we also appreciated that it's a correctly-sized counterpart to our giant sectional (as opposed to looking like a too-small donut hole) and that it isn't hard and pointy for little toddler heads (but can be used for serving food & drinks with the addition of a nice big tray). Yup, she's versatile. And we never could have sprung for it at 900 beans, but at over $500 off… well…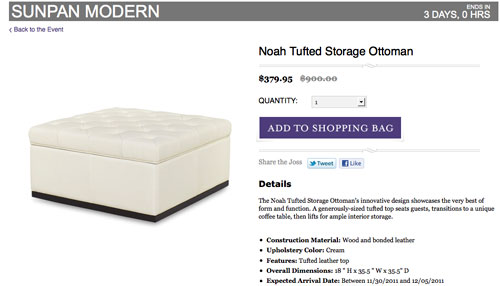 And then somehow this $169 chair (down from$339) said "how you doin'?"…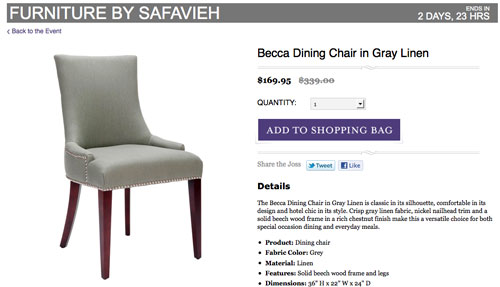 …which was especially convenient since the parson's chair that we purchased for $70 from Target about four years ago was looking a little rough due to tons of use which led to one side of the faux-leather cracking so it looked like this: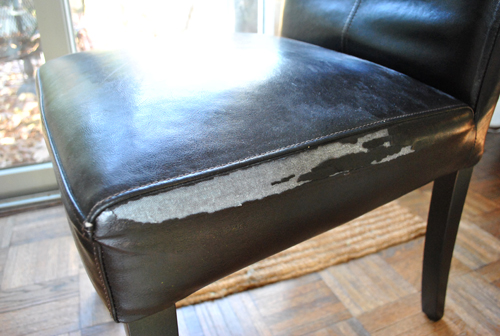 So we waited patiently at the door for everything to arrive, pausing only to eat, sleep, change the baby, work on the kitchen, and blog. When everything arrived pretty much at the same time, it was sorta like Christmas. Literally, it kind of was (we declared these items to be our Christmas gifts to each other for last year, this year, and next year). Psst- pardon the rug wiggles, we still need to get a rug pad. And as for the art swap, I meant to blog about that a while back. It's actually extra burlap-ish fabric that I used instead of the colorful paper. I love that it has more texture and doesn't compete with the bright pillows and accessories.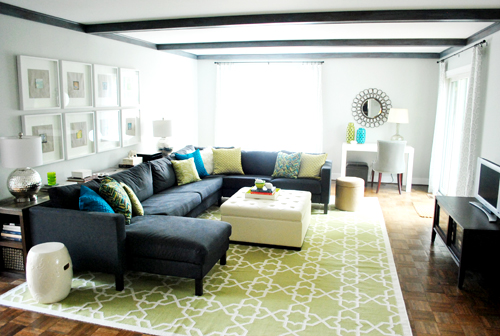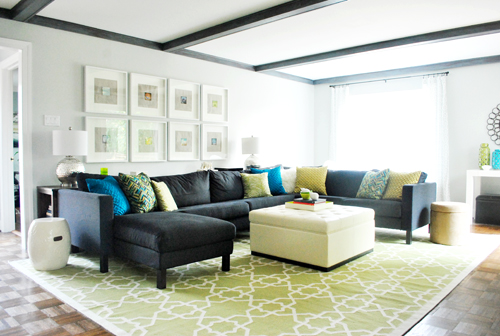 Spending that kind of money on a rug and ottoman was definitely not a drop in the bucket for cheap-os like us. Heck even $169 for a chair isn't usually our MO (we're no strangers to spending $20-35 on thrift store or craigslist chairs). But it did feel nice to add up the sale savings ($199 + $521 + $170 = a whopping $890!). And more importantly, since we've worked our buns off to DIY so many projects over the last 11 months it meant that we were able to save a pretty nice chunk of change, so our bank account was thankfully just fine with the living room spree (we don't like to buy anything we can't immediately pay off – more on that here).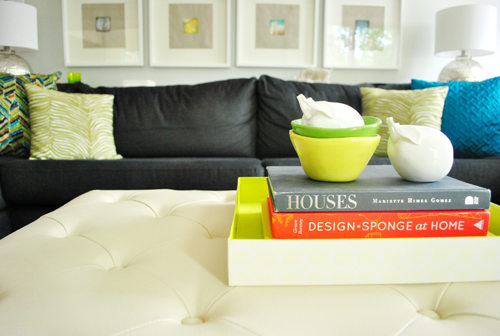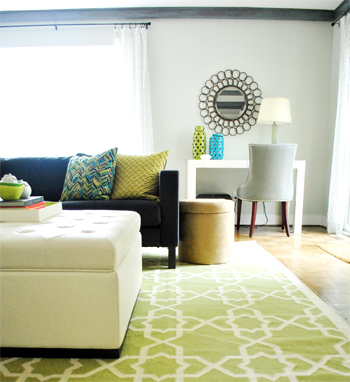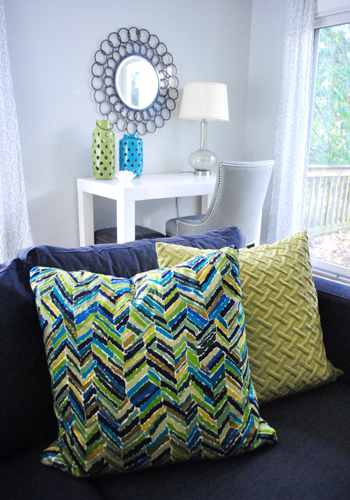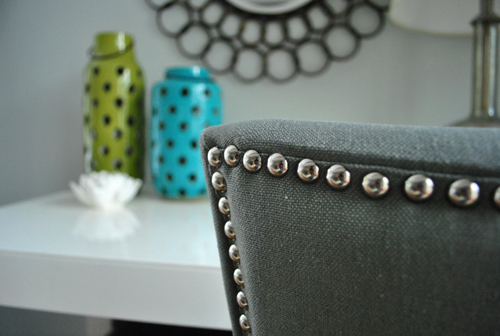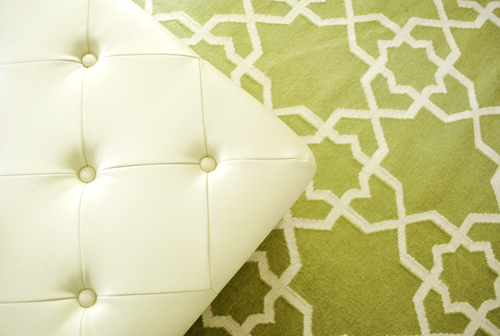 Of course we're hoping to reuse the old round ottoman and the old living room rug in other still-evolving spaces (you know we're use-what-you-got fans) and we might even try slipcovering the faux-leather chair in some fun fabric for another spot as well. So we'll have to keep you posted on those cha-cha-cha-changes too. Of course we still have about a million other working-with-what-we-have items going on, like the wrong sized rug in the office, a too-small TV and media cabinet in the living room (we hope to build a nice media center to balance out our chunky distressed console table) along with many completely-missing elements (like a large buffet/console table with art and a rug in the entryway off of the dining area and an entire playroom and sunroom that have yet to be tackled along with all of our bathrooms). But we'll get there someday.
Knowing that our first house took us 4.5 years to complete is a great comfort to us, because it takes away the we-want-it-all-done-now pressure. These things take time. But we're feeling really good with our one-year-in progress (see a lot of that here). How about you? Do you have a "magic number" of months or years after living somewhere when you finally start to feel more settled and "evolved" (after feeling around in the dark for a few months while you get your bearings)?
Psst- To anyone looking to purchase the rug, ottoman, or chair – Joss and Main has flash sales (only lasting a few days) so of course by the time we got this stuff in the mail and took pics they weren't for sale anymore. But lots of their stuff can be found on wayfair.com (though it's not usually as heavily discounted over there) or you can get on Joss & Main's mailing list here (that's an instant invite, so you don't have to wait). Hope it helps!