First a little Facebook diatribe: we've been hearing from folks who no longer see our posts or Instagram pics hitting their Facebook feed and have learned that FB made a few changes, so if you'd still like to see our posts in your feed again, just take a second to do this:
Click over to our Facebook page
Hover over the button that says "Liked"
Make sure the box next to "show in news feed" is checked. If it isn't, just check it. Then everything should permanently show up in your feed again. Sorry for the trouble!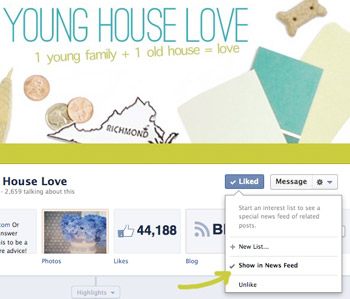 And now back to our regularly scheduled blogging…
In case you missed the post where the tale of "removing the dated tree border that makes us sing that song from The Lion King in our bathroom" began (more on that here), we thought we'd share a few refresher pics. Exhibit A: the aforementioned tree-tile border that encircles the entire room, on all four walls – over and over again.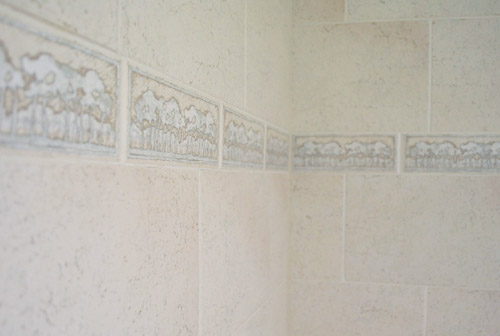 Exhibit B: The scene after a bit of Dremel-ing and prying with a screwdriver.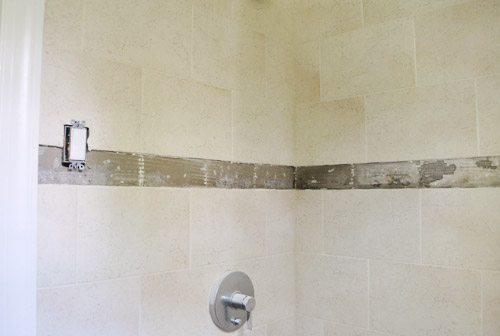 Exhibit C: The $50-ish box of clear glass subway tiles (called "Glass Snow" from The Tile Shop) that we'll be installing in its place. You can read more about the tile we chose, and how Clara enjoyed lying on the floor of the store here.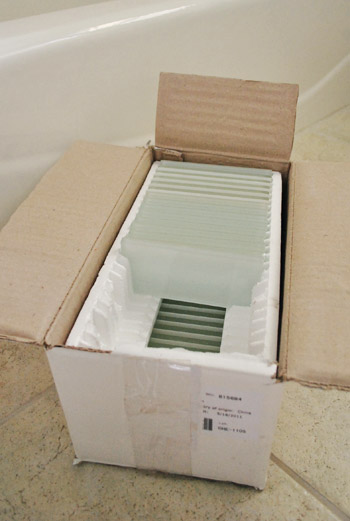 This isn't our first trip to the tile rodeo, so this task promised to be pretty straightforward. Plus, by now we've accrued a pretty complete collection of tiling accessories, so one of our only purchases for this task was a new container of thinset mortar (the adhesive that keeps tiles stuck to the wall) and thinset admixture (the liquid that turns the thinset powder into its final cake-batter-y form). We got both of these at The Tile Shop for about $28 along with our tile.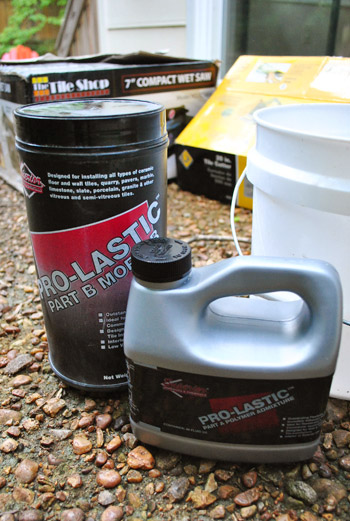 We mixed a small amount of mortar and admixture in a bucket using a trowel until we got it to the right consistency. Looking back at this photo, it appears a bit thicker than we usually like it (we snapped the photo prematurely, but kept mixing things to get it to the right consistency). In the end we like it to be spackle-like – like thick pancake batter.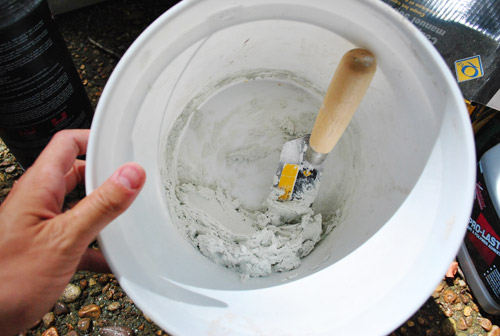 Since our to-be-tiled area was so narrow, we actually used the same trowel that we used to mix it all to spread the thinset on the wall.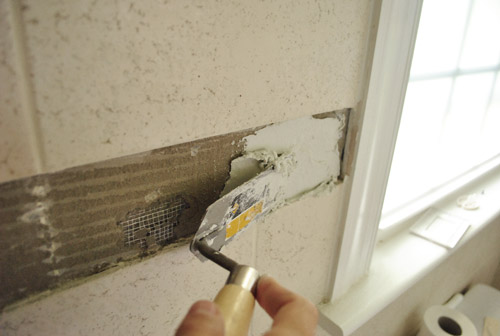 Then we went back over it with the grooved end of a small notched trowel that we picked up (the smallest one that Home Depot sold, for about $3) so we got that ridged surface that's ideal for sticking tiles to the wall.
Actually placing the tiles was a cinch, since there was no leveling or anything needed. We just sort of plopped them in place (using some 1/8″ rubber spacers to maintain a gap for the grout). Some glass tile is completely translucent, so you have to be careful because your thinset lines can show right through it. Thankfully our glass tile is actually backed with an opaque film so you don't see the thinset through it but it still looks completely glassy and clear (not frosted or anything).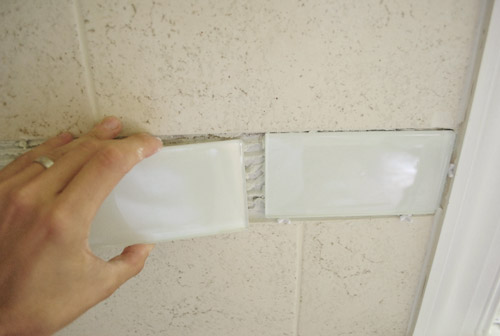 We just repeated that process around all four walls, mixing up more thinset as needed.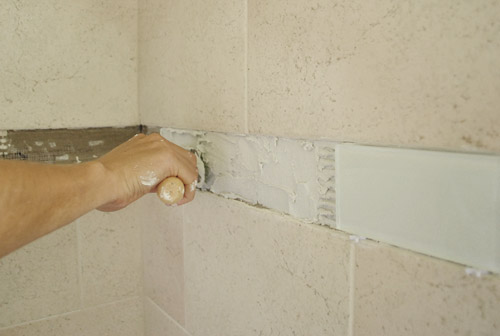 Here you can see the first section tiled (on the wall to the right) and the next side all thinsetted and ready for tiling.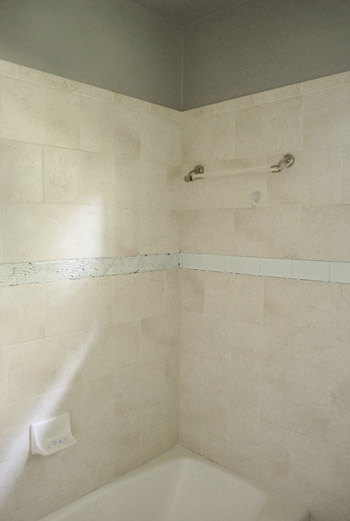 We did run into a few spots that required cutting (in a couple of the corners) so for that we broke out this tile cutter that we used back when we did the subway tile in our last bathroom. It's a pretty cool tool (which sadly didn't work when cutting our penny tile backsplash). You place your tile with your cut line aligned with the small raised ridge on its platform (the yellow stripe between the black rubber). Then with light pressure, you score your line by rolling the blade back and forth a few times. You can actually see my score line in the glass below.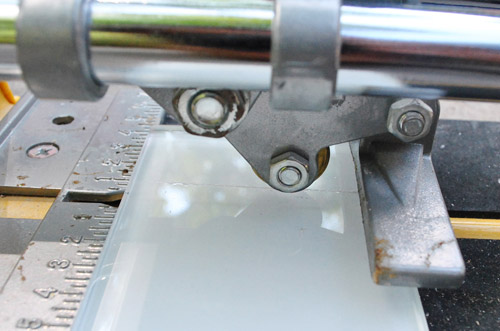 Once scored, you move the angled metal pad atop the tile and press down until it snaps right along your score line (if all goes well). For us it's the fastest, cleanest, and easiest way to get a straight cut on tiles like these.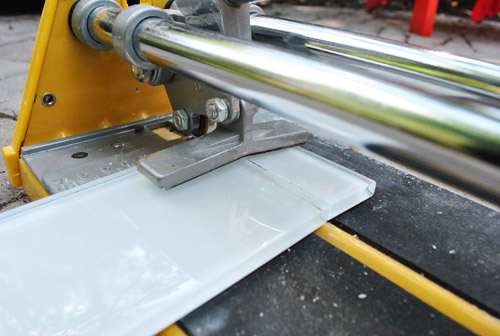 Unfortunately we did have one spot where we needed to notch out just the corner of a tile (around the light switch) which meant we had to use a wet saw. It stunk that we had to set up the saw for such small cuts, but it just had to be done.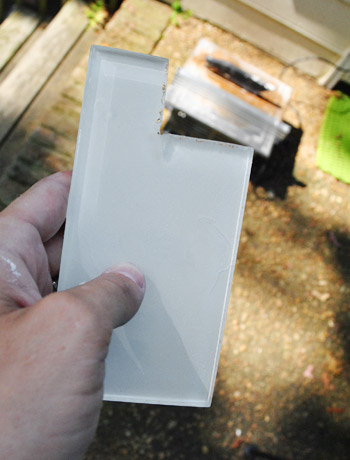 Here you can see the two tiles that got the wet saw treatment. The cuts aren't 100% perfect, but the light switch cover will hide the imperfections at the corners.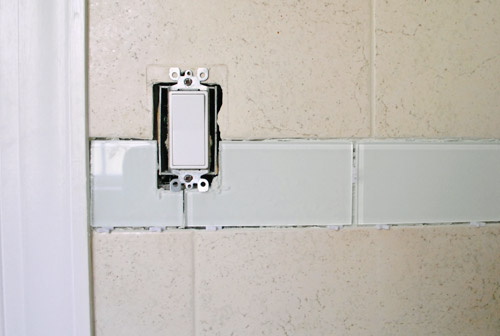 All in all the whole process – from getting all of our supplies out to tiling and finally cleaning everything up again – took us all of Clara's two hour nap. Not bad at all. One nap for demo. And another for re-tiling. This is our kind of project.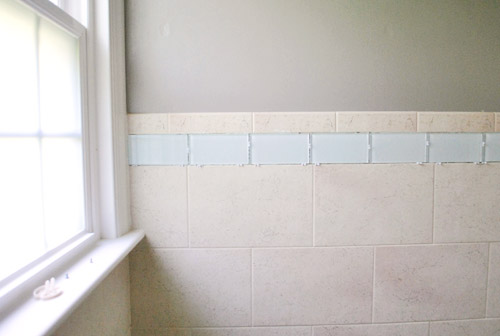 Of course, we weren't completely done yet. Our new tiles still needed to be grouted and sealed, but all of that would have to wait for another day since we needed the thinset to cure completely.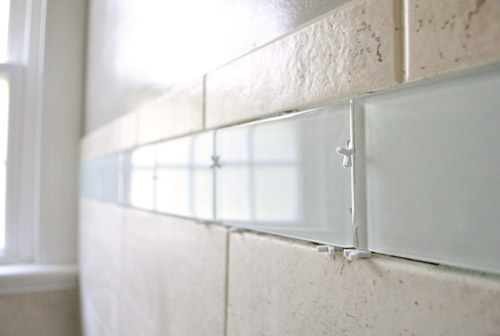 But the next day came before we knew what hit us, and it was time to grout. At first we debated what color grout to do in order to try to get the best match to what we already had in there, but then we discovered that the previous owners had left us some of the grout they had used in the basement. It's "Antique White" colored, which wouldn't be our first choice against sleek glass tiles (we'd probably go with pure white or soft gray), but in this instance it was more important to match the grout in the rest of the room, so we sucked it up and proceeded.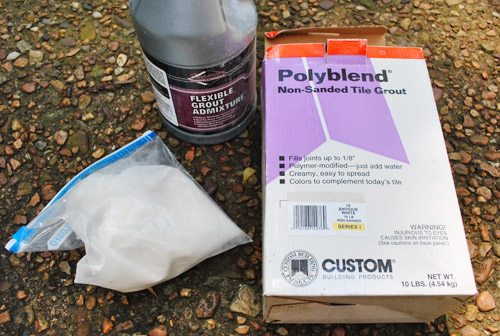 Having mixed up our free leftover grout with some free leftover grout admixture (a bottle we didn't quite use up during our kitchen project), we went to town spreading the toothpaste-y stuff onto the tile surface using a grout float.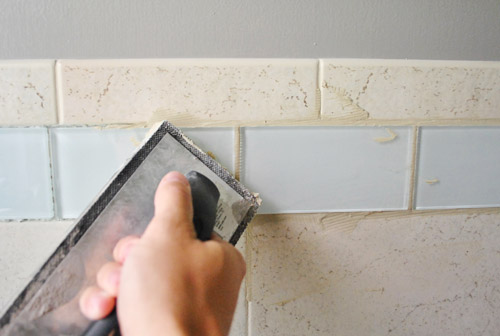 Once we had worked the grout into all of the grooves, we gave it a couple of minutes to set and then used a damp sponge to wipe away all of the excess from the surface of the tiles. The whole grouting process took just about 45 minutes. We'll call that 1/3rd of a Clara nap.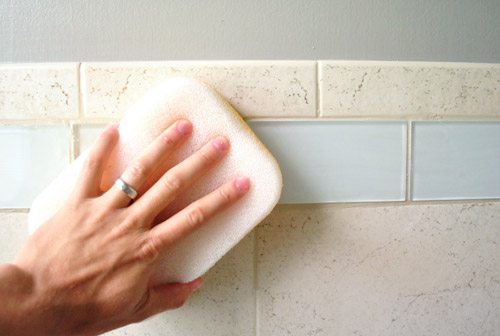 The last step – which we did the day after grouting so it all had time to dry – was sealing the grout lines so that they'll stand up better to moisture and stain less easily. We had some sealer leftover from the kitchen, so we followed the instructions on the back and applied it generously with a sponge – then wiped off any excess a few moments later. This step took so little time that I did it while Clara was awake and playing in the other room. I know, I truly live life on the edge.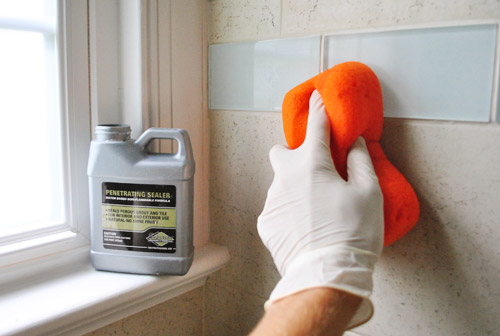 Sealing (plus putting a bit of caulk in the corners of the shower) was our last step to this whole project, meaning it took us just about 2.5 Clara naps (aka 6 hours-ish) to demo, tile, grout, and seal it. Not too bad at all. You can see in this picture below (on the left of the border) how the glass tile gleams as it reflects light around the room. It really makes the room feel fresher and more updated.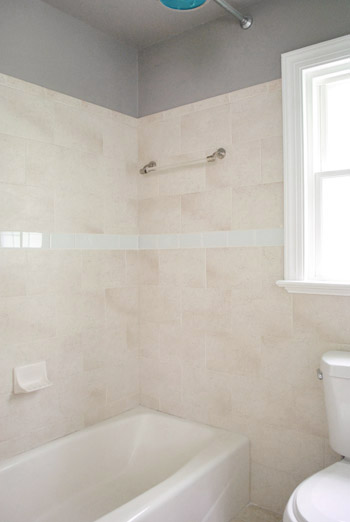 Admittedly we're not always border-tile people, but the modern glass tile is a definite improvement from the trees, and for $50 in tile, it was an update worth making (we'll get to the full budget breakdown in a minute). Reminder: that light switch isn't really in our shower, this is just a really weird angle without the shower curtain in place – but it's actually located outside of the shower curtain (so it doesn't get wet).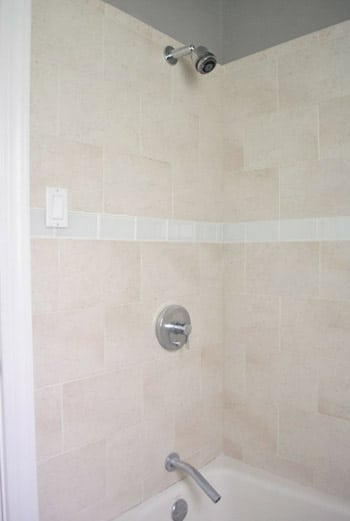 It's definitely one of those annoying these-photos-don't-do-it-justice projects, so feel free to come over and use our bathroom to really see these guys in all of their glory.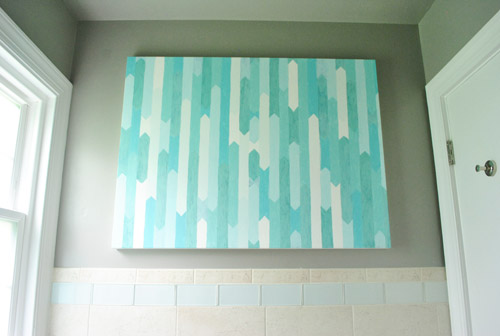 It just feels simpler and less busy than the tree-drawings that used to encircle the room: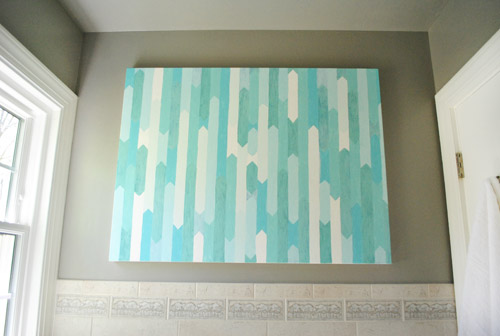 It definitely has come a long way from this shot that we took of the room before we started any updates (you can see links to all of our bathroom updates in order at the bottom of this post):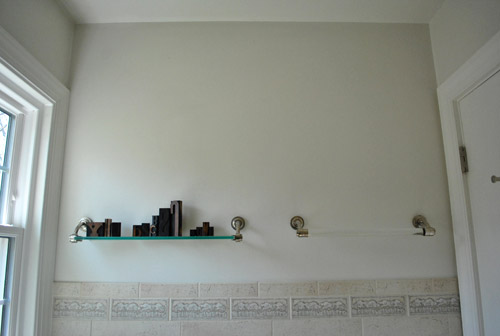 And although the tile is completely clear and shiny, it picks up the subtle tones in the art and the blue glass pendant light, so it brings sort of a cool tone to a previously very warm and beigey room. So even though those beige tiles certainly wouldn't have been our first pick, they feel kind of balanced out by the new border tile.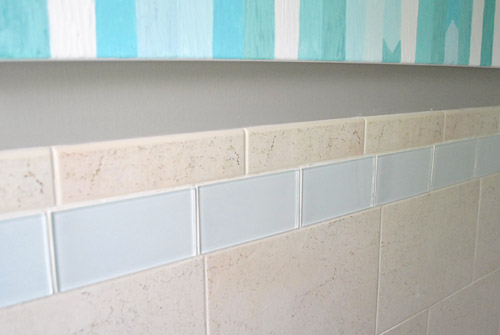 We're so glad we were able to use the same grout that the previous owners used to install everything originally – it really looks like this border has always been here, which is a lot better of an outcome than a new-border-installed-with-old-tiles look. Whew.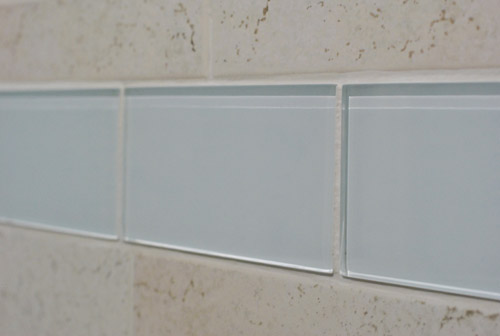 It looks especially glassy and sleek when it's wet. We love how little drops of water collect on the glass surface and sort of reflect through the tile since it's clear.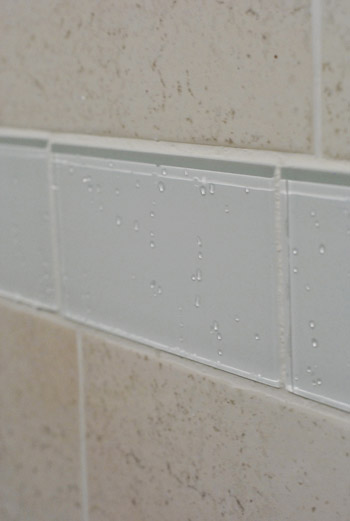 Here's a shot that shows how it picks up some of the tones in the room even though it's a clear glass tile – see how in this shot they look a little blue-green just because they're picking up the art above them?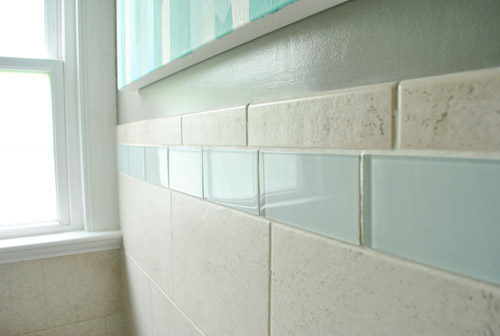 As for a budget breakdown, here we go:
Clear glass subway tile (called Glass Snow) from The Tile Shop: $50
Thinset mortar and Thinset Admixture from The Tile Shop: $28
Small trowel and tile spacers from Home Depot: $6
TOTAL COST: $84
Well, technically we also bought a Dremel Multimax (more on that here) which was $130 with the special grout head that we used, so the real total for this project is $214 if you count that, but our new Dremel has already come in handy for a bunch of other projects (we've used it on the deck and plan to use it on another project in the bedroom) so it's definitely handy to have in our tool arsenal.
Oh and some folks seemed surprised that we were taking on another semi-big project like this along with our slow-going deck, but because we can only work on the deck one or two days a week (and it really demands full days of time, or at least chunks of 4+ hours) it could literally be a month or two until it's completed. And this project was something we could tackle during Clara-naps, so we were excited to get 'er done. So that's what we've been up to in the bathroom. Wait, that sounded weird. Any bathroom projects going on at your house? Or are some tiling endeavors going on in another room, like the kitchen?
Psst- To follow this bathroom sprucing project from the start, check out this planning post, this painting post, this light-swapping post, this art and trim-painting post, this toilet-updating post, this window frosting and shampoo wrangling post, this toilet selling/buying and door-cutting-down post, and this pre-tiling post.