Well, our goal was to get to enjoy our deck by Labor Day and we squeaked in with just a few days to spare. And in case you couldn't tell, I'm jazz hands excited about it. Don't ask me what this move is called. John just picked up the camera and aimed it at me and this happened. It's a pose straight out of Kids Incorporated.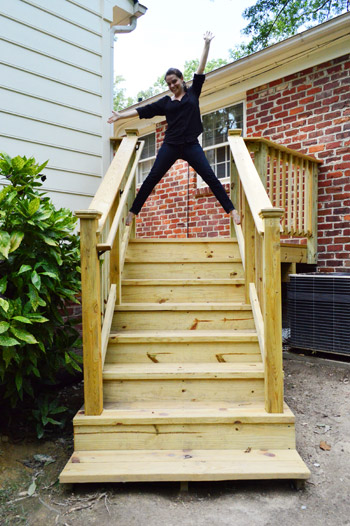 We probably would have taken a rickety card table and some metal folding chairs, so we're psyched to have found actual end-of-season discounted furniture to put out there for the long haul – but we definitely have more in mind for finishing things off (more on that in a minute). Oh and we mentioned that we have to wait a bit to stain or seal this baby (more on that here) so that will definitely add a lot more richness to the wood so it looks a lot more polished.
As for the process of bringing furniture out there, first we plopped our freshly sealed World Market table down in the middle of the deck (centered between our two zippered seams, which will be a lot more obvious when the wood shrinks up a bit and gets sealed/stained so it's a richer color). You can see from the pic below that there's not a giant amount of room on each side of the table, but it's almost three feet (on each side), which is thankfully workable for us. Each board is 6″ wide, so it's around 32″ of clearance.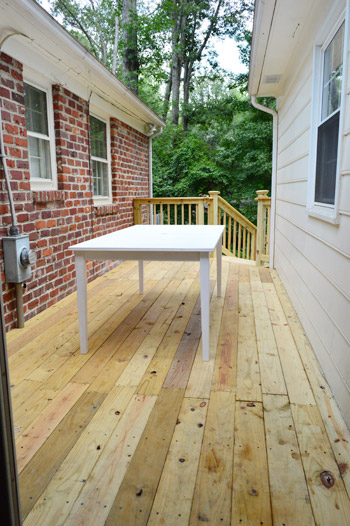 Now let's fast-forward to the fun part. Not only did we add our acacia wood chairs from Joss & Main (which we think will be a similar color to the deck once it's stained or sealed), but we brought in some pillows, a runner, and some other accessories. Come on, you guys know I couldn't resist that stuff if I tried. It's a sickness. I have pillow problems.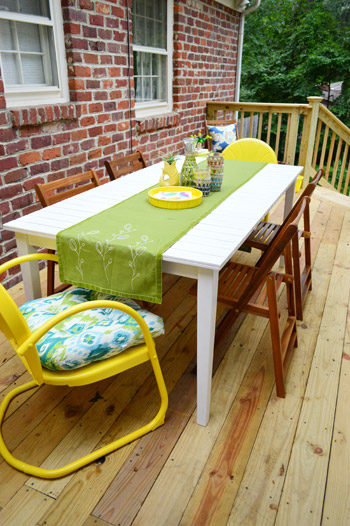 Let's get close enough to lick that yellow chair, shall we?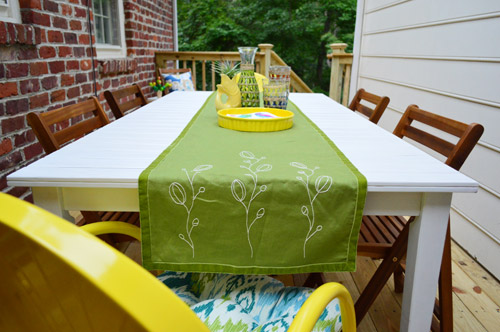 On the table we have a runner we've had for about three years along with a yellow thrift store dish that I use to hold our napkins and some other outdoorsy items (like our yellow gurgle pot, a woven decanter, and some woven cups – all found at HomeGoods over the years). And as for the fun ikat-ish outdoor seat cushion, that's from Garden Ridge. They have like three giant aisles full of outdoor seat cushions for anyone who's on the hunt.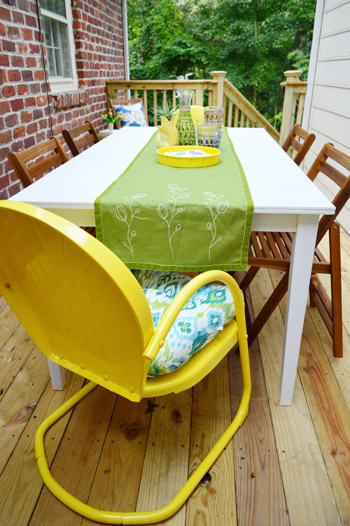 And although the space on either side of the table looks a little tight in the shots above, I was just cropping those tighter so my accessories could shine. Haha. And we're back to pillow problems. Anyway, here's a better shot from the side so you can see the room behind the chairs (which are pulled out a bit in this shot, but not all the way):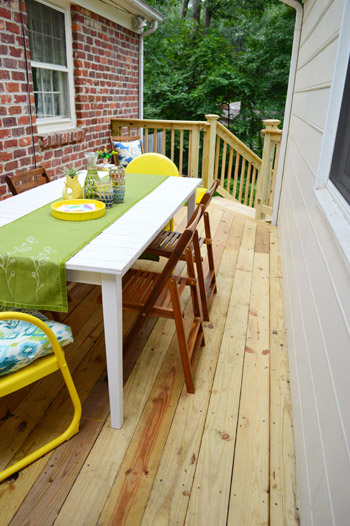 If someone's in them it usually leaves around a foot and a half for scooting behind them (with someone in the chairs they usually bump out to the other end of the board that they're on in the pic above, which leaves around 16″ behind them for scooch-age). It's not enough room to do a pirouette, but it works for slipping by. Whew. We've also talked about pushing the table up against either side of the house if we ever want more clearance, but so far it has been all good. You know we'll keep you posted if we rearrange things though!
But enough layout chitchat. Let's focus on the important stuff. Like this yellow ceramic fish that makes my heart sing.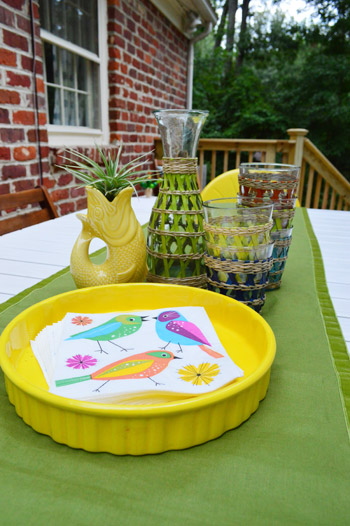 Oh yeah, and we still have those bird napkins from Ikea that we used for Clara's party. They keep making them so every time we slip through we stock up on more. Can't. Leave. Without. Bird. Napkins.
Here's a little makeshift just-for-now corner that I tossed together (mostly for Clara since it's a nice little play-zone over there). Eventually we'd love to add a larger seat (preferably something plush) along with some large potted plants to lush up that hard little corner of wood and brick (and keep any children from trying to climb over the chair / hop that railing). And of course that woven toy basket does best indoors, so it's something I just tote in at the end of the evening.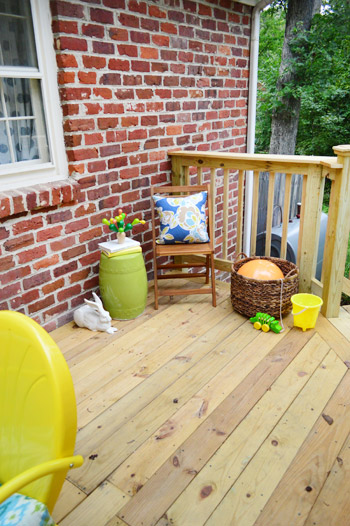 I borrowed the green drum stool from the guest room (originally from HomeGoods for $39), and actually found that rabbit at Marshall's last week for $12. I think he's thoroughly enjoying the new deck. Oh and that cactus thing is Clara's toy but I totally play with it too (it's by Plan Toys). And this outdoor pillow is also from Garden Ridge.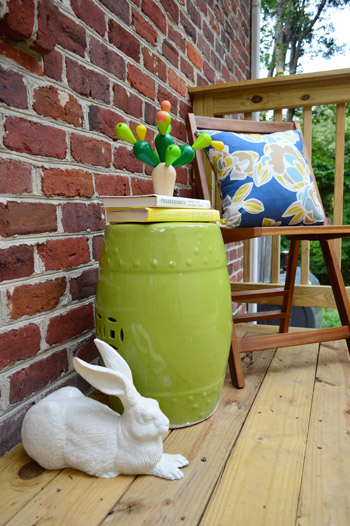 We set everything out on the deck yesterday afternoon while Clara was napping, so when she woke up we got to do a big reveal for her. Not surprisingly she said "ooh the pretty pretty deck!" and ran over to the little basket of toys that I had dragged out there and went nuts. That's my girl. And Burger followed right behind her. See him lurking in the bottom corner? He's just waiting for his turn with the giant orange ball.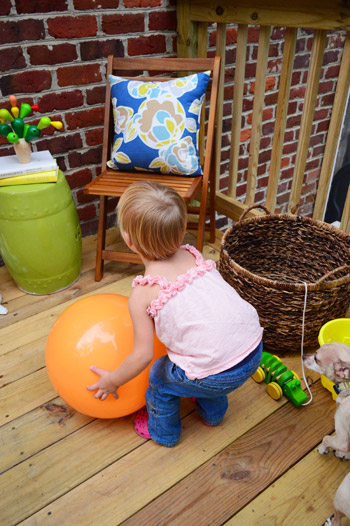 Wait, how have we not talked about the yellow chairs?! They were my dream from the very beginning (back when I made this mood board) and although I heard a few tips that they sold them at Menard's for something like $39, the best I could find (there sadly isn't a Menard's in our area) was $51 with free shipping through Joss & Main. But they came painted with outdoor automotive paint (read: durable) and were sealed and ready to be put out (wahoo! no additional prep work like the table and chairs!) so here's hoping they hold up for a nice long time.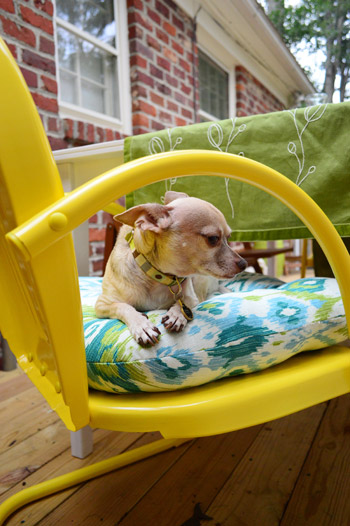 I worried they wouldn't be comfy at the table since they might be too low or bulky, but with the added seat cushion they're just the right height (they were a tad too low without it) and the arms actually tuck under the table, so they can even be pushed in. In the end, they're the best seats in the house on the deck. Here's Burger demonstrating their comfy-factor. Rough life he has.
Oh and remember how we mentioned that we were required to add a little extra railing to meet our county's code? Well it's actually super handy since Clara uses it to get up and down. Wahoo. Although last night we ended up digging out her old baby gate and setting it up in front of the stairs to keep her and Burger hostage on the deck instead of worrying about them running up and down while we're out there. Worked like a charm.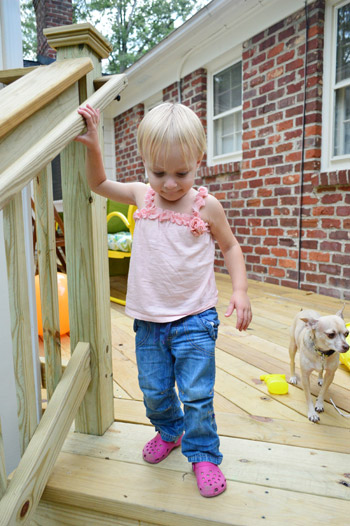 And as for our deck plans down the road, we'd love to:
add big bulb string lights draped overhead for the length of the deck
bring in a lot more planters/plants to soften the harsh angles and edges
add that big plush chair for the play corner that we mentioned, along with more Clara-friendly stuff like a sand & water table
paint that darn electric meter (more on that in a second)
build a small paver patio at the bottom of the deck steps for the BBQ (since it's currently over on the patio where we play but never eat)
build a gate that's prettier than the old baby gate we're using now (we rented a beach house once with a deck gate and it was awesome for kids/dogs)
stain/seal the deck once the wood has dried out/is ready for it
we'd even eventually love to paint the siding a medium gray tone that's in the brick/mortar so it feels more balanced someday
So there you have our freshly furnished deck (at this point the patio is totally complaining because he was completed last year but still only has two adirondak chairs to his name, haha). Someday we'll get back to that side of the house again. In the meantime, let's all just take a moment to soak up one universal truth. The weird little alley that we inherited with our house is no more: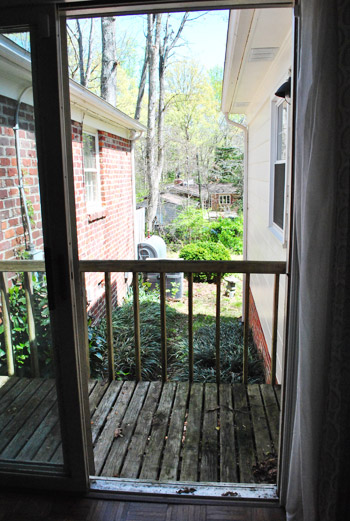 Ding, dong, the alley's dead!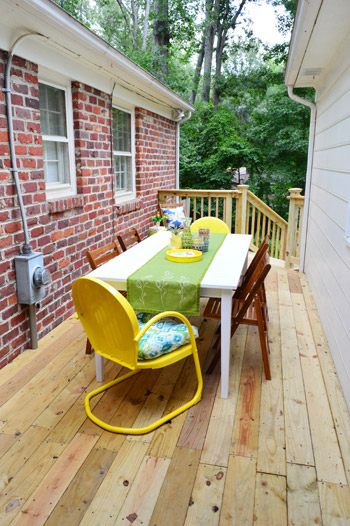 Oh and see that ugly electric meter on the left of the shot above? Ugh. I'm totally planning to paint it to match the brick like we did back in our first house when something similar was cluttering up our patio. It seems like it wouldn't make much of a difference, but it's kind of amazing how much paint can help things like that blend. Check out this pic from this old post back in 2009. They're not invisible, but they're a lot less "look at me!" than they were when they were all gray. And in our county you own those boxes, so it's ok to paint them (it's always good to call your county and check if you can before you have at it).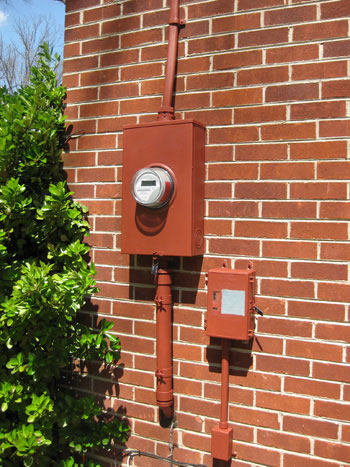 Oh and since we're on the subject of what once was, here's the old view from the hallway off of the living room and kitchen before Project Deck The Alley began. A nice little rotting balcony complete with some weeds and a straight shot at the air conditioner.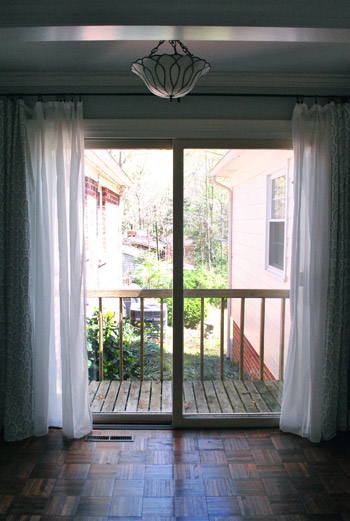 And here it is now. Wahooo! No more weediness, rotting wood, or air conditioner in sight!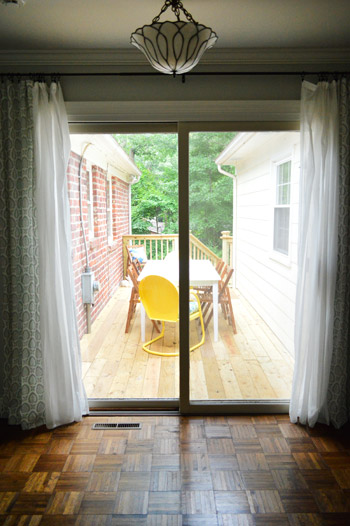 We'd love to switch those sliders out with french doors to swank things up – in fact we're pricing out a few options to see if it's something we can do now (whee!) or something we need to wait and save up a bit more for (womp-womp). Will keep you posted! And as for what big project we'll be tackling next, we're debating between whipping our crazy not-even-functional-anymore basement into shape or adding some wainscoting/board & batten to our yawn of a hallway (not our frame one, the one that leads to Clara's room). We'll let you guys know where we land as soon as we… land. Haha.
But let's end this little deck dalliance with the what's your favorite part game. I'm the most obsessed with the yellow chairs and the ikat cushions. John loves the giant table that he can't wait to "fill with food." Perhaps there are gurgle pot lovers out there? Or you're like Clara and you're the most into the $2 ball from Target?
Psst- You can see how we planned, sourced, and built this beast of a deck here and see how we planned to furnish things a while back in this little mood board post.