We bought nearly $3,800 worth of kitchen appliances this weekend. But if you know anything about us, you know we love a deal. So here's how we managed to shave off about $1,400 from that total (we ended up paying 63% of their original cost). Yee haw!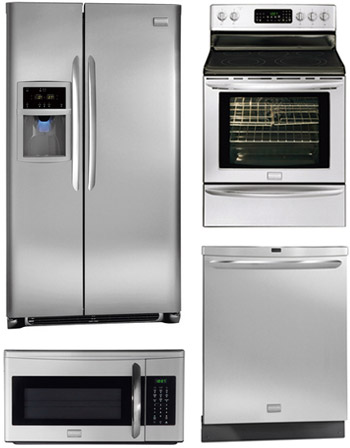 Before I dive into the heavy math, let's cover some basic questions first. Why new appliances? We'll make this one multiple choice:
A: We prefer stainless steel over the current bisque / black mix we've got going on.
B: The wall oven has a big burn mark up the front of it and cooks/burns things unevenly.
C: Our refrigerator is slowly dying (the ice maker doesn't work and ever since Hurricane Irene it has been cooling unevenly – icy milk anyone?).
D: All of the above.
If you answered D, you've either been paying close attention or just know that "All of the above" is usually a solid answer. We knew about these "issues" when we bought the house (except C) so we went into this house purchase knowing we'd need to replace our appliances during a future kitchen makeover. So we've been saving our pennies for the last 10 months (many folks wondered why we didn't just dive into a kitchen makeover as soon as we moved, but we like to really think about how we'll use a room – and we also gotta save up before big purchases like these). Even before landing on our peninsula plan a few weeks ago, we've been researching replacements and waiting for the best deal and the right appliances for us. So for the past few months we've been:
keeping an eye on craigslist for discounted applainces that might work
hitting up secondhand stores & thrift stores (like the ReStore)
visiting our local Sears "Scratch & Dent" store
Sadly, none of those "discount" routes were panning out (nothing on craigslist had the right dimensions or matched, secondhand stores weren't selling much more than a few old black or white microwaves and dishwashers, and even the scratch & dent store was selling things at pretty comparable prices to new appliances from Lowe's or Home Depot since most things are on sale around this time of the year whether they're scratched or dented or not). Then we got a sign from the Lowe's website that this was the weekend to pounce: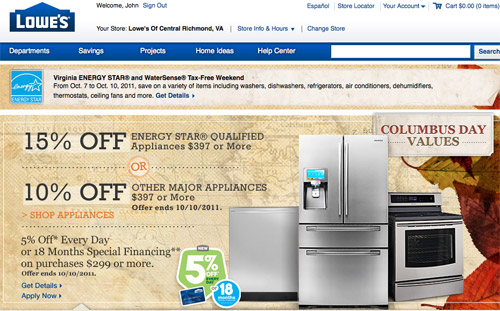 Well, actually a few signs. Lowe's is our favorite spot to buy appliances since their prices tend to be the lowest we've found and they'll price match. It's actually where we bought all of the appliances for our first house which we used and loved for the entire 4.5 years that we lived there. So seeing their website loaded with discounts was enough to get our butts in gear and make some decisions.
One easy decision was the brand of appliance that we preferred. We lived very happily with a kitchen full of Frigidaires in our last house, so 4.5 satisfied years made us more comfortable with that company than any review could (in almost 5 years of use none of them ever needed to be serviced and still looked mint when we moved). Plus, we wanted to buy all the same brand so the stainless color was consistent from appliance to appliance (some stainless fronts are more brushed than others and can look kind of cobbled together if they're not consistent). In an icing-on-the-cake scenario, we actually ended up getting Frigidaire Gallery models that have a protective coating atop the stainless steel to prevent fingerprints (something we really wanted since we were always wiping down our last ones). So go ahead Clara, do your worst. But before we learned about the fingerprint-proof stainless covering, first it came down to picking out the most functional, fitting, and affordable models for our kitchen. Here's what we ended up with:
A 22.6 Cu. Ft. Energy Star Counter-Depth Side-by-Side Refrigerator: We learned that our current fridge is actually counter depth, so we definitely couldn't get a standard depth, which would jut even further into the room. This new one is actually more spacious than our current one and the one at our last house (so we're psyched to gain more space without giving up the counter-depth dream), but that's a story for another day. More on that soon.
An Electric Convection Stove (with Quick-Boil feature): We currently have a convection wall oven and countertop range… but those are extremely expensive to replace, so we're going to convert our kitchen to a standard stove situation. Again, that's a story for another day (soon!). Oh but the added convection and quick-boil features are something we happily would have paid an extra $100-200 for on top of a basic range price, but thanks to sale prices it was just $10 more than a similar model without those features.
A Microwave: Nothing interesting to say about this one other than it's very similar to the last one we had and loved.
An Energy Star Dishwasher: Yay. Our first house didn't have a dishwasher until we added one and it changed our life. And we love that it's Energy Star like the fridge.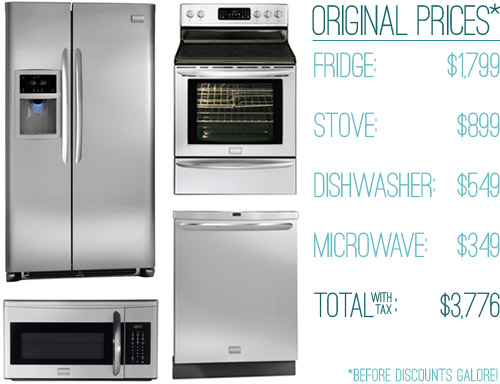 Even after almost a year of saving for this investment, the prices above are more than a little scary to two cheapskates like us. Thankfully each appliance was already marked down in the store (maybe October is a good markdown month?). The greatest markdown was the fridge (down $500!). The salesman said the price flip flops between $1799 and $1299 and we just caught it at the right time. On top of that, we also caught this at the right time: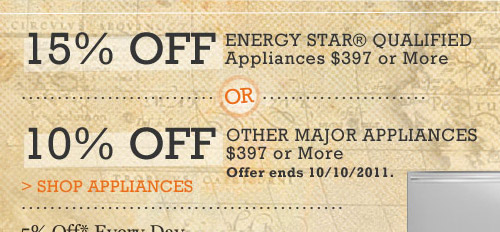 The fridge and dishwasher were both Energy Star so that knocked those prices down another 15% (sadly cooking appliances like stoves & microwaves typically aren't Energy Star rated). Happily the stove got the 10% off treatment thanks to the advertised sale that we happened to spot on their website. But the microwave, who was already on sale for $269, didn't qualify (poor guy – things had to be $397 or more).
But all four of them earned this next discount:

We've had a Lowe's card for a while (back from an appliance purchase in our last house, actually) so we scored our usual 5% off on our total purchase price. Down came those already discounted prices (we love that they allowed them to "stack").
Then on top of that…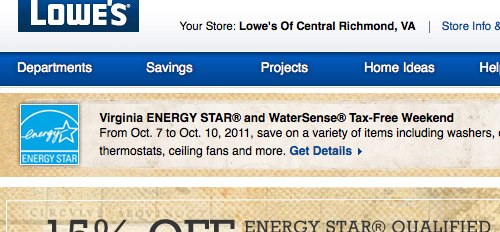 …Virginia was having a tax-free weekend on Energy Star appliances, effectively taking another 5% off the fridge and dishwasher (since tax here is 5%)! So that's how our grand total ended up being about 63% of what it would've cost originally. A total savings of $1,392. Which essentially means we got the stove and the microwave for free (their original prices add up to $1,248 before all the discounts). The best part is that many of the counter depth fridges that we looked at were more than $2,500 on their own, so we're stunned that we got all of our appliances for less. Take that baby to the market!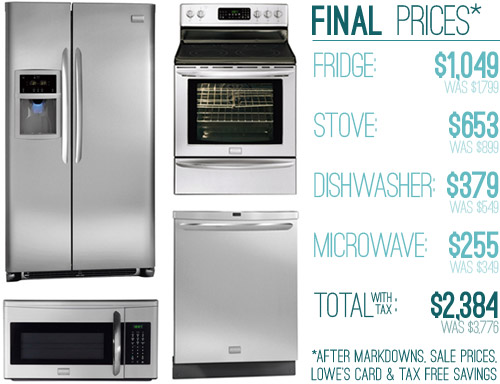 They still have to be delivered (for free, as always at Lowe's) which is why this post has no pictures of the new items in place- but we'll definitely share pics when they come. Oh and for anyone wondering, we'll be donating our old appliances to the ReStore since they do free pick-ups (although we might craigslist the cooktop and microwave since they're in newer condition). We've had a productive weekend in the kitchen, so there are a few other ideas/decisions/changes to share. So hopefully we'll be back with lots of kitchen happenings over the next few days! We're still only about 2% there, but the ball is officially rolling!
Okay, so who else saved some moolah this weekend? Er, well, spent some moolah but not as much moolah as they might've originally spent? Ack, you know what I mean. Oh and to any fellow Virginians, all of the sale prices that we took advantage of should be valid through the end of today (the tax free thing along with the 15 & 10% off sales and 5% off any Lowe's card purchase). Just throwing that out there in case it helps!
Psst- Anyone replacing old appliances with Energy Star ones might also be eligible for government refunds (of over $100 if you're replacing your dishwasher & fridge) so you can go here and click the button with the map on it to see what they're giving back in your state.