You've heard of rolling out the red carpet, but what about the pink one? It's Clara's favorite color, and a nice warm tone (after filling most of the house with cool blues, greens, and grays, it's nice to bring in some warm tones to balance things out). Plus the way the playful dots in the rug mix with the bold colors in Clara's big girl bedding = almost more fun than my brain can handle. In person it's even more happy! Seriously. Come over right now.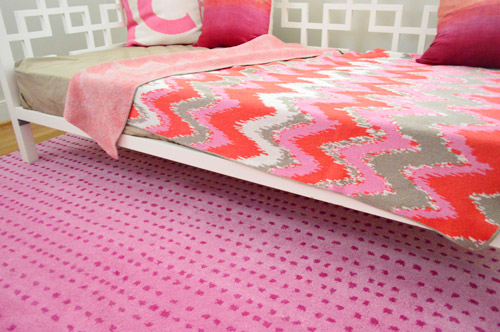 As for the price? Pretty darn hard to beat. We've had our eyes peeled for a while for something that would work with the blanket and general color scheme that we're doing in there (red + pink with a lot of other pops like navy, yellow, teal, etc) but everywhere we looked (local decorating outlet, Overstock.com, Target, etc) was selling larger 7 x 9′ rugs for around $400-700, which was a little more than we wanted to spend. We even tried craigslist and ebay to no avail.
So we held out and kept looking and finally spotted this 7′ x 9′ guy for $236.95 (marked down from $629) on Joss & Main. It's 100% wool, hand tufted, and the gradated color and fun imperfect dots that appear to be drawn on just felt so "Clara" to us. So we went for it. Not gonna lie, I was giddy when we clicked that order button. Especially since they were running a free shipping special (shipping fees can really add up on a big item like a rug).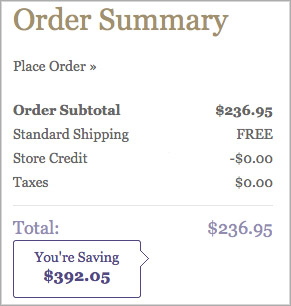 Then after clicking that order button all giddiness subsided and we did that thing where we silently freak out about ordering a rug sight unseen. But since it worked out so well with our living room rug, we just tried to hope for the best.
Then it arrived and this happened: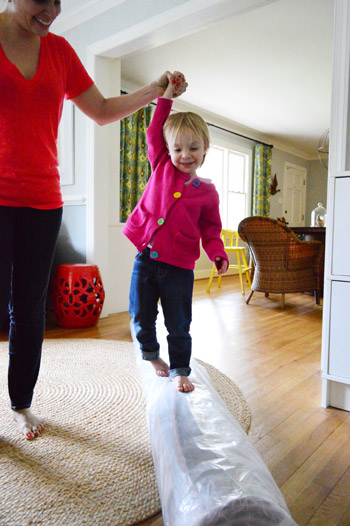 Apparently rugs are fun even before they're unrolled in the room.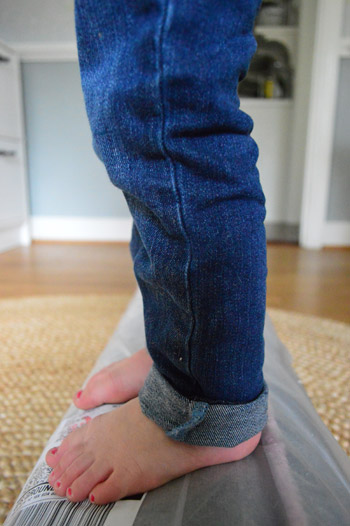 Then when Clara was napping we finally got to see it in her big girl room/playroom. This space definitely started out super tame with very soft milky-tea colored walls…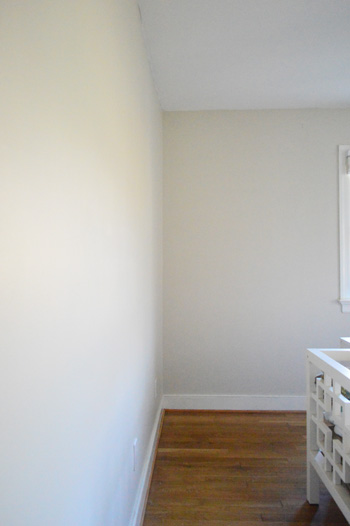 … and now it's looking pretty crazy-pink thanks to the bedding and the rug…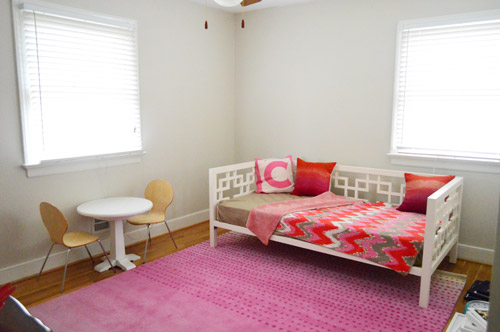 … but we think once we add in the art, curtains, new light fixture and other items that will break the pink up and balance things out (there will definitely be a large object or two on the rug and we're thinking about navy for some of the frames and maybe even the light fixture). Remember how the middle makes no sense? Well I'm crazy impatient. Haha. Can't wait to see it after a few more steps!
In the meantime we're soaking up some of the plushness and pattern (polka dots + a gradient!) that the rug adds. Most of our rugs are the same tone throughout, so we've never had one that gets darker as you step into the room.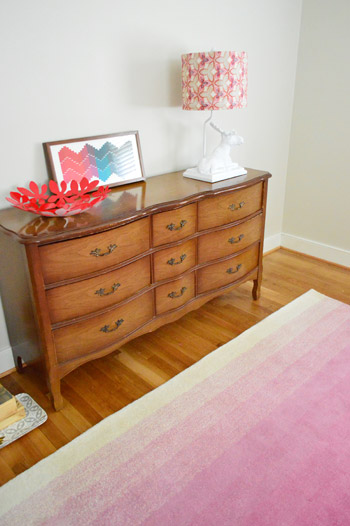 The polka dots are definitely my favorite part though. No doubt.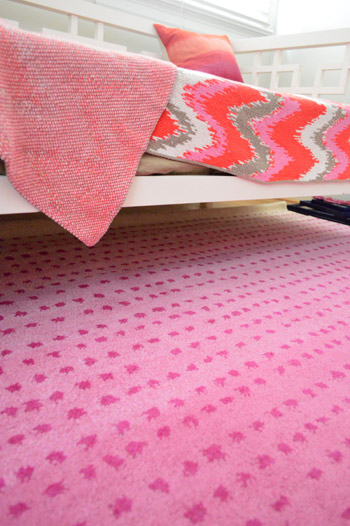 Are you guys ordering any rugs online and holding your breath until they come? Are you working on a room that's only about 20% done so you're in that giddy-can't-wait-for-this-to-come-together stage like us? It's so funny how this room has been a pretty even combination of paint, furniture we already had, craigslist finds, and now there's a new rug in the mix. Gotta love a smorgasbord…