Happy New Year!!! (that sentiment will make sense in a little while – hold tight)
The time had come to bid adieu to the fan in our bedroom so we could introduce a light fixture with a bit more interest.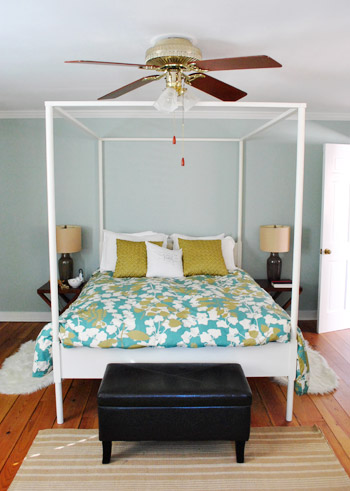 Hold on fan lovers. Put the pitchforks (or fan blades?) down and let me explain. We also removed the ceiling fan in our first home's bedroom and picked up a high-powered Hunter table fan that did the trick, which we plan to use regularly in the warmer months here as well. It's not that we're anti fan – my wife likes to make the beyond corny joke that we're "fan fans" – but we just like them to be well placed so form and function collide into a big beautiful fan-tastic situation. Like the fan in our sunroom (and the one in our last house's sunroom) which we'd never dream of removing. But when it came to the bedroom the our big old ceiling fan certainly wasn't playing nice with Ed the Bed: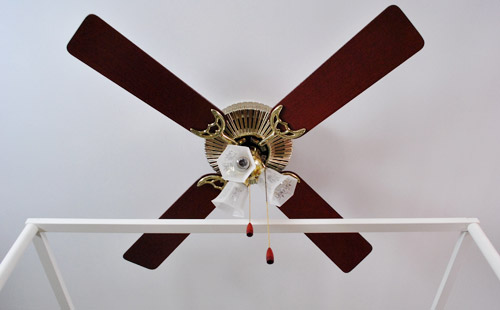 As for its replacement, on a recent trip to Ikea we picked up this guy: the Maskros pendant lamp (it comes in two sizes, but the bigger one would have practically been Sherry-sized, so we went for the smaller one that's still 22 inches in diameter). It felt like a good "statement piece" for the bedroom (and only ran us 50 beans) so we were psyched that we finally pulled the trigger and made it ours after a few months of pining. We realize that this is one of those polarizing purchases, but it makes us smile like crazy so we said yes to something fun.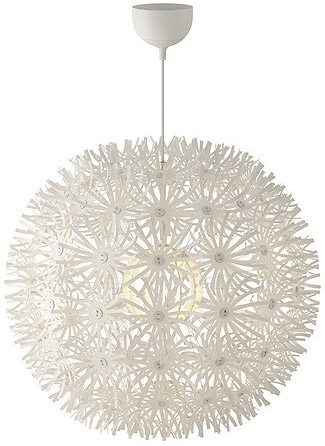 And although it was quite the statement piece when hanging in Ikea, when it arrived home with us, the only statement it was making was "put me together."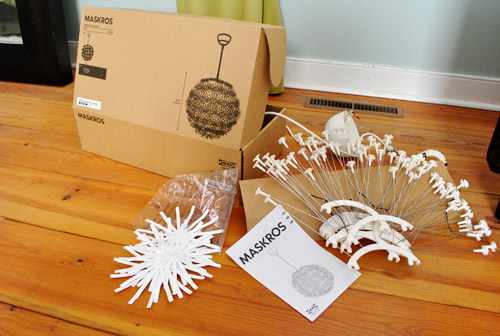 But first the ol' fan had to come down. So with the electricity to the entire house turned off (we're safety freaks like that) I went to work disassembling it – a process that I'm pretty well versed at in at this point in my life. Though I have only recently discovered that it's much easier to remove all of the blades first (so you don't end up whacking yourself in the head while trying to disconnect the rest of it from the fixture box).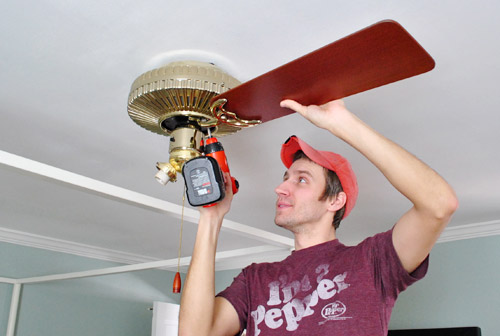 Unfortunately, removing the fan revealed some less than perfect ceiling behind it. Unfinished paint and what looked like a square patch panel that wasn't sitting flush with the rest of the ceiling. Bummer.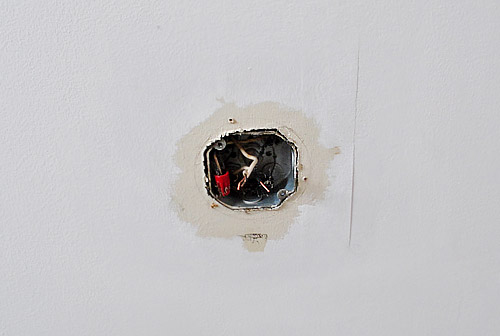 So I decided to borrow a solution from Clara's damaged ceiling dilemma and darted out to Home Depot to buy yet another ceiling medallion for $19. You can read more about the super-easy ceiling medallion installation process in this post.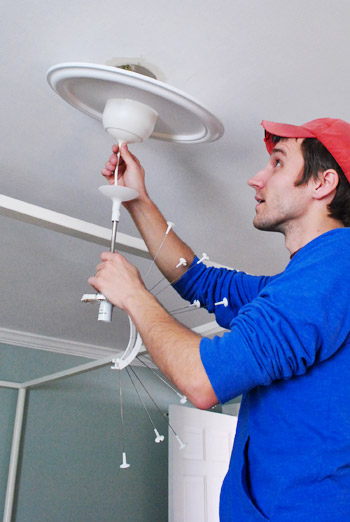 Technically you're not supposed to attach any of the "spokes" to the fixture until after it's secured to the ceiling. But since we needed to strategically hang it low enough to sit under Ed's top rail, but high enough to not look ridiculous, we used a couple of attached spokes to approximate its finished size and find the perfect hanging height.
Oh and Ikea suggests just coiling the extra wire inside of the cup at the top of the fixture, but I opted to cut the wire closer to our desired length by taking some scissors to the cord and then stripping the ends of the now-shortened wires.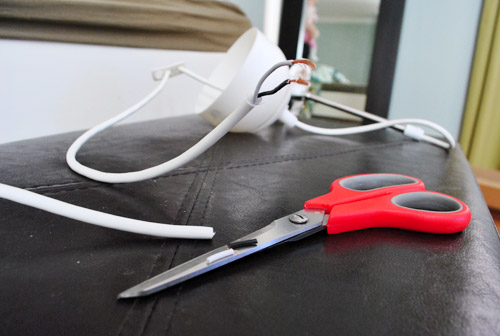 So here it is completely hooked up with all of the spokes attached. We realized at this point that we were glad we used the ceiling medallion because it made the fixture look a bit more substantial and balanced, instead of hanging a giant ball from a little nub in the middle of the ceiling. Plus, if we ever paint the ceiling it'll add even more detail and polish.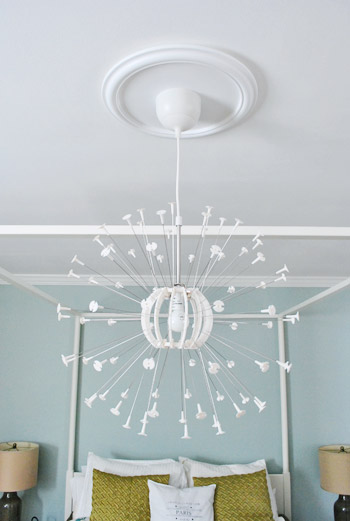 Of course we still had to attached the 82 (yep, 82) paper "flowers" that came in the set. They really are just paper asterisk-thingies that are pre-cut and pre-hole-punched to snap into place. So theoretically you could color them or replace them entirely with your own desired shape if you wanted to – and had the patience to make 82 of them. We briefly debated "going rogue" and spraying the back of them a color, but we liked the clean white look (crazy shape and size + classic color = love for us sometimes). Oh and you can also see how Ikea packaged them in small boxes to help curl the edges outward in this pic below: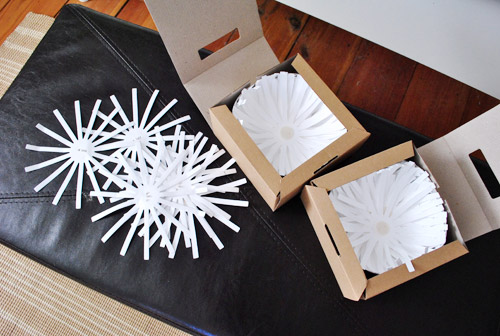 Here's the light with the first few rows of flowers attached, starting to look more like what we saw in the showroom…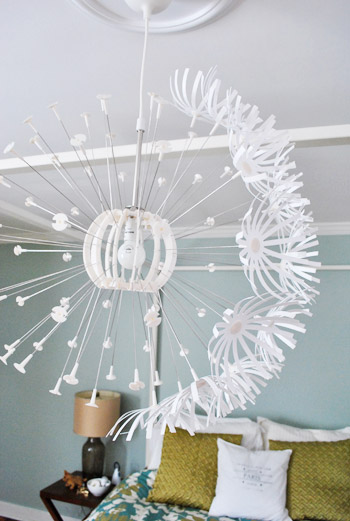 After about 10 minutes we had all 82 attached and were left with this. Ta-dah! We were more than a little relieved that it didn't take five hundred years to assemble (which was kind of the fear after we opened the box).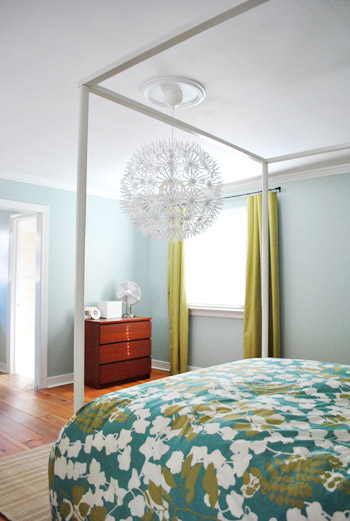 We'll admit that at first it felt a bit bigger than we expected (it looked a lot smaller in the giant warehouse that is Ikea when we first laid eyes on it), but once we add things like a larger 8 x 10 rug under Ed (instead of three smaller they're-there-because-we-have-them rugs) and some art on the walls, there will be more scale slash balance going on. And even without future items like a big cushy rug, it only took a few hours for it to totally grow on us. As in every time we walk into the room we grin. And about 50% of the time we actually high five. It's just so much fun. And if you can't have a little fun in the privacy of your own bedroom, where can you have it? Wait, that came out wrong.
It's definitely the playful wow kind of "statement piece" that we were looking for. And although from the angle above it looks like it's snuggled right up in Ed's business, you can see from the pic above that they aren't actually touching at all. And even though it hangs low in the room (the bulb sits just above my eye level), we love that we can get away with that because it's an area that we'll never walk through (because of Ed and the bench at his footboard). Take that 8 foot ceilings! We defy you.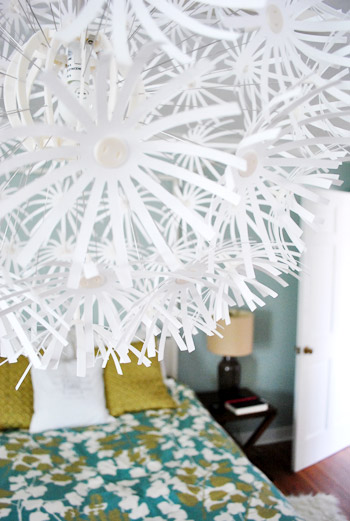 As much as we love how crisp and soft it looks during the daylight, it looks like our own little Times Square New Year's Eve ball at night. Sherry loves to walk into the room at night and say "3… 2… 1" and flick on the light while squealing "Happy New Year!"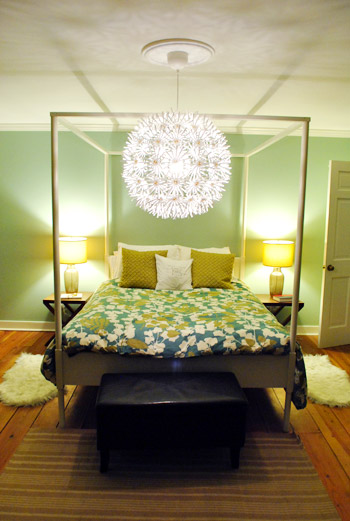 It only accepts a 40 watt bulb, so it's definitely not something that'll flood your room with light, but for us it's the perfect addition to the soft and moody lighting that we've already got going on thanks to our recently added side table lamps and the light over the vanity in our bedroom's sink nook.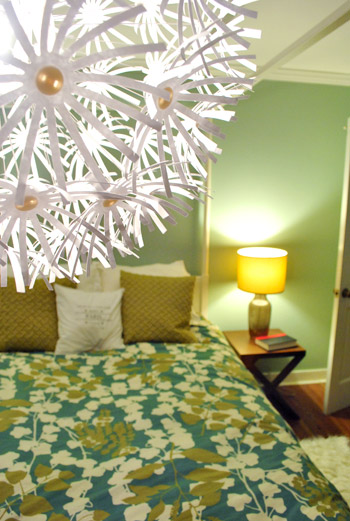 Plus, it is soooo cool to look at from bed. We didn't even consider this POV when picking it, but when our heads hit the pillow it's perfectly reflected in our bathroom mirror. How's that for a nice added bonus? Oh, and I'm sorry ladies, but me and my sexy socked feet are taken (Sherry's a lucky lady).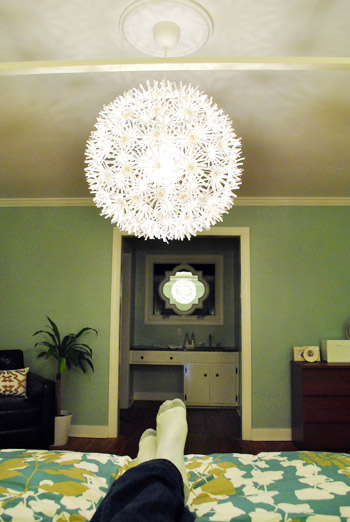 Oh and the light is centered in the room (and on that doorway and the bed) so the slight left-ish shift that you see above is just thanks to the angle of the shot that I snapped.
So there you have it. The little big slice of "hey now" that we added to our bedroom. It certainly doesn't make us miss the old fan (which we're donating to the ReStore) and it never fails to make us giddy. What can I say? Warning: pun coming. It lights my fire. Oh, and we should mention that Clara is crazy fascinated by the flowers themselves. We'd let her get near them if we could trust her not to put one of the paper flowers in a death grip and tear it off towards her mouth. So for now it's just for looking.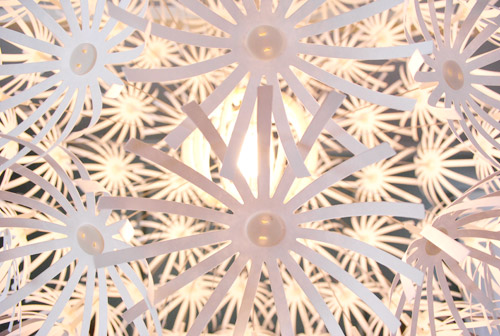 Do any of you own Mr Maskros yourselves? Or are there any other dramatic and large-scaled light fixtures that you're into lately?
Psst- There have been a few requests for more photos from other angles, so here they are: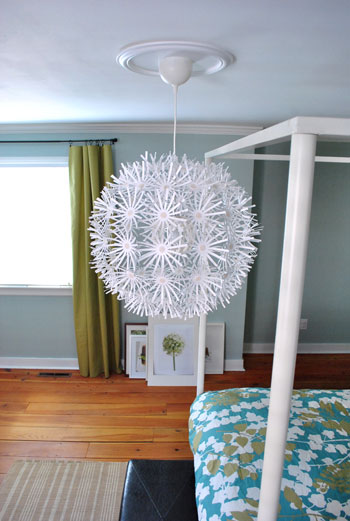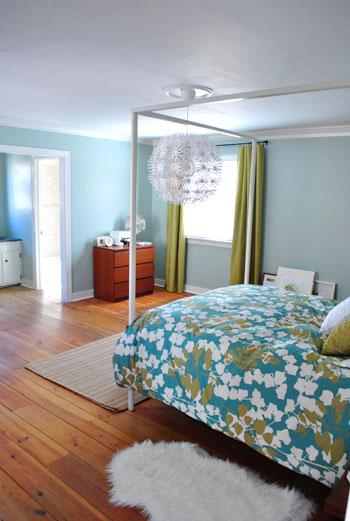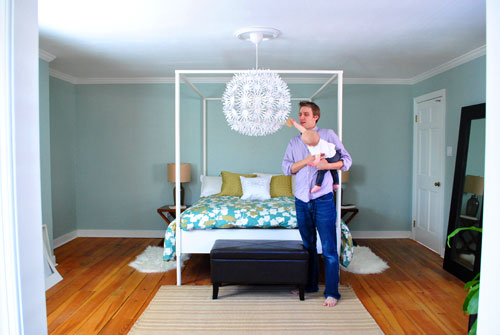 Clara likey.
Update: Things definitely take some time to shake out around here. So if you wanna see how Ed the Bed and our new light evolved, click here and here. Ah tweaks. Gotta love 'em!