The closet in the spare room used to be packed with things like luggage, wrapping paper, gift bags, and a bunch of other clutter that had to be dealt with in order to free up space for actual playing and Clara-storage (since this is now the playroom/big girl room instead of a room full o' junk).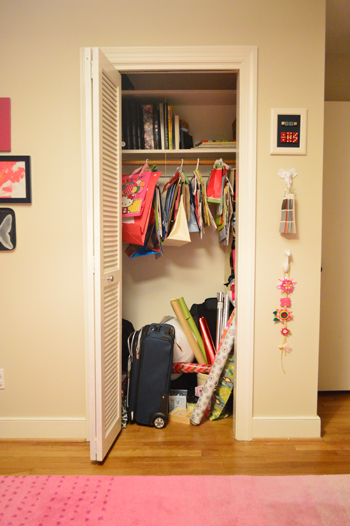 So we took everything out (except for the photo albums & yearbooks up top) and it magically disappeared.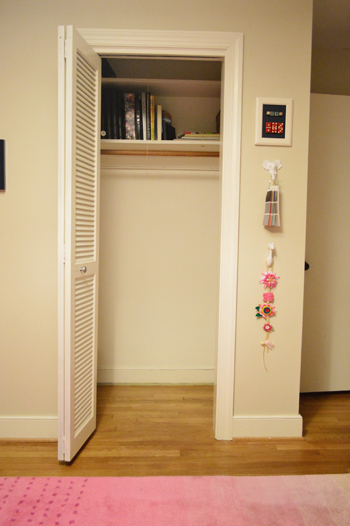 Just kidding, it ended up in the guest room closet.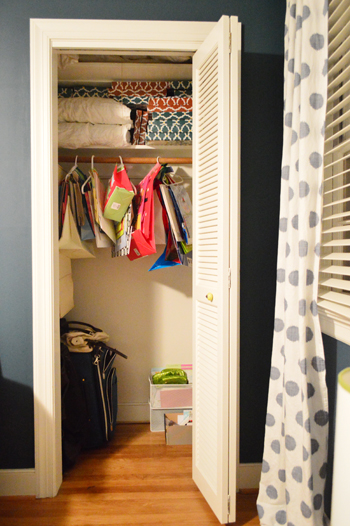 Which actually seems ok since we're on year three of living here (CRAZY!) and we haven't noticed any guests using the guest closet at all, so it made sense for us to put that valuable real estate to work for us. There's actually still a little room for hanging things on the bar if we shove all the bags to the left or the right, so we might do that if we're expecting company, just in case. But for the rest of the time it's more functional to see my gift bags all spread out so I can grab one nice and fast.
And the good news is that once the door is shut, our guests don't have to be subjected to all of the items that lurk behind it.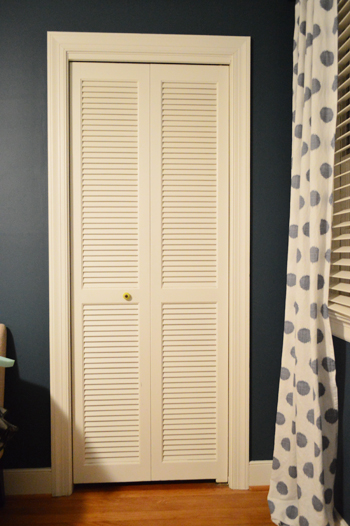 And after the addition of a few Clara-things, the closet in her big girl room is now nice and useful – both for games and for storing a few not-her-size yet items of clothing (get it? they're her big girl clothes in her big girl room). It would be fun to paint the closet walls a playful color (coral? teal?) so maybe we'll get to that sometime.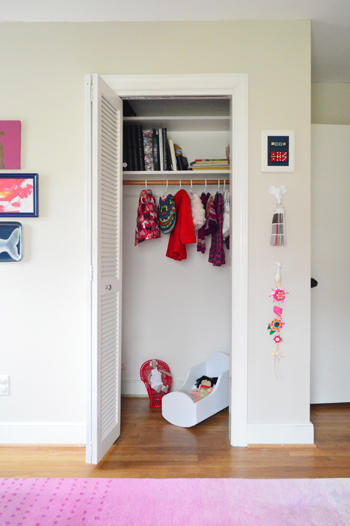 In the meantime, we just added a friend or two. You know for closet ambiance. Like her monkey (he likes to hang out).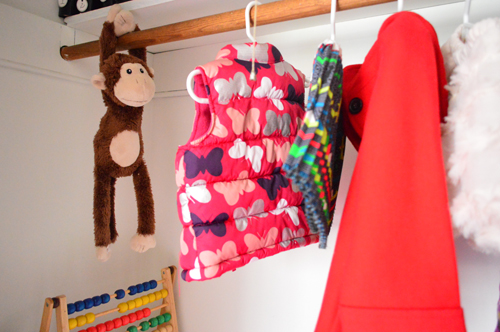 The addition of a few toys essentially creates another play-zone in the house (Clara already plays a lot in her big girl room thanks to her play kitchen and her little table for stuffed animal tea parties, (not to mention fake naps on the daybed) but the closet is yet another little spot that she can sneak into and enjoy.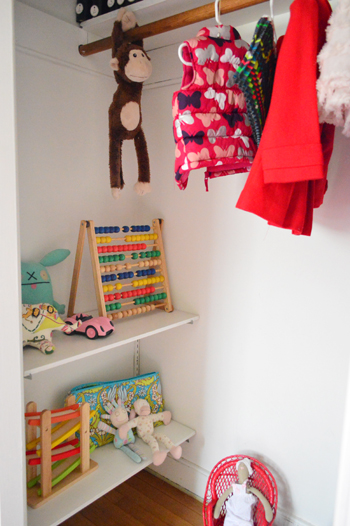 Down on the floor we have a few things that I picked up for the Macklemore Challenge. Remember the $1 chair that used to be a faded old yellow-brown color? And the cradle that had some burns and scratches along with a pretty musty odor?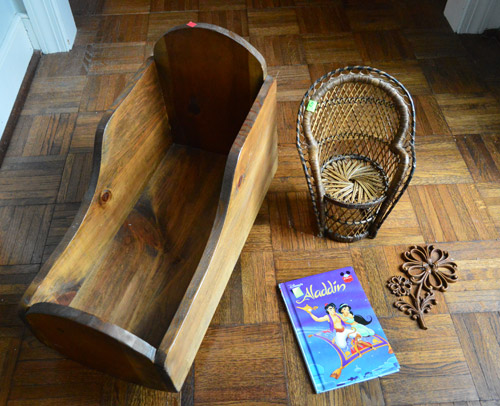 Well they're looking (and smelling) nice and fresh now…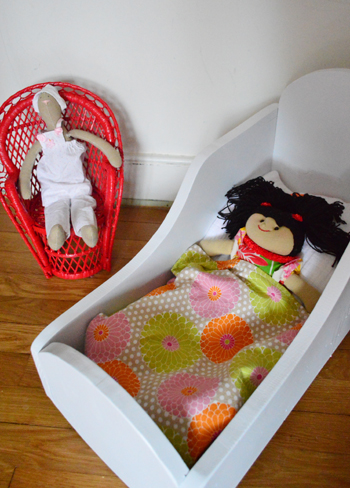 They were both easily revived thanks to some cleaning, priming, and fresh paint. For the chair I used Valspar's Gloss in Classic Red (which is a paint and primer in one). And for the cradle I used Rustoleum's Universal All-Surface spray paint in gloss white (which also has a built-in primer).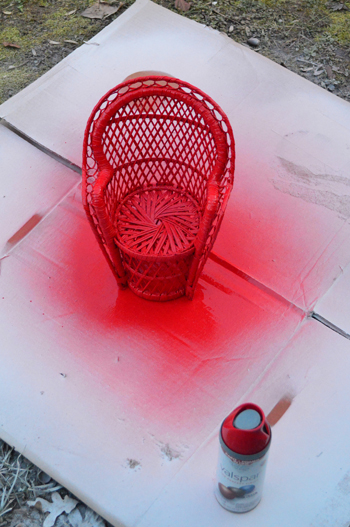 I actually have some more plans for the cradle (rhymes with bom bom bringe) so I promise I'll keep you posted! It definitely won't just be all basic and white for long…
But even though the cradle is only half done, the newly cleared-out closet is getting lots of play.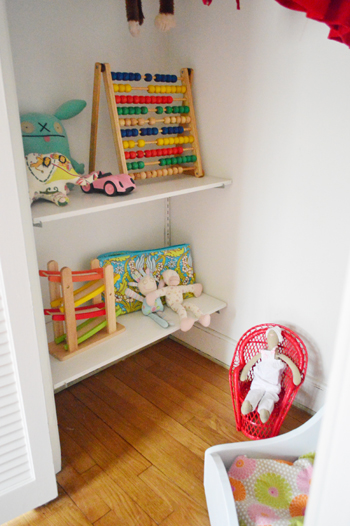 I'm actually learning that as Clara grows it's nice to have a few zones throughout the house for her to "discover things to do" instead of plopping every toy in one basket in the living room. It seems like the change of scenery from room to room holds her interest more, and I like that there aren't ten million jumbled toys in one spot to clean up (by delegating them to different areas, most of the time they stay in those new zones so there's just a little picking up in a few rooms instead of a giant pile of mixed toys on the living room rug).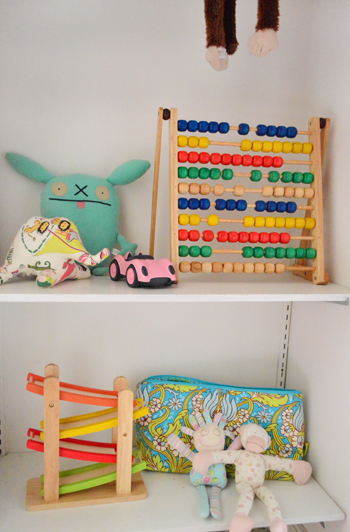 So that's the story of our quick little closet overhaul. What have you guys been transferring and organizing? Any other closet clear-outs going on? If you have a guest room do you keep the closet completely bare in case someone wants to hang something? Or do you use it since most of the time you're not housing guests and it's valuable storage space? We just realized the other day that we only have five closets in this entire four bedroom house (our 800 square foot one-bedroom apartment here in Richmond had four) so it's a wonder we ever had an empty one at all!