I like big globes and I cannot lie. You other brothers can't deny. When a light walks in with an itty bitty waist…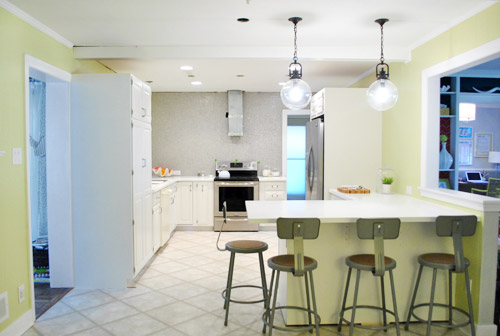 … and a round thing in yo face you get sprung. At least I do. John just gets all blown out and looks angelic.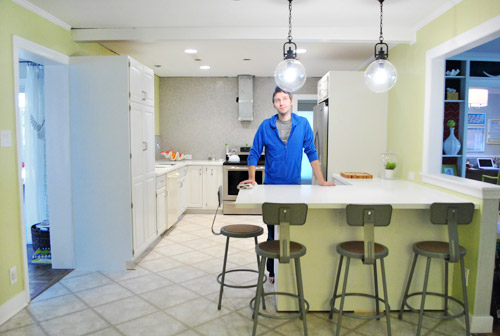 The purpose of that photo was actually just to show you why we picked the height that we did. The common pendant light recommendation is to hang it 30″ above the top of the counter (from the top of the counter to the base of the pendant), but we went 31″ because my tall hubby didn't want those round things in his face obstructing the view. It's so nice to have some proper lighting above the peninsula since that part of the room has been super dark. As we mentioned yesterday, they were $60 each at a local lighting outlet, which made buying two of them cheaper than the actual retail price of one (they're $129 a pop here).
Of course we still have some holes to spackle (five to be exact), but things are definitely looking up!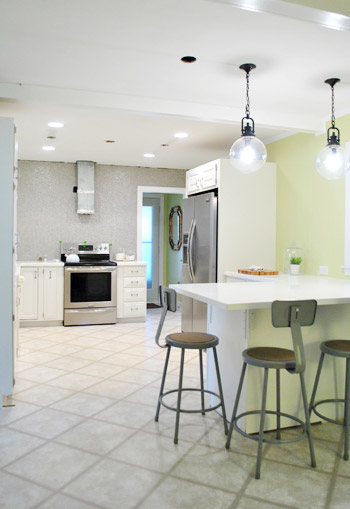 As in, I can't stop staring up at them. And John's been ogling them too.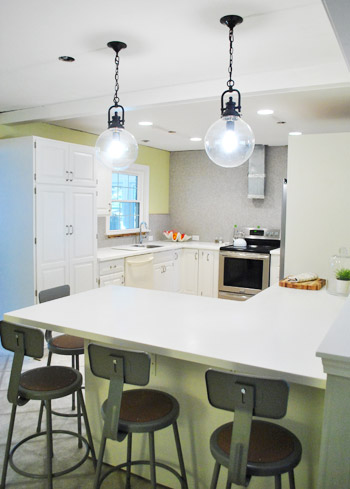 The lights, not the holes.
I've got holes. In different area codes… area codes. Remember that song anyone? Apparently I'm in a singing mood today. I blame it on the eh-eh-eh-eh-electrical. Blame it on the eh-eh-eh-eh-electrical.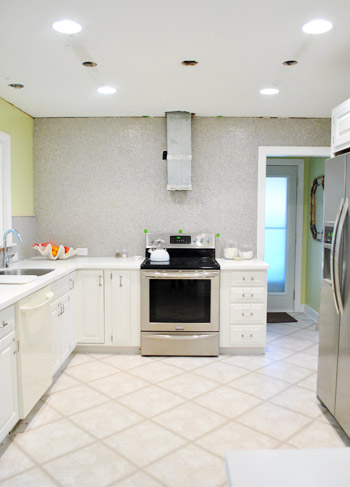 Ok, I'm done now. Promise.
Anyway, this is a shot to show you that we still have a light over the fireplace to switch out. It's actually perfectly centered on the fireplace as you face it, although the angle of this pic makes it look all sorts of wonky. This is a pendant that broke pretty soon after moving in so we haven't used it for about half a year. Can't wait to hang something better suited to the chill-zone by the fireplace. Maybe a big ol' drum pendant that's only dropped a few inches from the ceiling so it's high enough for anyone 6'4″ and under not to bump their heads (that's the tallest person we know, haha). So yeah, along with spackling holes and getting a pendant for over the sink, this guy's on the lighting agenda too.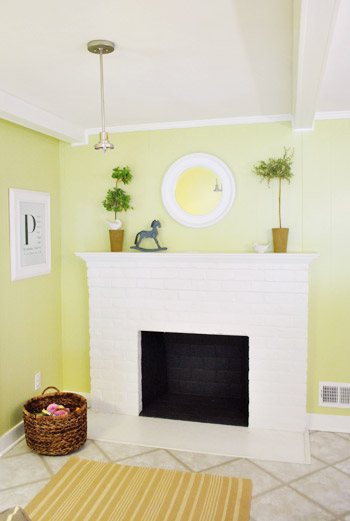 But back to the globes. We actually installed a dimmer switch yesterday, which is awesome because we can blast them all the way up or lower them for we're-just-eating-spaghetti-but-let's-fancy-things-up ambiance. We'd love to get LED bulbs for our pendants (they're compatible with CFLs, halogens, incandescents, and LEDs, which is nice) but since we have a dimmer switch, we have to find special LEDs that work with a dimmer. We'll keep you posted.
Update: we're getting lots o' comments asking if we'll be ORBing the stools – we're actually going to wait for the dark cork floors to go in before making any decisions on them either way since that could be a game changer. Oooh cliffhanger…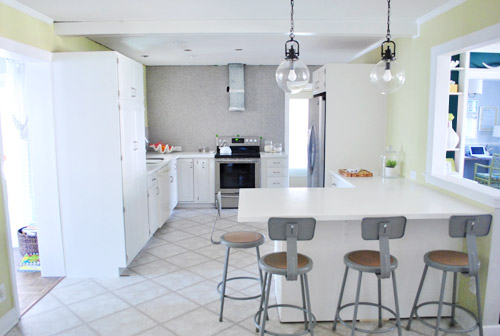 Here's how things look in the other direction. See how a big drum shade might be nice for that cozy corner by the fire?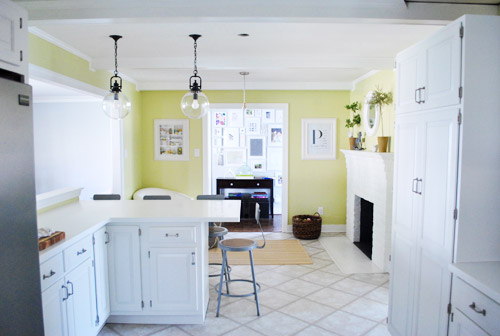 Mmm, let's get a little closer, shall we?
Update: We gave edison bulbs a try and they were reallllly yellow in our room (maybe with white counters they're not the best idea since they left ours looking dirty?) – we also gave clear bulbs a try but they cast a bunch of harsh shadows on the ceiling, so we prefer the frosted guys we have here for now – although we're definitely still looking into dimmable LEDs!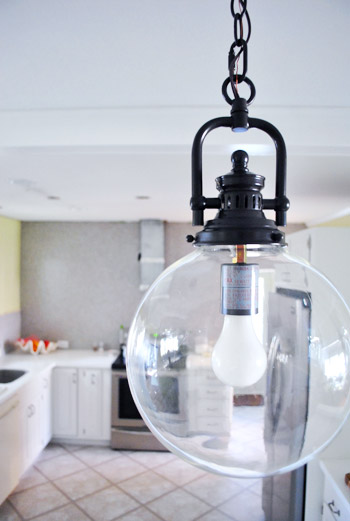 In the words of sandwich-loving Joey Tribbiani: how you doin?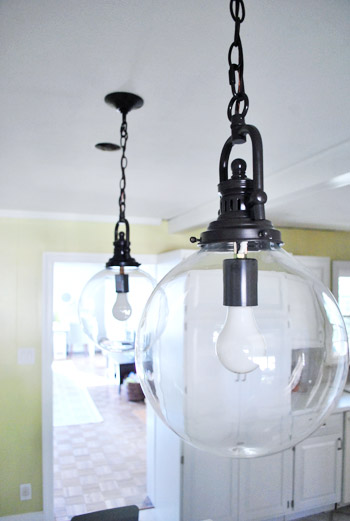 Oh and see that nice big chunk of sunny grellow wall between the fridge and the half wall into the dining room? We want to get a nice big piece of art for that spot. So we're on the prowl. Will keep ya posted on that too.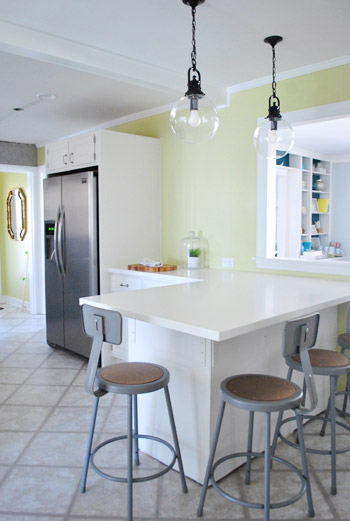 When we were reconfiguring the kitchen we talked about putting an upper cabinet there but knew that the peninsula would feel so much more open to those sitting there (especially the person on the end) if they weren't staring at the side of a cabinet. It's actually an area where we do a lot of prepping now, so we love that it's open. It's hard to explain, but it feels more like a room and less kitchen-y, in a good way. Just sort of casual and airy and not too wood-riddled.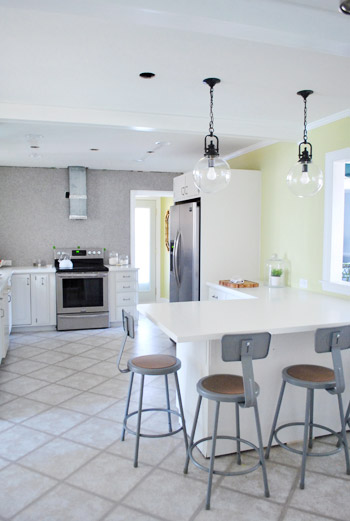 Anyway, next on the ol' kitchen list is patching those holes (we'll share all the spackle-tastic details) and hanging (and building in) our craigslist range hood. Then we finally get to add the open shelves that I've been over the moon to "meet" since about four months ago when we decided to go for it. We've been keeping all of our dishes/plates/cups in a lazy susan cabinet in the corner by the stove, and while it works okay, open shelving will be approximately 957 times more convenient. Yes, I'm a complainer about turning the lazy susan one way to get a dish and having to spin it the other way to get a cup. Plus after we get the shelves made and hung and painted I get to put pretty vases and containers and frames up there along with all of our everyday dishes. Maybe even a ceramic animal or two if I'm feeling crazy. And let's face it, I'm pretty much always feeling crazy.
Speaking of which, remember my whole self-imposed "Dude, Get On That Already" challenge?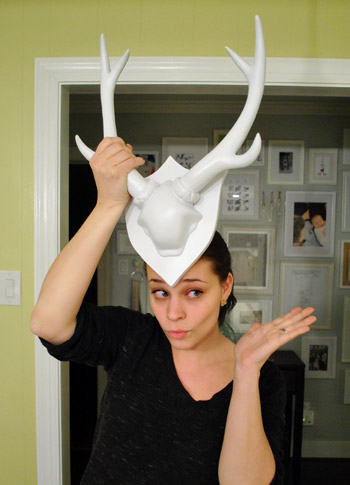 How is it already Wednesday and I have yet to tackle something? Come on $herdog, you said once a week you'd get on that. So GET ON THAT, ALREADY! Hopefully I'll have a little update for ya tomorrow. Anyone care to join me and share what you've done tomorrow morning?
So in summary: work continues and we're all over the place as usual. Hah. What are you guys up to today?