So. My basement workshop. I owned up to how messy it was a few months ago.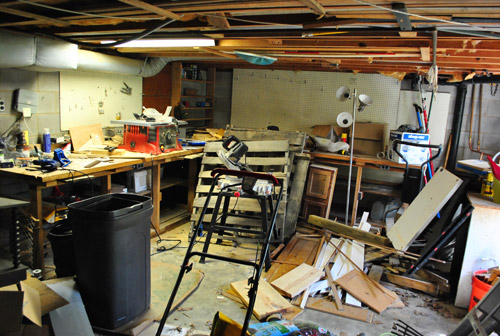 Then building Clara's dollhouse prompted me to tidy it up a smidge – as in, look you can actually see some of the floor.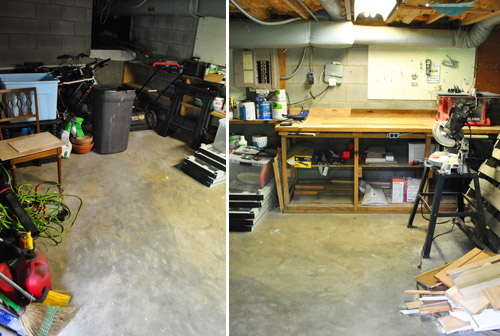 And then the deck happened and it all went to crap again. A big sawdusty, scrap wood cluttered pile of it.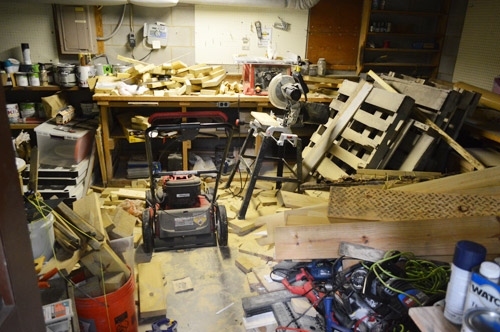 But I made a promise to myself that once the deck was done I was going to take care of this issue once and for all. And I'm happy to report that after many hours, many calls, and some serious scrap-wood-carrying, some major progress has been made.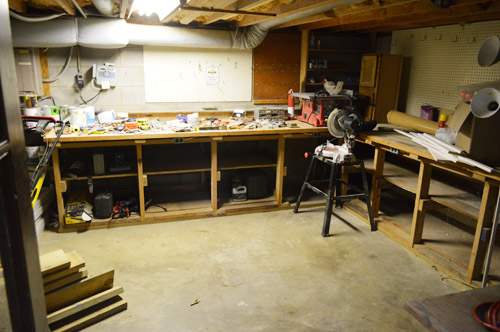 My secret? The Bagster. I walked by it enough times at Home Depot that I just decided to buy it and give it a try (so if this sounds like a Bagster ad, I promise it isn't).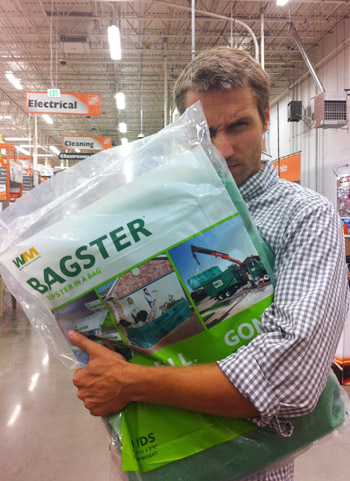 The clutter was starting to give me anxiety and get in the way of doing new projects so it just. had. to. go. Bagster is basically a dumpster – just a cheaper, smaller, baggier form of one. So yes, after months of trying to decide how best to reuse or recycle my scrap wood pile, I just:
kept the stuff that I thought would be useful for future projects
gave everything else that I could to anyone else who would take it (free-scrap-wood ads on freecycle and craigslist worked for some of it, as well as contacting the Habitat for Humanity ReStore and a local wood-collection/pallet place – but there were still tons of scraps that no one wanted – even for free)
finally set my eco-induced guilt aside and decided to just Bagster the stuff that no one else would take (some of it was old and rotted anyway)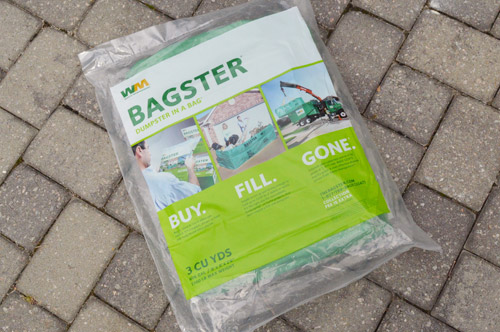 The bag itself was a $29 purchase and once folded it out, it promised to hold 3 cubic yards and up to 3,300 lbs. Assuming you don't want their big trash truck on your driveway, you have to put the bag within 16 feet of the street (either on your yard or driveway) so that the truck's crane can still reach it.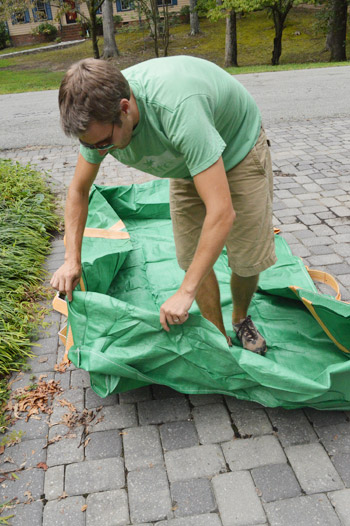 I have to admit, we both thought it looked kinda small once it was all folded out. We started to wonder if it would even hold all of the old rotting pallets that we wanted to get rid off, let alone my leftover deck scraps.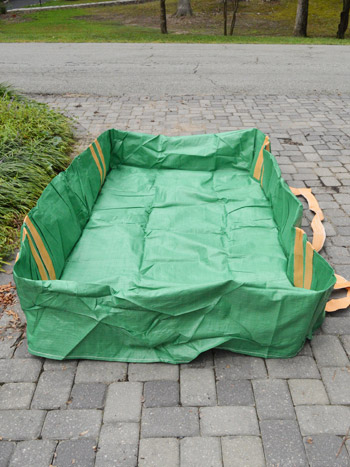 It certainly didn't help when our first piece of scrap (the rotting railing to our old balcony) was nearly too long to fit.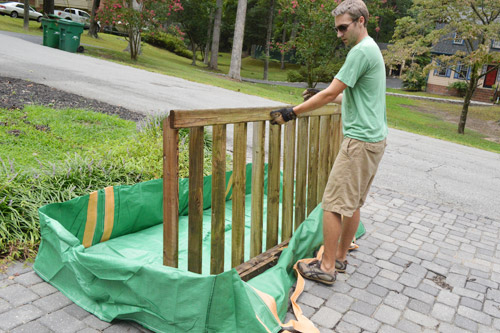 But the railing fit and from there we just started piling other scrap in. By the end of the afternoon, the bag was pretty much at capacity. But the yellow straps could still touch (which are the rules) so I wasn't worried about them rejecting my bag for pick-up. Although I was a bit worried that it would break when they tried to pick it up and I'd have wood scraps spilled across my driveway…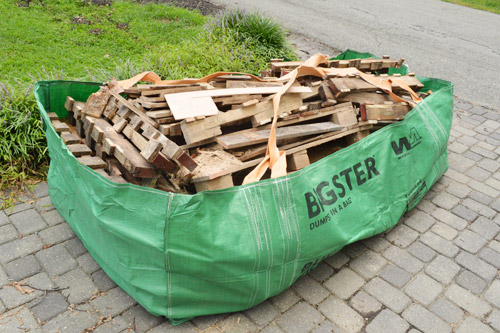 Once it was full I logged onto the Bagster website to schedule my pick-up. You tell them the first weekday it's ready and they promise to send a truck within three business days. The pick-up fee differs depending on where you live, but for our county it was around $100. But thanks to a $20 off coupon code I found by Googling, our cost was only around $80 (not including the $29 for the original bag purchase). But compared to the $300 – $400 estimates that I got for a traditional dumpster, paying around 110 beans felt like a steal (I couldn't have even rented a truck for the afternoon and paid the dumping fee for all that wood for that price). Plus, look at the awesome curb appeal (not).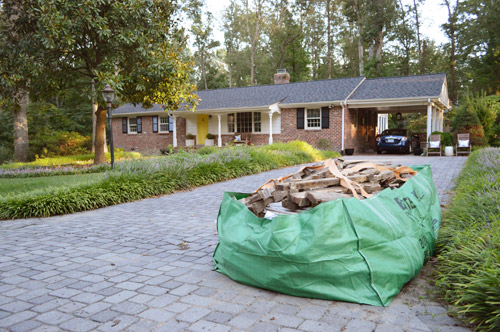 Thankfully less than 48 hours after filling the bag, this big green Waste Management truck pulled up to take the eyesore away. We didn't have to be home for the pick-up (the guy didn't say a word to me), but I'm glad we were so I could capture the excitement / witness the potential disaster of wood raining down on us from a ripped bag.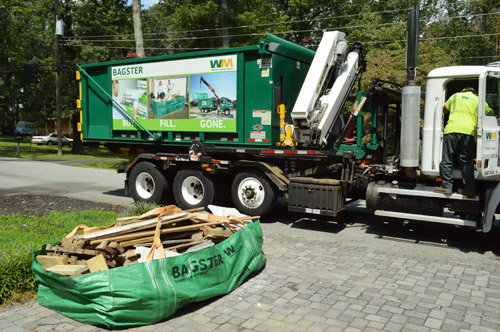 Out came the truck's crane and the gentleman hooked up its strap to the two yellow handles on my bag.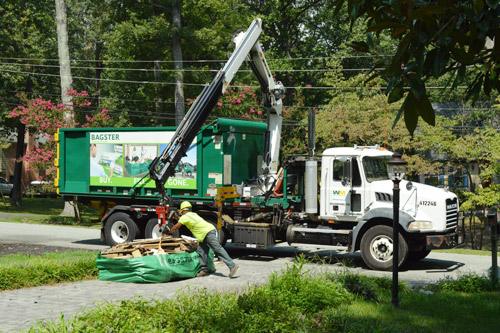 And then up it went! No ripping whatsoever. It was awesome to see our car-sized container of wood get hoisted up like it was full of foam.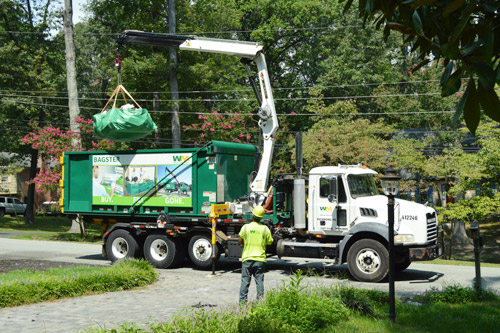 I managed to capture a little bit of the "action" on video. If you listen really carefully you might even be able to hear me holding my breath as it becomes airborne.
This was both literally and metaphorically a huge weight lifted off of me. Some of those rotten pallets (left outside for over a year by the old owners) have been taking up usable space in my basement for a while, and it's downright invigorating just to have them out of my way. In fact, this may just be the beginning of a little basement organization / makeover project I've been dying to get to. Does anyone smell a man cave? Update: And by man cave I mean place-I-can-cut-wood-and-blast-manly-music (no lounge chair and TV or anything…).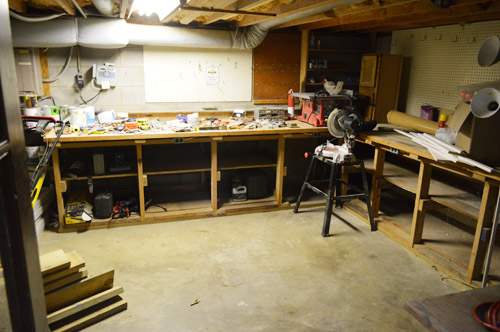 Have you guys tried out The Bagster? Did it look super small at first (until you packed it to the gills)? Do you have another preferred method of removing renovation or project messes from your house? Sometimes we wish we had a big truck for these random occasions, but then we remember we'd have to pay for it, insure it, and gas it up (a daunting concept for us since we actually get a lot of our reno budget from only having to insure/gas one small car). We've decided the ideal situation would be a rich neighbor with a nice big truck that they're happy to loan us in return for homemade cookies. Hey, a guy can dream, right?