By the time we unpacked our shower curtain last week, it had been 48 hours since either of us had showered. And those two days were filled with lifting heavy objects, if you catch our whiff drift. So hanging the shower curtain was a welcome step in our moving process. What was not so welcome? This result: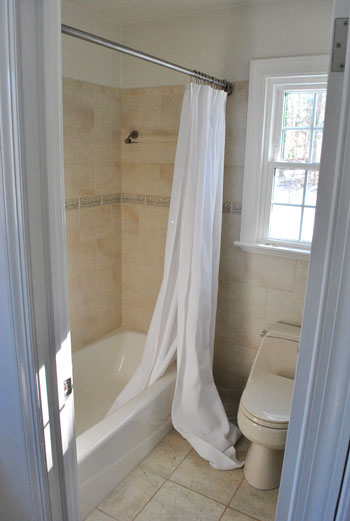 You know we love hanging an extra long shower curtain all the way to the ceiling to add height to the room (the 95″ waffle curtain is from amazon.com and the 86″ fabric liner is from Bed Bath & Beyond by the way). But the trick doesn't work so well when the tension rod you inherit is too stumpy to hang on the higher tile-less portion of your shower wall (it was literally about a half-inch too short to grab the slightly wider wall up top). Then the tricky part becomes being ok with the bottom of the extra-long curtain sitting bunched under the toilet seat.
We were not ok with it.
Which is why our first post-move trip to Home Depot was to get a new longer tension rod. And now we have this going on. Ooooh. Ahhh. Note: You can read more about raising your shower rod and finding extra long liners and curtains here.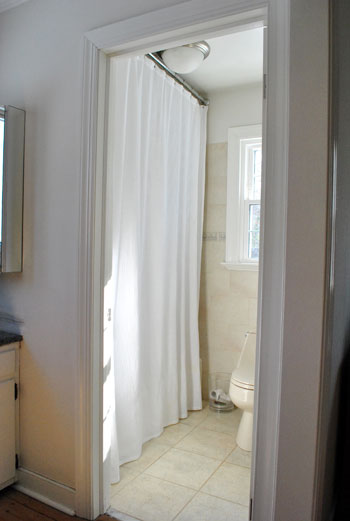 It's a small start in the process of making this bathroom feel a bit more like our own. It's a great bathroom with lots of good stuff already, but not necessarily an overall style that we'd pick for ourselves. So eventually we'll do some tweaks / upgrades / remodeling to make it more "us." And yes, we're definitely planning to swap out the light fixture for something smaller that doesn't encroach as much on the newly hung ceiling-height shower curtain. And speaking of light, anyone who is wondering if it's super dark with the shower curtain that high- amazingly it's not. It sort of glows and light shines through the light curtain and the liner so the whole shower is lit up through the curtain if that makes sense. In our old house we didn't even have a ceiling light (just a wall-mounted one above the mirror) and it was still nice and bright.
'Til then, we at least get to enjoy nice finishes like these sleek stainless shower fixtures.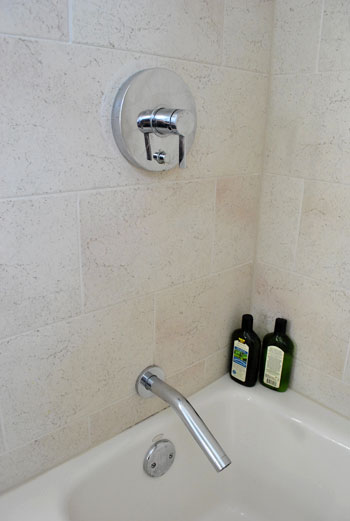 And these spa-like glass shelves: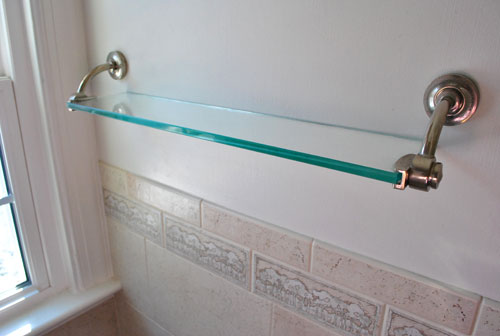 We don't really have a clear vision of what we'd eventually like our master bathroom to be, but there's a good chance both of those items will be kept long term. The only thing we can say for certain will be going sooner rather than later is the mirrored door. Shocking I know. When have you known us to remove a mirror from our house? We can usually be found hanging them left and right.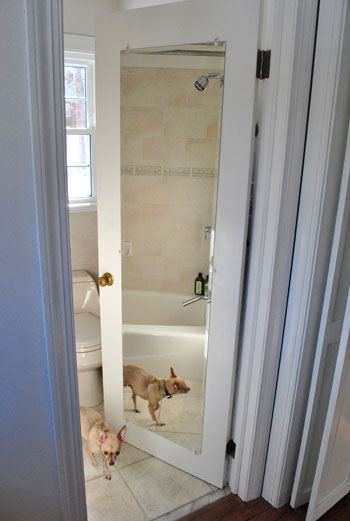 But we already have a nice chunky floor length mirror in the bedroom (the one seen in this post, that I got Sherry as a surprise wedding gift) so there's no need for the slightly less exciting door-mounted one a few steps away. Here's hoping we don't break it during removal and suffer a seven-year span of bad luck. And for anyone else out there who's ready to remove a big mirror on their door or wall, we'll be sure to post about our hopefully-not-bloody-at-all removal process when we get there…