Last you saw our new bed Ed – aka, the Edland four-poster bed from Ikea – he looked like this (read more about how we chose him here).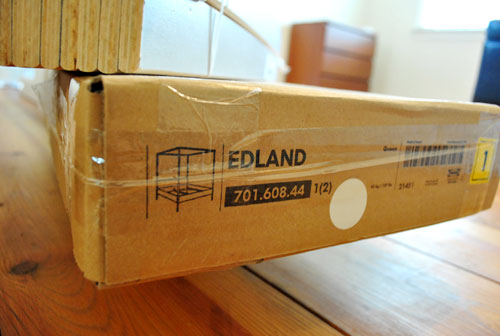 He has since been assembled – and even slept on for one night. And thanks to the Skorva steel support beam (also from Ikea, which is mentioned as a must-have along with the bed in the "good to know" section) Ed can, in fact, hold the weight of 30 dead people (aka: our incredibly heavy mattress) plus the weight of two DIY enthusiasts, their beefy chihuahua named Hamburger, and their baby girl (when she's in there for a morning snack).
Constructing the bed was a remarkably easy process, especially considering I defied Ikea's instructions and did it all without a partner (she was on baby duty). But since all of my hands were occupied during the construction phase, I did very little in the way of photographing. Thankfully I can use the Ikea instruction booklet to help re-enact a few scenes.
Like this one, where I hollered "Honey, fetch me my screwdrivers!" – to which I got a glare and an invitation to get them myself, since she was otherwise occupied with Clara.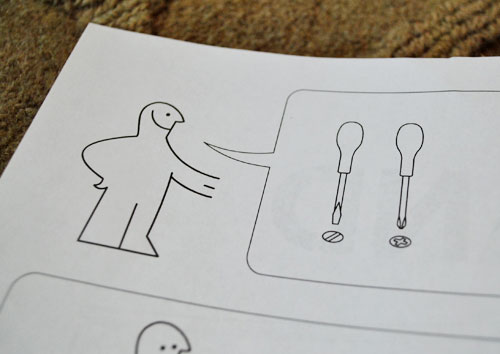 Or this one where I took my partially constructed bed frame on a magic carpet ride. "A Whole New World" may or may not have been sung as we soared through the clouds.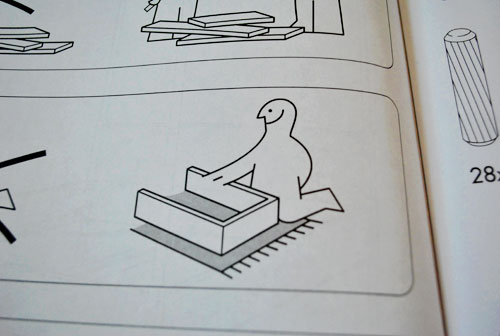 And of course this is a perfect depiction of the moment when I called Ikea to place an order of Swedish meatballs only to learn that they don't employ a fleet of food delivery people. Boo.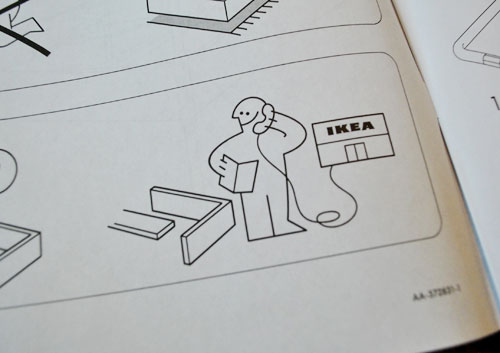 Ok, so none of those really happened. But I thought it sounded more interesting than the whole "then I put in another screw" play by play. So let's just fast forward to the after: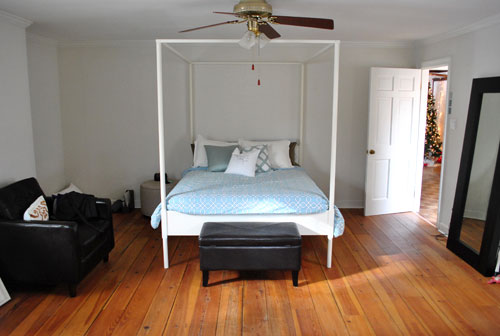 Although I should clarify that I definitely got Sherry's help when it came to wrangling our mattress up onto the frame, which almost killed us- but it's done and we're euphoric. It's a whole lot better than the whole mattress-on-the-floor look that we were rocking since moving in: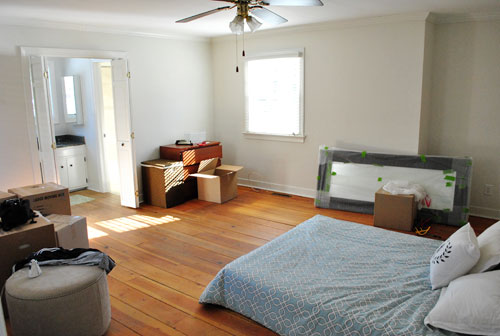 Clearly we still have some work to do in the bedroom, but we're really happy to have Ed as our starting point (especially since he ended our over-two-week marathon of sleeping on the floor).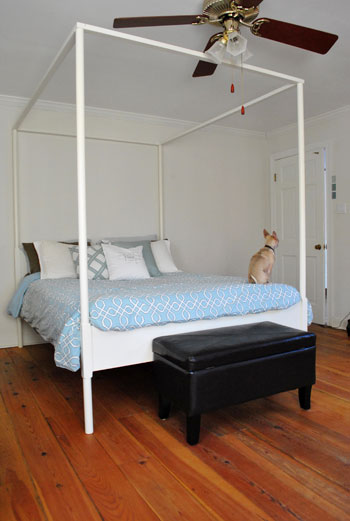 We love the fact that we're sleeping higher than we have for the last 4+ years since the Edland is a good foot or so higher than the Malm that we had (and loved) in our old house. But it's still comfortable to climb in and out of for Sherry (short) and me (tall) so that's a good thing. And have no fear, Burger can still get into bed – even without the help of the bench that we placed at the foot of the bed as our version of Doggie Steps. Burgmeister doesn't even need it and instead prefers to take flying leaps to demonstrate his Rottweiler-like agility.
And even though we have plans to change out the fan for a less conflicting ceiling fixture someday, at least we still have enough clearance to use it if we really needed to. You know for some reason in the middle of winter. Seriously, how funny is that perfect little fan facilitating pocket of space up there? Although it might come in handy after we've painted the walls and want to ventilate everything and help it dry faster.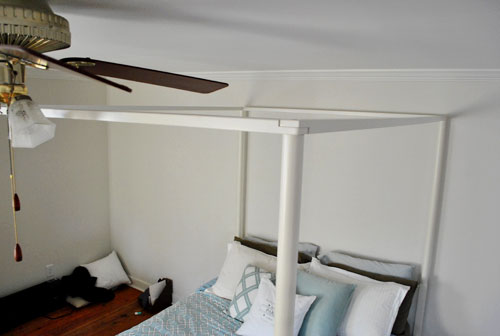 Speaking of painting, our next step in the bedroom will probably be to get some color on the walls (we're thinking a gray-ish blue with some green undertones to work with our whole teal vision from this mood board of yore) – which should make our new white bed frame, er Ed, really stand out. We also want to get a new duvet (not only to change things up a bit, but also because something a little bigger will cover the bedsides more and result in fewer sleep fights over who has more of the covers). And we'll happily be able to reuse our beloved existing West Elm duvet in the guest room once we get a full sized bed in there (it's a full/queen sized duvet, but we always thought it was better suited to a full sized bed, which is exactly what we have planned for that room). Slowly but surely…
Psst- To anyone who missed our Nate Berkus appearance, it seems as though it's going to rerun today. Why are we nervous all over again? Gah.