I kinda want to jump on The Voice bandwagon. Not in the sense that I want my shot at getting Adam Levine to turn his chair for me – at which point I would look him dead in the eye and say "keep your hands off my woman, Levine!" (it never hurts to lay clear boundaries with a guy like him). I want to jump on the bandwagon in the sense that The Choice (spinny chairs meets dating), The Taste (cooking) and The Face (modeling) have.
Only my spin-off would be called The Shade and it would be a competition to find "the next great light for Clara's big girl room." And no one would watch it.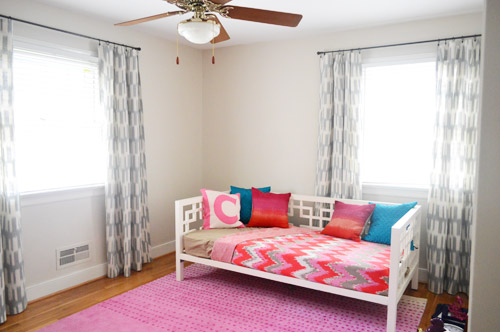 We knew we wanted to swap out the wood-tastic ceiling fan for something more Clara-friendly (we've used a table fan in her room for nearly three years and have never needed an overhead fan). We came to the idea of doing a shade pendant after realizing that it would give us lots of options (texture, color, etc) while not hanging too low (a chandelier would probably get in the way) but still illuminating the room nicely.
First we debated choosing one of ours, but since most of those are pretty patterned (and we already have lots of pattern going on in Clara's room) we decided to check out a few other favorite sources, like craigslist and a local shop where we've found a bunch of other lights we love on a budget (aka The Decorating Outlet here in Richmond). Craigslist had nada, but our local Decorating Outlet had a lot. Not only did we find one shade that we liked there, we found four options – all within the $35-40 range.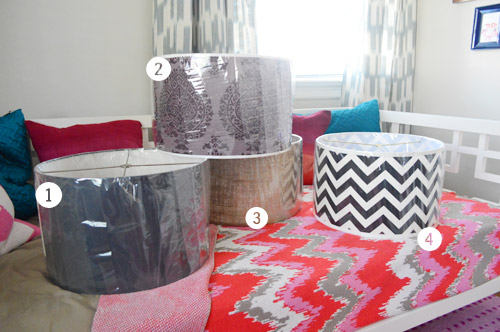 Here was the line up of what we found:
Team Navy: A solid deep blue (to tie in with her curtains) with no pattern at all
Team Purple Damask: A very subtle pattern in a purple tone that works nicely between the blues and reds in the room
Team Neutral: A natural burlap-ish shade that could bring a nice organic texture into the space
Team Chevron: Think of him as the contestant who's not afraid to take risks – this one has a trendy, bold pattern in a navy and white color scheme
The Decorating Outlet gives you one business day to make returns, so we rushed home for the audition portion of our show. This meant I just held up each shade over the existing fan light (which isn't as bright as a hanging pendant would be, but helps us imagine how each one would look). Let's check them out in reverse order…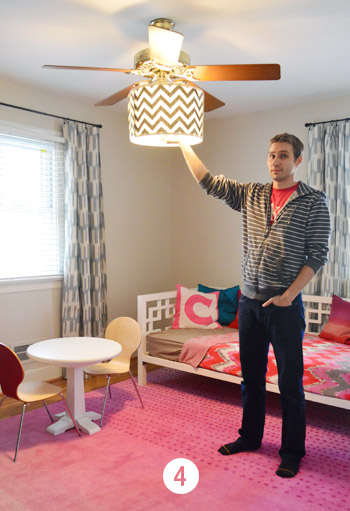 Team Chevron was pretty cool on its own, but our fears that bringing one more bold pattern into the room were confirmed. It probably could've worked, but it made us fearful of other patterns and prints that we might have to nix down the line (remember we still have big plans for the blank span of wall between those two windows, and we don't want the shade to compete). So then it was on to Team Neutral…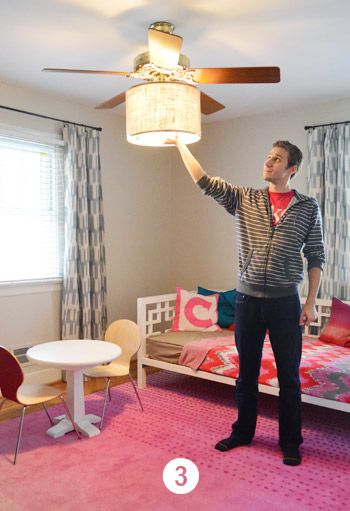 This one probably could have worked too, but in person it felt too, well, neutral. So without much hesitation, we invited Team Purple to the stage.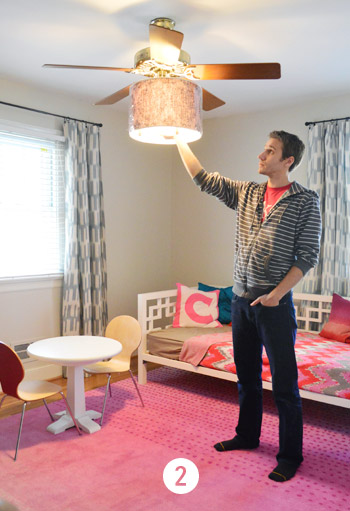 This picture isn't the best representation of it because it actually looked quite nice with the lights off. But when the light came on, the purple tone and damask pattern got kind of lost and it actually looked a lot like Team Neutral. Too bad. I really wanted to like it.
And then there was one remaining contestant…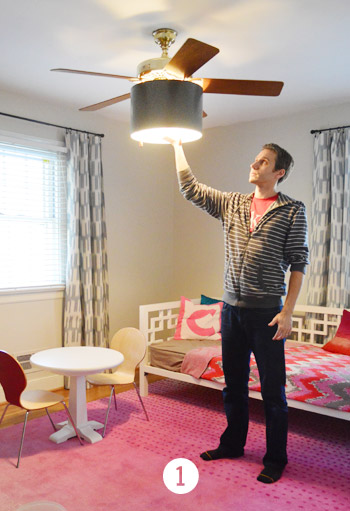 Even though Team Navy felt like the "safest" of the picks, it was our instinct all along. And although it looks a little dark, remember that our light kit will put off a lot more wattage than the old fan light does in this picture. Knowing our future plans for adding in other art and accents to the wall between the windows, we just felt that a shade without pattern was the right way to go. And even though it doesn't looks especially exciting in the picture above, in person it was a pretty obvious winner. So we were both convinced within a matter of minutes that it was the choice – er, the voice – er, the shade.
With the auditions over, we moved on to the battle round (i.e. where I wrestle with the heavy fan to remove it from the ceiling). Luckily I emerged victorious.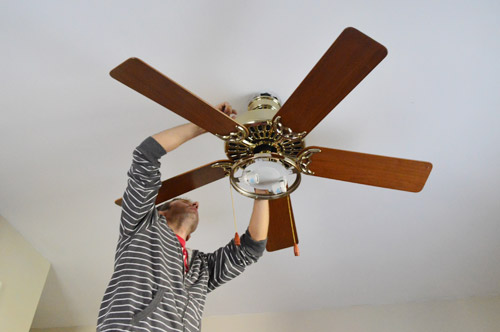 The added bonus to picking the navy shade is that it was also the cheapest of the bunch – just $34. And to further save on the cost of this project, The Decorating Outlet sells their "damaged" pendant hardware (for hanging the shade) at half price. The only "damage" to the one we bought is that the light kit had already been cut (so it wouldn't work in a room with a high ceiling) but since it was still longer than we'd need for Clara's room (we actually snipped it a bit shorter) we were more than happy to snatch it up for $25.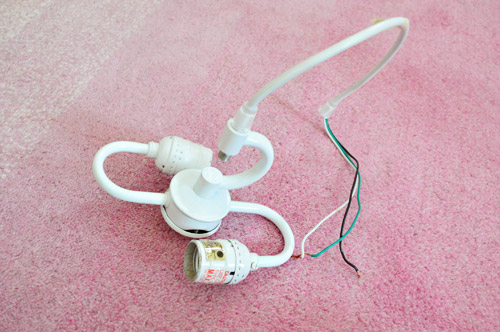 And since The Voice always loses me during the live rounds anyways, let's skip our show ahead to the finale. Now's where you picture The Voice theme song: "This is The Shade!"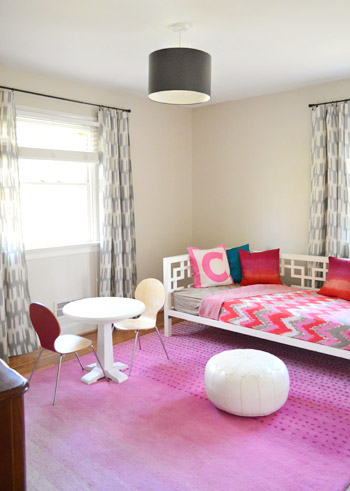 For a total of $60 (the light kit came with the canopy too) we're really happy with our two-light pendant. I personally love that the dark navy color helps balance out all the pink in the room so it feels calming and not too Crazy-Pink-Palace. Plus, it subtly complements the other blue items in the room nicely without demanding too much attention. In other words, it's more like Adam or Blake in jeans and a t-shirt (Cee-Lo it most definitely is not).
Of course all that really matters is that Clara likes it, so let's get to her reaction to our winner, which was: "Is that mine? Can I touch it? Is that mine for my big girl room? I think it's shiny and pretty like a pebble."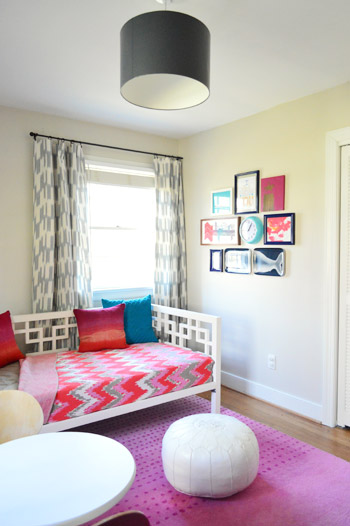 We ended up putting two 75-watt CFL bulbs in there, which also means that (despite the dark shade) the room is still plenty bright. So Clara will have no problem hosting late night tea parties or stuffed animal sleepovers. Whew. So whaddya think? Does my concept for The Shade have legs? No? Didn't think so. I guess it and The Choice (which I think already got cancelled) will just be forgotten together…
Psst- Sherry's having some fun with East Coast Creative by volunteering as one of their bloggy helpers (that's a technical term by the way). So if you're a blogger and would like to get paired up with $herdog for their little Creating With The Stars competition, you can enter your best project here for a chance to be one of their 12 final contestants.