And now for a little chair-related riddle: What sucks more than buying eight chairs on craigslist only to realize that they're really really not working after a year and a half of trying?
A: Buying eight chairs on craigslist only to realize that they're really really not working after a year and a half of trying while you blog about it to the world at large. Haha. But you know we like to keep it real, so here's the unfortunate chair lesson that we had to learn through trial and error. And boy were there trials. And errors. But you win some and ya lose some when it comes to making your house a home. So if at first you don't succeed, try, try again. And again. And again. Haha. The good news is that this whole journey into home-making has a happy ending, so let's skip to the fun part: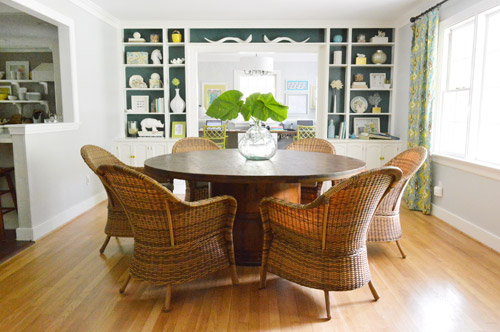 But wait. We're getting ahead of ourselves. First let's flash back to the whole struggling-to-make-our-original-eight-craigslist-chairs-work rundown:
First we found our $25 craigslist chairs and snatched them up – even though we hated the crazy hotel fabric
Then we hunted down some inexpensive slipcovers at World Market (score!) but they were too big (boo!) so we tossed them into the dryer and they shrunk up and fit a lot better (score!).
Then we dyed them a nice mocha color in the hopes of letting the dark teal backs of the built-ins do their thing (the original off-white tone clashed with all of the white trim and the built-ins in person).
Then we lived with them a bit and learned that they got baggy and messy looking after a week or two of washing them (boo!). Although they snapped back into shape whenever we washed them again, it was more maintenance than we initially thought (boo!).
So I actually tried painting one of the chairs a happy apple green using textile medium (epic fail!).
Then I tried spray painting them (knowing I could just toss the brown slipcovers back on if it didn't work out, so I didn't have much to lose). They were sleeker than the baggy slipcovers thanks to the tighter lines, but the swirled pattern showed through in texture, which was a little less than ideal.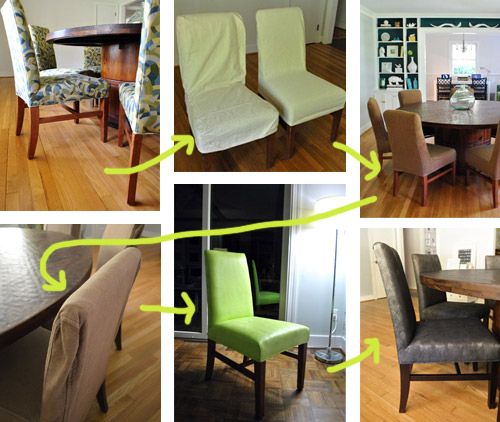 I actually ended that spray-painting post with this somewhat deflated statement: "As for how we feel, we're still sort of on the fence. They're definitely better (muuch better) than the green painted chair debacle. And in person we think they're marginally better than the baggy slipcovers. But we'll probably recover or replace them someday down the line. There's probably a lesson in here somewhere about how $25 craigslist chairs might not always be the answer if they have a crazy pattern and don't fit typical store-bought slipcovers. Ah well, live and learn."
In other words I took all of my crazy out on those poor hopeless chairs. Then I gave them the silent treatment for a few months while slowly growing more and more frustrated with them. Eventually we faced the they're-just-not-working music and said things like this and this to folks who asked about them. And the good news is that the fifth (eighth? I've lost count) time is the charm! The key wasn't saving those chairs and desperately trying to make them work, it was setting them free.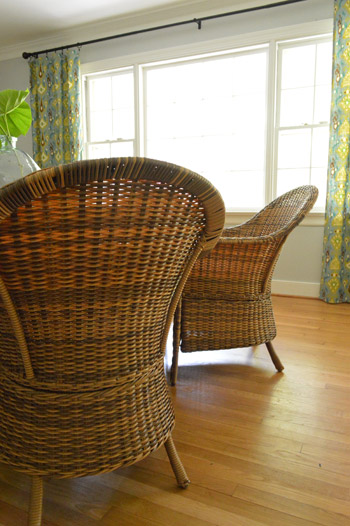 We're planning to craigslisting the old guys in the hopes that someone who is much better at reupholstery than we are will be interested (they're a great classic shape, but the fabric has to go) so we'll keep you guys posted on what brave soul wants to keep giving these chairs a chance at survival.
But now let's talk about the new chairs! They were actually a really good deal (just $62 a pop) and best of all, we love them just as they are. No more chair-speriments. At least in this room. The larger/cozier chair idea actually hit me one night while thinking about casual and super comfy dining room setups like this one from West Elm and this one from Ballard Designs: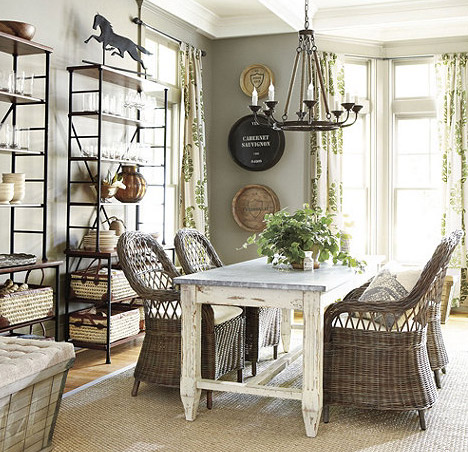 Why do our chairs need to be tiny and why do there need to be eight of them? What if there were six big armchairs around the table? We still have seating for an additional four people at the peninsula (literally three steps to the left of the table) and if our family gatherings eventually get so big that we need to seat more than nine or ten people, we can always set up a kids table in the office since the middle of that room is clear (and that's just three steps from the dining table in another direction). Plus seating for six in our first house's dining area worked for the 4.5 years we lived there, so even just the four extra spots at the peninsula will be gravy.
So then I was on the hunt for armchairs, but because I worry about kiddos (& even adults) with a whole bunch of fabric + food, I had this very specific hankering for something wicker or woven. Just to add more texture and not have fabric that I have to worry about staining. The only bummer is that most wicker armchairs are in the $200-300 range a pop (like these $319 options from Ballard Designs, and these $299 ones from Pottery Barn). And then I found these. Four of them for less than the price of one of those others! And angels sang. Wait, that was just Clara in the background doing her Katy Perry impression (in case you're wondering, if you ask her who her favorite singers are, they're listed as follows: Katy Perry, The Chipmunks, Adam Levine, and Barney).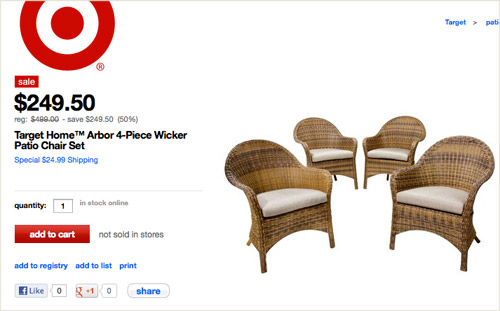 Guess why they were so marked down? They're actually outdoor chairs! And it's the end of the season so they were on super clearance. I was really nervous to buy two 4-sets of them sight unseen, but I read that:
I could return them to any Target store instead of having to pay to ship them back if they didn't work
By using our Target credit card the shipping was completely free
Also by using our Target card we'd score an additional 5% off (wahoo!)
So it felt pretty risk-free. Thank goodness, because at this point I'm suspicious of chairs having unforeseen issues. Haha. Oh and getting eight of them would mean that we'd have two extra chairs we wouldn't need, so we could craigslist them, hopefully for $62 each since they'd be new/in the box and there are far uglier outdoor chairs on our local CL for $75 (so although we'd have to buy eight, we hopefully won't lose any money getting those extra two by reselling them, and the per-chair cost will stay at $62). Update: Lots of folks are suggesting that we keep the other two for our deck or patio, which was definitely our first instinct, but we tried them in a few places and felt like we were forcing them, so we'd rather sell them and save up/wait for something that could work better in those outdoor spaces :)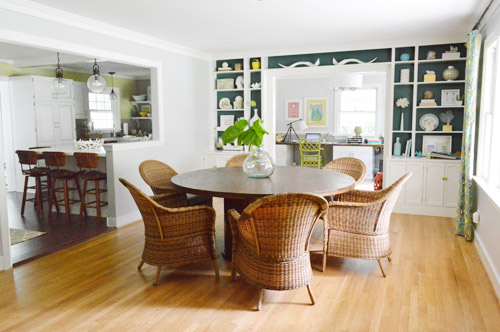 Then we crossed all of our appendages and knocked on wood while waiting for them to come (which makes Burger bark enthusiastically, btw – more on that here). And huzzah! They're awesome! They make me want to sit cross-legged at the table for hours and draw with Clara (done!). I think they'll be great for doing homework with her and stuff (they're kind of cozy like an armchair) and I can't wait to have a big family dinner with the grandparents and John's sister so we can all sit and chat for a nice long time in them (who am I kidding, I have a toddler, I'll be running around while they sit and chat).
Here's a shot of John relaxing in one. We're so happy they're comfy and the right height for the table. Whew.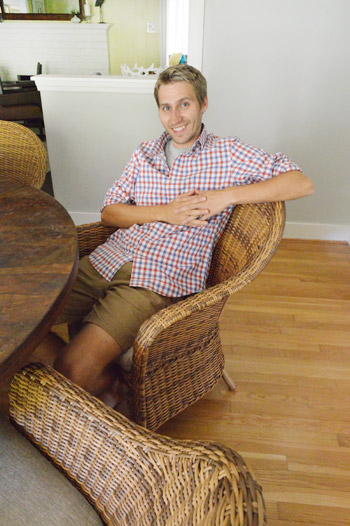 Another great thing about them being outdoor chairs is that they have these great little durable seat cushions (they're made to work outside, so they definitely can handle spills and wipe-downs – they actually feel impervious, like most things should bead up – which'll definitely come in handy).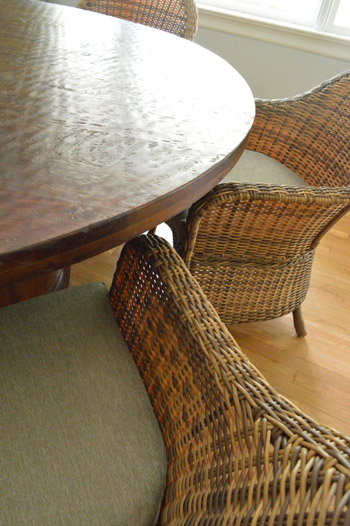 I'll keep you posted when it comes to how these babies wear – and how they work for homework, drawing, and hosting bigger dinners with the fam. So far they've been awesome for our little crew (they've already passed the Play-Doh test). The coolest thing is that because they're outdoor chairs we can literally bring them outside and spray them down with a hose if need be.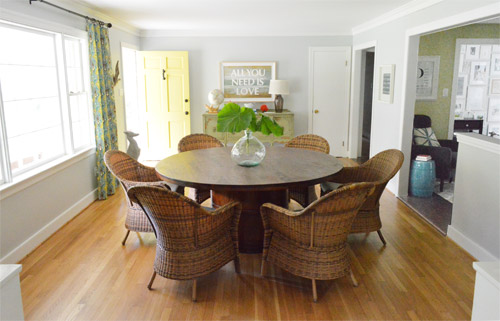 And I sort of love how everyone gets arm rests. It's like we're all sitting at the head of the table, which is kind of fitting since a round table doesn't have a head.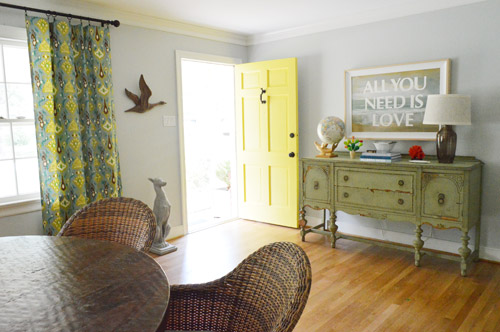 We're so thankful. Seriously, I thought we'd never crack this chair code and in 2040 we'd still be blogging something like "so we cryogenically froze the chairs and we think that'll work! Fingers crossed!" Why is it that failing a few times sometimes makes the simplest accomplishments feel monumental? We finally got dining chairs we love almost two years into living here! Somebody strike up the band!
Here's the view from the kitchen. We love how the slatted wood stools and the woven dining chairs work together without feeling too matchy. They both bring a nice texture and warmth to the rooms without feeling overwhelming (since having so many seats in two adjoining rooms could easily get crazy-competey-looking).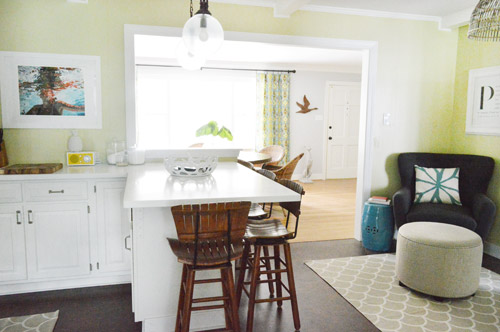 And so ends the epic 2010-2012 Chair Olympics that we hosted at our house. Sure, we lost the first six events (and you have to hand it to us, we really bombed a few of those times) but I might just be found standing on one of these chairs raising my fake gold medal up and happy-crying at the crowd. So it pays to keep at it until you finally get those "this is IT!" butterflies… even if they don't come easy. In the end, we're just happy that we didn't have to spend 1K on a bunch of chairs, which was definitely our fear ever since we got our big ol' table – but even with the loss that we took on those first ones (including all of our desperate attempts to save them) our total spent is still a few hundred less than that… and will hopefully be even less when we craigslist them. I think we just had to try the parson's chairs and live with them to learn that we didn't want to live with them. Haha. It's like how you have to get that glittery purple eye shadow to learn that no (NO!) it's not gonna work, and you should probably try something else.
What oops moments have you guys lived through lately? Any other furniture switchouts or upgrades going on? Between our new kitchen stools and these guys we've deemed this phase of home-making: "turning a corner." It seems like we're finally refining things, working out little nagging issues, and bringing in more texture & natural tones (which we loved in our first house) to mix with the pops of color that we've fallen more in love with since moving into our current house. It's actually pretty normal for us to take a year or two to get our bearings, so needless to say, it's pretty fun to be making those "that's it!" tweaks in a few rooms that we use all the time. We knew we'd get there someday. Never mind those five other untouched rooms that we have yet to start. Haha.