Put a birdcage on it. That's right, why stop at putting a bird on something when you can put an entire birdcage on it?
Follow up question: why stop at one when you can go with three?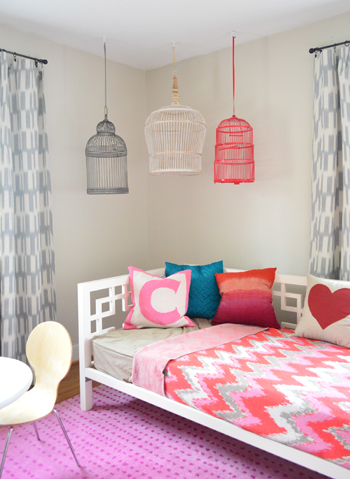 Sidenote: we've gotten a few questions about the brown sheet on the daybed, so the deal with that is that we still haven't picked up sheets for the bed, but they'll most likely be navy and most definitely won't be that crazy old tan sheet that has been on this daybed for around six years! Haha. So just try to ignore that for now if you can.
But back to the birdcages. I've been itching to hang these guys since we started this room, so it's really exciting to finally unveil the "secret 3D items that we plan to hang to balance that off-center window" as we so cryptically referred to them a few times. Why birdcages? Well, it all started over a year ago when we came across the big white birdcage at a local thrift store during book shoots (we were there grabbing some other things and couldn't leave without it, so we bought it for thirty beans and I hugged it the whole way home).
Then back in September when we got those $8 thrift store chairs in West Virginia on the drive home from redoing Granny's bathroom, we also grabbed the red birdcage at the same thrift shop for $10 (it was white when we got it though).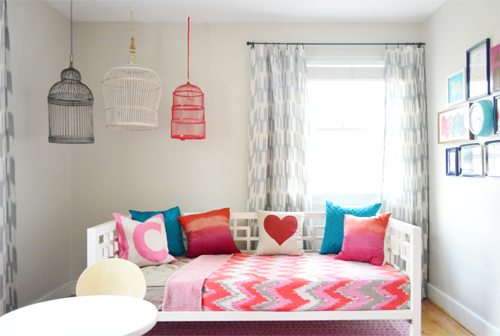 So we had two birdcages sitting around forever, but I knew I'd prefer one more to make a nice grouping of three. And of course, per Murphy's Law, the third one wasn't as easy to come by. We tried a bunch of thrift stores and even stalked craigslist (where some folks wanted $90 for their birdcages, eeks!) along with online decorative birdcage vendors (yes they exist, but they also want lots of money for them). Then when I had almost given up all hope, I found that guy on the left at Hobby Lobby (which was $19 after I got 50% off thanks to their all-the-time sales).
That one came in the darker pewter color and I had originally planned to spray it white to go with the other two white ones I already had, but then I realized leaving it that color (it ties into the navy curtains) and spray painting the $10 one from the thrift store bright red would make for a fun little mix.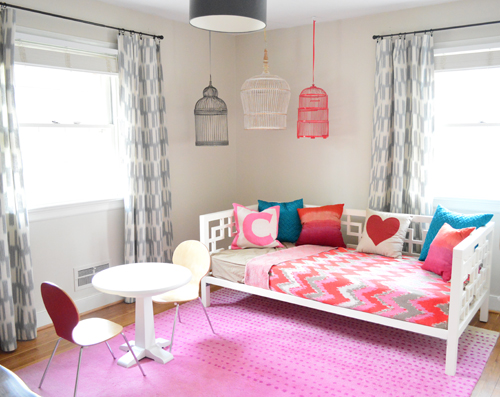 We wanted this to be a surprise for Clara, so she didn't see me paint that one or watch us hang them (they're all very light, so we just used plant hooks that are guaranteed to hold much more weight than these birdcages along with anchors, just to be on the safe side). She was so excited when she woke up from her nap to see them all hung up. Wish we got it on video. There was lots of pointing and laying down on the floor & daybed and gazing up at them. And then she brought in all of her stuffed animals to see them too.
Speaking of careful, since the white and the red one are especially light (they're made entirely of wicker) we opted to hang the dark one on the end, so it's not over the daybed at all, which is clearer from this shot: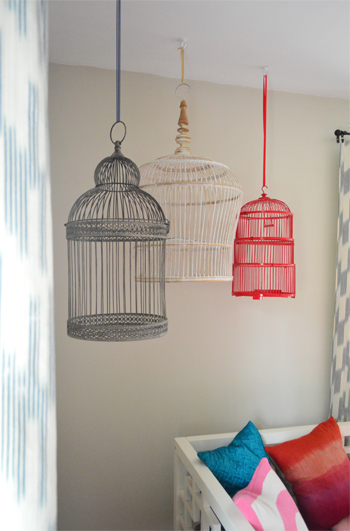 And even though the white and red wicker birdcages are extra light, we still didn't want them hanging directly over the daybed, so as you can see from this angle they're set back a lot and the daybed is pulled away from the wall. That way they're not in a spot that a jumping-on-the-bed Clara could hit her head. So in the end, they're just like hanging a mobile or a model airplane or anything else that you might find hanging on the ceiling of a kids room. We're big fans of making things that Clara can gaze up at (like her flower mobiles) so these birdcages were an especially fun little addition to the room for us.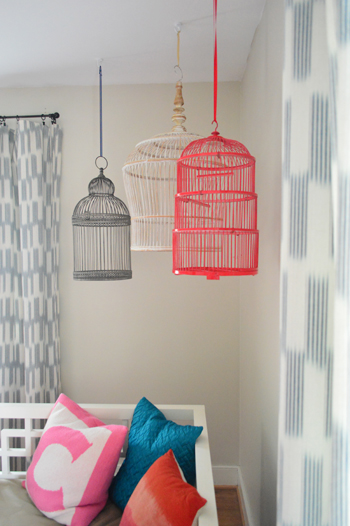 So that's the story of the birdcages. We love that they add interest, pattern, color, and playfulness to the room – especially since there's already a frame collage on one wall and we have those postcard ledges on another wall. It's fun to keep thinking about ways to add dimension and interest beyond the ol' picture frame, ya know?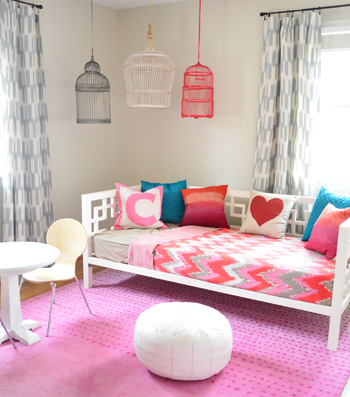 Bam. I just hit you with a birdcage detail shot.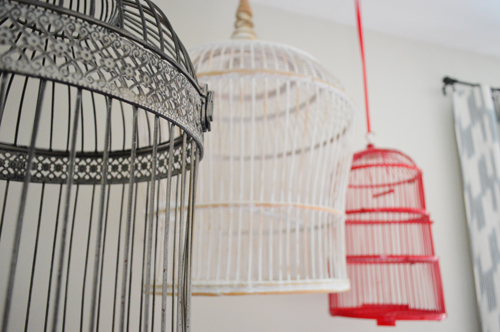 And now for a few tiny updates that have also gone on. I found some thin red ribbon from my leftover-from-Christmas box, and ran it around the bottom of Sir Moose, just to balance the patterned shade a bit more. Diane actually mentioned the possibility of painting it here in a sweet comment back when we shared the new shade (thanks for the idea Diane!) but I opted for ribbon since it's so easily changed.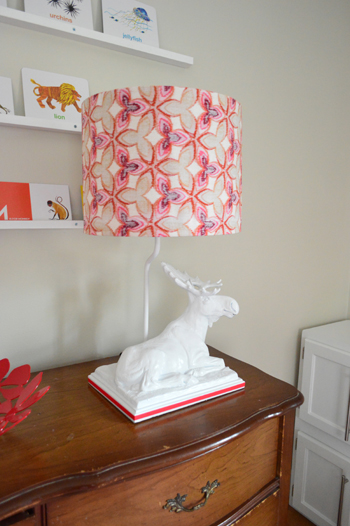 As for how I attached it, I just taped it around the back to hold it in place with regular old scotch tape about a week ago. Still holding strong!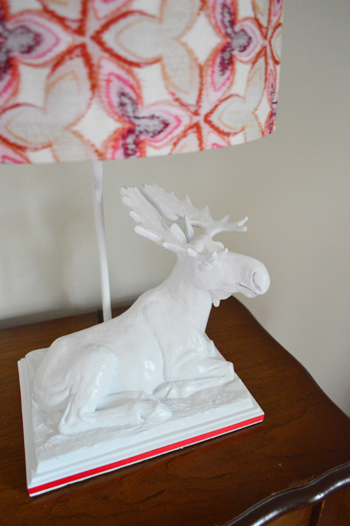 The room's really starting to look finished in certain areas. We definitely still have lots more on the to-do list, but it's coming along slowly but surely…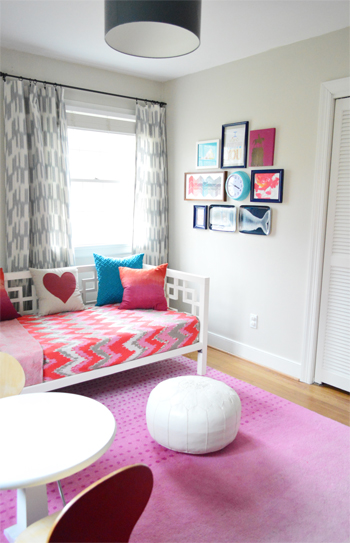 Speaking of the list, here ya go:
paint the room (more on that here)
cut down our old den side table to make a play table (more on that here)
bring in a dresser (we'd love to find something secondhand) (more on that here)

make/hang some curtains (more on that here)

add a rug (more on that here)

paint the backs of the chairs along with her play table (more on that here)
hang our postcard ledges and fill them with favorite flashcards (more on that here)
install a new light fixture (more on that here)
hang a few 3D objects that we have in mind for wall decor (how's that for cryptic?)
get a new set of sheets for the daybed (most likely in navy) along with a cushy mattress pad
refinish or paint Clara's new dresser (which we got here)
turn the junked up closet into an actual clothes closet/reading nook
add crown molding (along with tackling the other un-crown-molding-ed bedrooms on this side of the house)
possibly paint the ceiling once the crown goes up and we choose a color…
add accessories like more pillows, storage bins for toys, etc
Oh and we did frame and hang one more thing…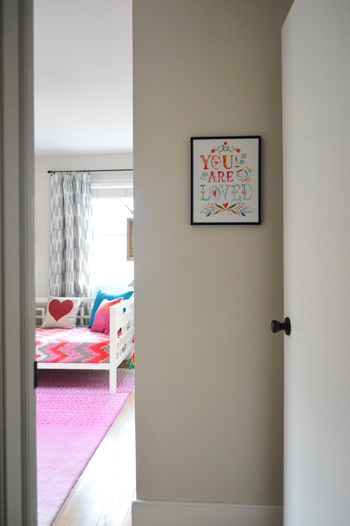 Isn't it cute? I love that you read it right as you walk in, and that it's full of so many colors that you see when you step further into the room. It's by Katie Daisy (I'm a crazy rabid fan of her amazing work) and I actually pinned it around a year ago, only to find our new friends Lauren and Steve at our book signing in Palo Alto holding it out to us (all rolled up and tied with a ribbon). Is that sweet or what? It really is amazing how thoughtful people are. When I said "I pinned this so long ago!" she said "I know!"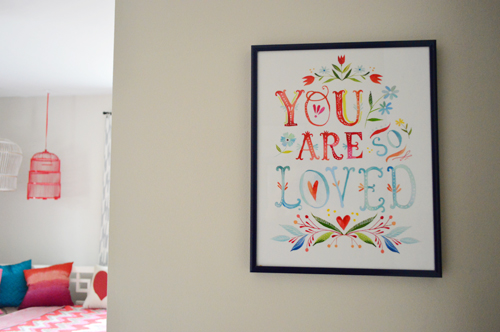 I don't know if I'm just a sappy mom, but it gets me all misty-eyed. It's so true. Clara is loved like crazy, and every time I see it I send some love to Lauren & Steve for their amazingly thoughtful surprise.
So that's what's up in Clara's big girl room. What did you guys do this weekend? Anyone else hanging giant 3D objects or pretty little prints? What about "put a birdcage on it." Thinks it'll catch on? Come on guys, we can make this happen. The question is, do we want it to…?
Psst- Ahhhhhh! The secret video thing we hinted about on Instagram is finally out! It was actually for BBC and not only do I rock a side ponytail, there's lots of talk about our big goal this year. Nothing like trying to stick to a resolution by chatting about it at length to BBC News. You can watch the video and read the article here. If nothing else, the Clara & Burger shots are priceless.