Adding a headboard to your bed is one of the best ways to add polish and coziness to your bedroom. And, lucky for you, making your own DIY upholstered headboard is super easy and affordable (ours only cost $66!). This means you can customize the fabric, size, and design to get exactly the look you want. Believe us, we've done A LOT of them over the years!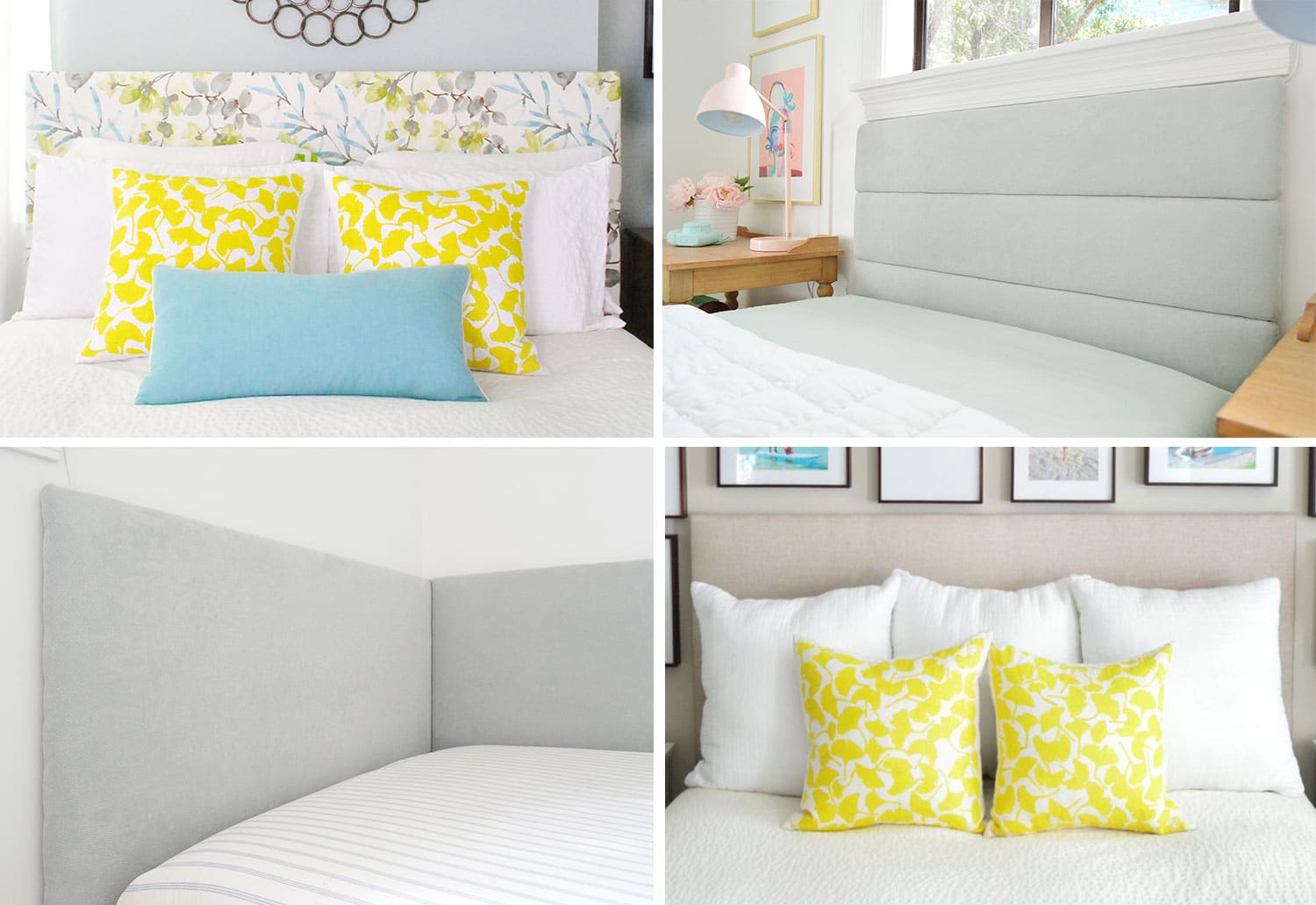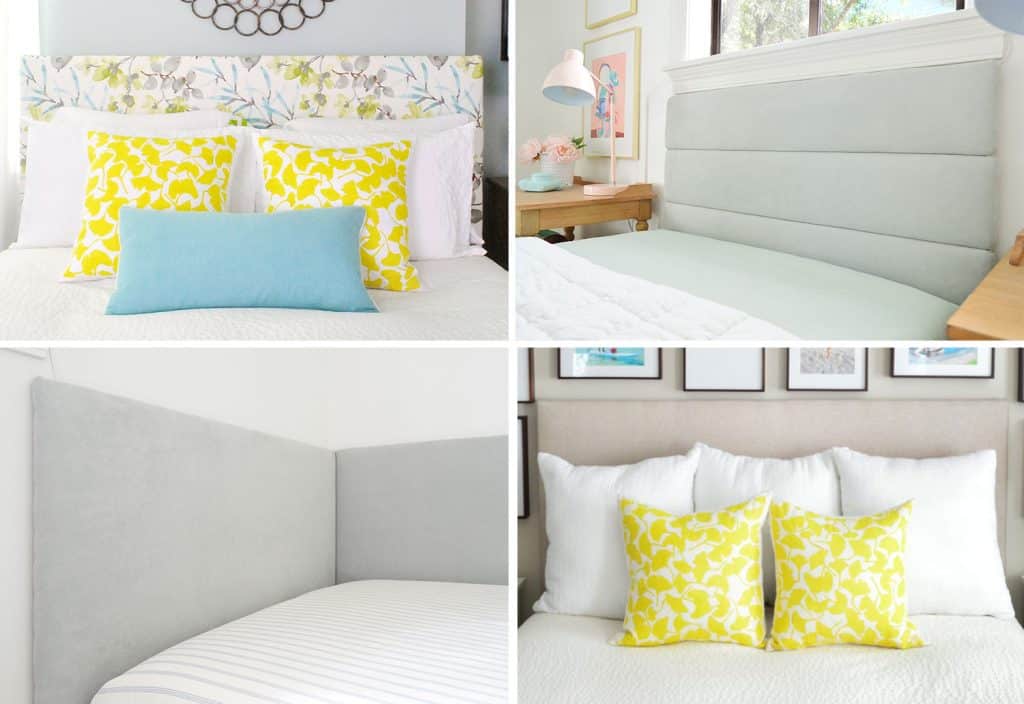 Today we're going to take you through the step-by-step process to create the first headboard in the grid above (top left), but you can check out these other posts to learn more about the others:
Materials & Tools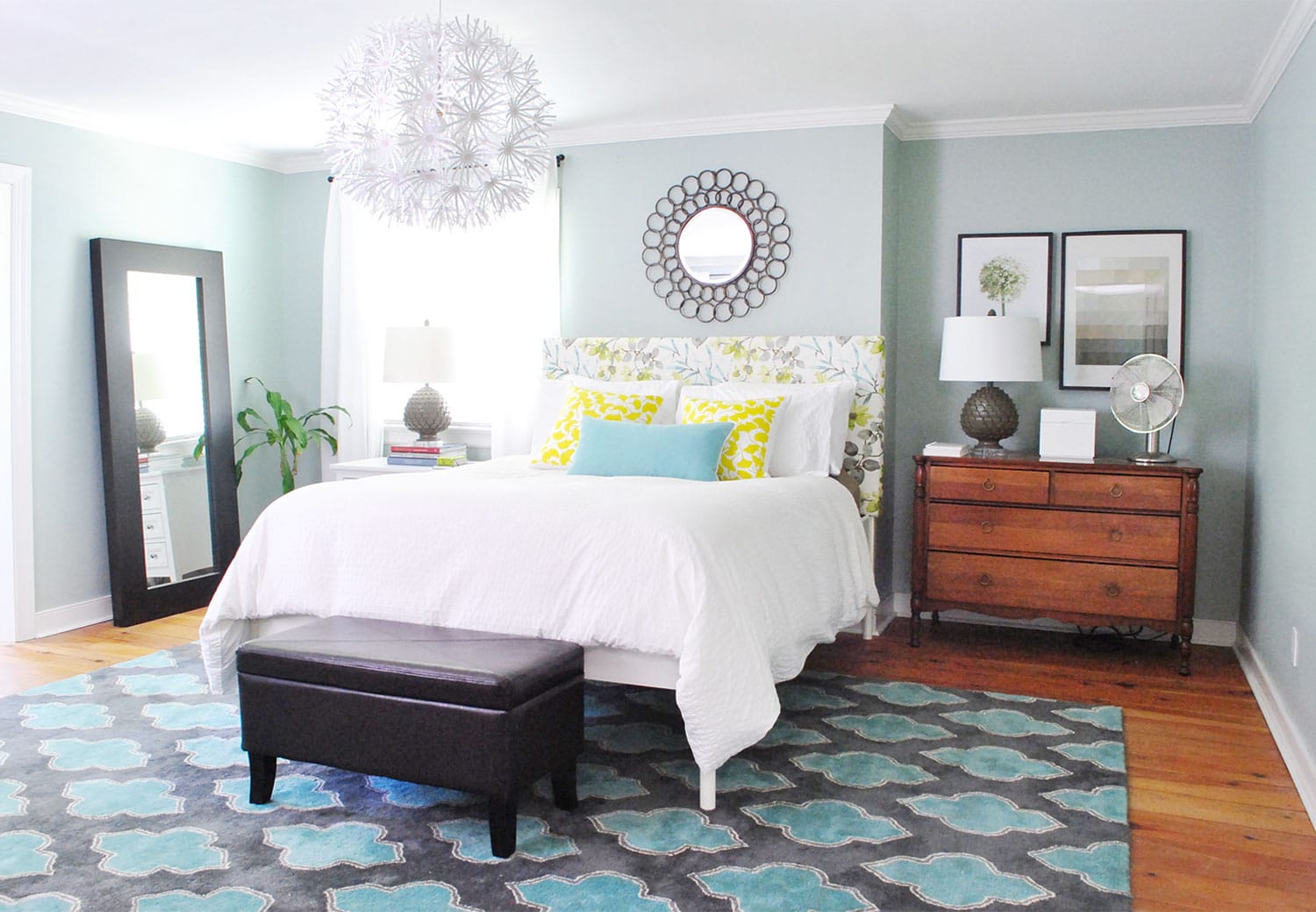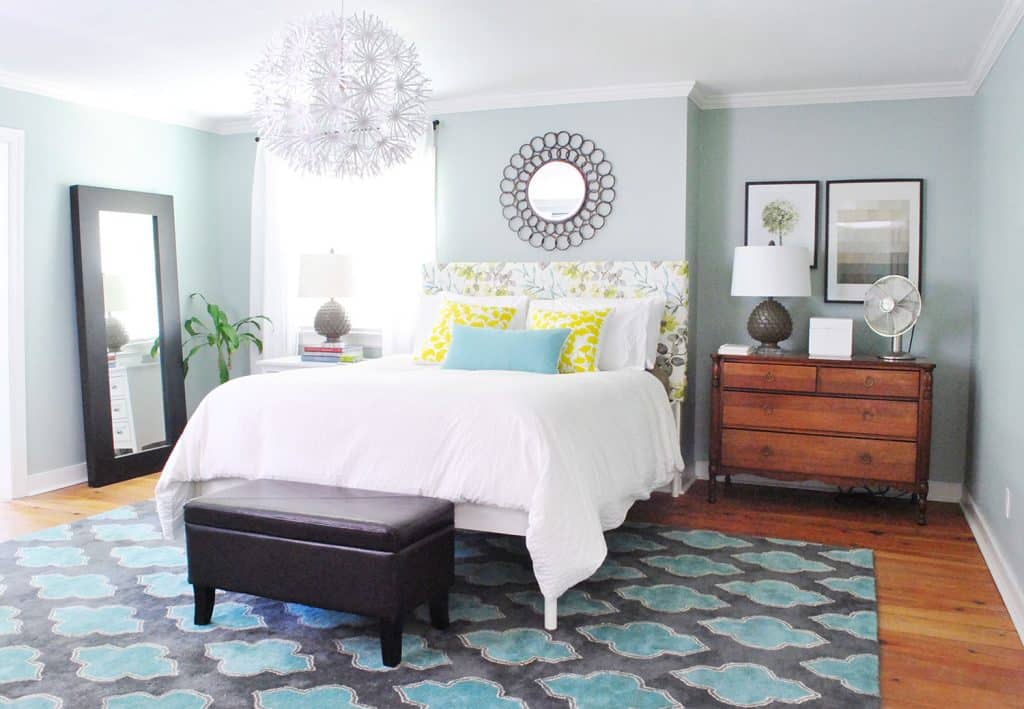 Your exact supply list may vary from ours, but generally, this is what you'll need to make your own upholstered headboard for your bed:
Fabric of your choosing (we used 2 yards)
Extra loft batting (we used 4 yards)
5/8″ plywood
Two or three 1×3″ whitewood boards
Miter, table, or circular saw to cut your wood (optional)
Heavy-duty staple gun & staples
Screwdriver and screws
Why Add A Fabric Headboard?
We explained why we personally wanted a headboard in this post. The short version is that we fell out of love with our 4-poster bed (so we cut off the posts!) and wanted something cozier instead. You know, something plush we could lean up against at night. And the short wood headboard that we currently had wasn't cutting it.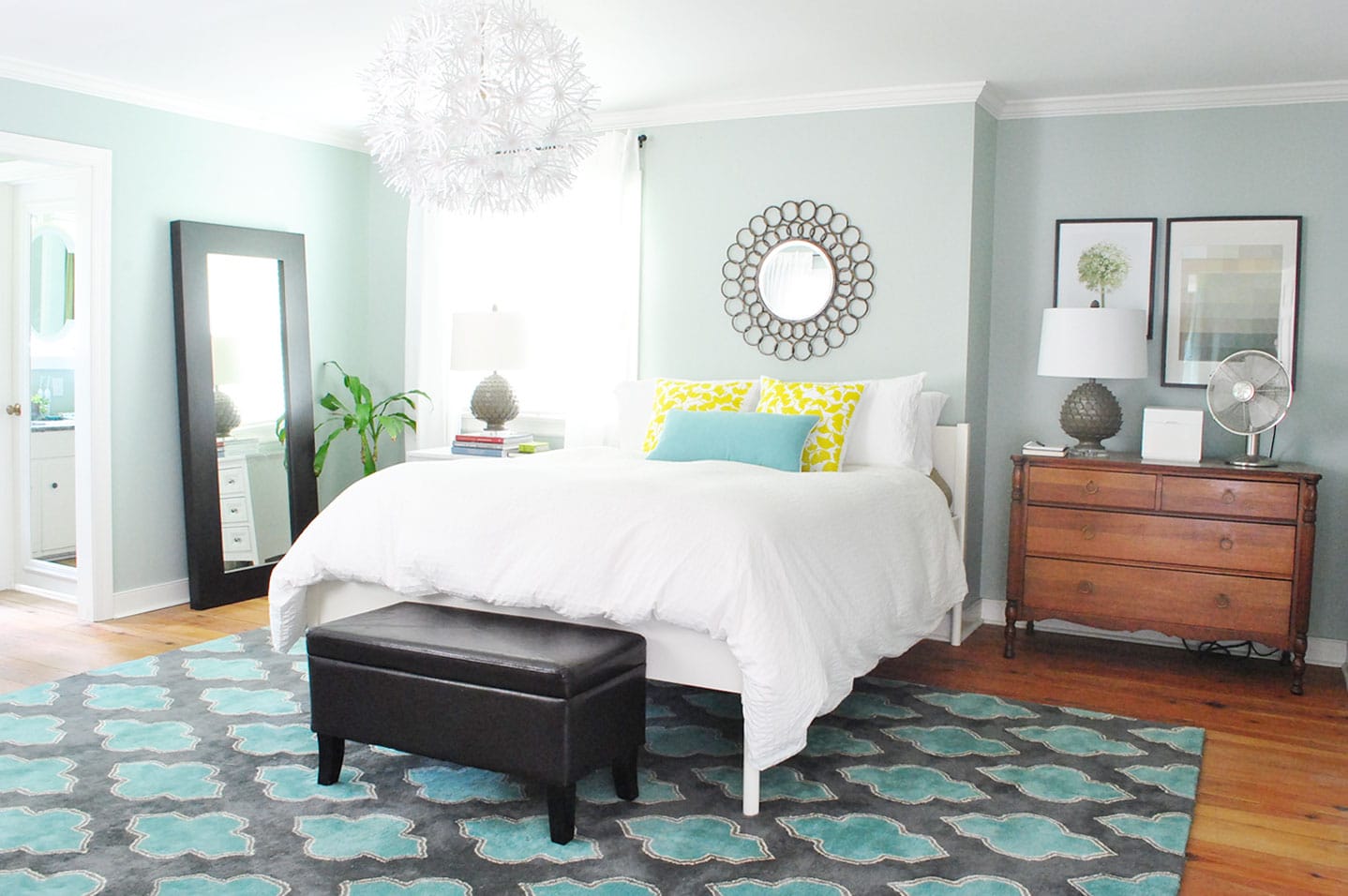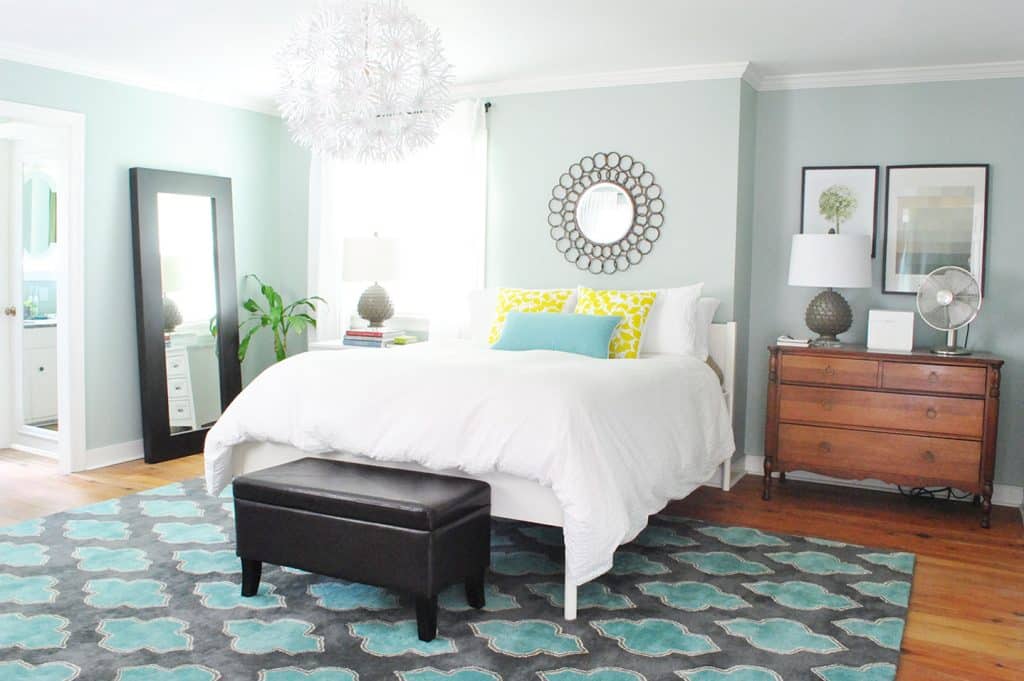 But generally, headboards can add a lot of personality and polish to a bedroom. Bedrooms without proper headboards can scream "college dorm" or "first apartment," so adding one is a no-brainer upgrade. Plus, depending on the fabric you choose, it can add some bold color and pattern to a room OR add to the restful, zen space you're trying to create.
Step 1: Build Your Wood Frame
There are a few ways to create the wood frame for your headboard (including this super lightweight option) but for this particular bed, we constructed a sturdy plywood frame. If you want a simple rectangular design, this step can be as simple as cutting your plywood sheet to size (or having them cut it for you at the home improvement store). For our queen-sized bed, we ultimately decided on 65″ wide and 31″ tall. But you can easily customize your dimensions depending on your bed size or location.
Ours looked a little more complicated, and I'll tell you why…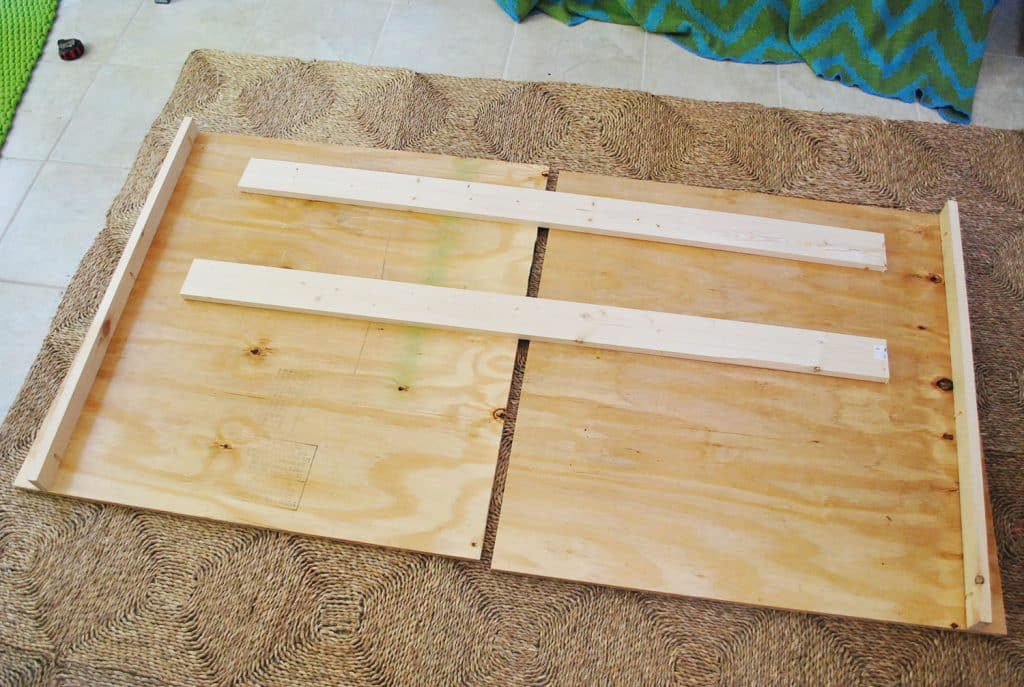 First of all, we were planning to place our DIY headboard around the existing headboard/posts leftover on our Ikea Edland bed. We concocted a plan that would sort of "wrap around" the existing posts, which we mocked up in Photoshop below. But this concept would also work if you wanted to create a popular "winged" headboard look as well.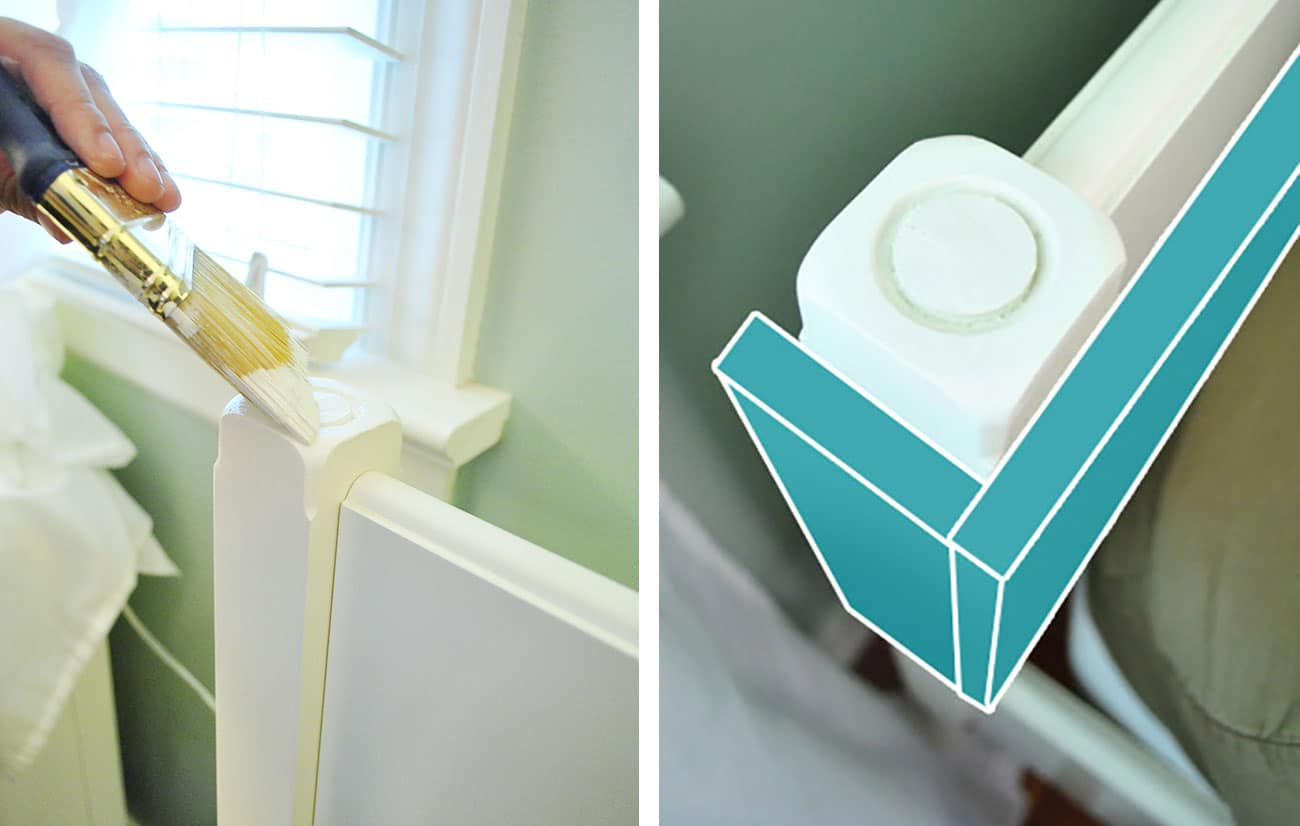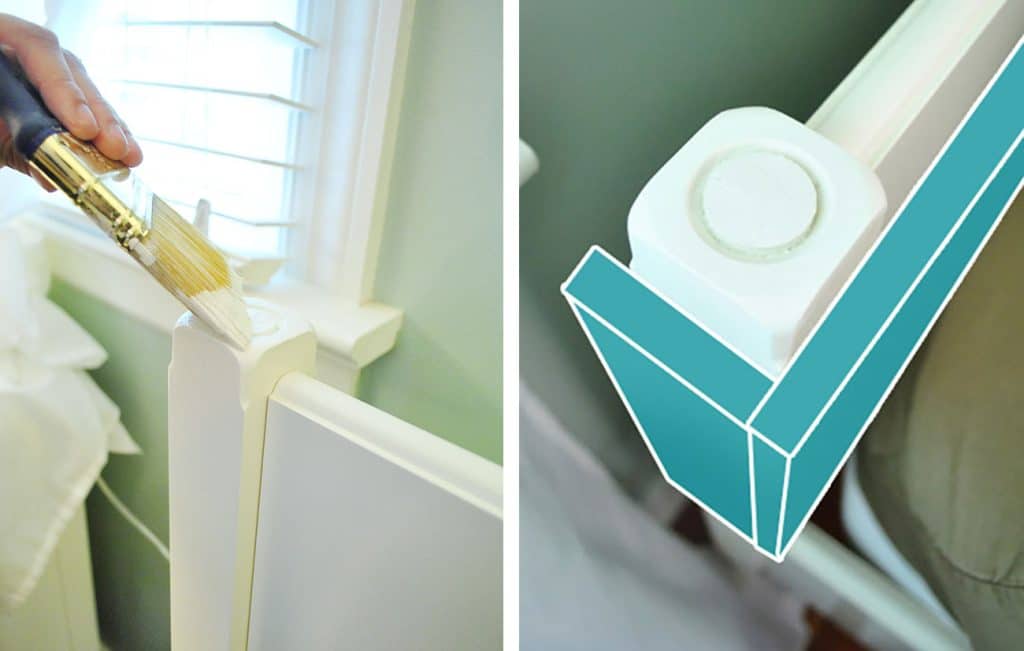 To add these small side pieces, we attached two 1×3 whiteboard boards to each edge using screws drilled into pocket holes we drill using our Kreg Jig.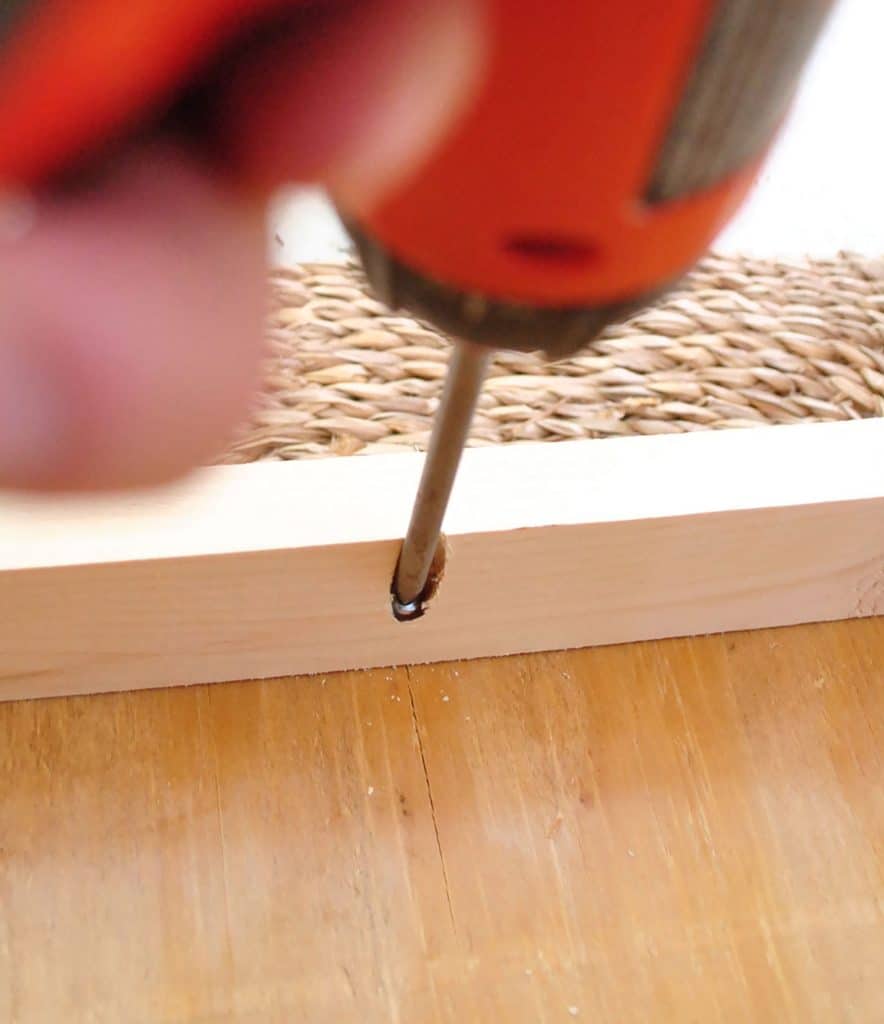 The other reason ours was more complicated than a solid sheet of plywood was that we couldn't fit it in our little car (ha!). So at Home Depot we had them rip it in half, and we reconnected the two halves at home with scrap pieces of whitewood boards. We're fancy like that!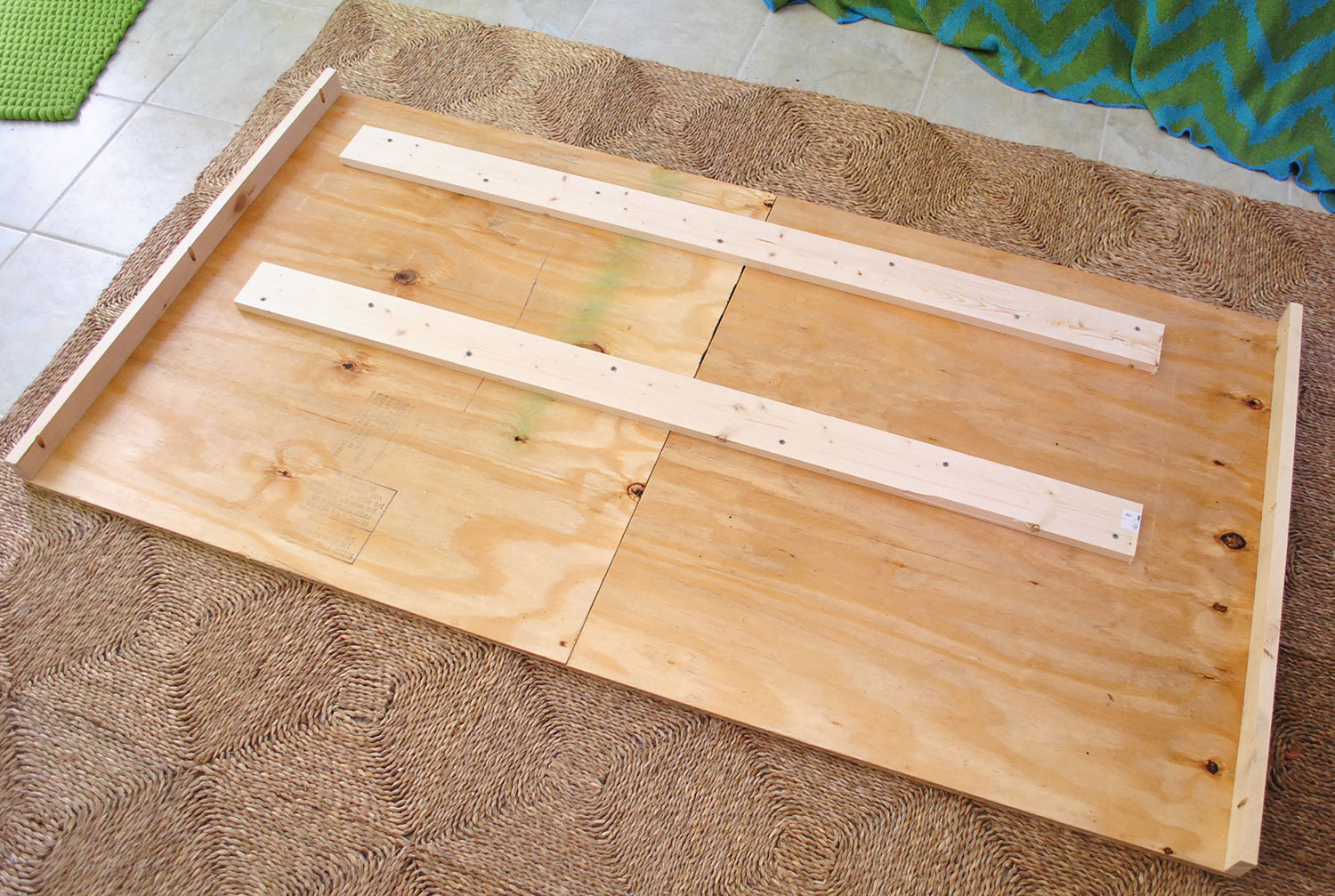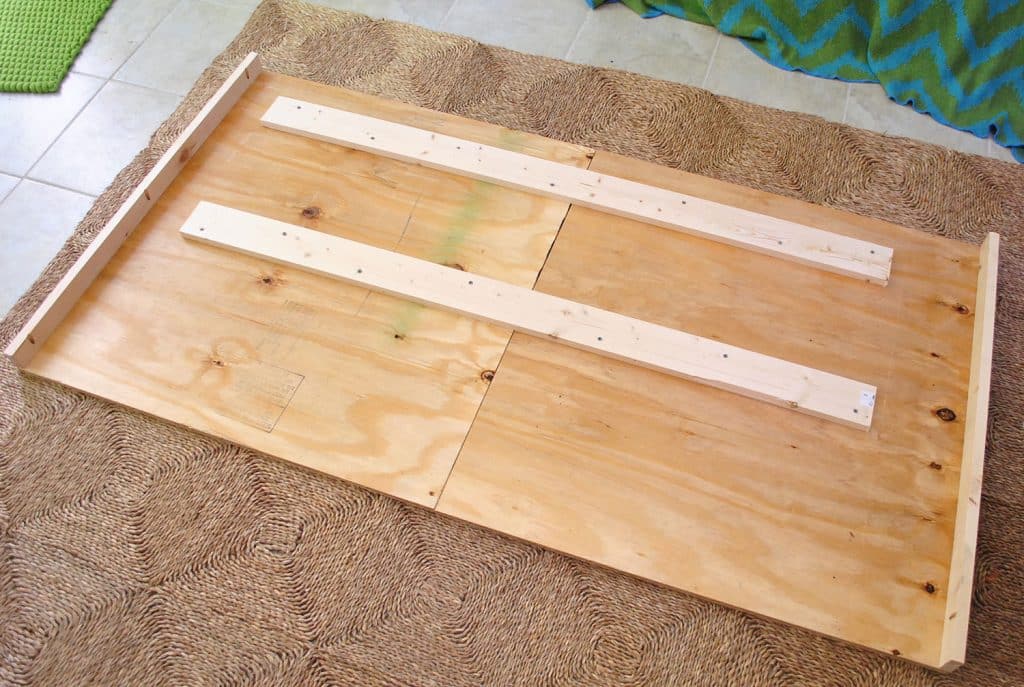 Before proceeding we upholstery, we brought our frame in to make sure it fit around the existing bed frame like we planned. Phew – it did!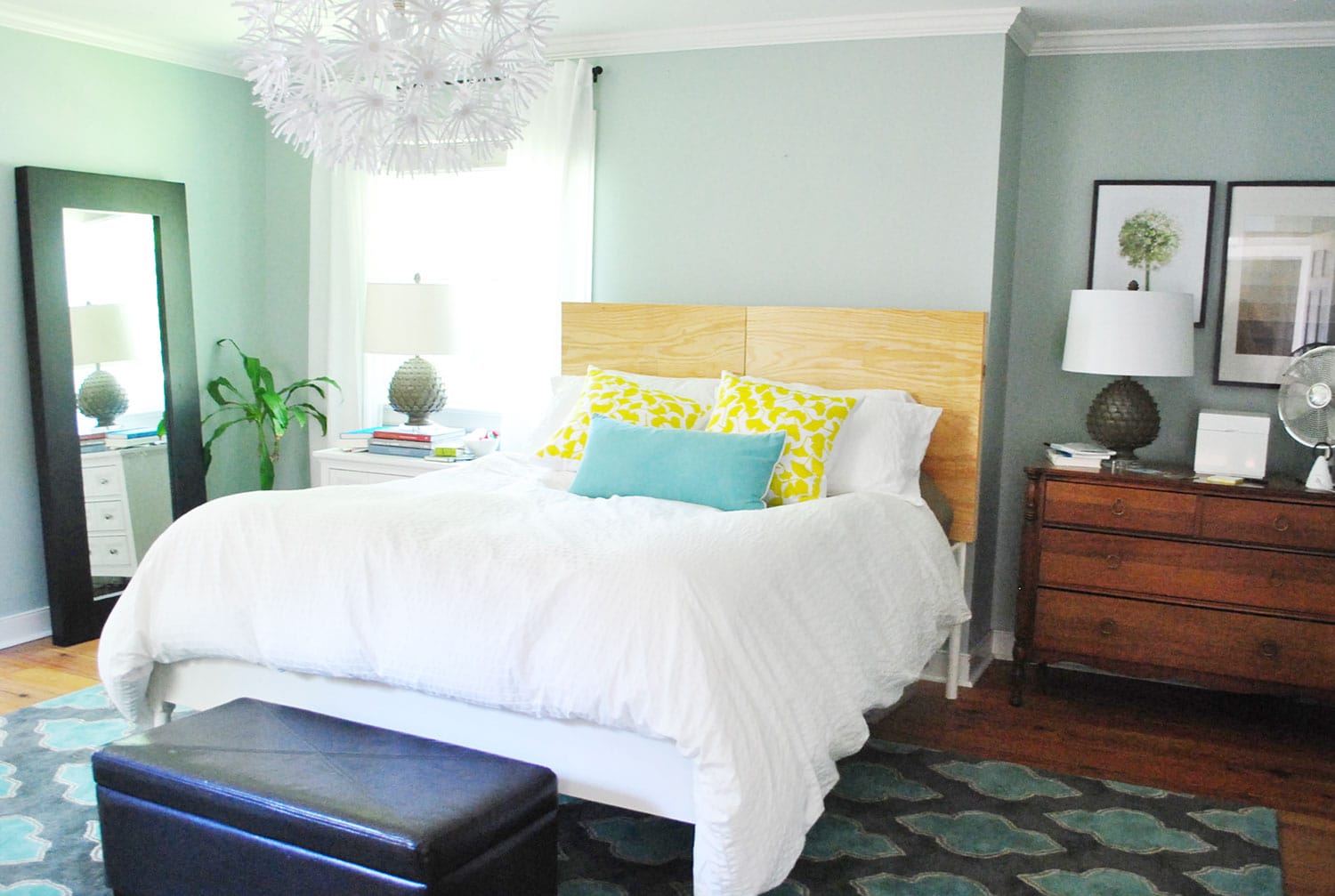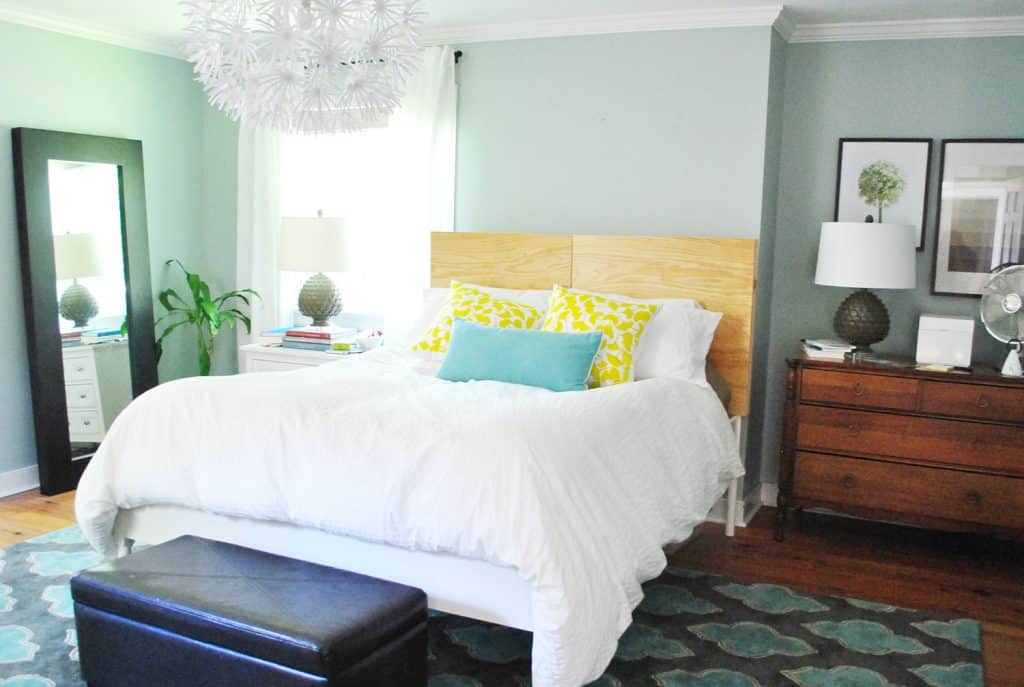 You can also now see what that wrap-around piece looks like, and how it hides the existing bedpost. And since we'd soon be upholstering it with fabric, it didn't matter that the edges were a little raw looking.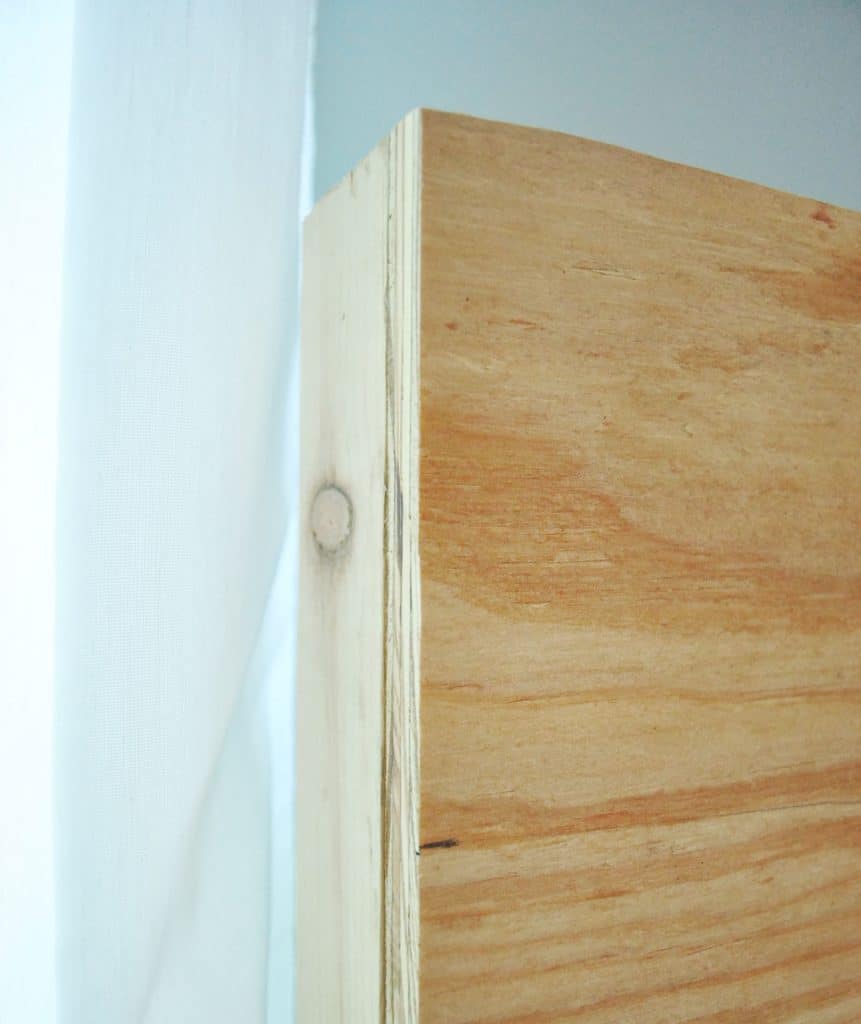 Step 2: Add Your Batting Layer
If the carpenter in you trembles at the idea of upholstery, just remember: if you can wrap a present, you can upholster a headboard!
Before adding our fabric, we wanted to first add some padding in the form of extra loft batting. We decided to do two layers so it'd be plenty plush, but still not lose its shape. Sherry trimmed a 2-yard section of batting using regular scissors, laid it on the floor, and we placed our frame on top of it. You'll want about a 2-3″ overhang on all sides.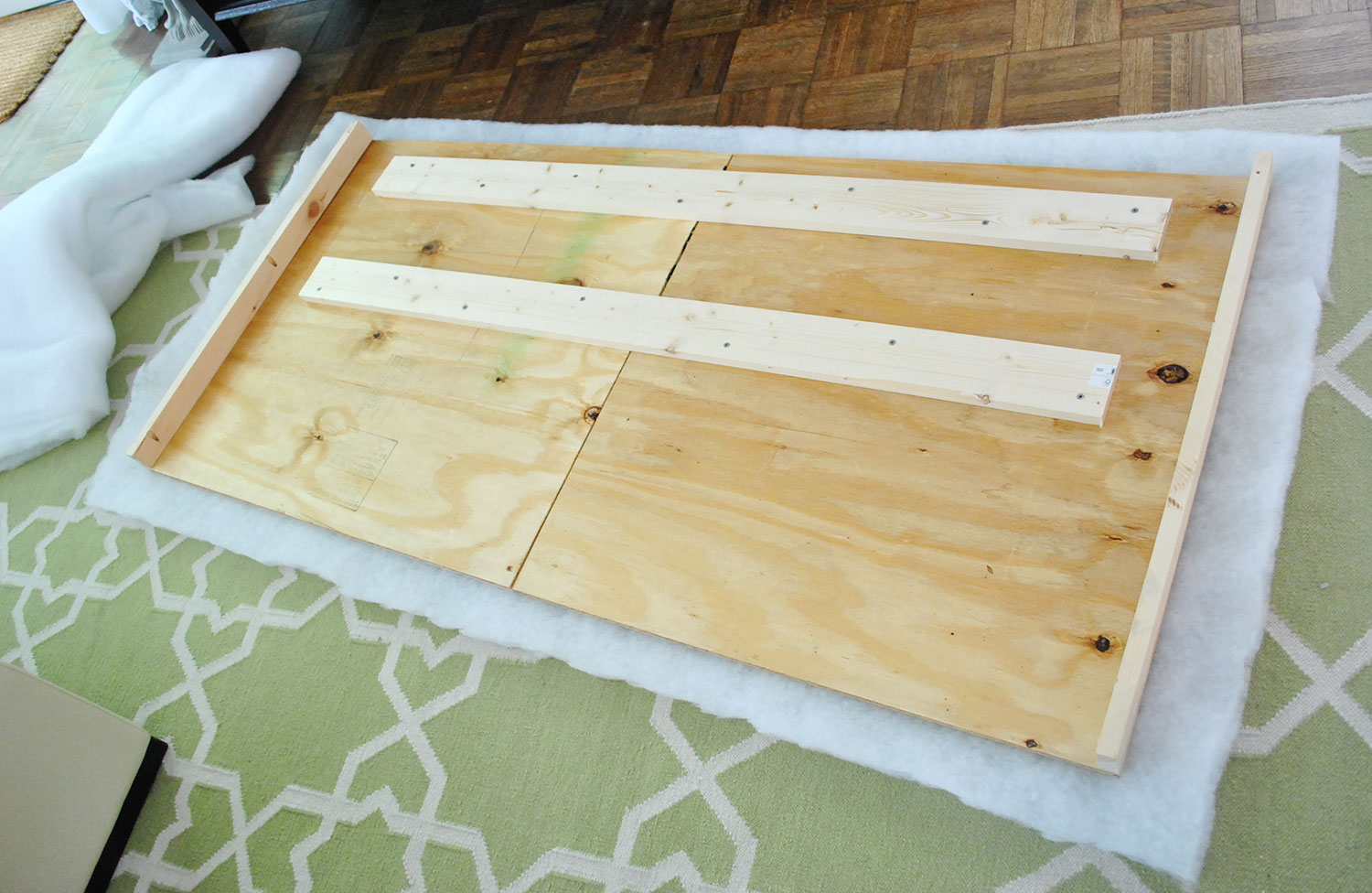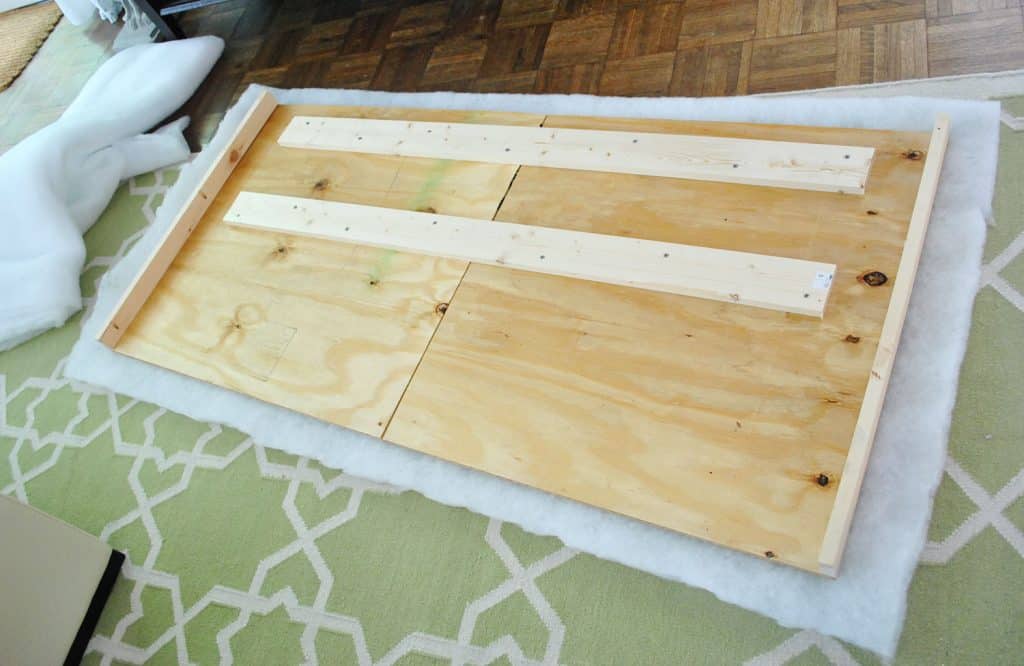 Then we used our staple gun to begin attaching the batting. We just wrapped the batting tightly around the edge and stapled it every few inches.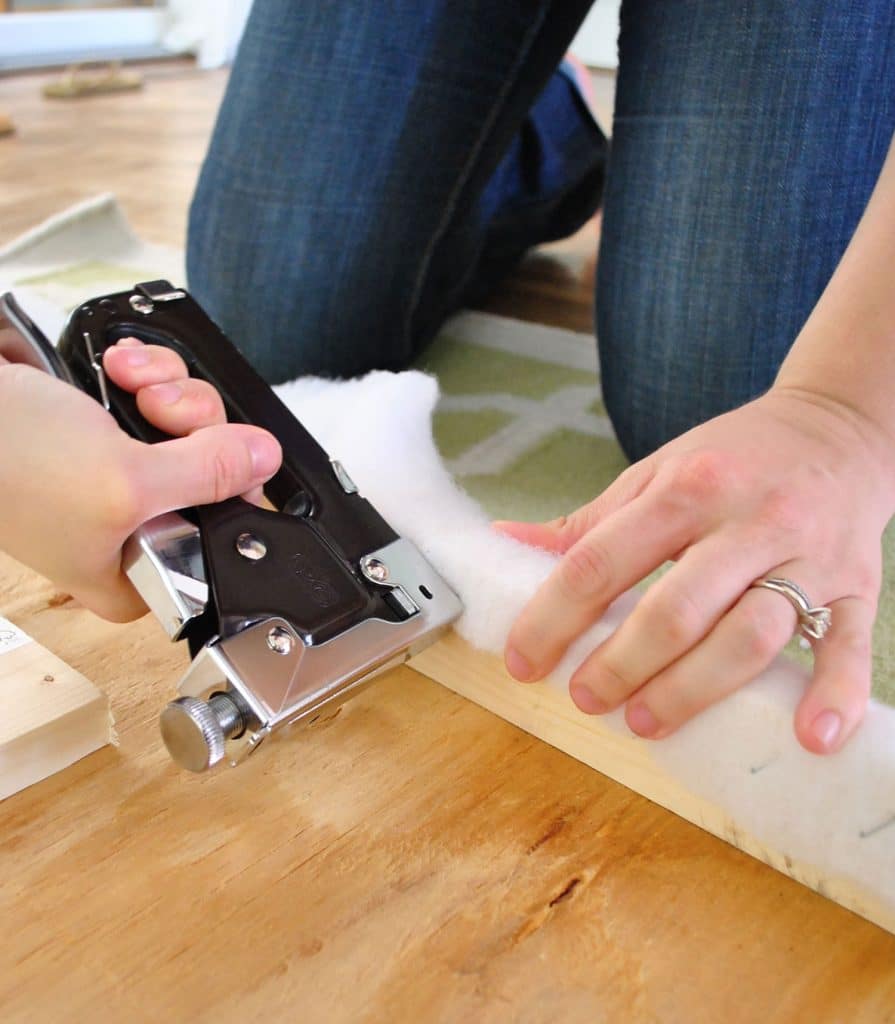 When we came to a corner, it was just like wrapping a present. You just fold it back and staple it so it all looks smooth from the front. Try to pull the batting tight so your corners don't get too bulky. Bam, bam, bam – it's done.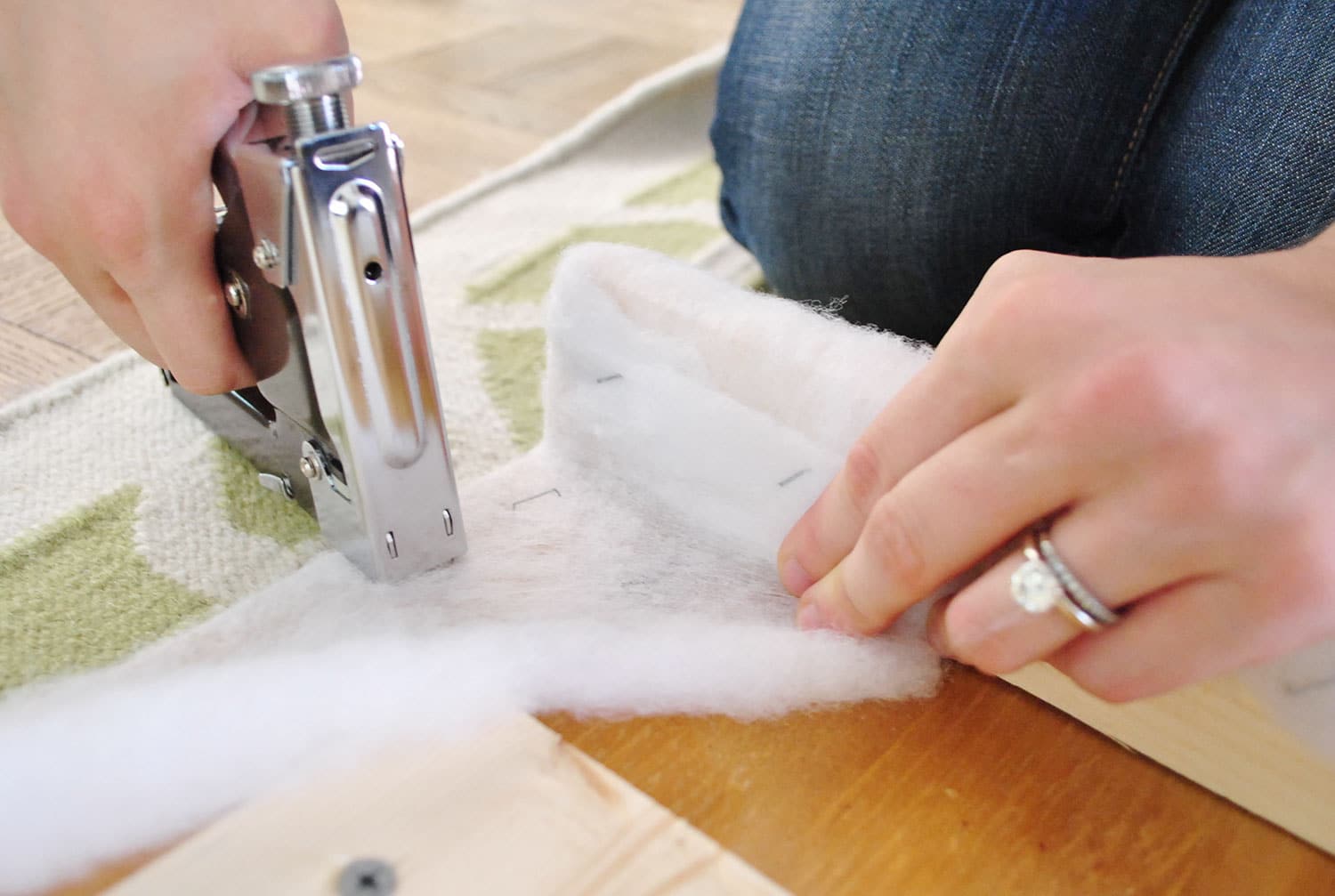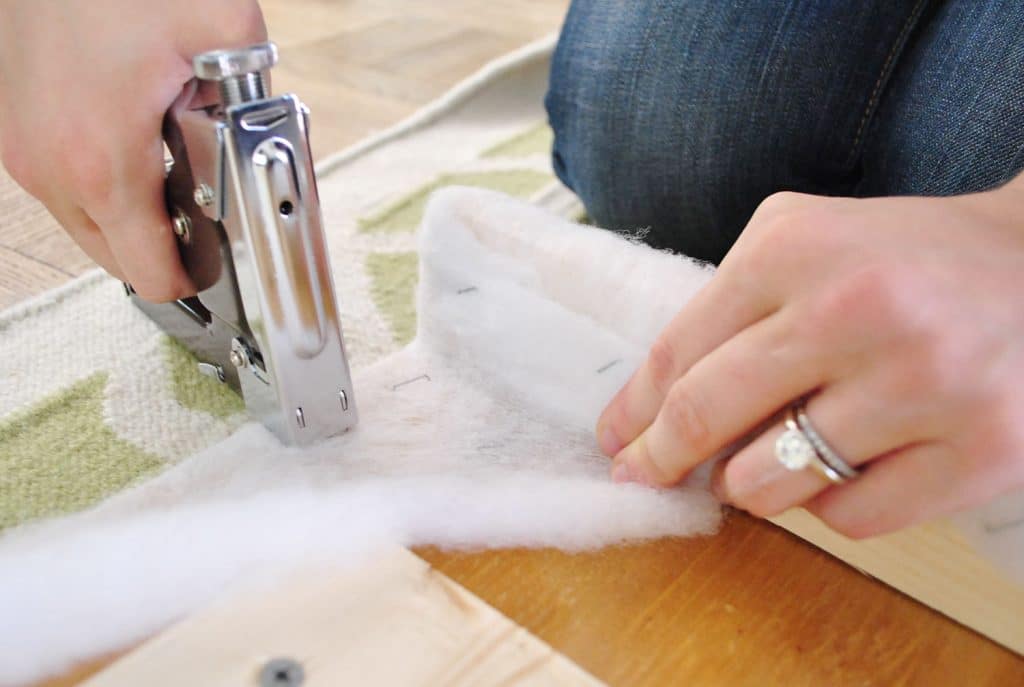 We just worked our way around the back of the headboard, stapling away. At some point John made me pose for this awkward photo too. Winning.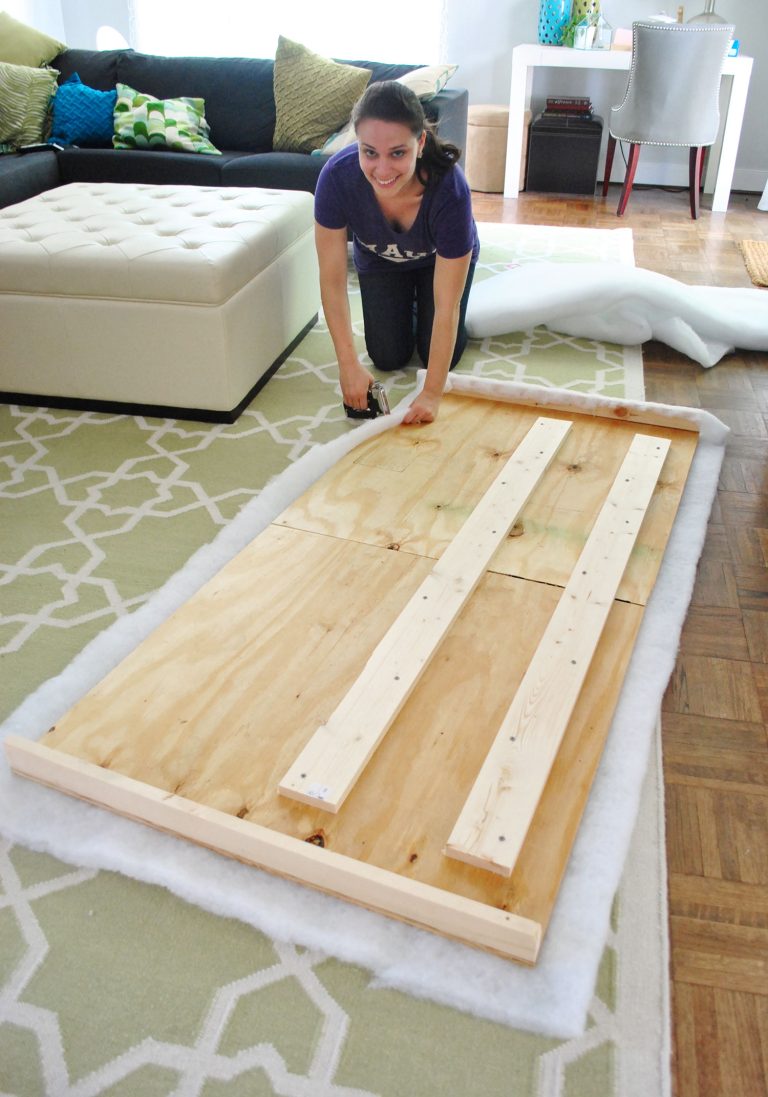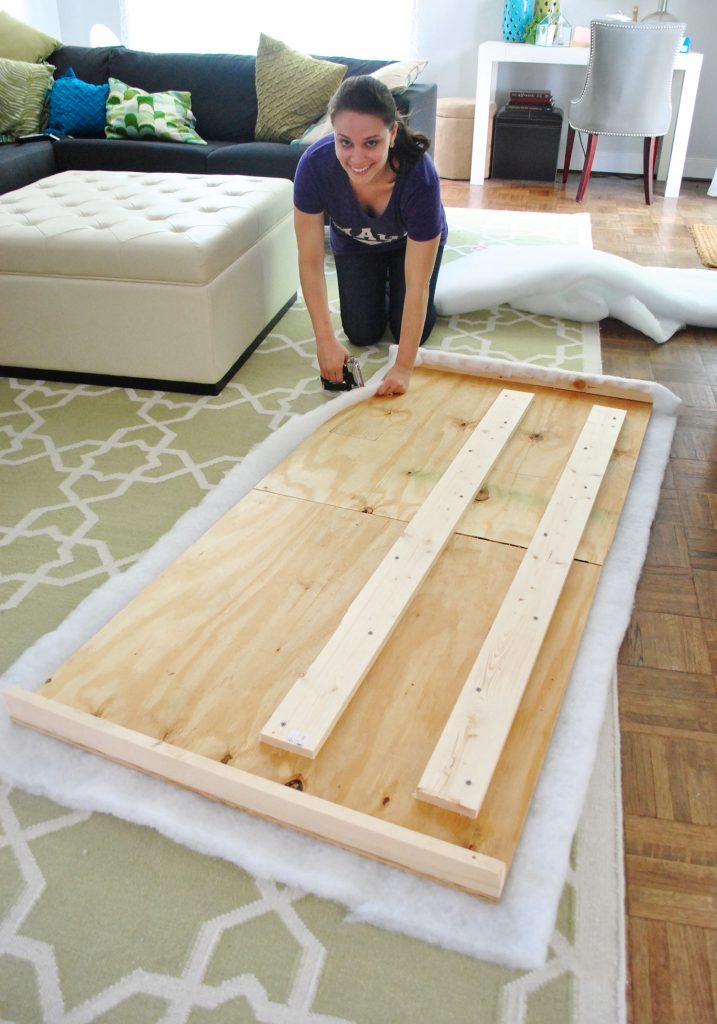 Eventually the whole thing was stapled nice and tightly around the back.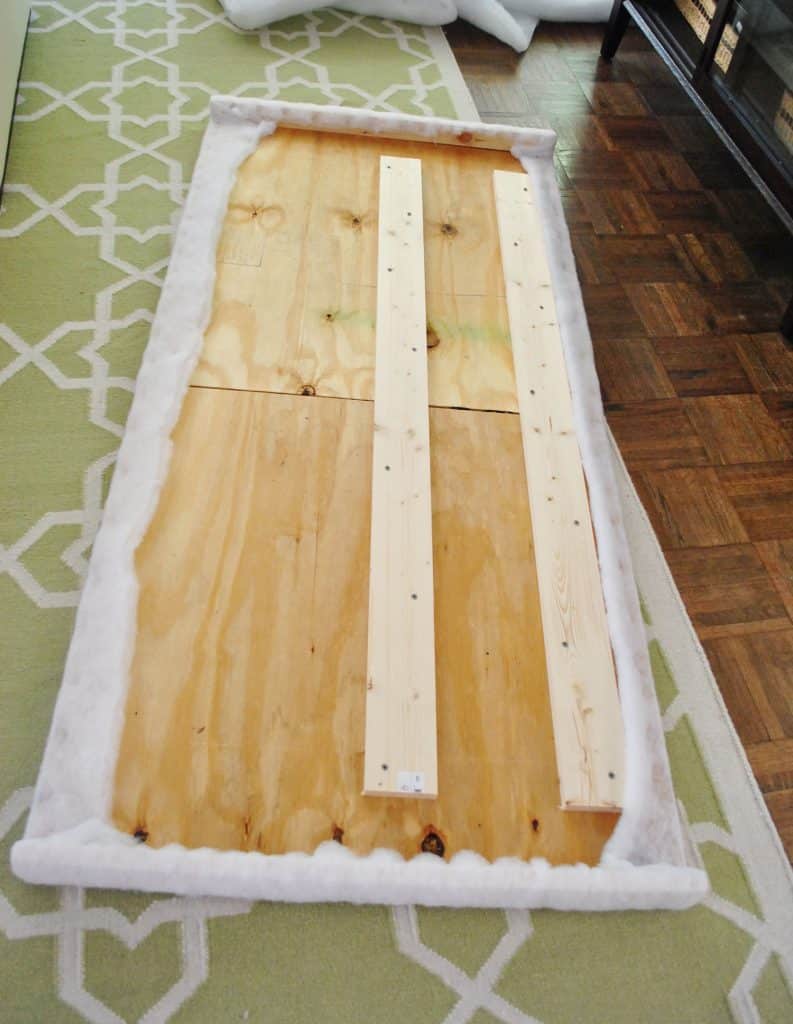 You can check yours at this point to see if one layer is enough. We decided to do a second to make sure the hard edges of the plywood were sufficiently padded. So we rolled out more batting for a second layer (call it extra credit when it comes to a cushy result).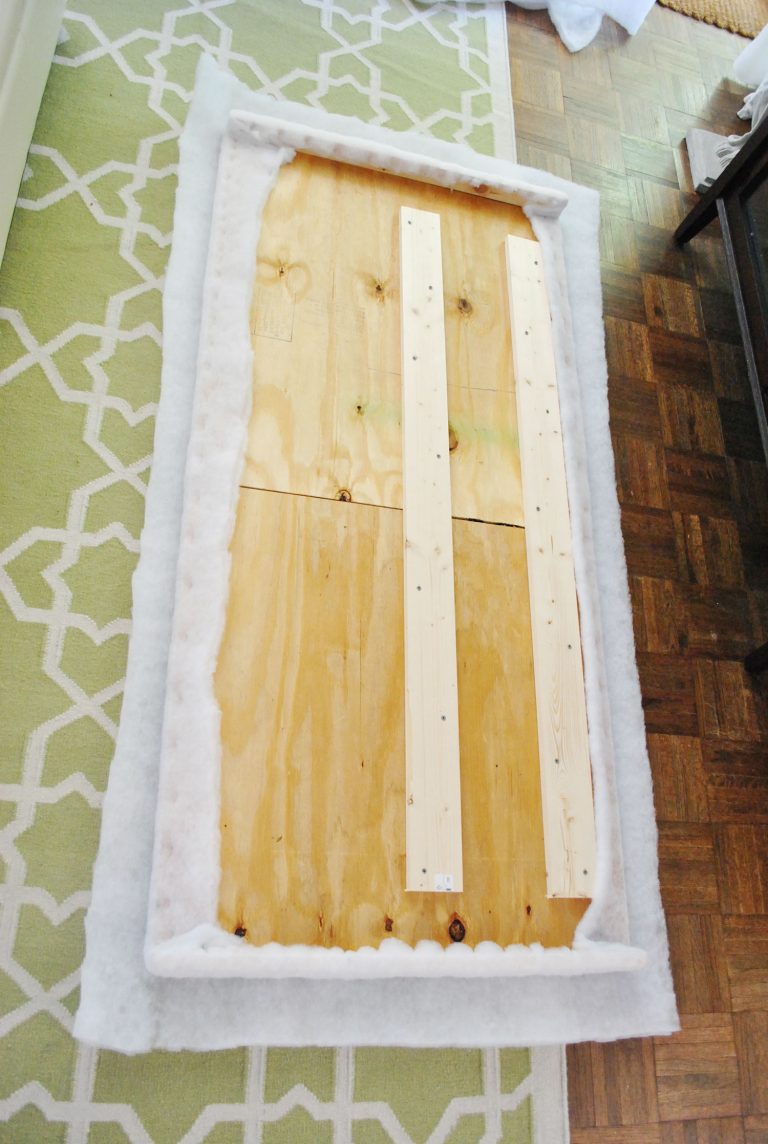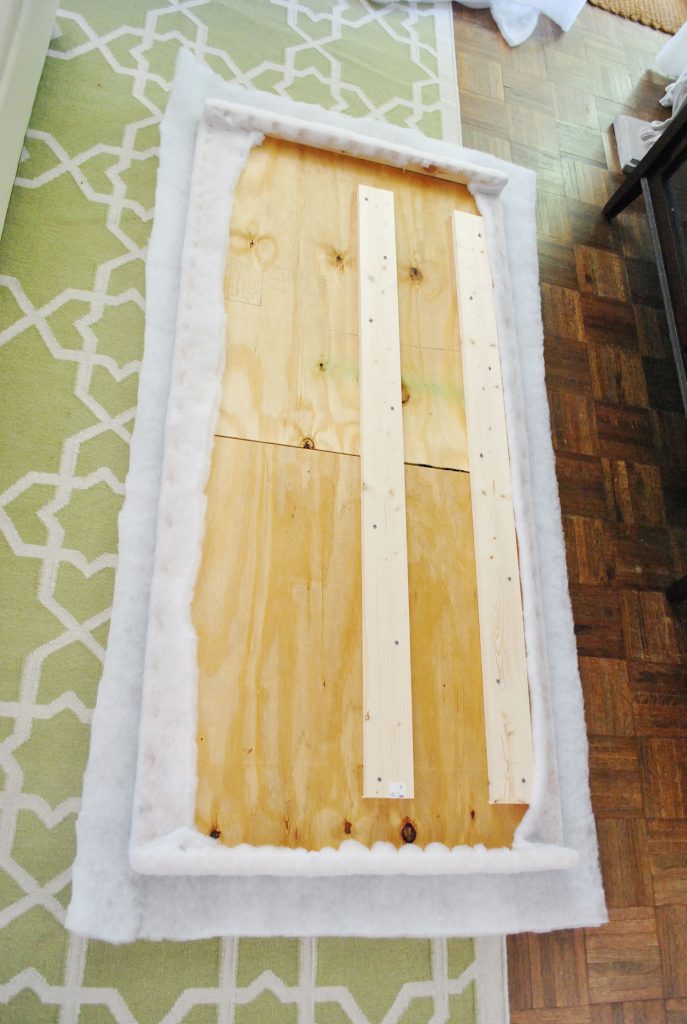 Again I trimmed around it and used the staple gun to secure it around the back perimeter of the frame, being sure to pull it tightly as I went.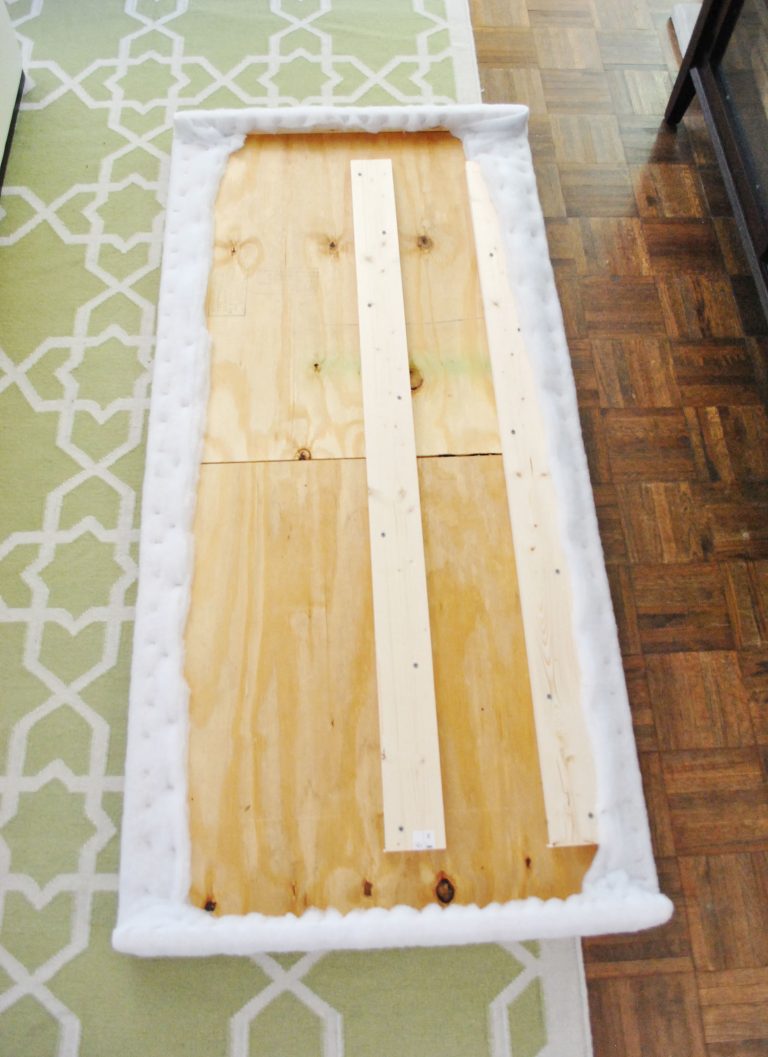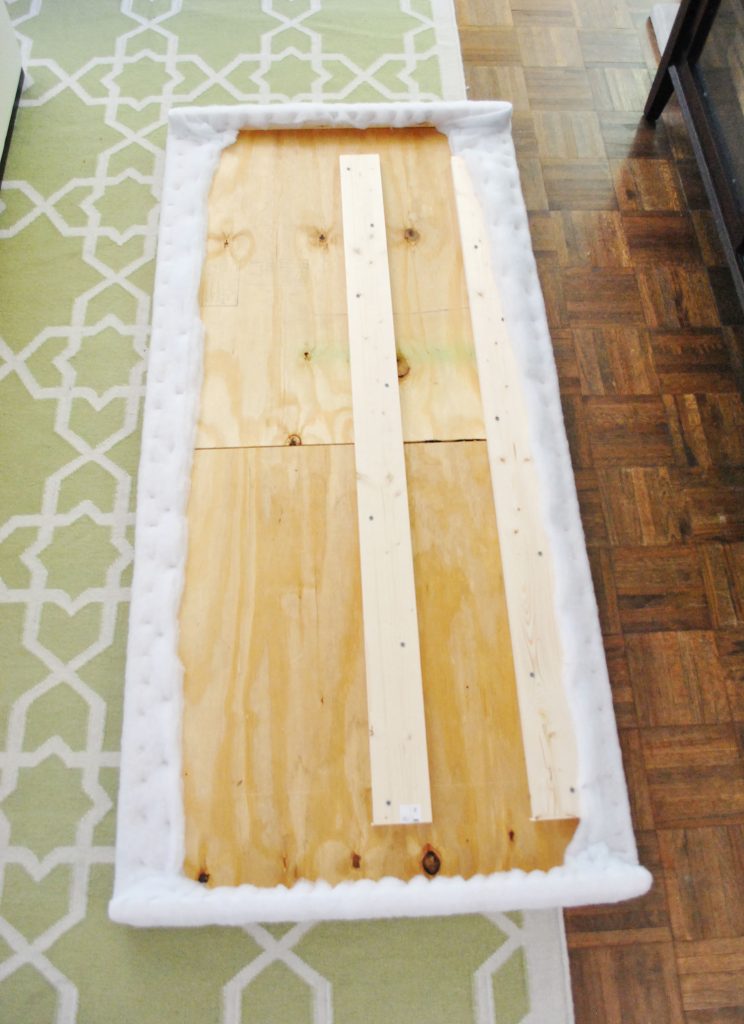 Then John leaned it up so we could check it out again- just to make sure it was wrinkle-free and plenty soft. John even went in for a sensuous caress. To each his own, I guess.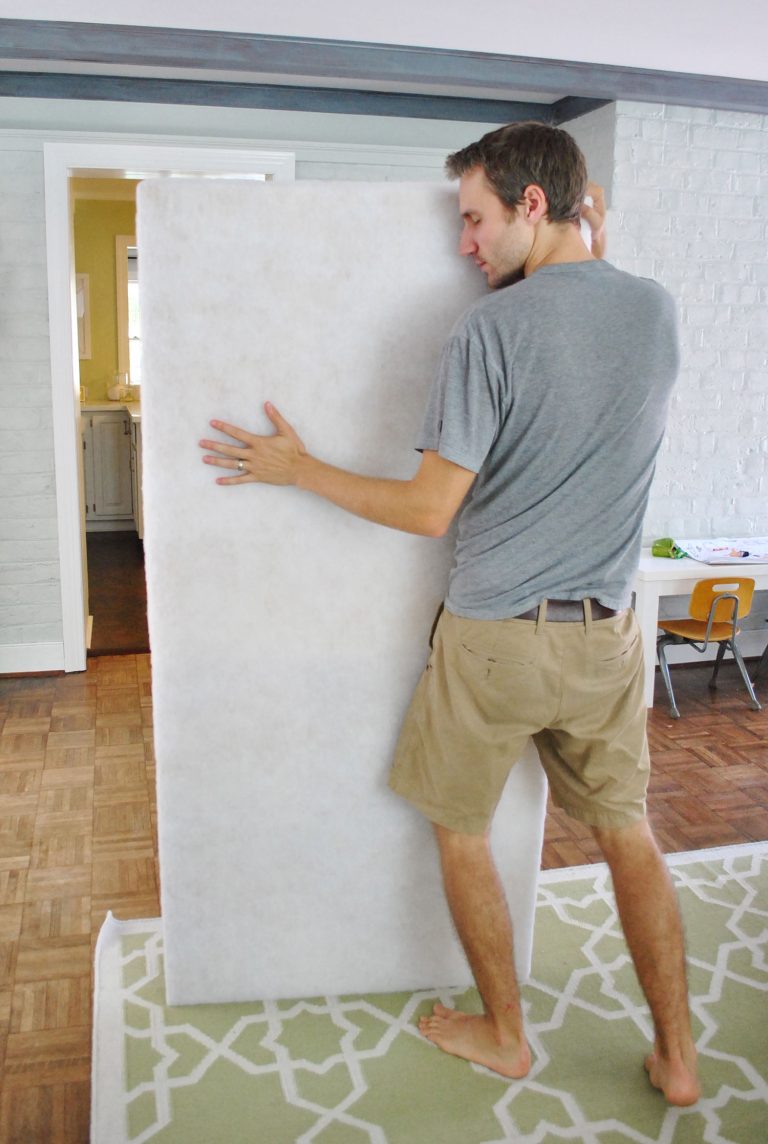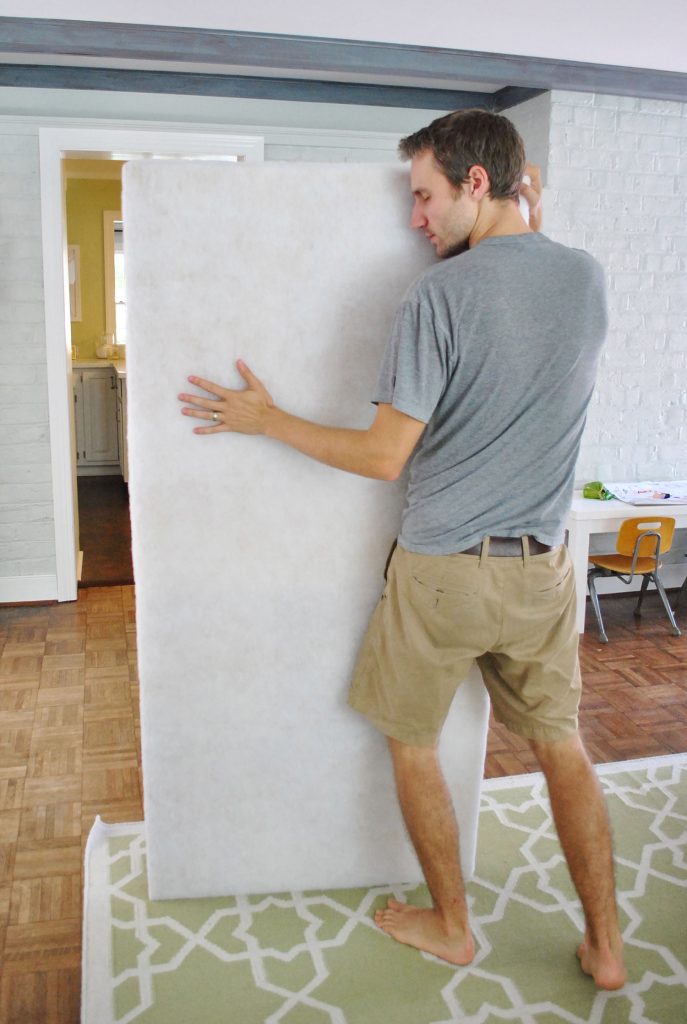 Note: Another option is to use upholstery foam that you attach to your plywood with spray adhesive. We prefer the batting method since it's easier to wrap around the edges. But if you're looking for a much thicker, cushier feel – it may be faster to use foam, rather than wrap 4 or 5 layers of batting. Too many layers of batting can also make it difficult to staple into the wood.
Step 3: Staple On Your Fabric
Here's where the fun really begins. Now you can repeat that process, but with your selected fabric! Just make sure it's free of creases or wrinkles before you start, so you may need to give it a good ironing first.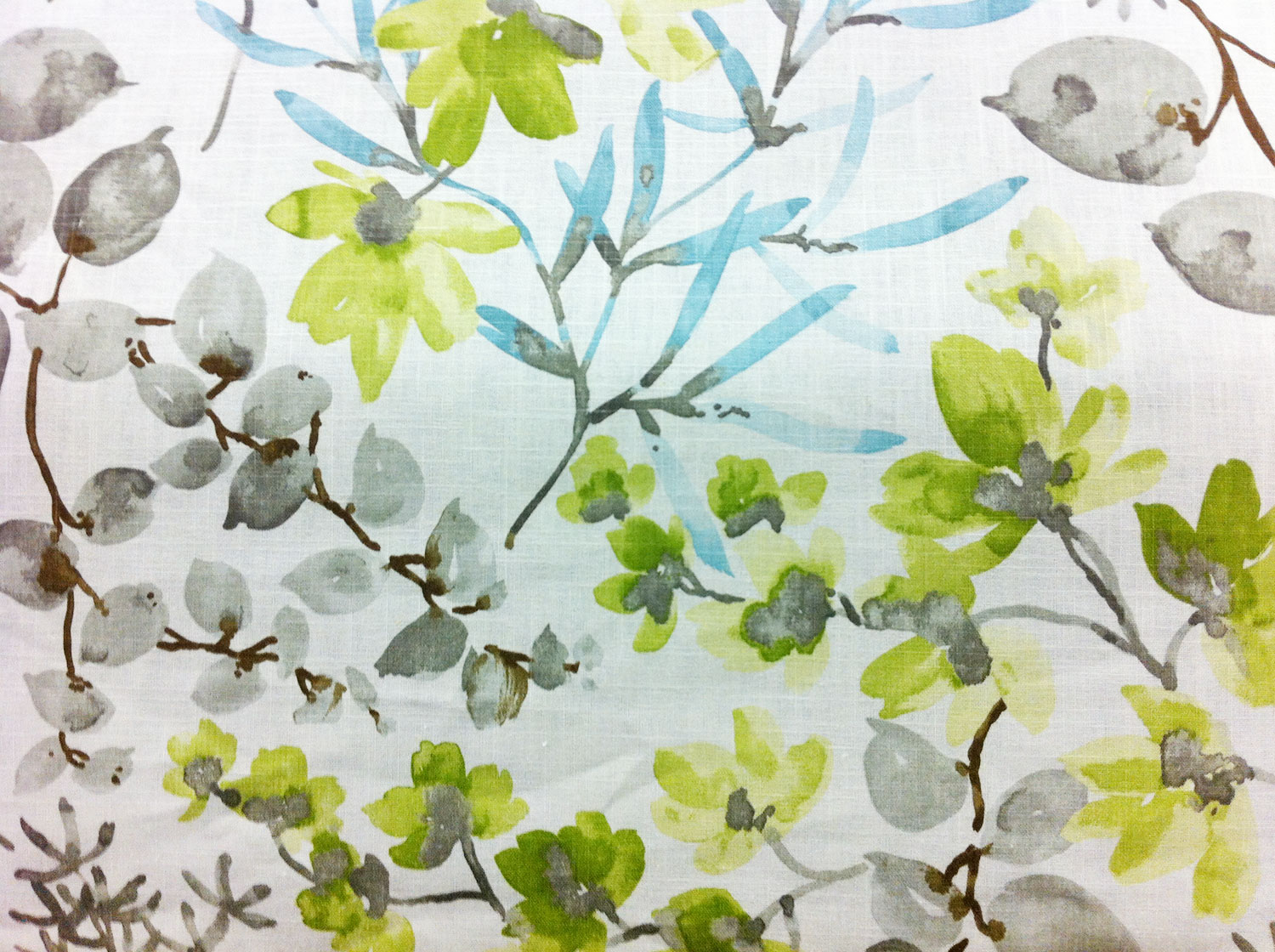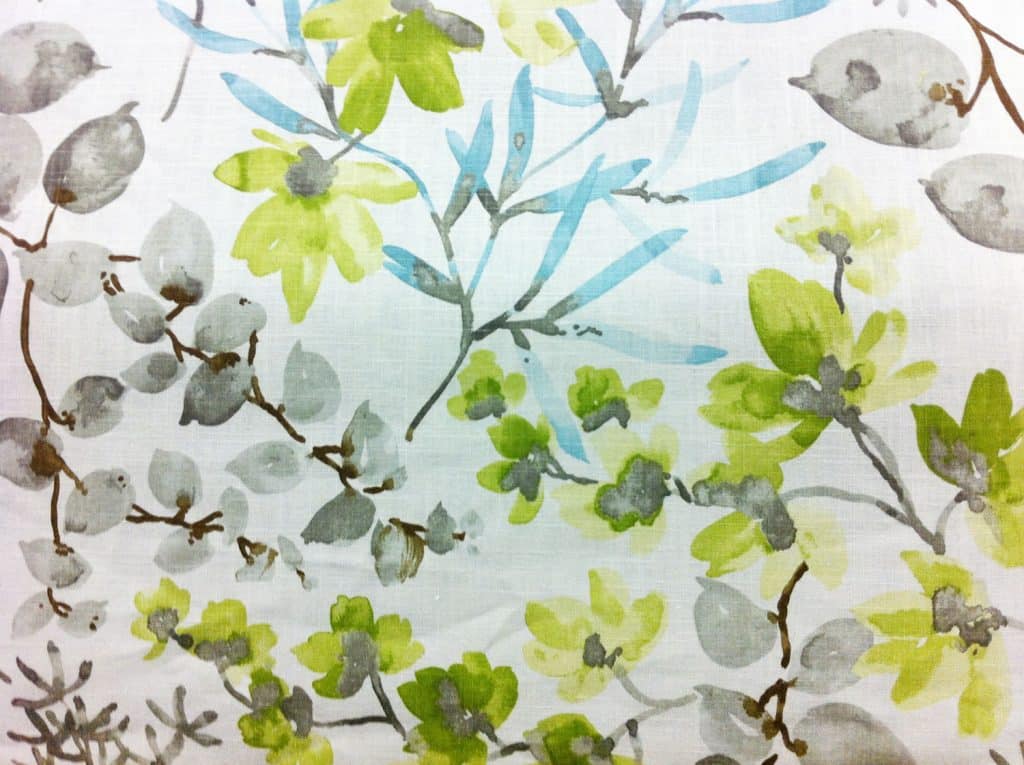 We were using this fabric we found at a local discount outlet called U-Fab. It's by Braemore, called Gazebo Cloud (here's an affiliate link to it on amazon for any non-locals). We liked how the leafy splashes of turquoise picked up that color in our geometric rug, but in more organic vibe.
Just like with the batting, we laid it flat on the floor and placed our (now batting-covered) frame on top, making sure it was pulled taut underneath to avoid any wrinkles. Then I trimmed offthe excess fabric around the perimeter, leaving a few inches for it to be wrapped and stapled around the back, just as I had with the batting.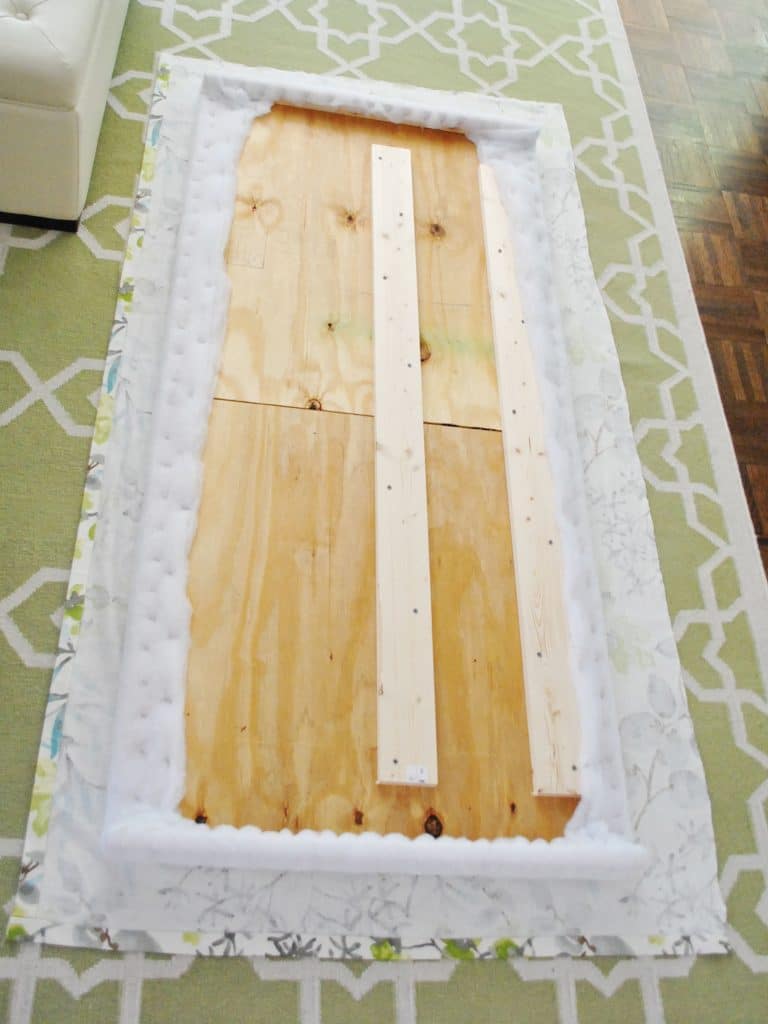 We started by stapling each side, being sure to pull it extra tight so it won't end up all loose and baggy over time. I started with one side, pulling it all very tightly, then stapled along the opposite side, again pulling it nice and tight.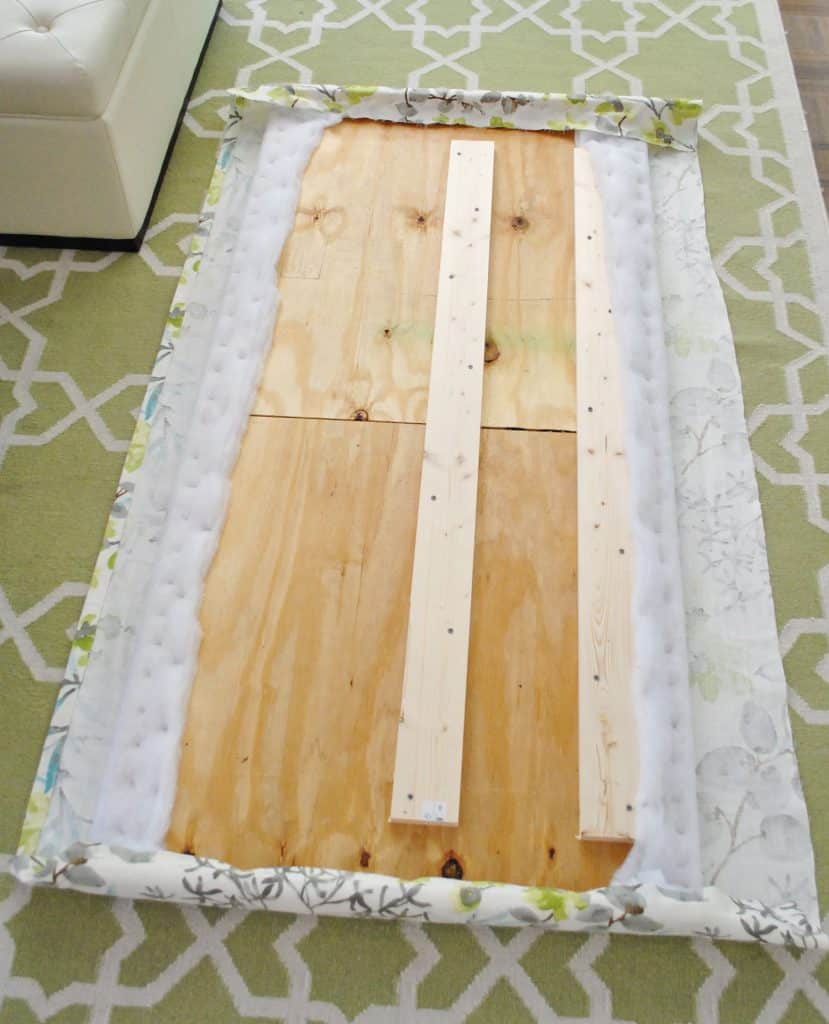 Once it was secured on those two sides, I did the same thing to keep it secured vertically, by pulling tightly and stapling the top side and pulling it tightly and stapling the bottom side as well.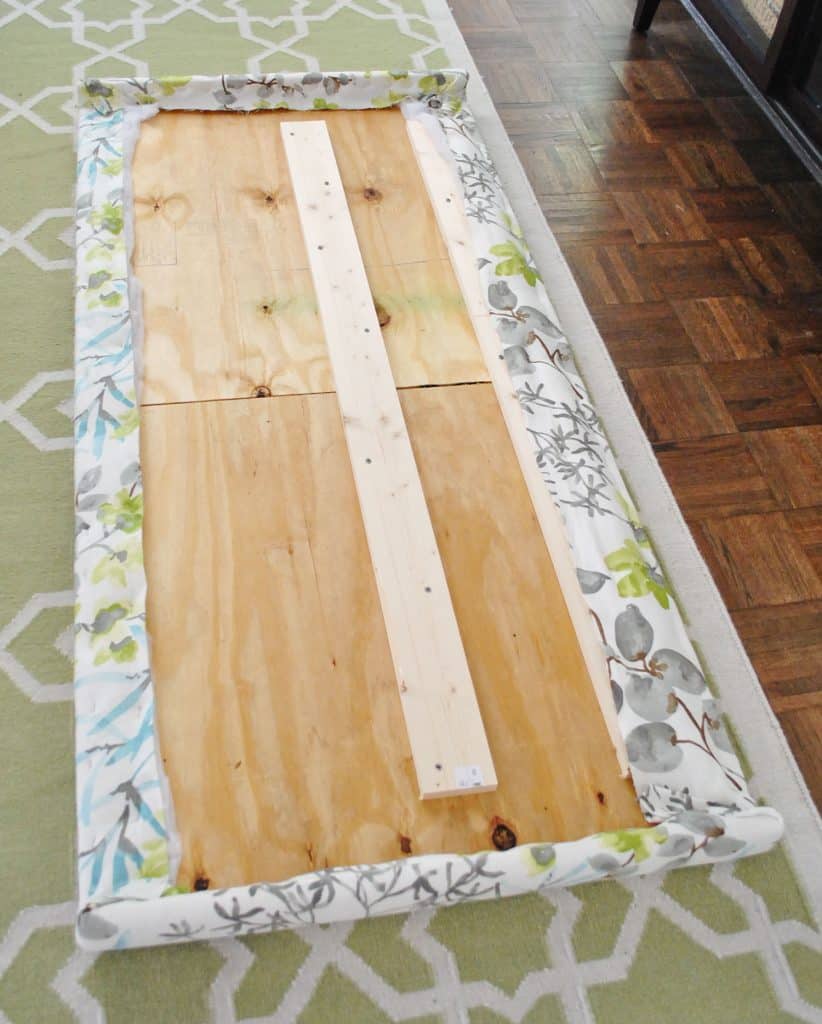 Then we flipped the headboard up to see it in all of it's plush, tightly upholstered glory. Bing, bam, boom. The whole upholstery step took less than forty five minutes to complete. Is it weird to call it one of my favorite fabric projects to date? I just love love love the pattern.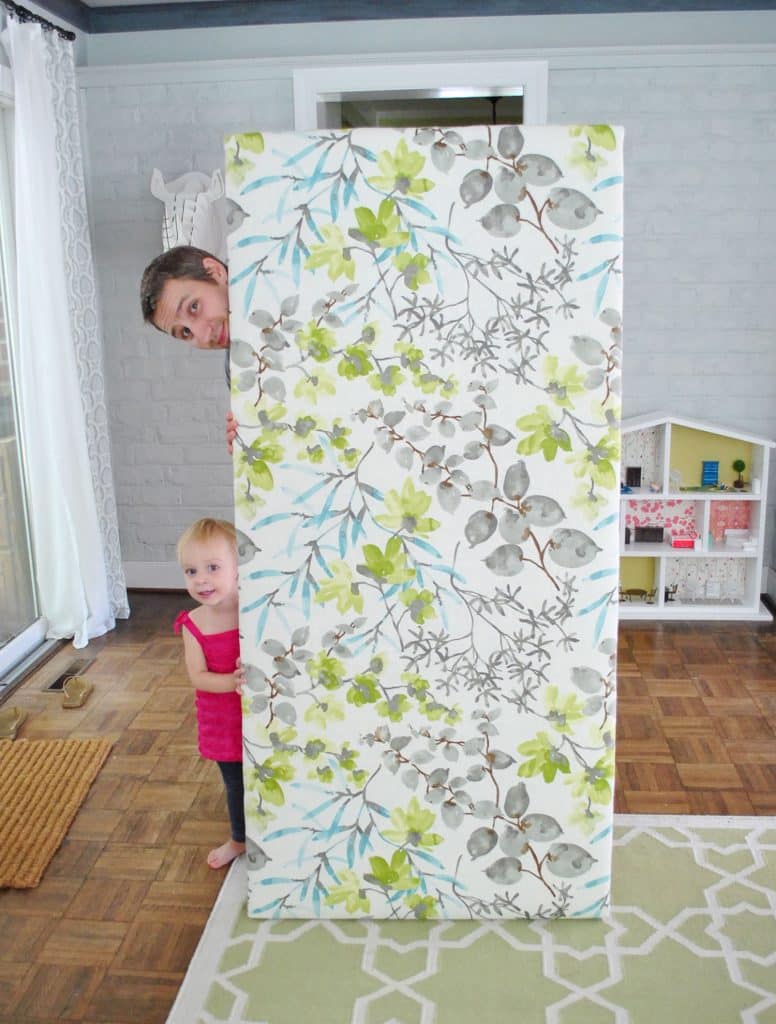 It's hard to tell above, but in this angle you can get a sense of how plush it is. It's cushy, but still tight – so we won't worry about it getting baggy with everyday lounging against it.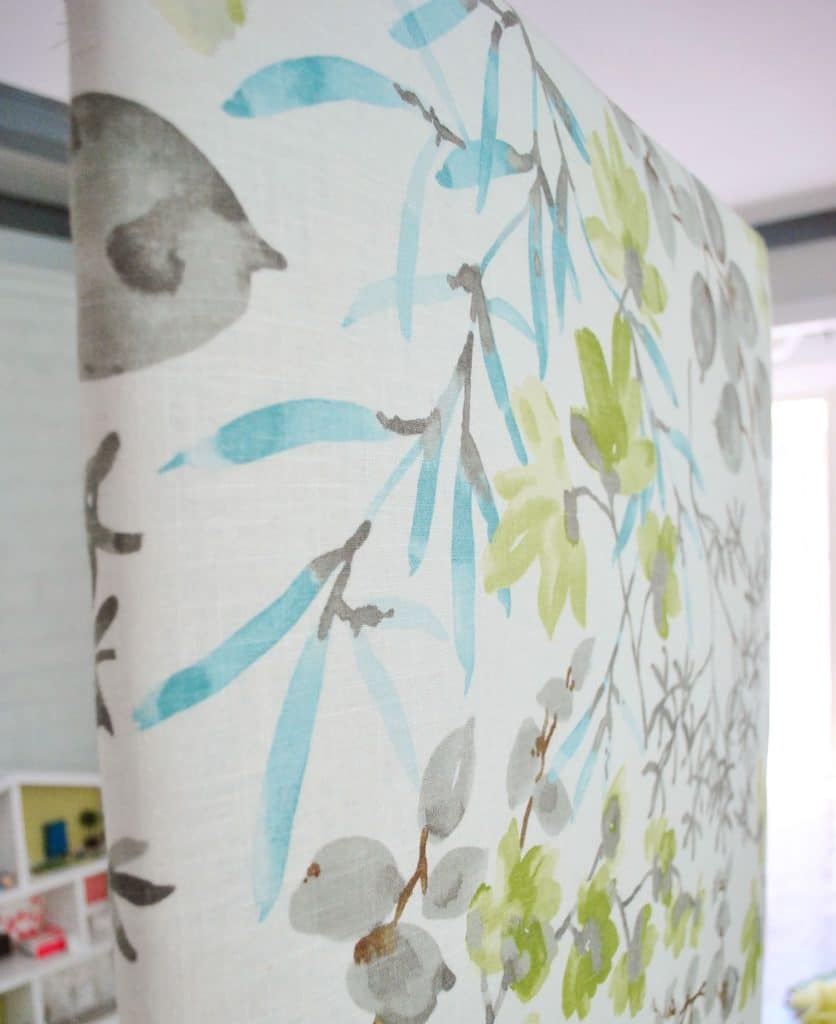 Step 4: Hang Your New Headboard
Now you're ready to attach your headboard to your bed. This can be done in a few ways, depending on your bedframe. When typically like to install a headboard directly into the wall, since it's often sturdier than attaching it to the bedframe. To do that, usually a french cleat works great. We cover how to DIY a french cleat in this post.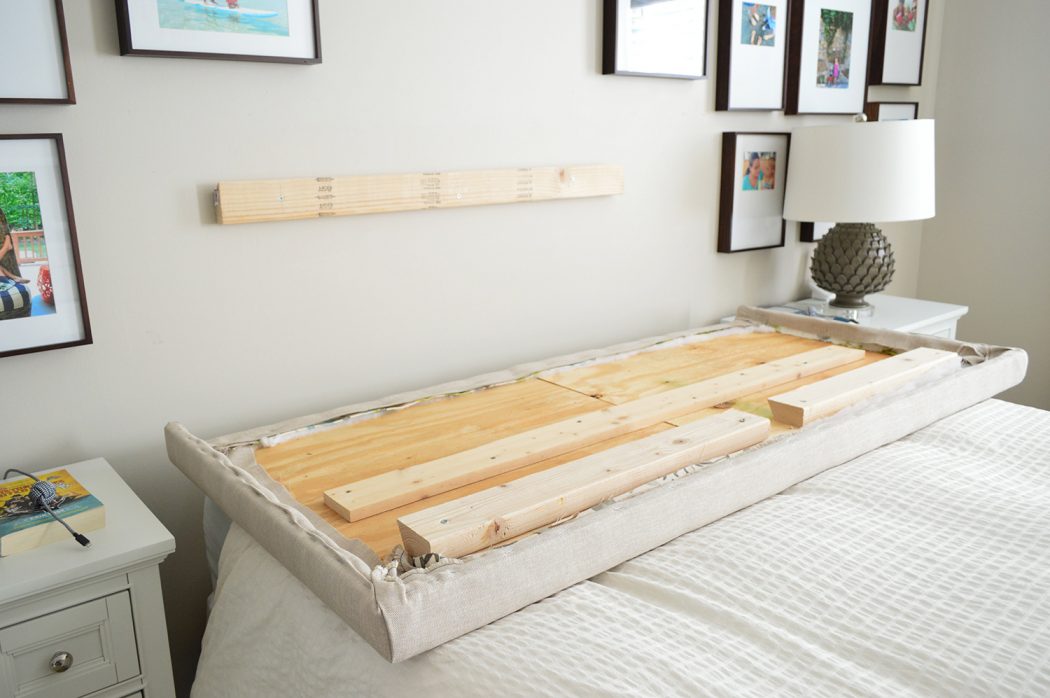 Actually, the headboard pictured above is the same one constructed during this tutorial – a few years later we just updated it for our new home with new fabric and a new top piece (just like we had added the sides pieces in this post). You can see the french cleat below, which is essentially two 2×4″ cut at an angle. One goes on the wall, the other on your headboard. You can also purchase pre-made metal cleats for just a few dollars.
TIP: Try to hang your headboard so it hits the top edge or slightly below the top edge of your mattress, that way there is no gap between the two.
But in the case of our postless-four-poster bed, we chose to screw the new fabric headboard into old wooden one that was part of the existing bedframe, just careful to use screws that wouldn't poke through the other side.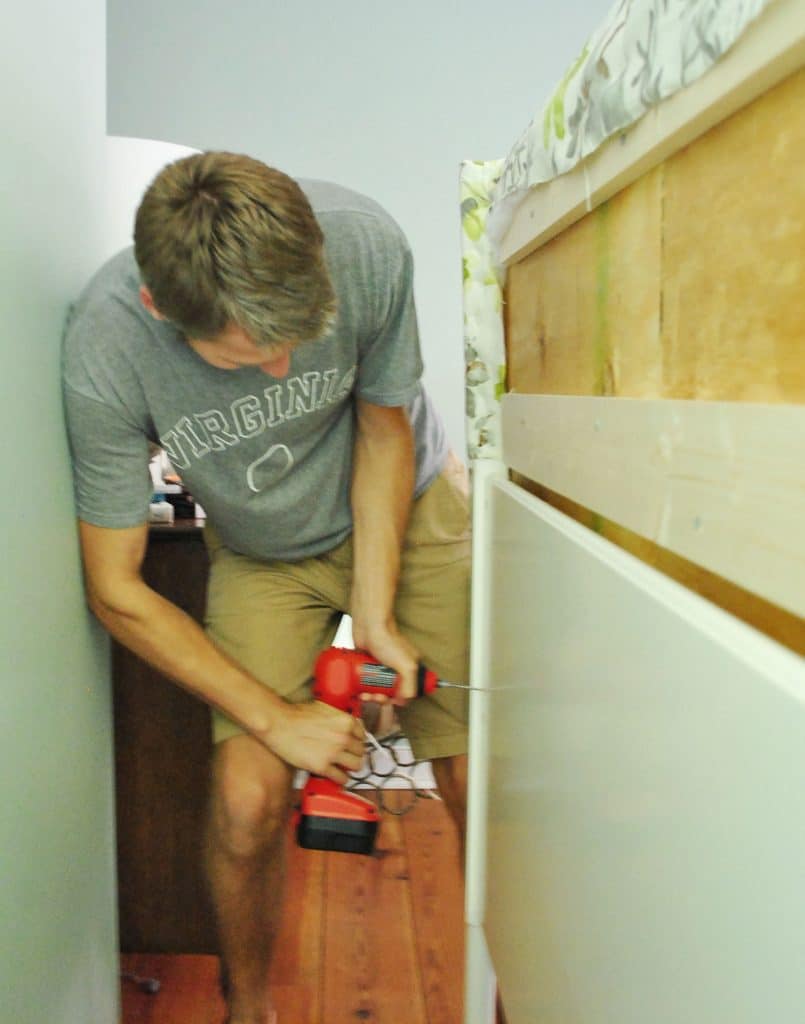 Here's John putting the final screws in on the backside, pushing the new fabric headboard tight to the bedrame for a snug, secure fit.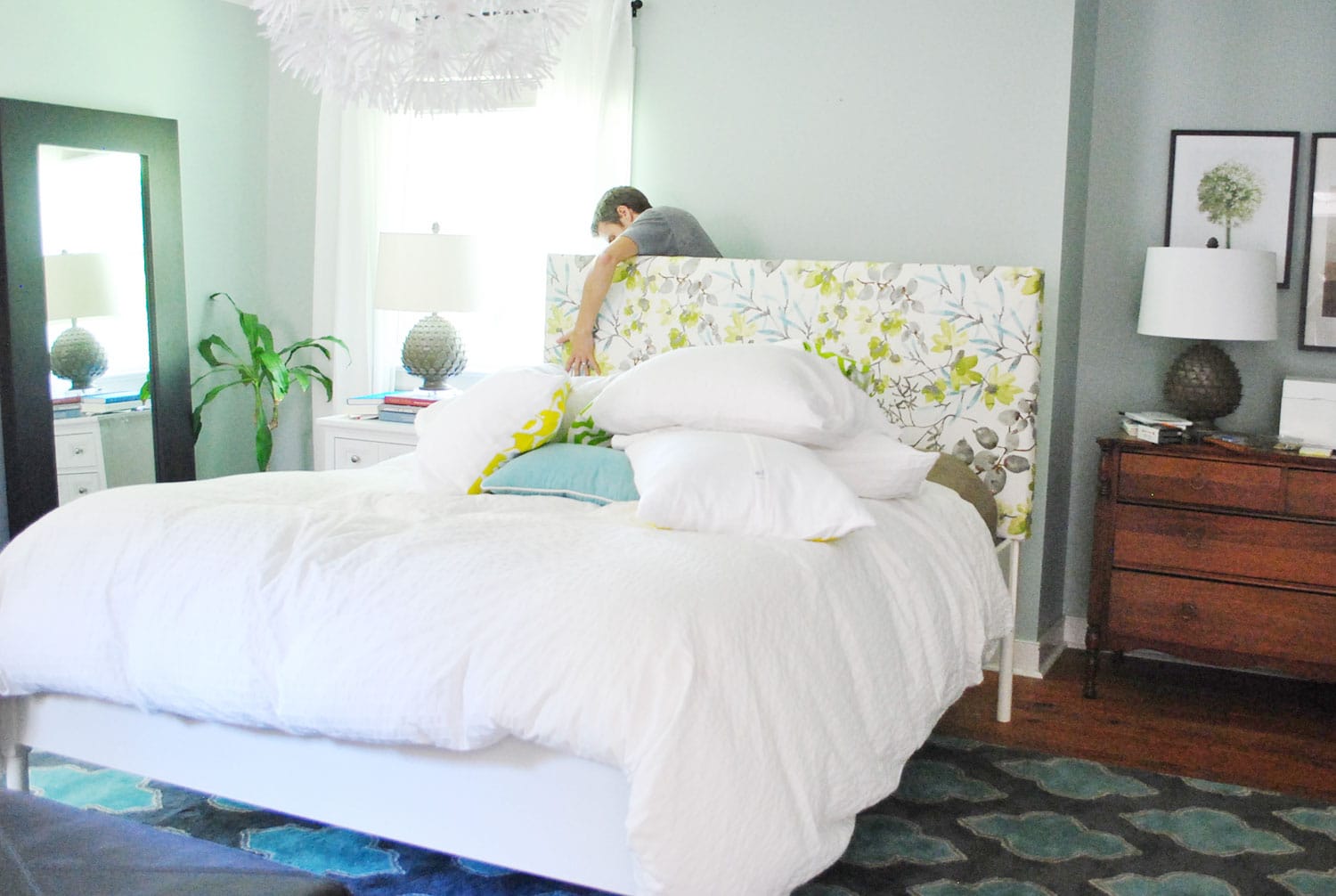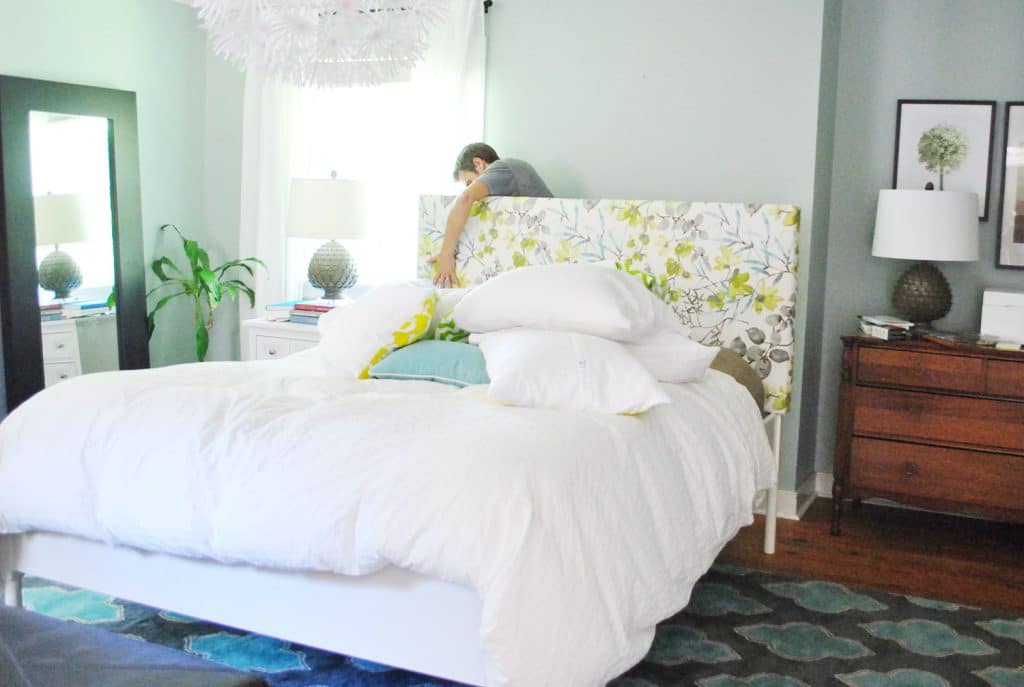 Step 5: Enjoy Your Handiwork
Once it was attached, we just pushed the bed back into place and beamed at it. If only it had been bedtime already that so we could immediately enjoy it's plushness!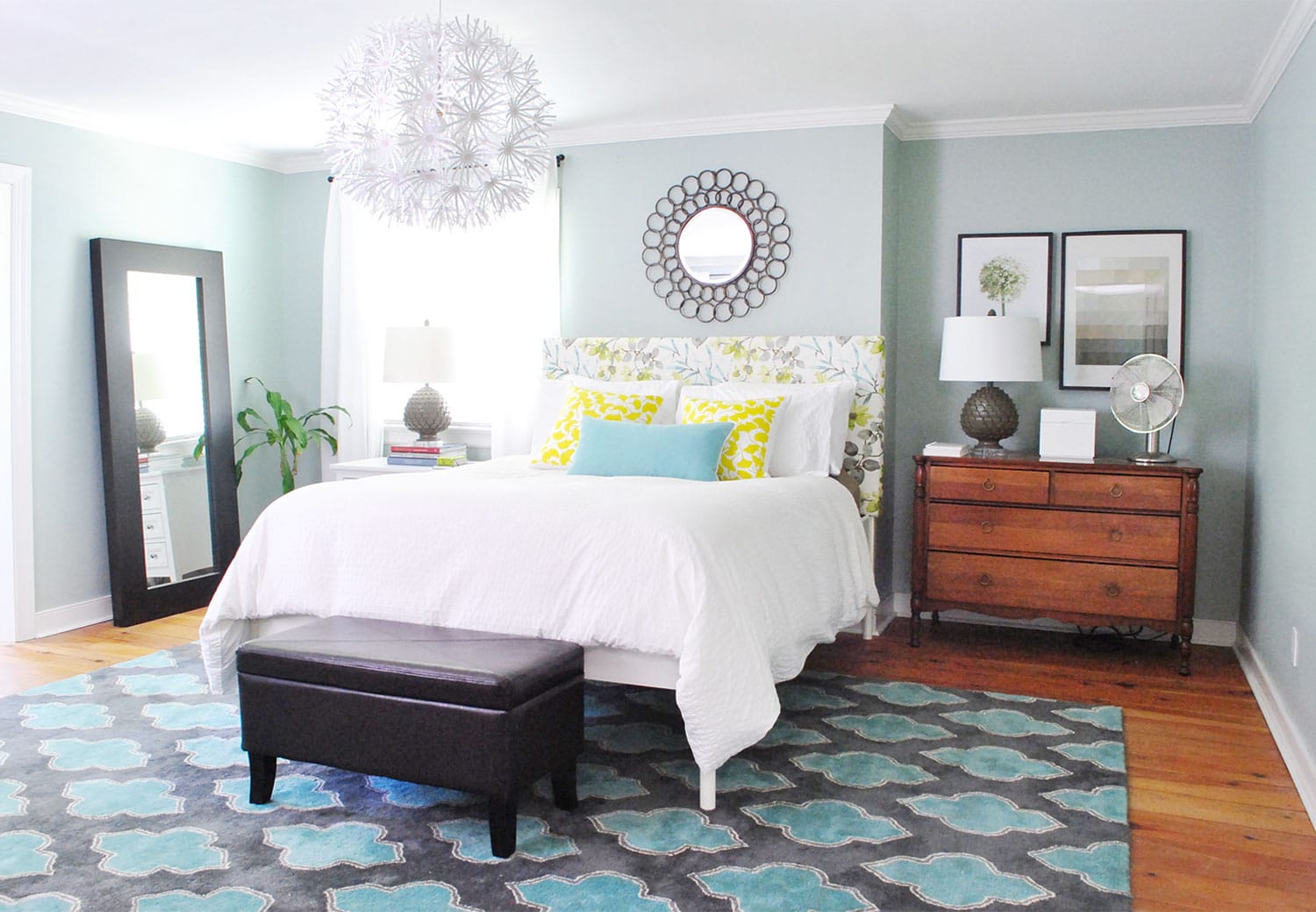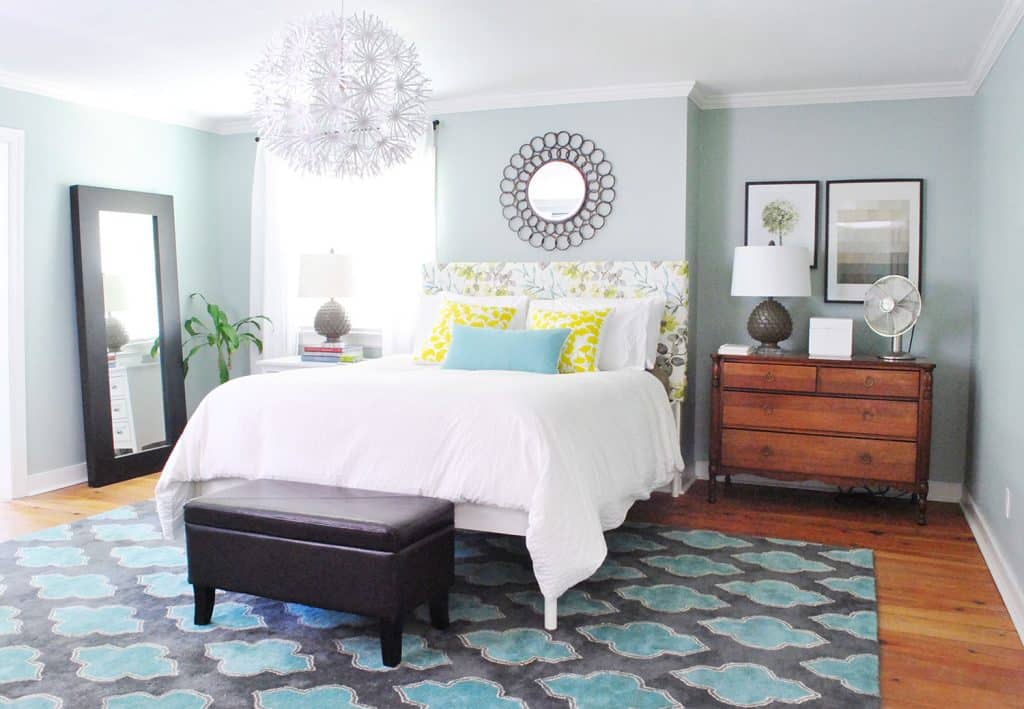 We loved how the fabric is sort of like the bridge between the yellow ginko pillows (since there are greeny-yellow flowers in the headboard fabric) and the turquoise in the rug (thanks to those subtle leafy sprigs of turquoise in the headboard).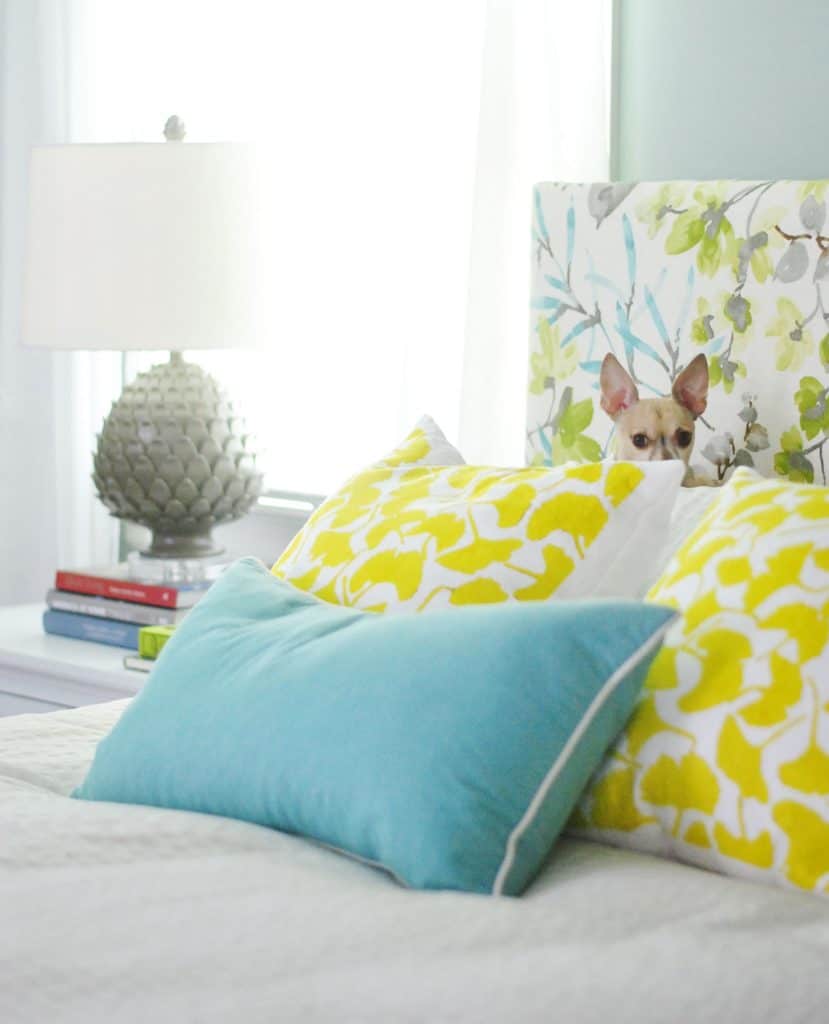 I even think Burger looks especially dapper in front of this new backdrop.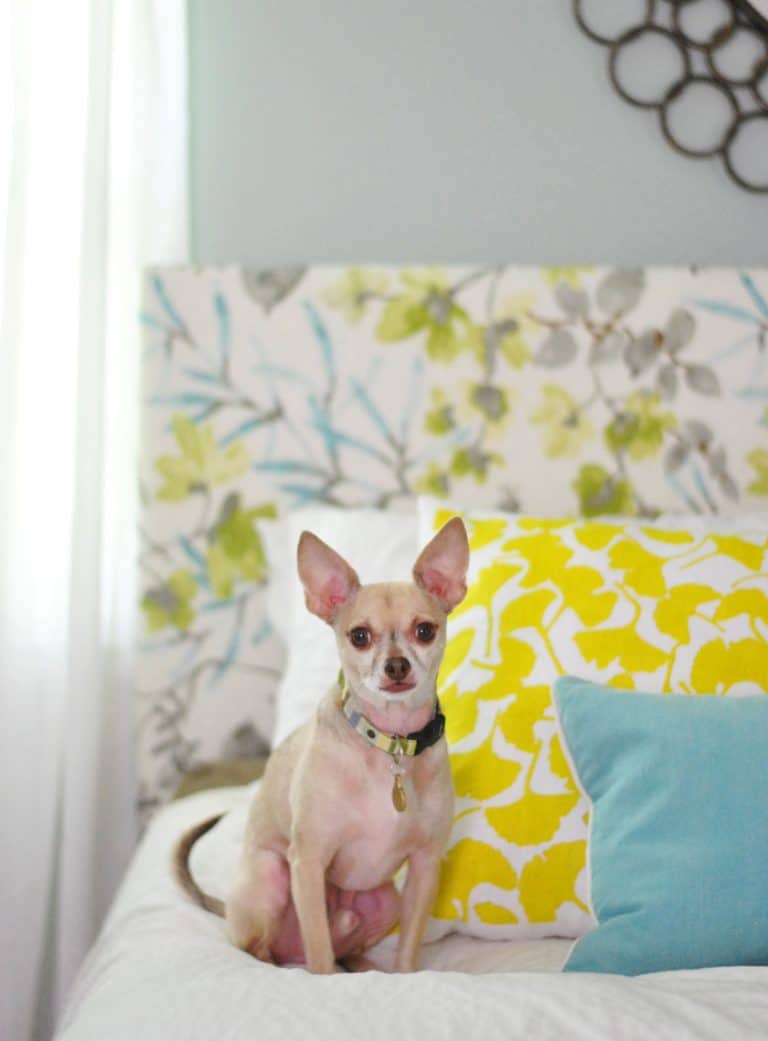 DIY Upholstered Headboard Cost
As for a budget breakdown here we go:
Wood frame (plywood and some bracing boards from Home Depot): $22
Two layers of extra loft batting (from JoAnn thanks to a 50% off coupon): $4
Discount designer fabric (from a local fabric outlet called U-Fab): already owned – but it was originally $20/yard ($40 total)
Total spent: $66 (if you add in the fabric we previously bought for a book project and reused for this)
Sixty six bucks isn't pennies, but compared to upholstered headboards that are sold at places like Overstock, it's at least $100-200 cheaper than even the most basic types. And considering places like Ballard Designs charge around $400-$700 for custom headboards (where you get to pick the fabric) it was awesome to get to choose the fabric and whip this up ourselves.
I'm sure things will still evolve over time in here, but this has been a huge upgrade for us already.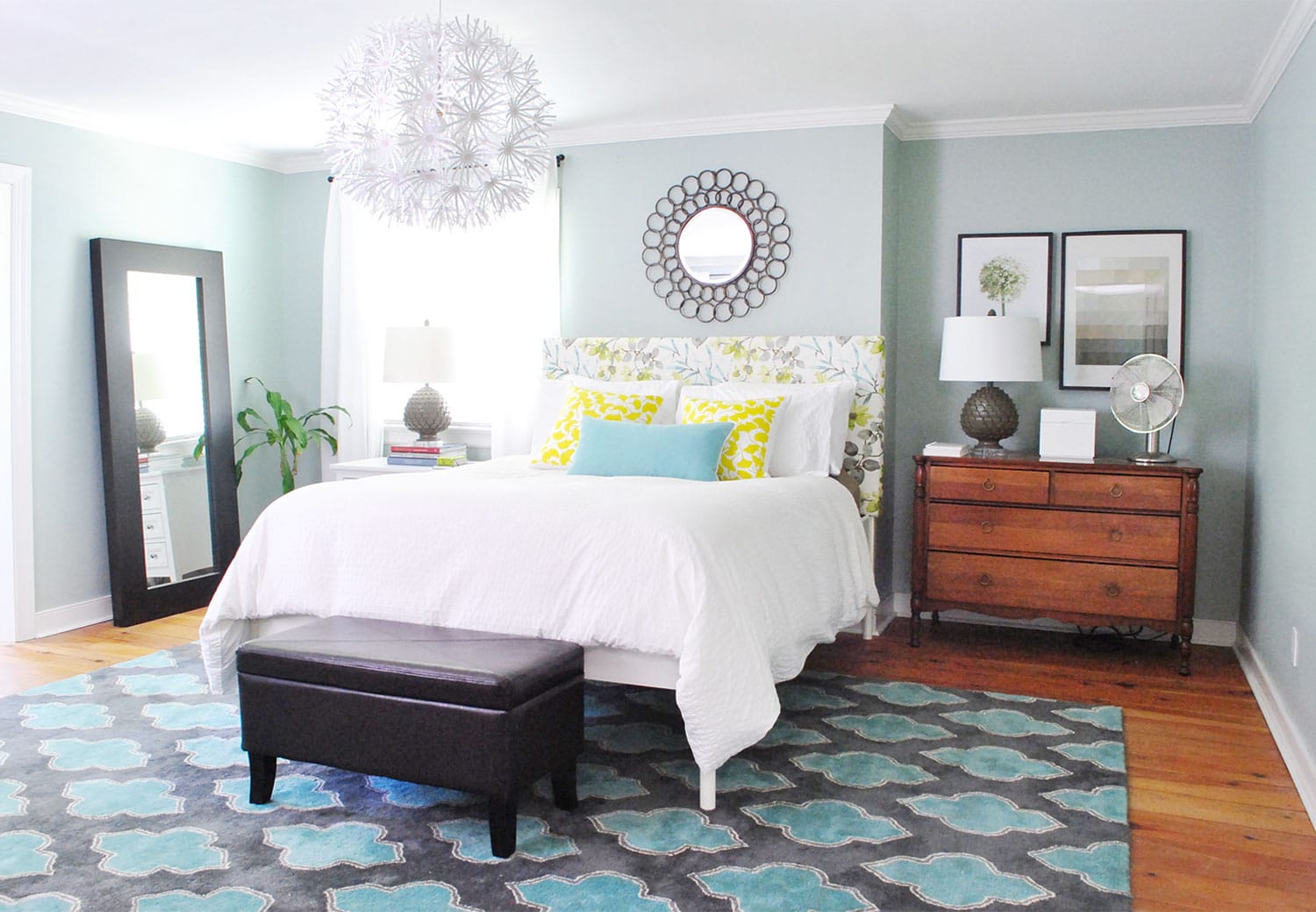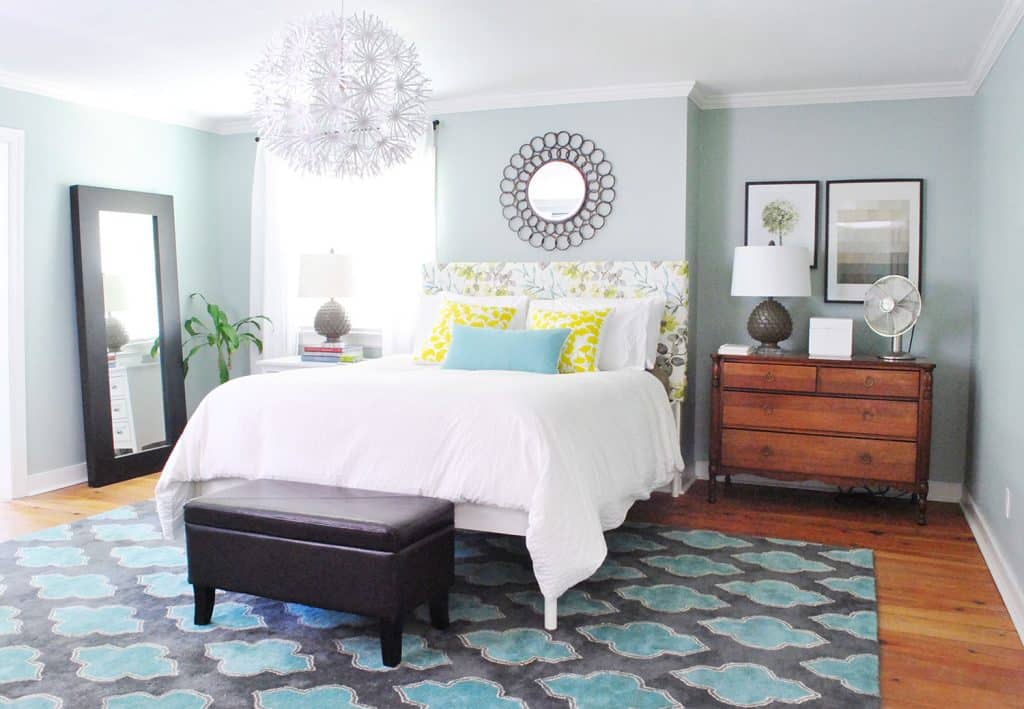 Is anyone else making headboards with fabric? What about wood or something even more unusual, like tin? We have four different DIY headboard projects in our book (all of which we made and shot in various corners of our house) and only one of them is fabric – so there are definitely other ways to go! I think we just were craving the plush softness of something padded to lean on. You know what they say (and by they I mean Al Green and Bill Withers): we all need somebody to lean on.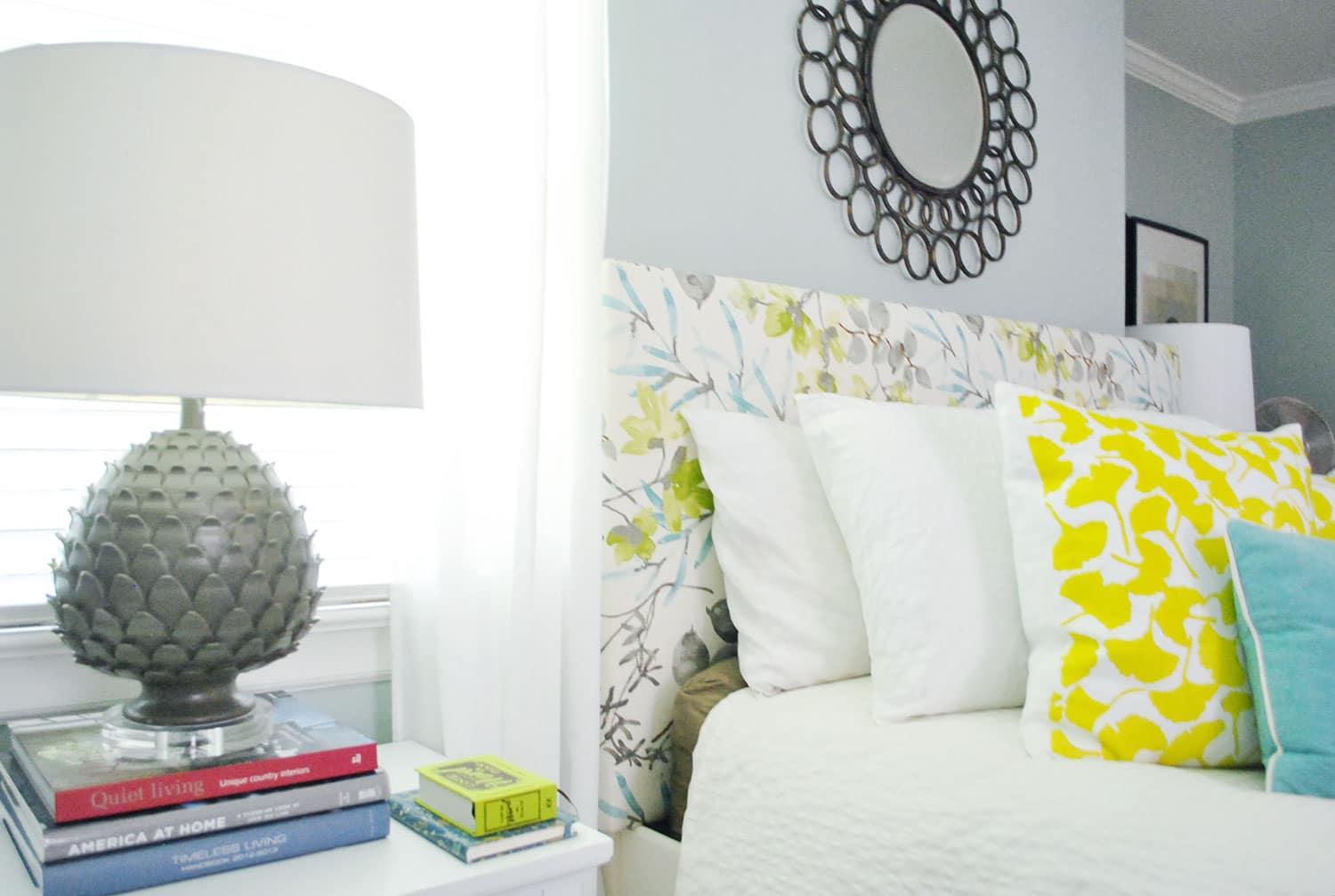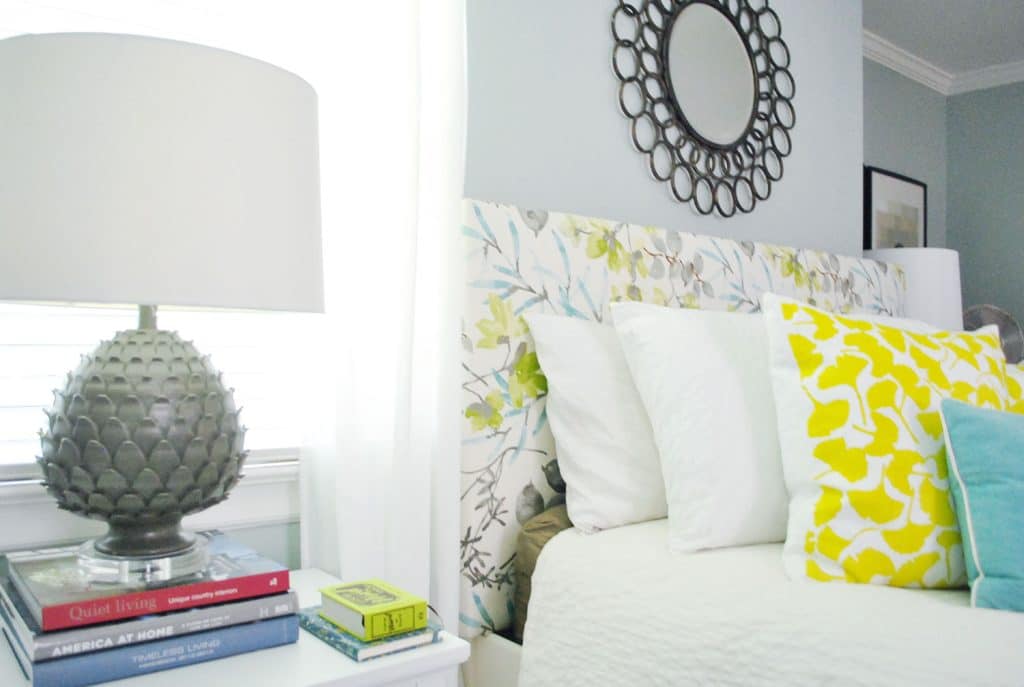 Update- We finally created this Shop Our House page to help you hunt down any furniture/accessories that you see in our house, along with all of our paint colors.
*This post contains affiliate links, so we may earn a small commission when you make a purchase through links on our site at no additional cost to you.