Let's talk about a not so quick fix. Between patio building and kitchen makeover-ing, Sherry and I like to "treat" ourselves to a few quick and easy projects that keep the ol' morale up and allow us to catch our breath (so we don't burn out or throw things at each other). And one fast & easy job that we've had planned for a while was swapping out the fixture in our guest bathroom for something more us.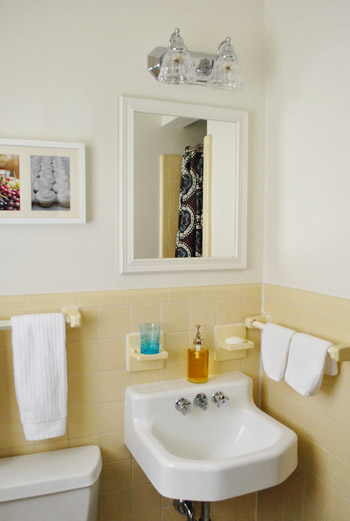 There was nothing particularly wrong with what was there, per se – but it was a bit more traditional than we'd pick ourselves (so we figured donating it to the Habitat For Humanity ReStore would give it a second life while we upgraded to something that felt more our style). At first we considered just replacing the shades for a quick mini makeover, but the big and chunky back plate (which was as wide as the fixture itself) wasn't really doing it for us either.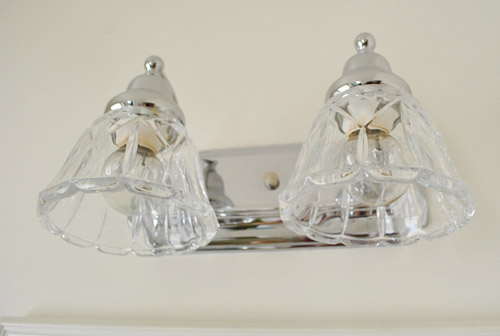 Here's a more straight on shot of it, which was impossible to take without getting my whole body in the mirror. On the other hand, if I had just removed my shirt I could have done my dead-ringer Jacob From Twilight impression (note: to those unfamiliar with my shirtless physique, this is a joke).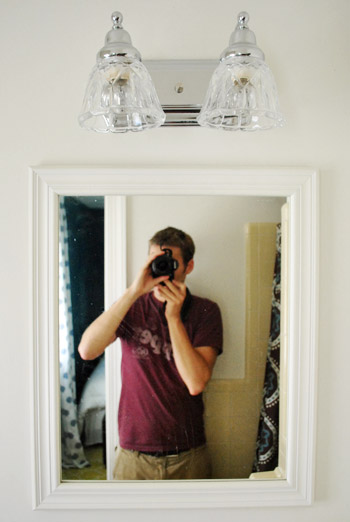 Anyway, back to our lighting situation. Here's the new light that we picked up at Lowe's a few weeks back. It's one of those fixtures where you can choose from an assortment of covers to sort of "customize" the look. We've always been fans of seeded glass, so Sherry snagged these two covers (which are more seeded and textured than this photo really depicts). The total was around $25.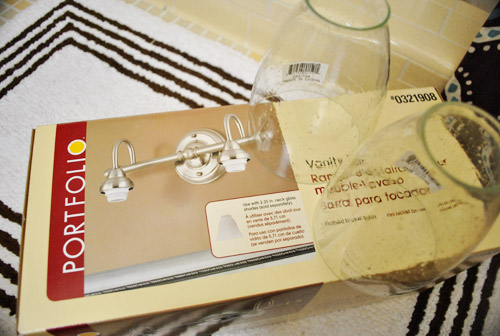 First I had to remove the old fixture. Which was clearly very tightly affixed to the wall. Not. After removing just one of the glass covers the entire thing tipped sideways from the weight of the remaining cover. Awesome.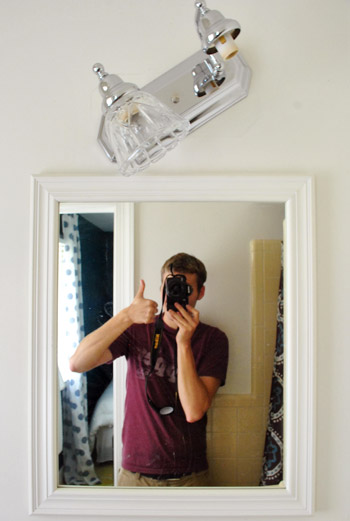 Anyways, it came off smoothly and I was left with this beautiful site: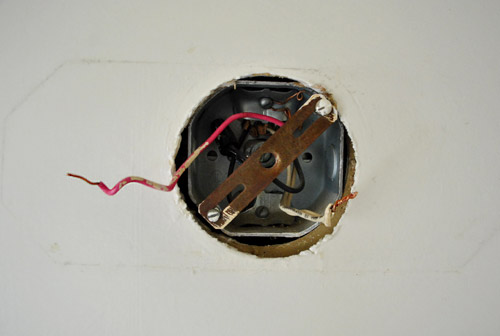 Did I mention I turned off the breaker to the entire house before I started? That's how Captain Careful rolls.
Attaching the new fixture was nothing special – I just connected a few wires (I usually just mimic how the old fixture was connected, taking note as I remove it and duplicating the setup with the new one). Once the fixture was wired and screwed into the wall (about a five minute process), I eagerly readied the wall for its debut. I scrubbed off some of the marks from the old light…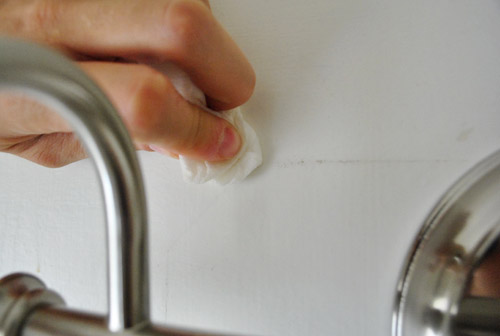 … and screwed on our favorite part of the new light: the seeded glass bulb covers that Sherry picked out separately for a little flair (you could pick from frosted, clear, seeded, and even colored or fluted options).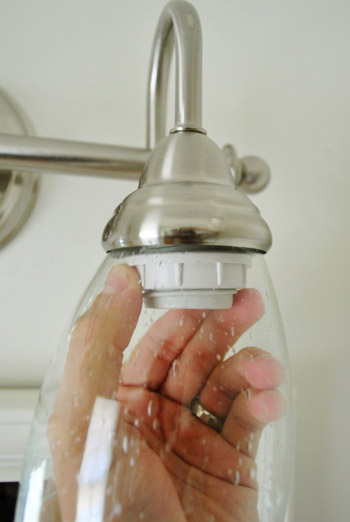 But when we stepped back and looked at it, something was off. Do you see what we saw?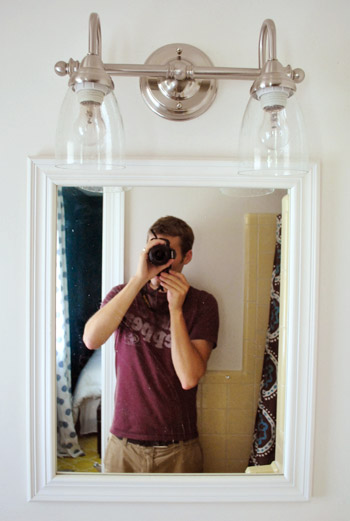 All we could focus on was how giant and incredibly conspicuous those plastic threads were above the bulb thanks to the choice of the seeded glass cover.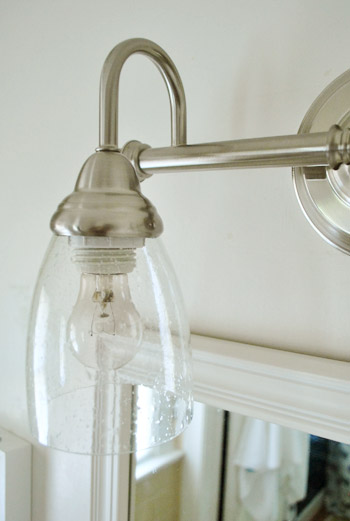 Some of you might think we're crazy for fixating on that, but it was totally bothering us that the sleek brushed nickel fixture and charming seeded glass covers were interrupted by those big bands of plastic. To us, it made the whole thing look kinda cheap (even though it kinda was, we didn't want it to look that way). So we were bummed because we otherwise liked how it looked (and briefly considered trying to paint them silver to match but decided that we didn't want to settle).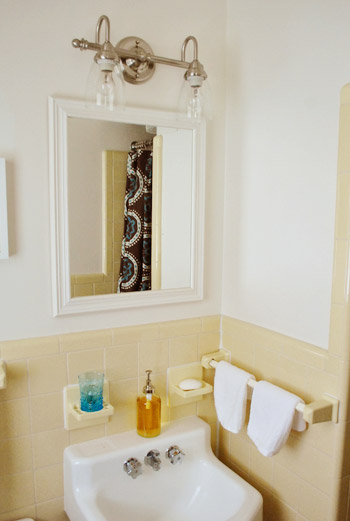 Sure frosted covers could have solved the problem, but the whole draw of this fixture was that we could go with the seeded covers that we love (we had one hanging above our kitchen sink in the old house so I guess we were feeling sentimental). Not wanting to stop short of a fixture that we 100% loved, we darted back out to a few lighting places to find a replacement.
This time we had a new direction in mind (anyone else think of Glee when I said "new direction"?). Having been inspired by Lady Bower's new bathroom fixtures and some of the exterior ones that we already have (seen here and here), we thought we'd go for something a bit more industrial slash retro. The guest bathroom already has that vibe going on with the vintage yellow tile and the old school floating sink anyway. So this is what we came home with, courtesy of the outdoor lighting section of Home Depot (for 29 beans):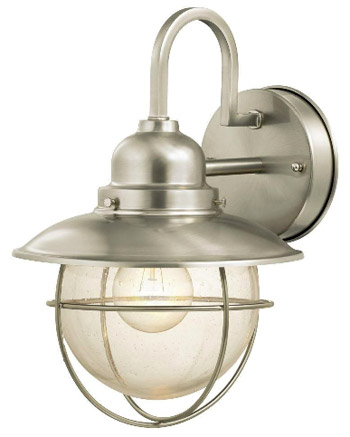 With new light in hand, it was time for take two of our light fixture replacement adventure. Which, of course, started by undoing our first attempt and carefully repackaging it so we could return it. And getting a "take two" hand signal from the wife in the mirror.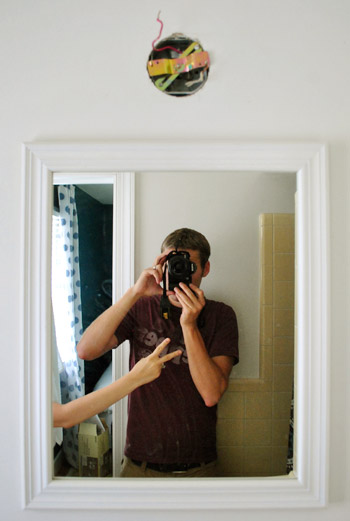 At this point the scene outside of the bathroom was starting to look a bit like this: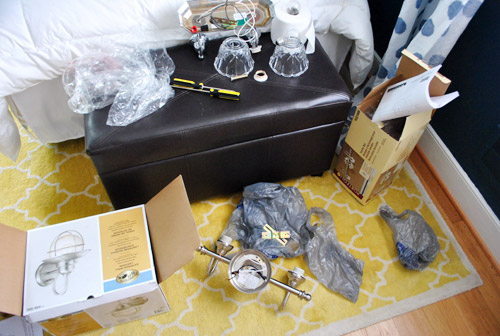 Another 5-or-so minutes later, this puppy was up and the power was back on.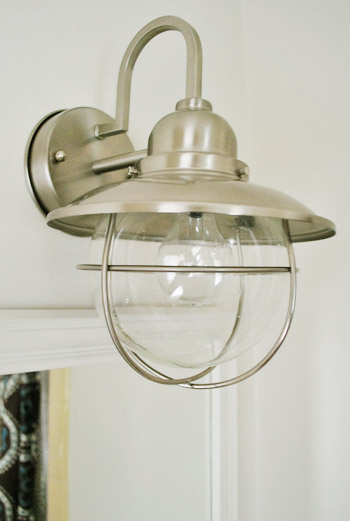 I know he looks a little funny since the rest of the room is so unfinished. But our new light actually gets us excited to let the industrial-ish vibe inspire some other choices in the bathroom (we still need some art, paint on the walls, and possibly a mirror tweak among a few other touches to make it all come together).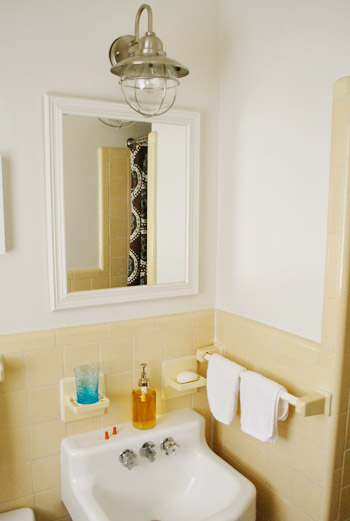 Plus, how's this for a nice bonus? The glass cover is seeded glass. We didn't even know that from looking at the display in the store or the picture on the box. Total bonus. Like it was meant to be or something.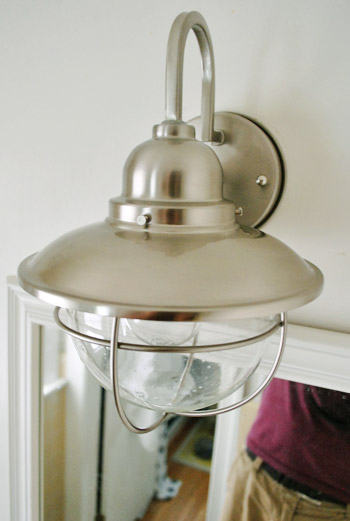 Actually, speaking of the glass cover – the one thing we weren't so sure about was the wire "cage" around it. We thought it was kinda cool, but maybe a bit too industrial for our comfort zone at the moment.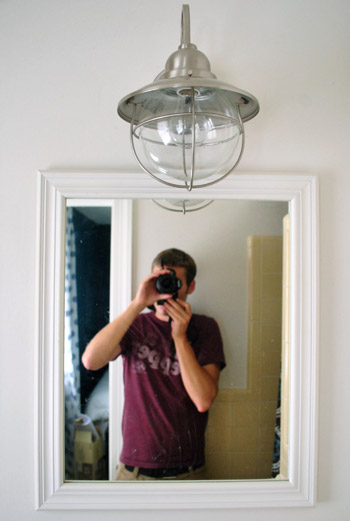 So we decided to take it off – just for the time being (since it easily snaps into place – or out of place if you want to remove it).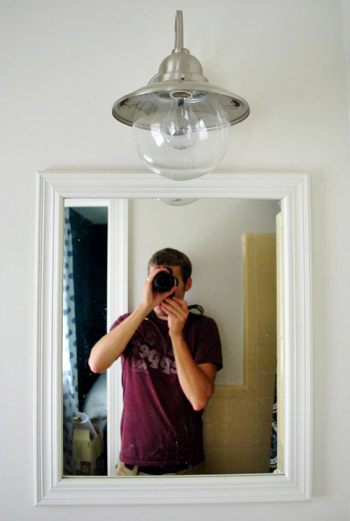 For now, we think we prefer it the cageless way, but who knows how we'll feel down the line as we bring more art/paint/accessories into the room and it really starts to take shape. We're definitely only about 2% done in here. More to come.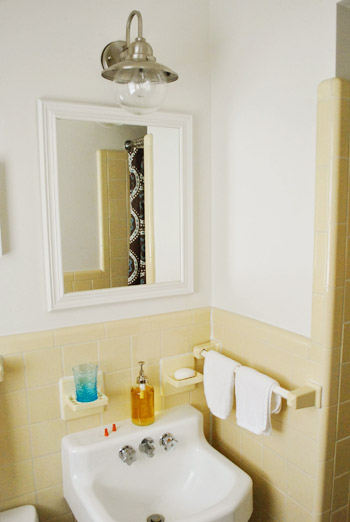 And thus ends the tale of our not-so-quick, quick fix. All in all I think it took us around three hours (driving included) so it wasn't that bad. But we thought it was going to be one of those five minute things. Of course it probably would've been a little faster had I not been taking pictures of myself in the mirror every five seconds. Look, I put a filter on this one. You know, because everything looks more gangster with a filter on it.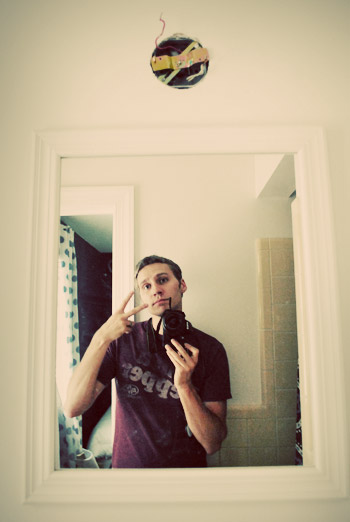 And yes I am wearing my Dr. Pepper shirt. How you like me now?
Have you guys ever had projects that were supposed to be quick turn into a little something more? Don't you hate climbing back into the car to grab something that you never anticipated needing? Does your grandma have a sugar bowl that reminds you of the original shades of the fixture that we replaced?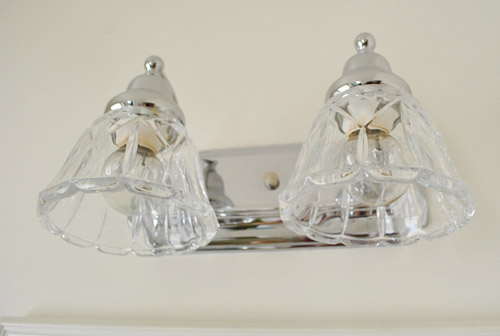 Mine and Sherry's both totally do.