Who doesn't love 1,909 words about searching for a dining room table? Here we go.
We've been on a big round table hunt pretty much ever since we first set foot in our house. See, as soon as we walked into the small-ish formal dining room that fateful night in late fall of 2010 while house-hunting, John said "this room should be the office- and we can add french doors for you." Sold.
Since we have a pretty huge family (there are at least 12 of us when we get together for birthdays and even casual movie nights or spaghetti dinners) we knew that room would never accommodate a table large enough for more than around six people (which is what we had in our last house, and it just wasn't enough). Slowly after lots of floor planning and sketching and arguing passionate discussions we decided it would be awesome to knock a huge 5+ foot opening in the wall between the kitchen and the former living room and turn that room into a casual dining room/library off of a nice defined entryway over by the door. Here's the original house's floor plan (look at the room labeled "Living Room"):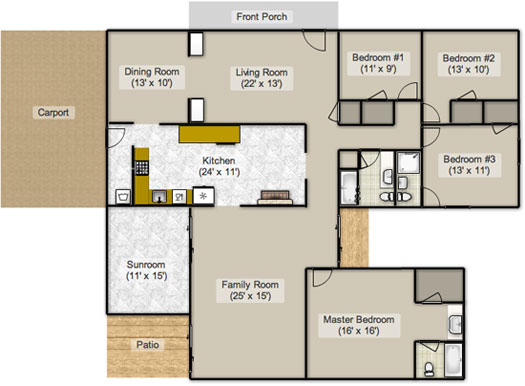 And here's a rough future floor plan for reference (now look at the room labeled "Dining Room"):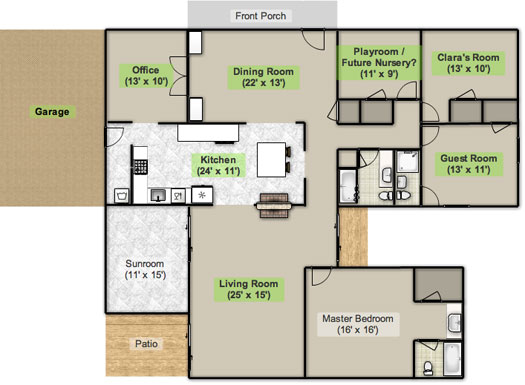 Note: Click here for a lot more floor plan info and the answer to every possible question you may have in the comment section.
Oh and here's a pic of the future dining room as it looks now (just patiently waiting for a table):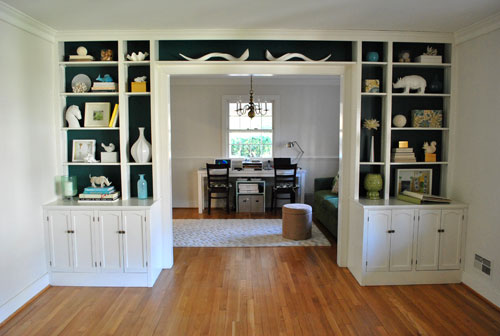 I'm standing in the middle of the room, so here's an older shot before we spruced up the built ins to show more of the space (the wall on the left is where we'll bust through to the kitchen and create a giant 6′ wide doorway):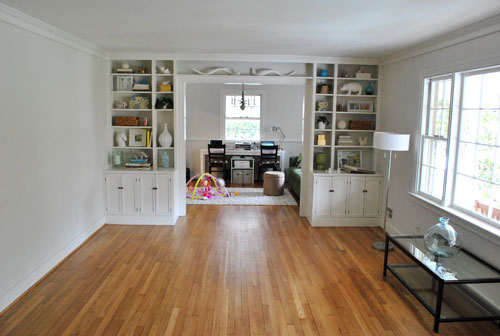 And here's a shot of the other side of the room (where we'll add a nice defined entryway so it won't feel like you're walking into a dining room):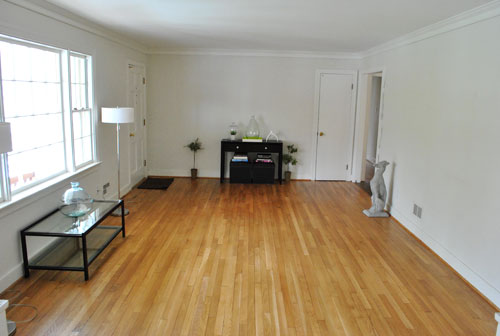 But back to the dining room table hunt. Long story short long, that room is just a lot more accommodating when it comes to a huge table, but to keep it from feeling too formal and wood-riddled I always pictured a nice round table (which just seems softer and somehow a bit more "friendly" than an angular rectangle). I also have a craving for green leather (or faux leather) parsons chairs (like this, but apple green) so it doesn't feel too formal and wood-riddled. You know, to try to keep it casual and inviting with lots of different textures playing against each other (maybe even a slightly rustic table pared with bright clean-lined chairs). The goal would be not only a table for big family meals, but for kid crafts and after school projects (hence the kid-proof chairs that are easily wipeable).
But the challenge with something round is that it usually seats 4 people. Rarely you'll find something that's around 60″ wide, which seats six people. But our goal was seating for eight. Since we'll be adding an island in the adjoined (well, it will be once we make that big opening in the wall) kitchen, which will hopefully seat at least four people, that should do the trick. Feel free to do the math with me. 8 + 4 = 12. Oh happy day. But math solves nothing.
Of course that's a false statement. My dad (the math teacher) will probably want to disown me for it. But I've always had a flair for the dramatic, so now that I have your attention (or at least the attention of my dad) I'll revise my statement. Math is nice, but it doesn't make a round table that seats eight people materialize out of nowhere. That takes a little legwork.
So I let my fingers do the walking and googled my brains out to determine what sized round table I was in the market for (and taped it off on the floor to make sure it would fit). I learned that a 70″ table should easily accommodate eight people (not in giant arm chairs, but it should work with modesly sized parsons chairs). So then I just had to find a 70″ round table. Easy right? Not easy. But that's ok. I like a challenge. Here's what I came up with after lots o' digging around.
This 60″ round table for $998: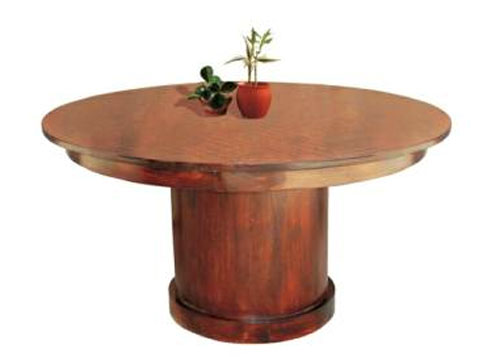 This 70″ one for $1995: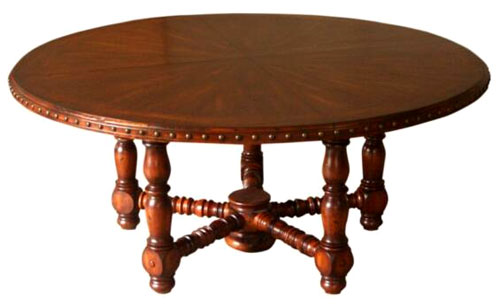 This 48″ round table (which extends to a 72″ oval) from Pottery Barn for $1299: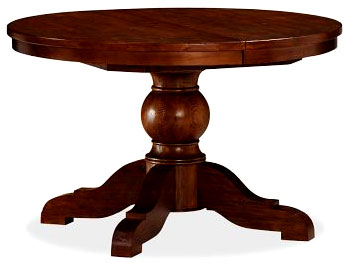 This 60″ pedestal version on sale for $1499: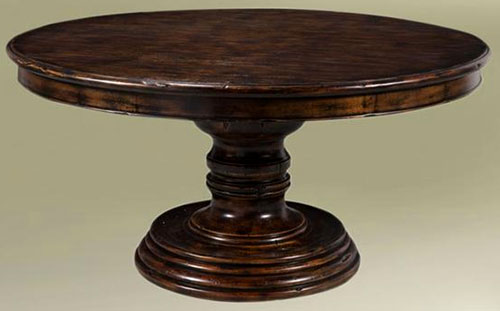 Kind of a bummer, right? Everything was either too small (and still in the $998 – $1499 range) or big enough but in the $1300-2K range. Yikes.
So then we hit up a number of thrift stores and antique shops and even the Habitat for Humanity ReStore. But a 70″ round table is a pretty specific thing. So the closest we got to it was a 50″ laminate table that looked like it hailed from a 50's diner. Not gonna work. We briefly considered DIYing something, but the idea of somehow crafting a round top that large had us both worried that it would be nearly impossible to find one solid 70″ piece of thick-and-not-cheap looking wood to use, so then it would have to be made of planks which just felt sort of cobbled together and not chunky and solid like the table we both envisioned. So sad. Hear the tiny violins playing in the background? Yeah, me too.
Then John's sister recommended that we hit up The Dump. Pardon the slightly totally offputting name. It's actually a discount furniture store here in Richmond that runs commercials all the time about their extremely low prices.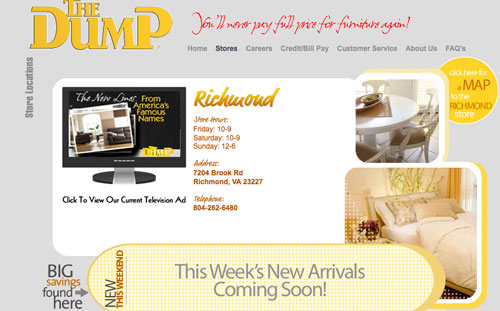 So we gave it a shot. And wouldn't you know it there was a heartstoppingly beautiful rustic yet clean-lined 70″ round table there. And it had a nice non-invasive pedestal base, which was on my "icing on the cake" category. I thought it would be nice to have everyone gathered around it without worrying about table legs that encroach on actual human legs. Not mine because they're not long enough to have those issues (for which I'm forever resentful since my short stature is always the reason I get assigned the back middle seat in a packed car, which can best be described as slightly more comfortable than sitting on a see-saw for an hour or so). But I do think about our guests' comfort. And my tall hubby's. And Clara's someday. Did I mention my baby is in the 90th percentile for height and I couldn't be prouder? Literally couldn't. be. prouder.
Here's where I'd insert a pic of the beautiful table, but I was too busy falling in love to snap pics. Total brain fart. Sorry! It can best be described as a mix between the top table and the bottom table listed above. It's rustic and chunky like the bottom table but the base is a bit more like the top table. Sort of.
But the price was $1800. Wop wop. I petted the table. I snuggled up to the base (yes, picture me kneeling under it and embracing the pedestal and sighing). Then from the depths of my sorrows under the table I heard John's voice from above saying "wait, the $1800 price tag also includes eight chairs." I swear it was like the voice of an angel. I sprung up from my awkward table embrace, hit my head loudly on the lip of the table, quickly declared that I was fine to everyone within a ten foot radius who was staring at me like I was some sort of weirdo, and then shouted "best news ever!" while fist pumping my way to a standing position. Yes, that really happened.
That news just meant that I would have to sweet talk someone into selling me the table without the chairs (because I was already mentally married to green leather or faux leather parsons chairs and spending $1800 just wasn't in the budget for us anyway). So I found a sweet lady and asked how much the table was without the chairs. Sweet lady says "they won't sell it without the chairs." John gets that uncomfortable look that he gets when he'd rather just walk away but knows that I'm about to make it my personal goal to change this lady's mind. I followed up with "What if I buy the floor model? Right now. In cash. Well not cash, because I don't have that on hand. But with a credit card. And we walk away into the night. Will anyone really care if I pay for the table right now and those chairs get snatched up by someone else later?" Compelling argument, right? Sweet lady says "I'll have to ask my boss but he doesn't usually split things up that way."
Long story short, the boss-man agrees to sell us the table for $799 without the chairs after a fair amount of begging/eye-batting (I may have told him that no one will love the table like I will, and as a fellow furniture connoisseur he'd be pleased to know that I vow to give it a great home for years to come). Nope, I didn't mention the blog or promise a post about The Dump in exchange for a good table price (I'm serious about our no special treatment declaration). But my vow to love the table like my own daughter seemed to work. The moment "ok" escaped his lips I seriously had to resist every urge to hug him while jumping up and down (so I ended up doing some sort of weird handshake/Elaine-from-Seinfeld dance) and then whipped out the ol' credit card and bought the table before anyone could change their mind. I probably made a face like this while John was in the corner making a face like this: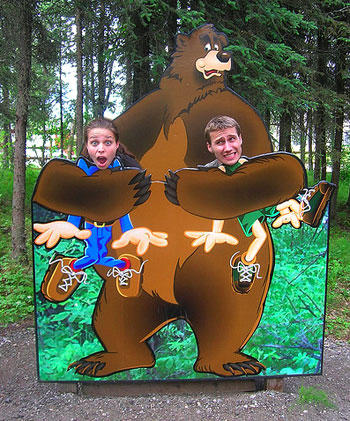 So that's how we snagged an authentic solid wood 70″ round table that will seat at least 8 people and will probably host its fair share of holiday and birthday meals for years and possibly even decades to come. Oh and guess what it's made of. Sheesham. No I didn't sneeze. That's really the name of the wood. According to WikiAnswers, "Sheesham (also known as Indian Rosewood) is a fast-growing hardwood, sourced from sustainable areas. Being a hard wood, it can be used to make functional furniture that copes with the stresses and strains of everyday use." Isn't that nice? Durable is absolutely 100% the goal when it comes to our house in general (we want this place to really get used and loved and filled with family and friends while we unwind and enjoy their company instead of worrying about nicks and scratches.
Oh and speaking of standing-up-to-all-sorts-of-abuse, the top of the table is actually really cool. It's not jagged, but it's not 100% smooth either. It's sort of wavy and hand-carved so if Clara's one year old cousin comes over and smashes his firetruck onto the surface, a nick would be pretty well hidden among all of the natural peaks and valleys of the tabletop. It's not too bumpy to rest a glass on or anything, just sort of subtly rippled and irregular. And I love it. Growing up we had one of those super glossy lacquered tabletops that was so pristine that you could see every little hairline scratch in it, so this baby strikes me as the polar opposite in a really really good way.
So that's 1,909 words about a table that we can't wait to welcome into our home. Pics to come when Woody arrives within a week or so!