This post is actually about three bathroom updates, the first of which concerns this baby – the window. Aka the anti-privacy device located conveniently above the place that we do our most private business.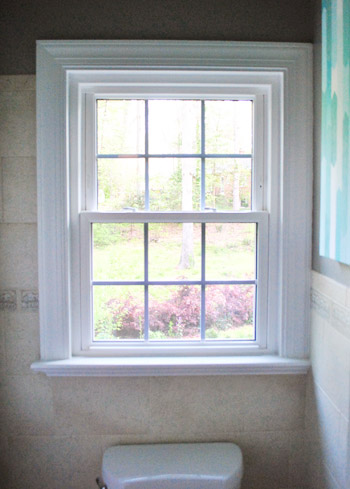 It's kinda ridiculous that we haven't done anything to it sooner, considering the window is nearly a straight shot view to the neighbor's house. It's not like we live right on top of each other – heck, we're not even sure they can see much from this distance (we can't see anything in their tiny far-away windows) but it's still just a little odd to see this whenever we step out of the shower or whenever I'm standing up doing my man business.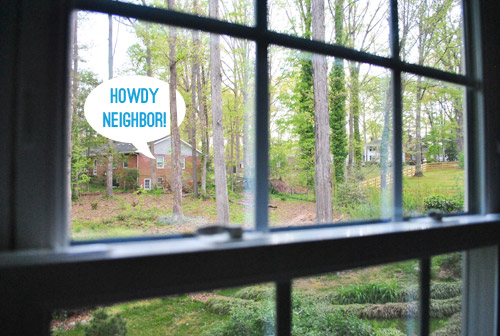 So to get some privacy coverage while maintaining maximum light in the room, we decided to frost it using our tried-and-true frosting film technique (we've had luck with this stuff from Home Depot). In this instance this was a $0 project for us because we already had all of the supplies on hand (we had some leftover frosting film, but normally it's about $19 for a giant tube that can do a bunch of windows and even large glass doors). Oh and it bears mentioning that this window has mullions update: just learned they're actually muntins (those white criss-cross things) that are encased between the glass, so they don't stick out. So although it looks like we would have to cut 12 rectangles of frosting film, we just needed two since these are sneaky interior ones.
You can see the whole process on video below (or here on YouTube), but it's actually of a different window in another bathroom. So just continue below the video for the photographic tutorial for this space.
You've seen us frost the side door in our current house this way and we gave a more thorough tutorial when doing the basement windows of our old house. So rather than rehash the step-by-step descriptions again, I figured we'd mix things up and take you through the process with pictures and captions only. Here goes nothing…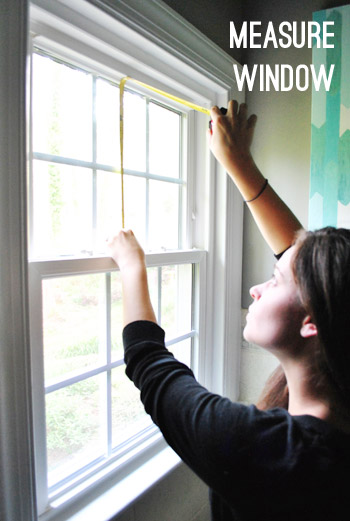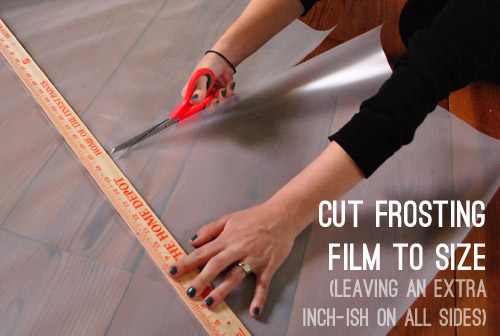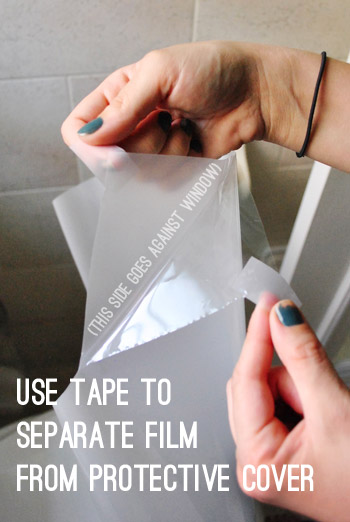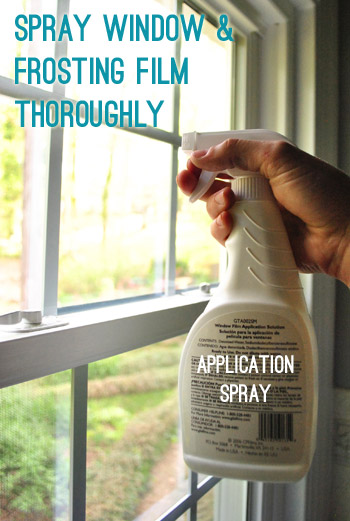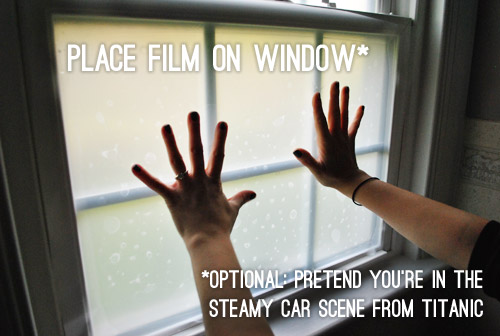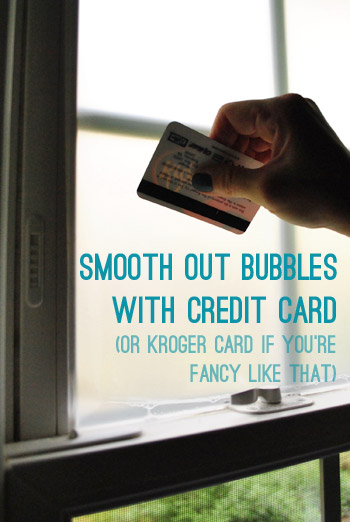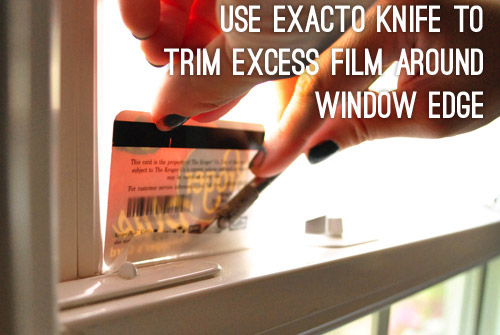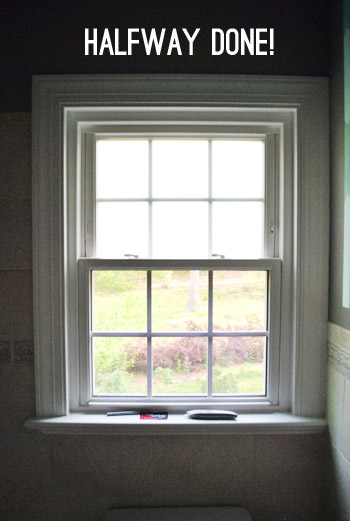 And now for the big finish…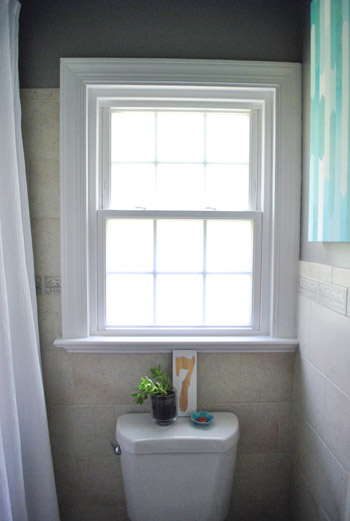 Feel free to click over to this post and this post for more detailed how-to-use-frosting-film instructions. Oh and I realize it's a bit hard to tell in these pictures (since the window kinda gets blown out anyways), so here's our best attempt at showing the difference via photos: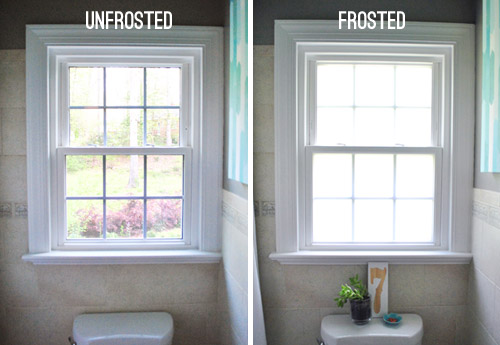 You probably won't notice it in photos going forward, but just know that every time you look at pictures like the one below – it means we're no longer putting on a show for the neighbors. Hooray for leftover frosting film and a zero dolla project.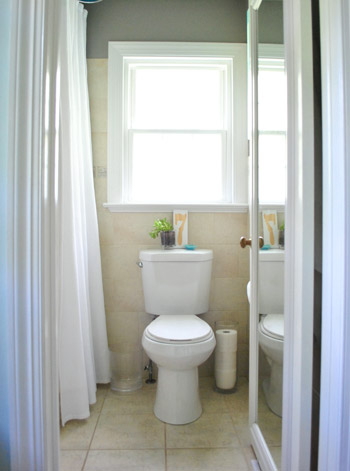 Oh and you've probably noticed some additions to the top of the toilet tank. You can thank Sherry for that.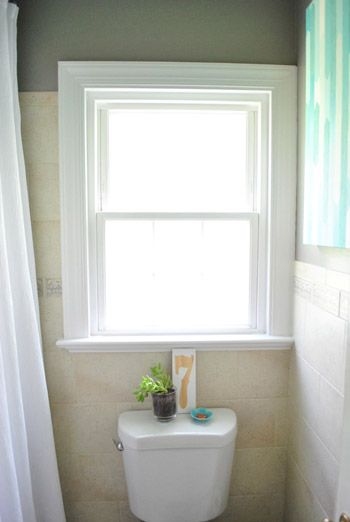 She brought in one of the potted succulents she made here and we DIYed that 7 art a while back (here).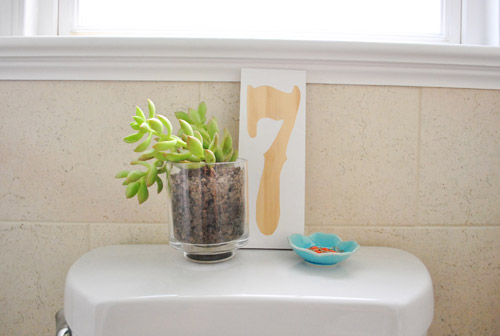 She also threw down a little dish to catch the earrings she often forgets are still on until just seconds before hopping into the shower (she used to rest them on the toilet or the windowsill but worried they'd get lost). Now they have a spot to hold them hostage. You know her and drop-spots. They make her all smiley.
You've probably figured out by now what the "frosting" and "tanking" parts of this post title refer to. Any guesses about the sucking? Keep it clean, folks.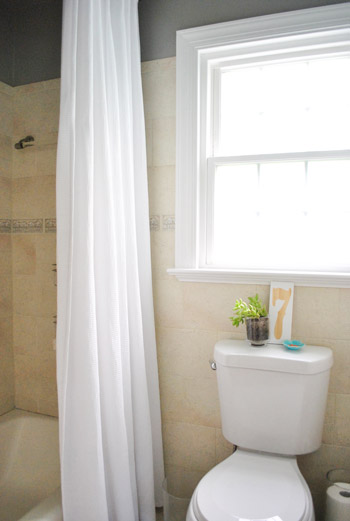 Let's look behind curtain #1 for the answer.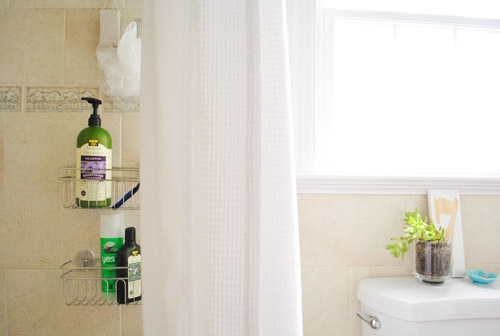 It's our new suction-cup-tacular shower storage. We opted to ditch our over-the-showerhead caddy because it was practically visible from the bedroom door. Yup, it was quite the eyesore. So we wanted to do something more subtle on this other side that would mostly be hidden by the curtain from nearly all angles of the room (we keep the curtain about one third of the way closed when we're not actually showering… or two-thirds of the way open if you're an optimist). So this stuff can all hide behind that panel of fabric, out of view (unless you're standing in the shower looking at it straight on, like the picture above and below.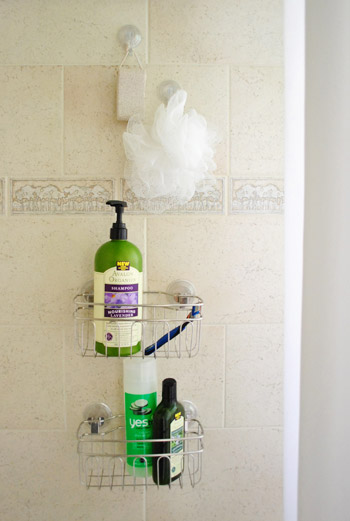 We've had mixed luck with suction cup storage before, but these guys from Bed Bath & Beyond had some sort of extra-strength locking system that gave us the confidence to give it a go. They have a hard outer-cup around the suction cup inside and you have to sort of swivel them to install them to supposedly lock them in place. So far, so good. Even with two steamy showers under our belts (they also stood the overnight test, which means we didn't awake to the sound of crashing down in the bathroom).
We got two hooks…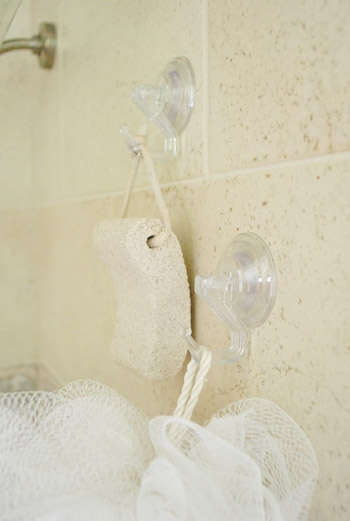 …and two baskets (which also had the locking suction cups) for a grand total of $22 after handing over four coupons. Gotta love that BB&B lets you use one for each item that you're buying and they never expire.
I know it's weird to be excited about hidden shampoo and razor storage, but for a tiny room that we're in at least five times a day, it really does make a pretty decent difference. The room feels less cluttered and college-shower-y.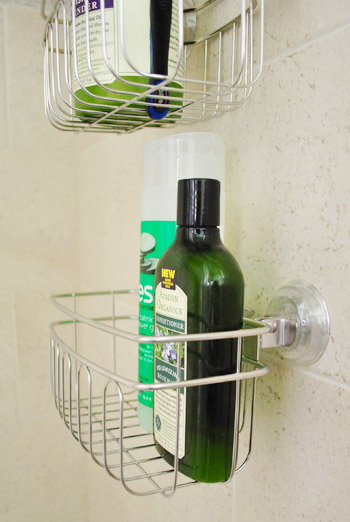 Oh and a reader mentioned they had hanging baskets that were hung over their faucet that fell off the wall and turned on the water and covered the drain so their house flooded (so sad!) – so for safety reasons it's best not to hang these over the faucet. We like the other side of the shower for them since they're behind the curtain and you don't get sprayed in the face when you're grabbing stuff out of them.
So there ya have it: a frosted window, a spruced up toilet tank and some hidden storage sucking it up on the shower wall. All for twenty two beans.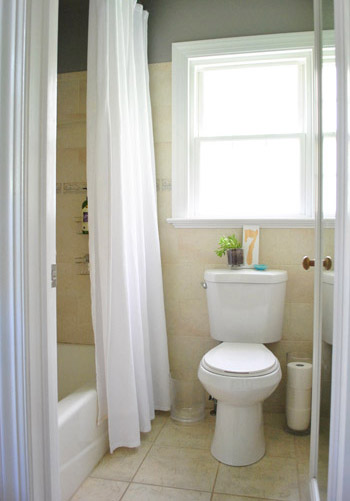 Here's our updated to-do list:
paint the walls so they have some contrast
replace the boob light
paint the cream trim white
hang some bathroom-friendly art
craigslist the toilet and replace it with a classic white one
do something to add privacy to the window
nix the ugly and cluttered showerhead caddy
remove the door so we can shave the bottom to allow for a rug/bathmat (and add a door stopper so it doesn't squash the art)
replace the border tile around the room (maybe in phase 2?)
move the blue pendant light to hang centered in front of the window
replace the floor tile down the road (just to break things up since there's so much of it)
Anyone else have a favorite privacy method for the window in their bathroom? Or a go-to item for the top of the toilet tank? Or a perfect solution for storing all of their shower necessities?
Psst- To follow this bathroom sprucing project from the start, check out this planning post, this painting post, this light-swapping post, this art and trim-painting post, and this toilet-updating post.