The deed is done. Everyone on Team Paint The Mirror White (not to be confused with Team Edward, which I'm totally a member of) can rejoice. Our mirror above the sink went from this: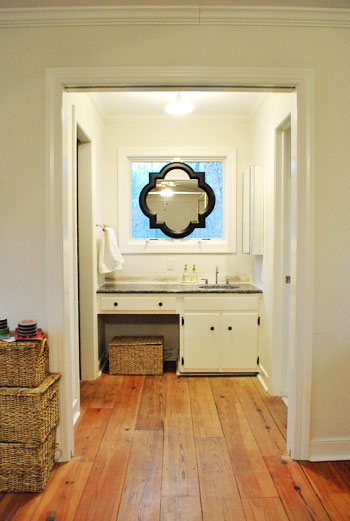 To this: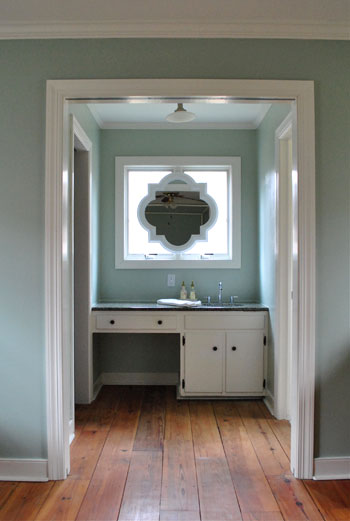 And I guess we should show how it originally looked when we moved in for the full before: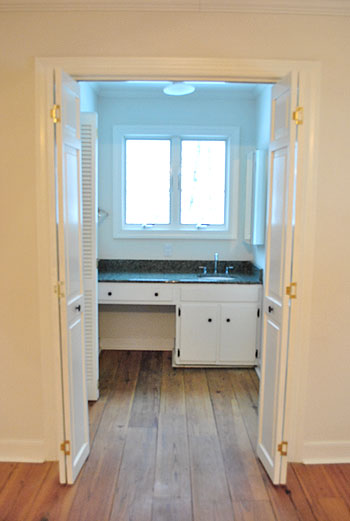 But back to the white paint choice. After much thought (and a decent amount of flip-flopping) we decided to go with our first instinct and paint the mirror white to match the trim. It definitely looks integrated and a bit less heavy, so the nook is now a little less look-at-me-right-now distinct (which is a good thing since we're trying to make it blend in as opposed to stand out). Now it looks as if it's always been there, and it's not too high contrast to draw all attention to the sink nook.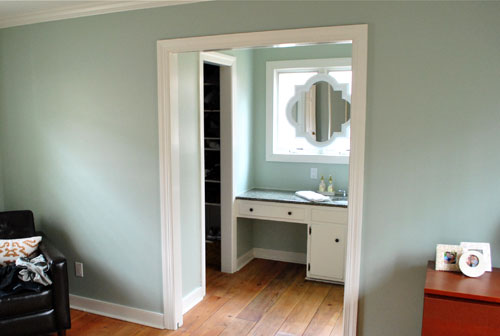 So my apologies to all other teams (like: Leave It Black, Paint It Gray, Paint It Teal, Paint It Yellow, Paint It Gold, Paint The Molding Black, and Paint The Vanity Black). We definitely considered all possibilities and there's certainly more than one way to skin this cat (gross expression, sorry). All of those options probably would have worked, but in the end it just had to come down to good old fashioned personal preference. And you know we love us some white…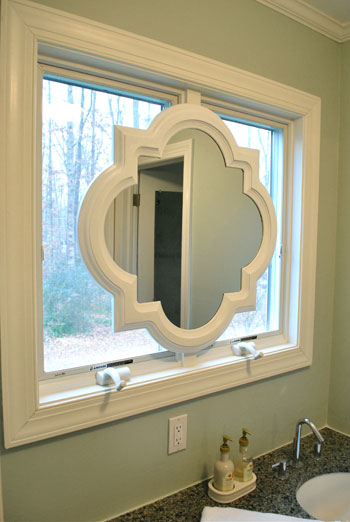 Speaking of white, here's how we got the look: Behr's Premium Plus Paint (the can of paint with primer & paint in one) in off-the-shelf white in a semi-gloss finish. I just brushed on four thin and even coats with a paint brush. I did this instead of spray priming and spray painting it (which we'd usually recommend, and would also work swimmingly) because the Behr primer/paint stuff is low-VOC and spray paint isn't. Thankfully it worked like a charm. Oh and I used a straight razor to scrape the paint off the surface of the mirror for a nice clean result.
And for those who like contrast, don't blow a gasket. Here's what it looks like at night: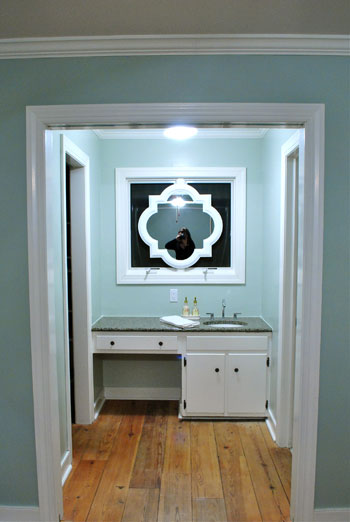 We actually LOVE that going with white was the bold choice at night since we spend a lot of not-day time in the bedroom, and the white frame totally pops out from that black background out the window for awesome at-night drama that we can enjoy before heading off to sleep. Back when it was black it practically disappeared at night.
And look, here I am: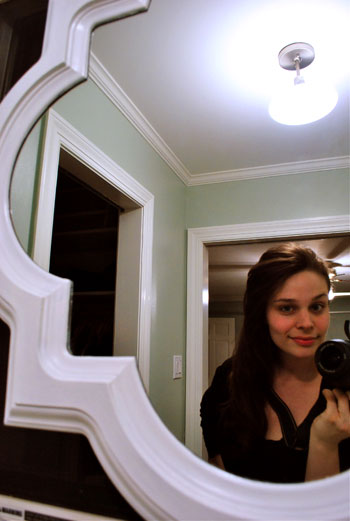 Stop the presses. My hair is down. Can you believe it? I know. Shocking stuff. After many many requests, there you have it. It's like a ponytail but different. For actual video footage of me with my hair down (and a whole bunch of it's-Friday giddiness) check out this Texas road trip video of yore. That trip was thebomb.com. For reals.
Oh and although there are a ton of Team Frost The Windows peeps out there, we're leaving them bare for now. Just because we like looking out 'em when we're tooth brushing in the morning. Sometimes we spot a robin or two at the bird feeder. Shucks, that's quaint. So even though they look frosted in a few of the photos, they're not.
And for those wondering what things look like from the neighbor's perspective (it's a side window), since we live on almost an acre of land, we're pretty far apart apart. But here's what it looks like during the day from about a fifth of the distance between our houses: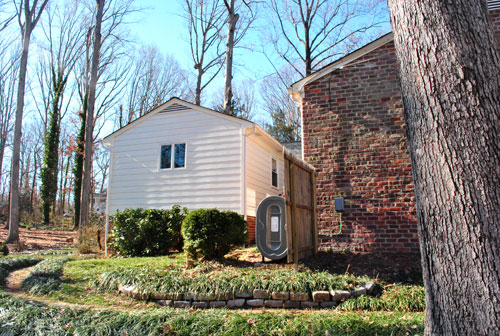 Yup, it's invisible (most exterior windows are reflective during the day, and ours is no exception). We even took the shot above with the bathroom light on to hopefully highlight the silhouette but all you see are the sky and some tree branches reflecting on the window panes during the day.
And here's what it looks like at night: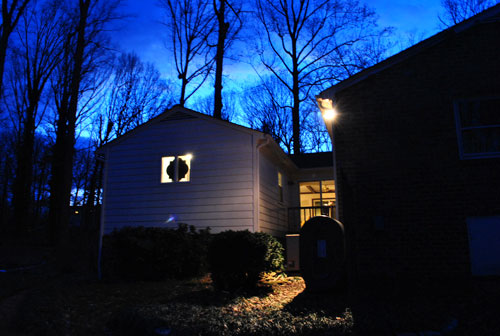 So not bad right? I mean, we have 99 curb appeals problems, but the mirror ain't one. Yes, that's a reference to 99 Problems by Jay Z. Because I'm gangsta like that.
Psst- Why Team Edward and not Jacob? Even though I'm from Jersey, tan juice-head body-builders have never been my type. As demonstrated by my tall, angular, and sometimes pale hubby. Does it make me insane to admit that the whole time I read Twilight, I actually pictured John as Edward? Remember this was before the world had been introduced to Robert Pattinson.
Psssssst- To everyone worried about if I could reach the buttons on the dryer, we updated that post with a pic of me in action. Go Team Five Foot Two Inches!