Back on this hosta post I left a not-so-subtle indication that we were planting some fresh grass 'round these parts.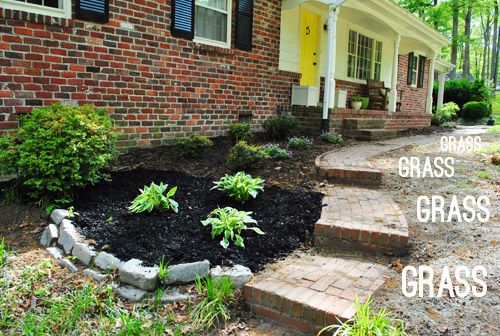 Though as pretty as superimposed text looks in that area (not), we've been working on getting the real thing for a while now and it's finally (mostly) photo-ready. But let's head back to the beginning, which is actually one step before the photo above… when it still looked like this: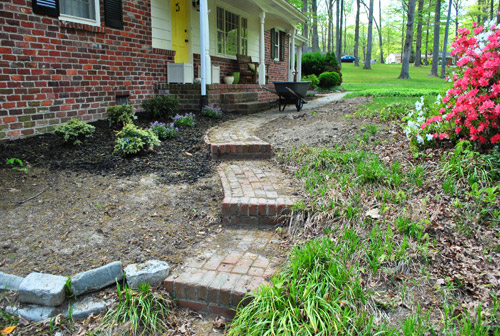 Yep, we still had some weird liriope lingering to the right of the brick path, so we dug that up (to the point where it was even with the stone border on the other side) and called this area ready for grass seed.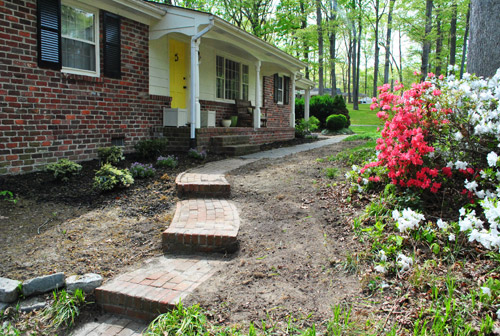 Here's the strip from the other side of the house. If you recall, this is where we used to have a line of boxwoods making the pathway look very, um, boxed in.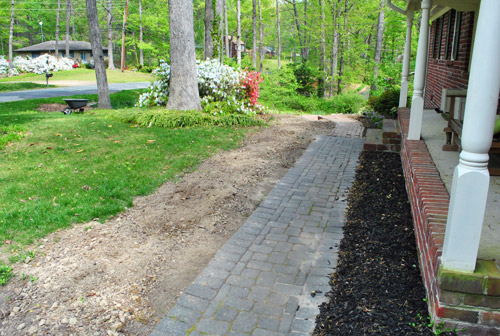 The area near our front porch wasn't the only spot in need of grass seed. We also had a stripe of dirt (and ivy) where our "bush fence" once resided at the front of the property.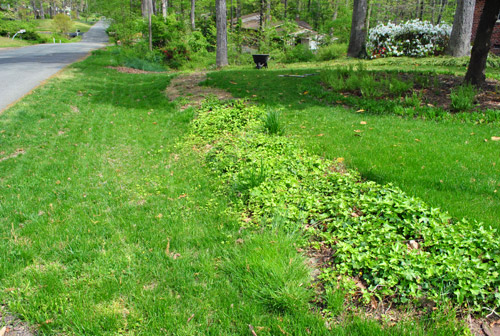 So once we ripped out all of the ivy, this area was also ready for some serious seedification.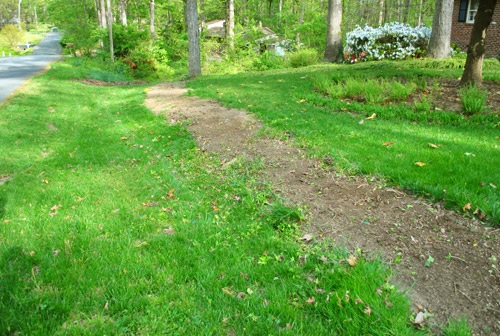 Because this is not a good look. And we've been living with it like this since last fall. And we're pretty tired of being "the house with the dirt path to nowhere."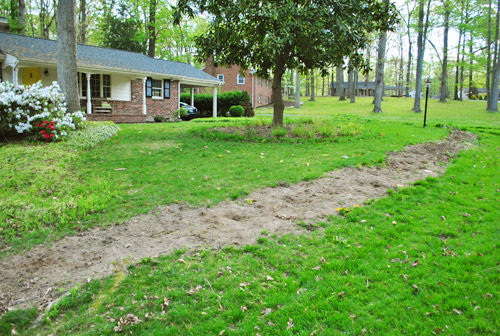 As for actually spreading the seed, we didn't use our usual routine of starter fertilizer followed by grass seed in a broadcast spreader (detailed here). Since we were getting towards the end of the grass growing season (once it gets really hot the seed can burn before it begins to grow) impatience got the best of us and we bought this "seeding mixture" that has fertilizer and seed in one. I think it was about $20 per bag (sorry, lost my receipt to double-check).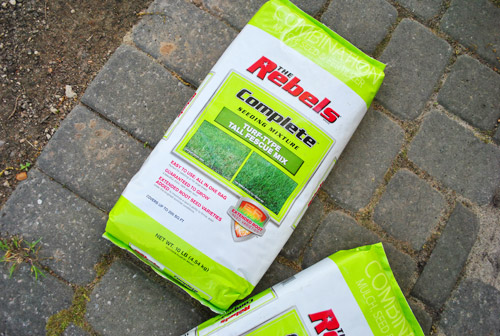 I worried my broadcast spreader would waste a lot of seed by tossing it way beyond the bare strips. So instead I just tossed it by hand – kinda using the motion I imagine one might use to feed a bunch of chickens. Not that I've ever done that, so maybe I'm way off.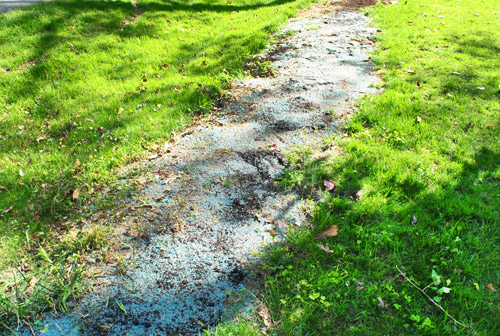 Once it was all spread, I got my water on. Again, since it was such a small area I skipped our usual sprinkler routine and broke out the hose. So picture me out there once a day (usually in the evening or the early morning, so the sun wouldn't just burn it off) soaking both areas.
Now, to force a little bit of delayed gratification in this story (since it there was about two weeks of daily watering that delayed any real life gratification) I'm gonna switch gears momentarily. Let's talk about these random ferns that pop up under our magnolia tree.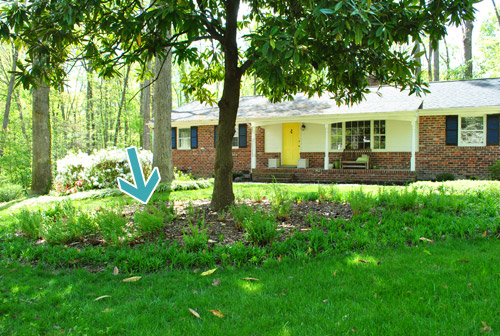 We both like ferns. Just not in this spot. It just looks messy to us and we have other plans for under this tree someday. So we dug them up.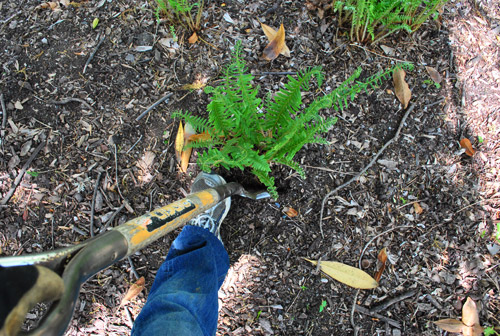 They were actually a bit of a pain to get up – and there were lots of them too. I filled two whole wheelbarrows full of them (which I hauled to our naturalized side yard, where I'd be happy for them to take root). I also like how this photo unintentionally looks like our West Elm ceramic speaker-pig is trying to escape up the tree to avoid the wheelbarrow. #PigProblems.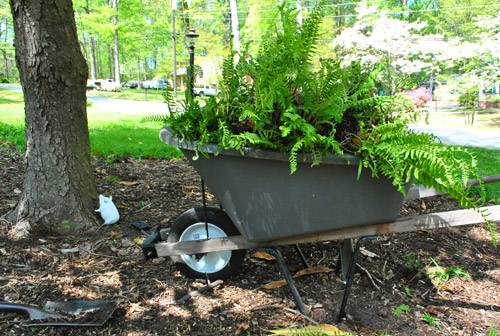 Now it's a big empty round of dirt – but at least it doesn't have those gangly ferns creeping all over the place anymore. And someday we'd love to plant some green low-lying groundcover for a more seamless look (that screams big-ring-of-dirt-under-a-tree-where-grass-won't-grow a little less). Someday.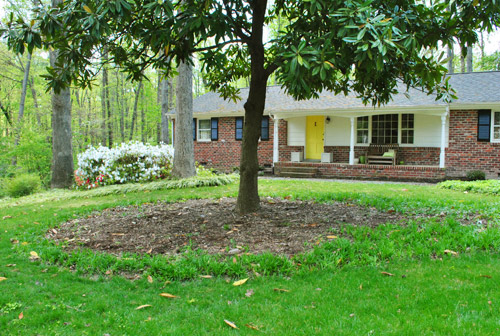 Okay, now back to grass mode. It took about 10 days for any hint of grass to start showing up. A bit longer than our past experiences (which were usually seven on the dot), but we chalked it up to being late in the season when it was a bit warmer out.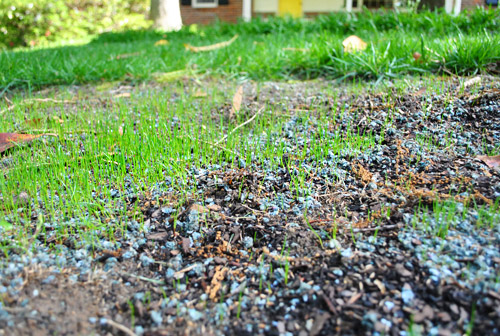 Here's a farther-away shot of the area just starting to get a subtle green tint to it around ten days in.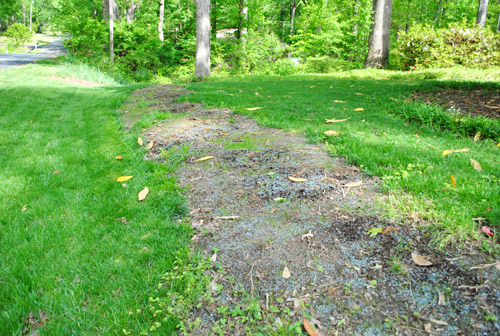 Fast forward another week or two and things are finally filling in pretty nicely: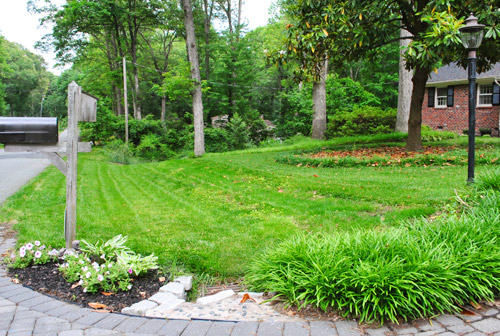 You can still see the distinction between the fresh grass and the mature grass, but once the new stuff starts to grow out of its neon green newness it should be less obvious.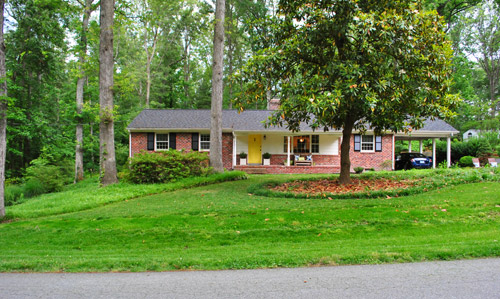 We can't tell you how much this excites us just to see a carpet of grass here, totally unobstructed by bushes, ivy, or dirt. Kinda wish it hadn't taken 18 months of living here for this to finally get done!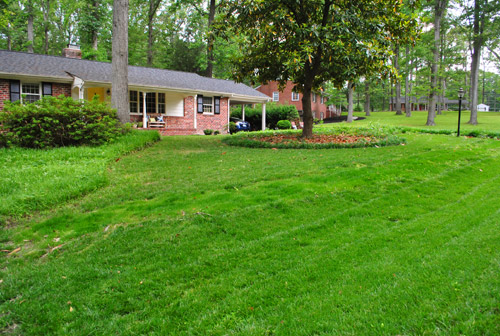 It's also much easier to mow now that I don't have to weave around a bunch of bushes (these pics were taken right after mowing, which is why you can see some fresh wheel lines in some of the shots).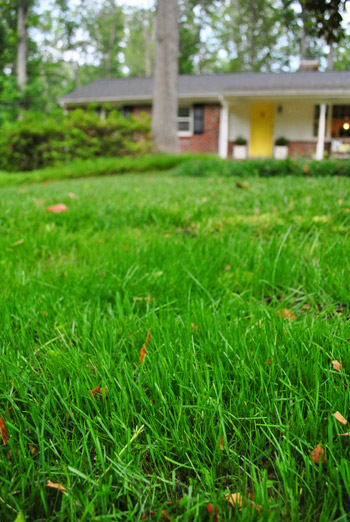 The stripe closer to the house is having a bit of a rougher go at filling in. The area by the street is lower, so water runoff seems to go there – which makes all of the grass down there a little lusher. We might end up overseeding this path area another time this fall, just to help it fill in more evenly.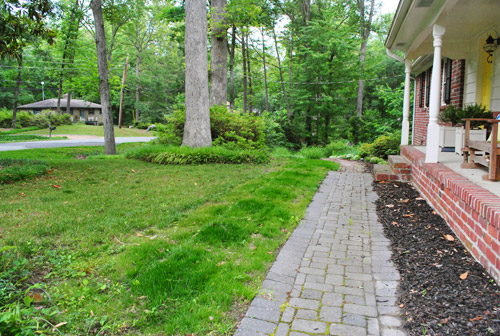 Here it is from the other side. Again, not perfect…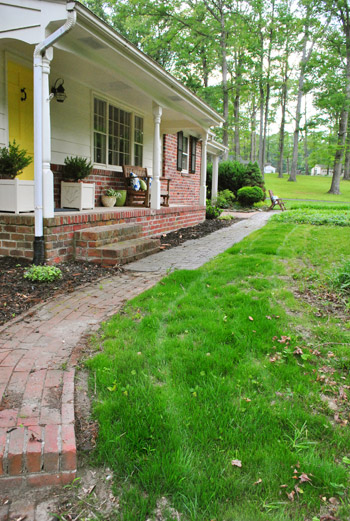 …but definitely an improvement!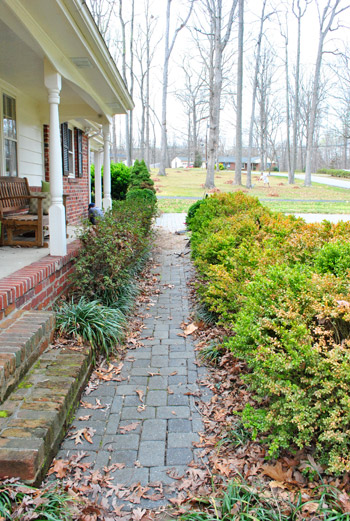 And while we're looking at old before photos, let's take a peek at how the view from the front has improved. Here's a before shot taken about a week after we bought this house (even before Sherry trimmed up the magnolia).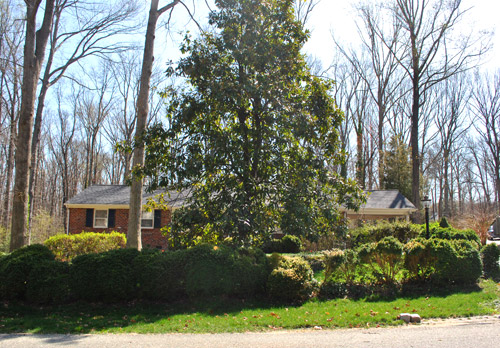 And here we are today.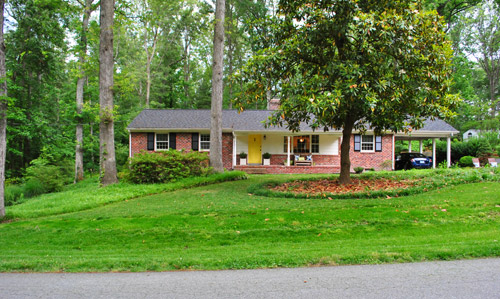 It's pretty grass-tastic if you ask me. And thankfully since it's only a three-foot strip of grass out front and next to the path that we added in place of all those bushes, it only takes a few more runs of the mower to get 'er done (five more mowing minutes are definitely worth the curb appeal that we gained).
Has anyone else played the grass seed game yet this year? Or have you had any past triumphs (or trials) with planting grass around your home? Are you slowly inching along with outdoor improvements? It used to make us so sad that outside things seem to take forever, but we learned with our first house that a lot of little updates over a few years can definitely make for some dramatic results. So keep the faith. And make sure your ceramic pig isn't trying to run off…