About a month ago we were walking around the park and Clara pointed to a dogwood tree and said "wow, that's a big big tree in a big big world." John and I cracked up. So now when I think of Clara's playroom/big girl room, I also think of the big big tree and the big big world of ours. Hilarious. Anyway, back to the room that we have affectionately (and ironically) called the playroom. Remember that it looked like this when we moved in?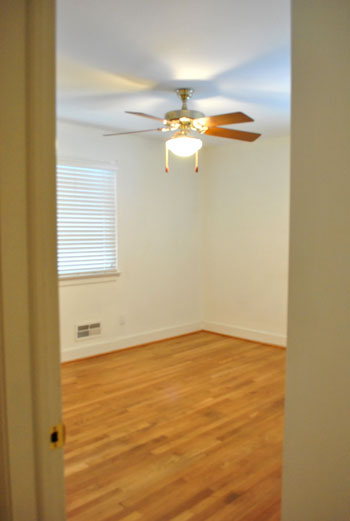 And then it got all cluttered up with junk and looked like this?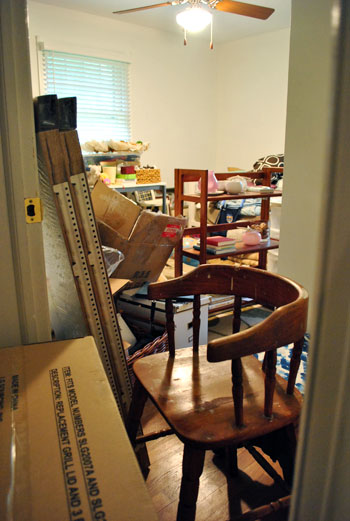 And then we organized it with the help of my mom and it looked like this?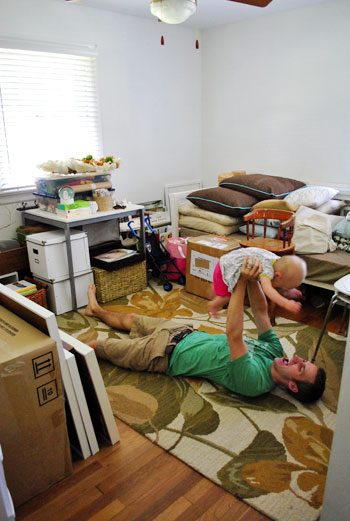 And then in a Groundhog-Day-esque turn of events a year later it looked like this again (thanks to months of book insanity)?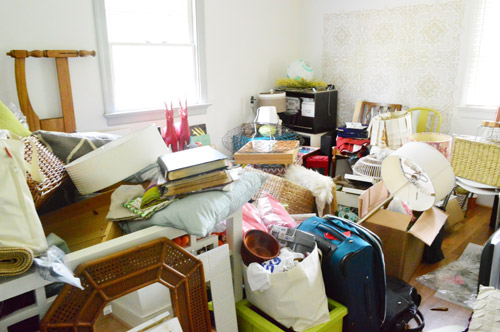 So we cleaned it one last time and had a big yard sale and auctioned a bunch of book projects off for charity and finally we were left with this: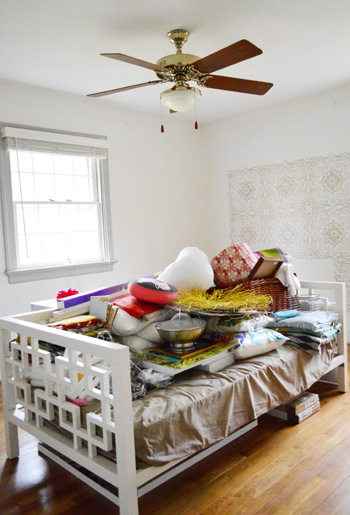 I may or may not have done a victory dance around the daybed that included some very painful-to-watch moonwalking. Gaining any actual use of this room will be ten times better than the junked up storage room that it has been for the past three Christmases (how are we on year three of living here without reclaiming this room sooner?!). So as we've mentioned a few times, it will serve as a nice little playroom for Clara and eventually will be her big girl room once she graduates from sleeping in her crib.
Why switch rooms? Well, the nursery is so small that adding a daybed basically sucks up all the floor space, so moving her into the larger spare room and keeping the nursery for a possible future kiddo makes the most sense for us). Of course we can always update the nursery for a boy bean if one should come our way someday (heck, kids rooms are our favorite things, so we'd jump at the chance). In fact here's an old mood board we did a while back to show how Clara's room could be adapted for a little dude: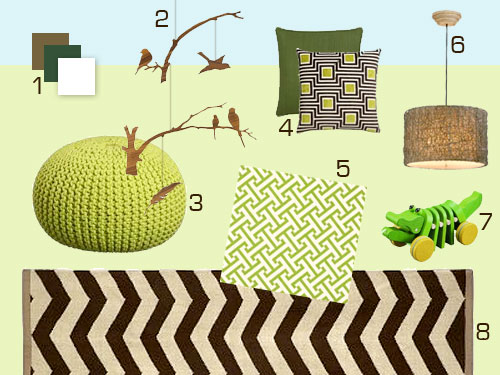 Once all the extra stuff was cleared out and remaining items were pushed to the center of the room, it was time to paint (we had used the room as a secret-book-project backdrop so it was a hot mess). We'd repainted sections of the walls around ten times in there to create different colored backdrops for shooting – and had even painted the trim around one window a moody gray color and stenciled a good portion of another wall. Nothing was safe from the madness of book shots.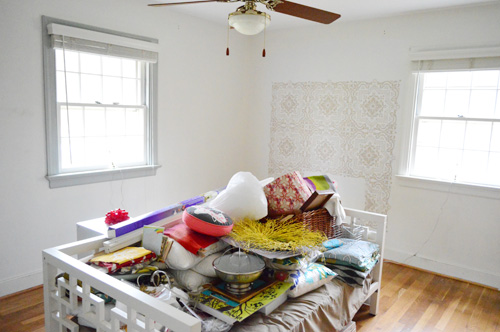 Here are a few other oddly-painted angles: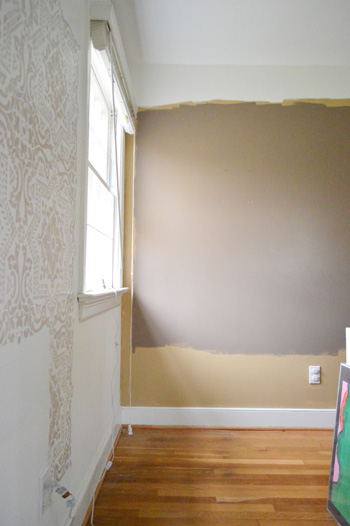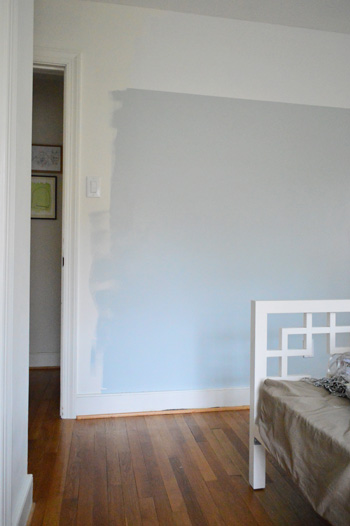 So yes, paint was definitely necessary. First I painted the book-project-window-shade from gray back to glossy white: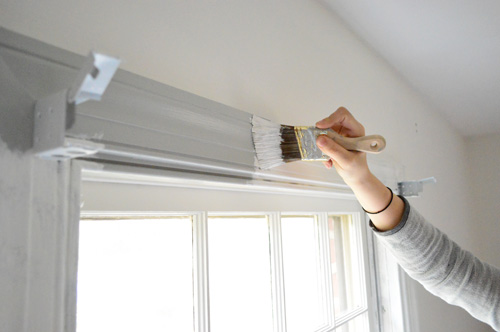 Before we pick a wall color we like to think about the other things that'll be going on in the room. So we thought about that for a hot second or two. We actually wanted Clara to have some input, so we asked her what colors she wanted to see in her big girl room. Not surprisingly, she said "pink and red!" (her faves used to be pink and orange, but she moved to pink and red about a month ago).
It'll be nice to have another room in the house with warmer touches in those red and pink tones (you know we love us some green & blue, so that's prevalent in a lot of other areas). It was even cool with John since, in his words "as long as we're not going hot pink all over the living room, I'm down with Clara getting to pick the colors that we use in her big girl room." Mah man. He can build a deck and he's cool with pink.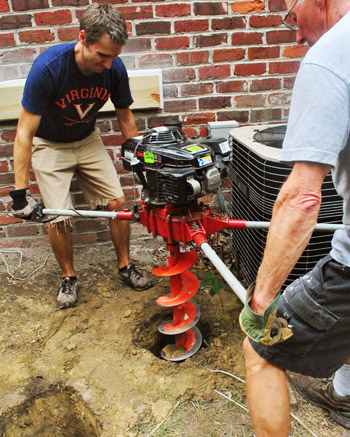 So just to give you an idea where we're thinking of bringing in those pinks and reds (along with other hits of colors/textures that make a room feel layered and not-too-matchy-matchy) here's a quick picture of some items we've been saving for Clara's big girl room in a little floor-pile together. Floor-piles are the new mood board. Just kidding.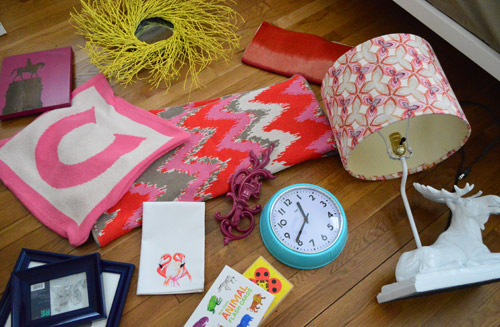 We don't want the room to be red/pink overkill, so using tones like white and navy – along with hits of other colors like yellow and teal – to break things up is definitely on the agenda. And since we wanted the items in the photo above to stand out (instead of being the same color as the walls) we opted for a soft and pretty neutral that we know will be just as workable with any other accent colors down the line. Let's face it, kids can change their favorite colors on a dime, so we don't want our walls to be forever dependent on a red & pink scheme, ya know?
And this time instead of going with a gray-ish neutral (which we've done in a few other rooms) we dipped back into the warmer neutral palette and went for a super soft tan tone. Sort of like tea when you put in too much milk. Mmmm. It definitely still works within our whole house palette, but it's a slightly warmer than some of the other grays.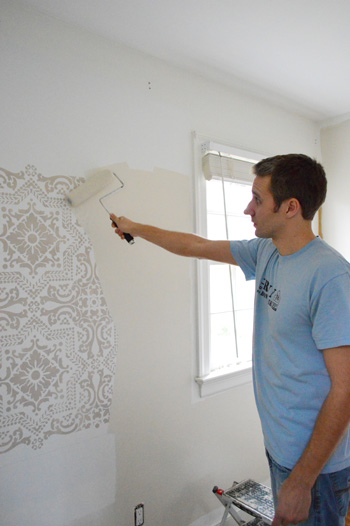 We were between two extremely similar colors, so naturally, we picked the one with the better name. Totally reasonable tie-breaker move, right? The winner: Alaskan Skies by Benjamin Moore (we bought a gallon of their no-VOC Natura paint in an eggshell finish). The reason it won: we honeymooned in Alaska and took approximately 650,367 photos of the sky while we were there. The sweet little coincidence is that the paint in Clara's nursery is Proposal (also by BM), so I guess we're subconsciously drawn towards wedding/honeymoon related names.
Since I'm the cutter-inner and John's the roller in this relationship (those sound like weird euphemisms) I was totally jealous about John's big erase-the-past roller moves. Meanwhile I'm sitting on the floor painting above the baseboards. Look at me go! Just kidding. And now for a montage of John rolling over all of the randomly painted portions of the room (I wish it was a montage, it's just this picture and the one above).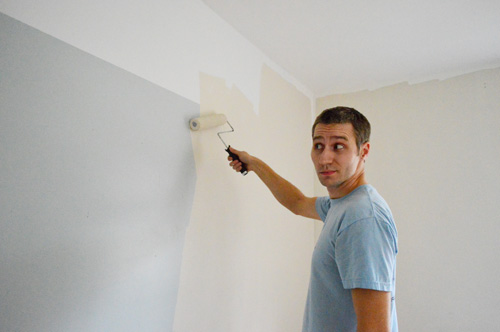 Not gonna lie, it felt pretty good to watch him go over all of those random colors and stencils on the walls and finally move towards a room that's all one color again. Meanwhile I was inching my way around the room cutting in around the windows, doors and the ceiling. Speaking of which, we didn't paint the ceiling (just left it white) but we're debating adding some soft tone up there someday down the line after the room comes together more. Stay tuned…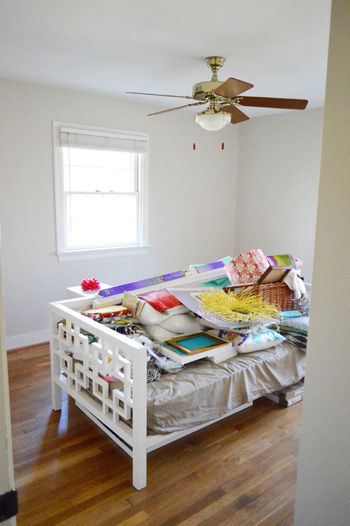 I think we're in love with the wall color though. Not too pink, gray, or tan. And not too white, so the window trim, molding (and future crown molding that we'd love to install) pop nicely against it. Just like extra milky tea against a clean white mug. Yum.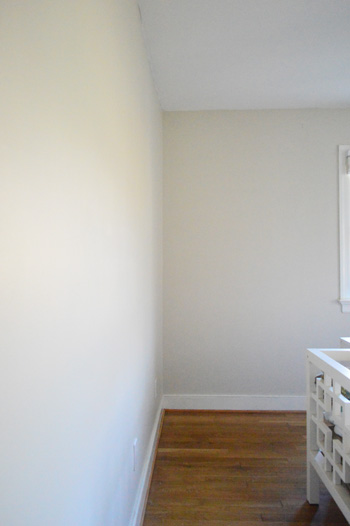 So we're currently waiting for the paint to dry so we can move all of the furniture back into semi-normal spots.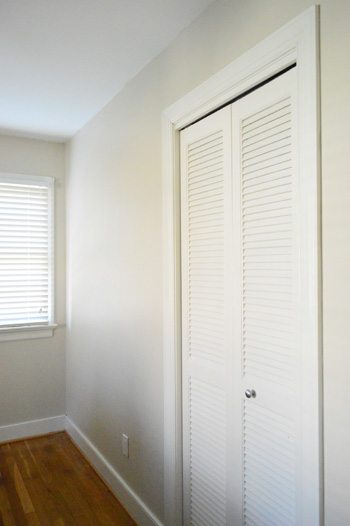 Then we'll share more photos along with planning/details/projects as we go! Back in 2010 Clara's first nursery evolved over the course of about 20 posts and two or three months. Can't wait to watch this bare little room take shape…
So that's what we've been up to. What did you guys do this weekend?