It was January when we painted three test swatches of gray on our dining room walls.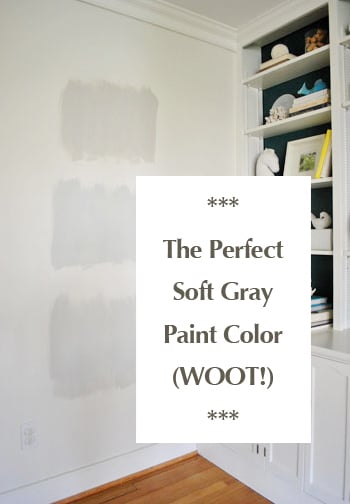 It took us just days to pick the color but apparently took us, yeah, um, FOUR MONTHS to finally paint the room.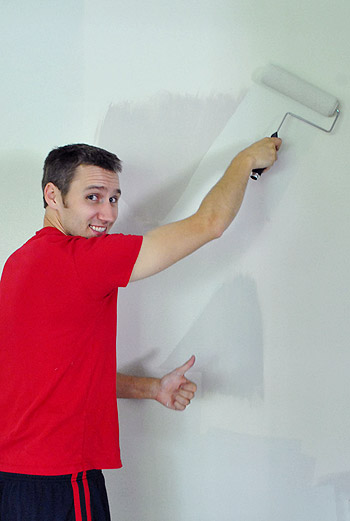 I'm not sure what's more embarrassing – our painting laziness or my rockin' farmer's tan. Anyway, I searched my brain for some sort of an excuse for the dining room paint delay. Maybe we were too tired at the end of the day in January that we spent painting the living room and hallway the same color? Or we were too distracted by completing the guest room for Sherry's mom's February visit? Or we were too consumed with patio and party prep to take it on before Clara's birthday? Maybe. Or we just like to bounce around randomly and come back to projects after months of dormancy. Probably that. Either way, something got into us, and the room (finally) went from this: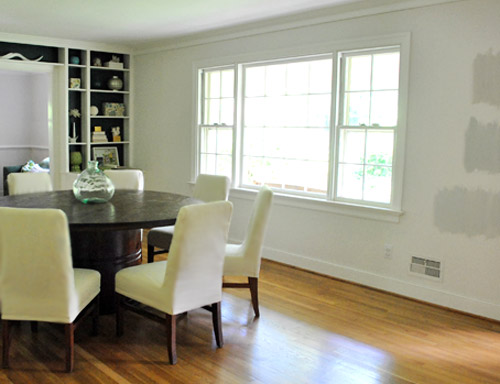 To this: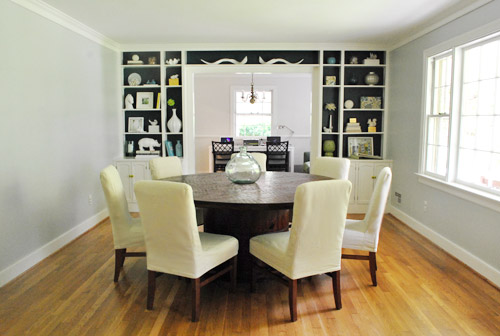 I know, I know. It's not a huuuuge difference. Heck it might not look different at all online. But the soft gray definitely feels a lot more polished. And ding dong, the witch swatches are dead! The color is the same gray that we used in the living room and the hallway (Benjamin Moore's Moonshine which we color matched to Olympic Premium No-VOC paint) so we already had the paint on hand (we got three gallons of it a while back in anticipation). It's just such a good soft gray color. Seriously, it's perfect in all the rooms we have used it (even though they have different lighting situations going on).
You may recall that we wanted to paint these rooms all the same color to connect and unify the spaces (and then the kitchen, which is in the middle of all of them, will have a bit more color on the walls for interest). Maybe looking at the unpainted and then painted room shots side by side will demonstrate how even a subtle coat of paint can help things like crown molding and trim have a bit more emphasis. The room definitely reads a lot more crisp now that it's painted: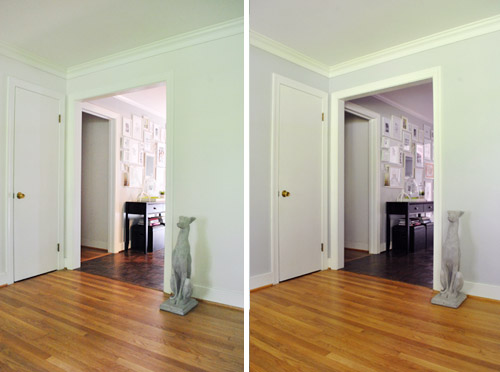 It still amazes us how much a coat of paint can do to make a room look finished – or, in our mostly furniture-less version, at least make it look a little less forgotten. Especially when it's covering up test swatches that have been there so long that we didn't even notice them anymore until friends would say "which color did you pick?" and we'd say "oh yeah… those" (it was the bottom one, btw).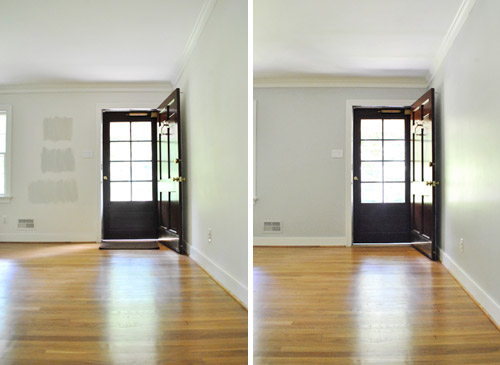 Even this subtle addition of color to the walls has helped us notice a few things. For example, we didn't even realize how beefy the crown molding was in here until we painted (it's about twice as thick as any other room in the house). And the soft gray looks nice with the built-ins on the back wall. It lets them "be the star" (as Sherry would say) but still adds that light I'm-in-a-cloud vibe and makes the room feel polished and complete. Well, as complete as it can feel without curtains, art, entryway furniture, etc.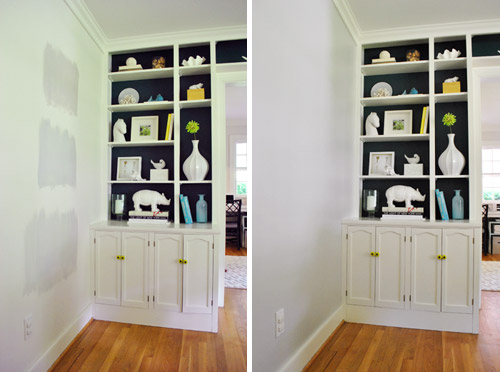 Since this room didn't have pesky wood-toned-molding that needed a bunch of coats of white paint (like the living room), it was MUCH faster to finish (the living room also called for beam painting, which we're thankful this room also didn't involve). So by comparison, this project was cake. We did one coat together during Clara's morning nap (Sherry cuts in while I roll) and then did our second coat in shifts after the three of us ate lunch (since one of us was on Clara duty while the other painted the day away). It was so relaxed that it further underscored how crazy it was for us to put it off for so long. Sherry even snuck in a phone date with her Katie B (her blogger BFF) at one point.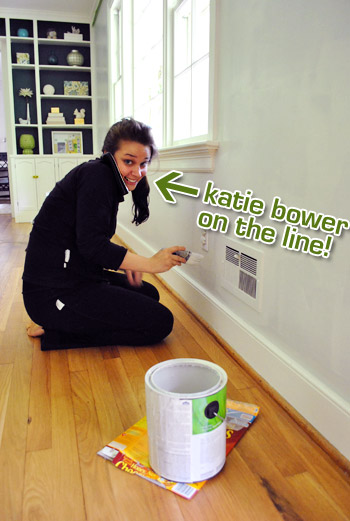 Oh and see those white tags in the photo above? Allow me to explain. Sherry's "painting clothes" may look like an ordinary black sweatsuit (yes, she's from Jersey and proud of it) from a distance, but take a closer look. It's an inside-out black sweatsuit. Otherwise known as her pajamas when worn the right way. What Not To Wear, here we come!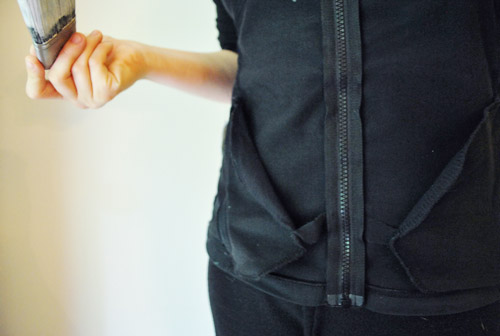 We also took – and then promptly deleted – a PG-13 version of the photo below. Let's just say I was putting the "moon" in "Moonshine by Benjamin Moore" (and my butt is whiter than my upper arms). Go ahead, I'll give you a few seconds to picture that calamity.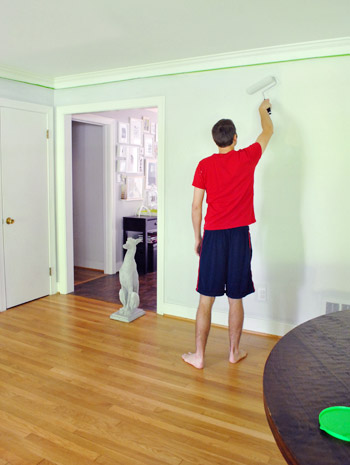 Ok now stop, you're creeping me out.
All tomfoolery aside, we're just glad to live in a test-swatch free home. But of course, now having paint on the walls is giving us the itch to do more in there. I mean, it'd be a shame to leave these nice blank-canvas grey walls totally blank for too long, right? Especially since we're dying to knock out a huge opening to the kitchen and hang curtains and add art and dye those off-white chair slipcovers…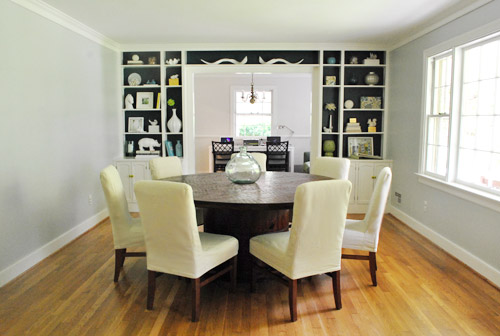 Eh. Maybe we'll get around to it in a month or two… or four. You know how we roll. Have you guys painted anything recently? Are you a fan of inside-out-pajamas as painting clothes? Have you had swatches on your walls for over four months? Tell us we're not the only ones…
Psst- When it comes to how we paint, this post and this post and the video in this post will hopefully help you out.
Psst again- We're over on BabyCenter sharing how we made some swanky looking photo books for our moms (late Mother's Day gifts are ok when you're waiting on a book to be "published" right?).