Feel free to sing the title to the tune of the famous Dolly Parton song. Or our new favorite version by SNL. Anyway, painting our living room yesterday sure was quite the task of endurance, especially given various breaks for Clara-tending and blog-tending. In fact, it took us exactly 12 hours, from 9am to 9pm to fully complete the project. Good news – the living room is officially Moonshine'd. Better news – so is the hallway (what can we say, we were on a roll).
But the day got off to a slow start. Between Sherry squatting the first blog post of the day to answer a bunch of questions, Clara needing some breakfast, and me clearing / taping the room, it was nearly two hours 'til we even cracked the first paint can open at around 11. Here's the post all about how we deemed Moonshine to be the perfect gray for our house, and it bears mentioning that we chose to get it color matched to Olympic No-VOC paint in a satin finish (which we have found to look extremely close to flat paint with a lot of added durability & kid-friendly wipeability – really it doesn't look wet or glossy at all, much to our surprise).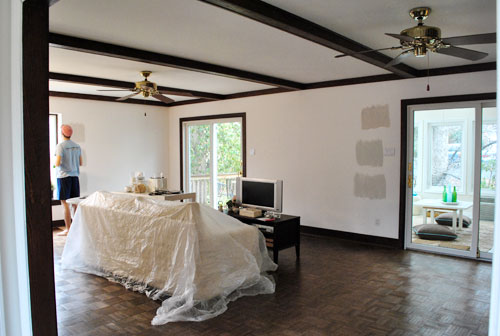 Thankfully things got rolling (literally) once Clara napped like a champion (from 11 to almost 1- which she never does!) and we gave ourselves permission to focus on applying color to the walls instead of approving & answering blog comments (no offense to you guys of course). Sherry wasn't even slowed down by the splinter our floor kindly drove into her left cheek. And I'm not talking about the one on her face. Ouch. She's a total trooper. And she learned a valuable painting lesson in the new house: not to scoot around on her rear while cutting in baseboard. I realize this sounds like she was painting nude, but she was fully clothed. It just went right through her yoga pants. No lie.
Sherry has always been the cutter-inner (edger) of our relationship and I'm the roller. But she also does extra credit stuff too. In this case she took the time to fill a bunch of gnarly holes in our extra-craggy brick wall – like these right near the trim – with paintable DAP caulk for a much more finished looking result. Love that girl. Even if she is a little obsessive.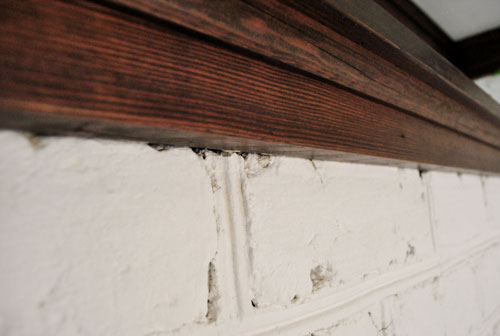 Once Clara awoke from The Nap Of Her Life (capitalized as it was truly an event to be remembered), we had to switch off when it came to baby-duty (and drop in on the blog every once in a while too for comments). So our productivity dropped a bit, but it was nice to take staggered bean breaks. As the day wore on, the diminishing sunlight made differentiating the white walls from the wet paint a bit challenging, but we charged on (taking breaks for things like a second blog post, diaper changes, lunch, dinner, and putting Clara down for a less-than-champion worthy afternoon nap). By around 5:30pm we had applied two coats to the living room (all it needed) and started on the two hallway vestibules. And by the time Clara was in bed for the night at 8pm we'd cracked open our second gallon of paint to finish off a second coat in those two hallways. By 9pm we were cleaning up and ready to collapse on the couch that was still clustered next to the TV in the middle of the room and zone out. Btw, it was funny to watch some tube at the distance that we were used to from our last house again.
Being too dark for a photoshoot last night, we waited to take these "after" shots this morning for ya: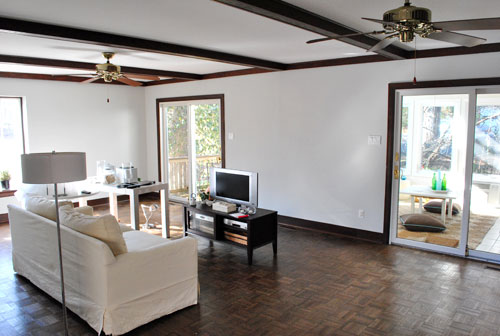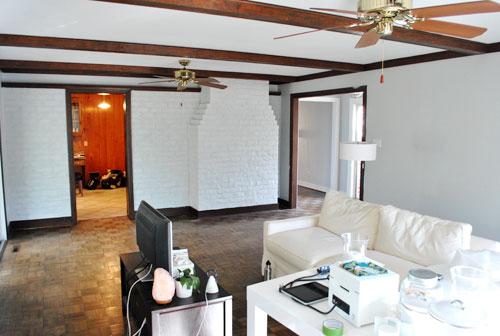 We'll be the first to admit that it's hard to see much of a difference in the pics. But in person we were both shocked at how much warmer the room looks. We assumed gray would look cooler, but the previous white walls were so stark that the soft silvery gray is nice and cozy by comparison. Kind of like you're inside a cloud that's glowing thanks to some sun shining through. In short, we're both in LOVE with Moonshine. And for those wondering why we didn't go crazy bright or dramatic with the wall color, we want to bring in some bold textiles (like big dramatic curtains on those sliders) along with some colorful art and maybe even some painted furniture – so we don't want the walls to compete with that. We even have plans for a large charcoal sectional, so we're definitely getting away from the white-slipcovered-sofas-and-breezy-white-curtained look of our first house. A lot of the rooms that have inspired us lately don't have super dark or bright walls, but still definitely read as "colorful" and "bold." But we do have a few spaces (like the hall bathroom & guest bedroom) that we plan to paint an extremely rich and saturated color, just like we did on the backs of our built-ins. So there will be some o' that too.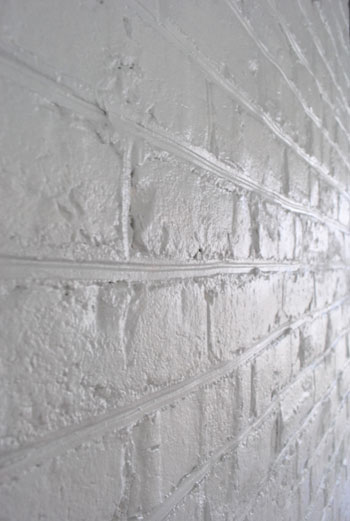 We also thought when one of the walls was brick, a bold color (like deep teal or emerald or plum) might look a bit odd, since it's more common to see brick painted in lighter tones like white, cream, gray, etc. And we wanted that wall to feel the most unified and un-odd so the whole room felt connected as opposed to disjointed. Oh and we did consider leaving just the fireplace bump-out white while painting the rest of the walls gray, but in the end it looked too unbalanced so we painted it and like the cohesive effect a lot more. We figure we can always add color back into it down the line (like a rich charcoal paint) if we're feeling crazy. We'll just have to see how the room shapes up.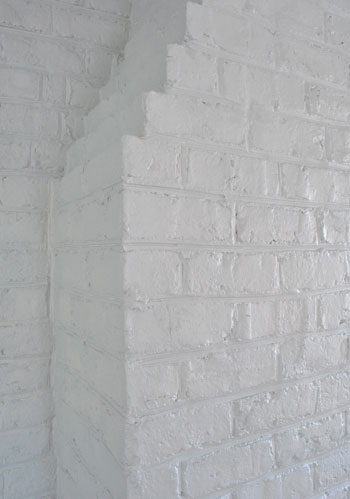 Oh yeah but we can't forget the hallway. The results in there boosted our confidence even more that Moonshine was the way to go and the change will be much more dramatic in the living room once it gets the white-trim treatment. See how soft yet defined it looks with crisp white accents?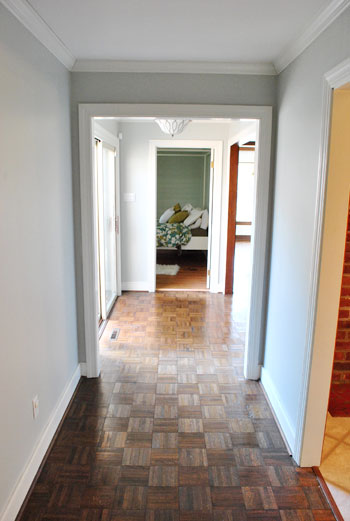 This close up is probably the best demonstration of the silvery gray color we ended up with (and how it plays off that glossy trim):
So the next thing on our to-do list is to paint the trim & baseboard in the living room (which is why the furniture is staying in a nice little island formation in the middle of the room until that's done). Oh and we've decided to leave the ceiling beams unpainted for now. We're definitely gonna see what the rest of the room looks like before making any decisions about what to do with those. Sherry has this crazy new idea about staining or painting them a rich charcoal color. Could be cool. And we'll probably photoshop it before taking the plunge and share the madness with you. But before we get to that we'll hopefully have the finished trim pictures to share next week. Fingers crossed for record-breakingly-fast painting luck and another one of those Naps To End All Naps from Clara.
Psst- The repair guys came out to fix our new washer amid the painting chaos and eradicated the annoying whistle issue. Happy happy joy joy.

Psssst- We announced this week's giveaway winners, so click here to see if you're one of them.