We finished painting the guest room. And boy is it bold. Seriously, it's like no room we've ever painted before. And we luuurve it. With a capital urv. This is probably the most accurate pic (well I guess it's as accurate as your monitor) of the dark teal that we went with: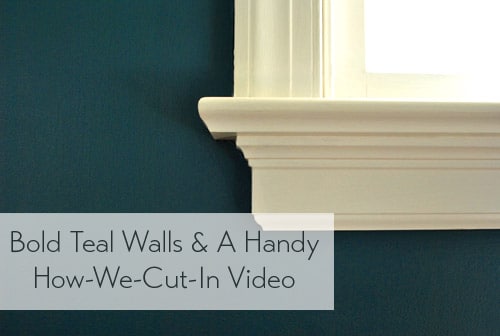 The color was of course inspired by none other than Sue the Napkin. It's kind of similar to Dragonfly (the color that we painted the backs of the built-ins in the future dining room) but when we held up a ton of swatches in the guest room we preferred this color (Dragonfly was darker and greener).
It's called Plumage by Martha Stewart, but of course we got it color matched to Olympic Premium paint since it's No-VOC (even the colorants they add are now VOC free). We went with an eggshell finish (so it's a bit more wipeable and durable than flat but not too shiny since it's such a deep tone, which can show lots of flaws and imperfections when it's glossy). Lowe's actually had a bit of trouble getting a good match, so if your paint pro can't get it close enough – our lady finally got it within .03% accuracy – Olympic's Azalea Leaf is an extremely similar alternative. Of course you can also just go with Martha's Plumage and not color match it to any other base to avoid matching worries completely.
But back to the whole room painting process. Let's just say that as soon as we started rolling it on there were some oh em gee moments. And a fair amount of melodramatic nail biting.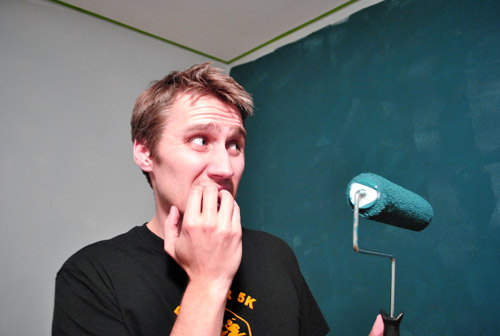 But after we got to the second coat, the coverage was great and it was looking deep and rich and bold and fun. See how much more coverage coat two gave us below (the wall on the right has two coats while the wall on the left just has one). Pardon the semi-odd coloring in this shot and the one above, they were taken at night so the rest are more accurate thanks to daylight.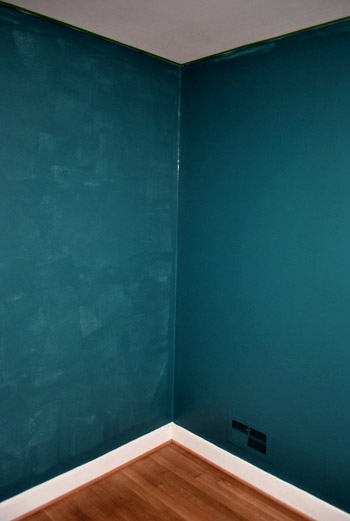 After we completed that second coat we were sold. Seriously. We got all hyper and slap happy. There's just something about pairing in your face color with crisp white trim that makes you giddy. And amazingly enough, we got 'er done with just one gallon of paint (with some to spare actually) since it only called for two coats – probably thanks to the tinted primer we used beforehand.
The first thing we did this morning was run into the guest room to admire it in the daylight. How can a $22 paint job make such a difference? It's amazing. We were about to snap some after pics for you guys when the doorbell rang. It was our new guest bed arriving 30 minutes early. So it ended up in the pics since we didn't have a moment to take any without it (more details on our mattress buying adventures later). Anyway, here's the view of the room from the adjoined guest bathroom: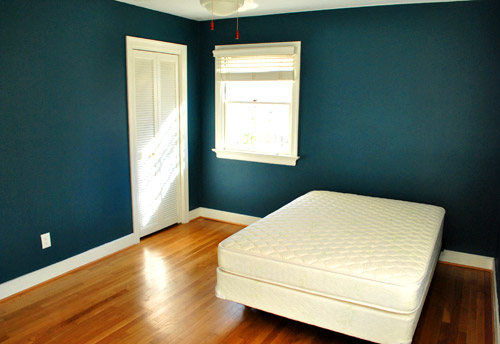 And here's a shot of it from the hall: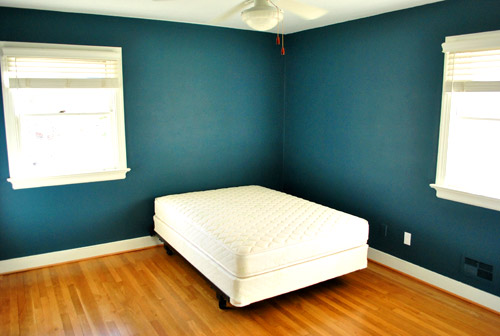 The off centered windows are definitely going to make the floor plan interesting, but we'll share how we land on our final layout when we, uh, land on a final layout. We're just going to play around with things until we figure out what we like best.
Oh and you'll notice that we painted over some of the wall warts (as they so lovingly call them) like the vents and an old Bell Atlantic phone jack to the left of the white outlet plate above. They were already painted over by the previous owners so we repainted them to match the new wall color. We did keep all of the unpainted outlets unpainted though.
Speaking of painting over things, after a surprising number of requests I finally remembered to make a cutting in video, so you can enjoy the riveting play by play below and see how I use my favorite brush to get a nice clean line next to baseboards and trim:
As for down the road projects, we'd love to add crown molding and possibly paint the ceiling a lighter tone than the wall (or at least freshen it up with crisper white paint along with the trim). But that's definitely not something we have time for with my mom & stepdad rolling into town this Thursday.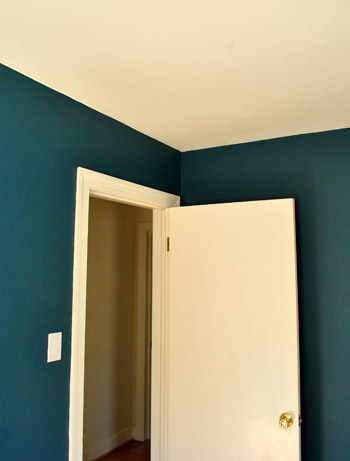 So there you have our dark teal guest room. Now we just have to hang the headboard, dress the bed, get a shower curtain and bath mat, change out the toilet seat (it's old and rusty), hang curtains (if we have time), and figure out the side table & lamp sitch (might not get to that either). Should be an interesting few days…