Sometimes, you just gotta let things "shake out" – haha. John kept rolling his eyes while I ran back and forth from the guest room to try "one more thing" all day yesterday, but I just love playing around, tweaking things, adding this, subtracting that, and seeing where we end up. It's probably my favorite part of the whole process, all that final-hour-switcheroo business. And we're so glad that we shared yesterday's in-progress pics to show how just a few tweaks in the last 24 hours can really change things up. Not über dramatically, but enough to make a difference for sure. Sometimes it's those last minute changes that make you step back and go: There. Done. At least for now.
Who am I kidding? I'll probably be back in there hanging art above the chairs and switching out the bookcase for a proper dresser when we hunt down the perfect one on craigslist in a week or two. And then there's the crown molding we'd love to add down the line along with a million other changes that we'll probably roll out over the next few years. But those are projects for another day, because my mom and stepdad will be arriving in T-minus-four-hours. So here's what the guest room looks like now that we picked up three things from Tar-jay yesterday afternoon.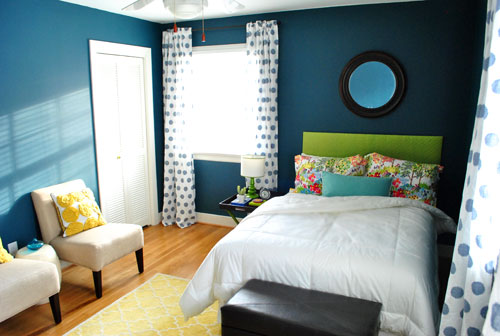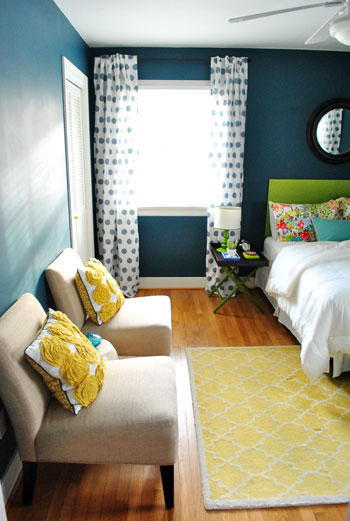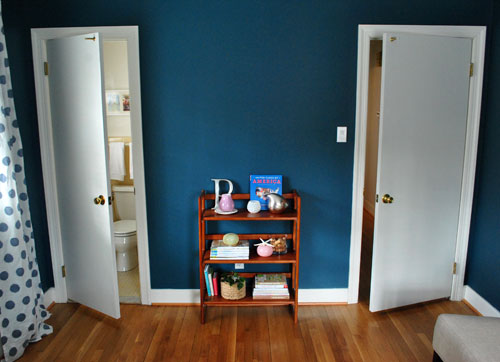 Those three things were:
a large $24 faux leather tray
a round $49 oil-rubbed bronze mirror
a cute green $19 table lamp
You'll remember that yesterday's to do list included hanging something above the bed to balance out the big window to the left (hence the purchase of the big round mirror) and adding a nightstand and table lamp (hence the purchase of the cheap-o table lamp and the tray that we attached to the top of the green luggage rack that we got last week while thrifting on our little V-day beach trip last week).
First I repaired the straps on the luggage rack with thick brown ribbon and a staple gun.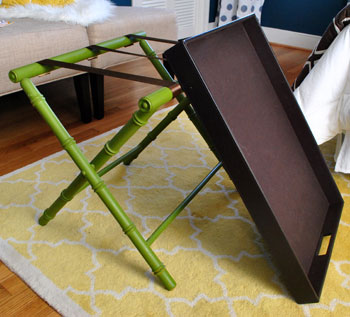 Then John came up with the genius plan to use Command removable adhesive strips…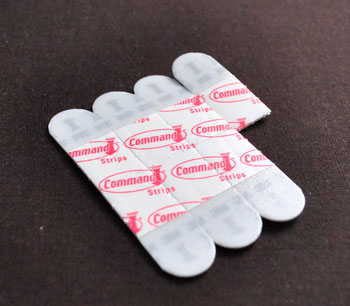 … to securely fasten the tray to the luggage rack in a way that's 100% un-doable, thanks to those removable strips.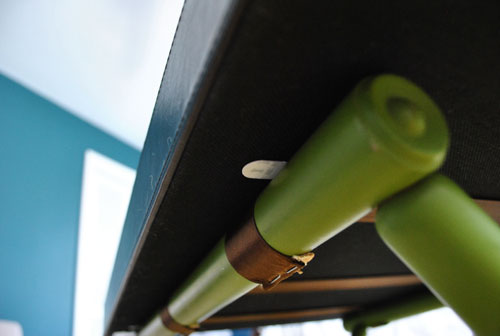 After placing our new luggage-rack-turned-side-table next to the bed with that cute green lamp…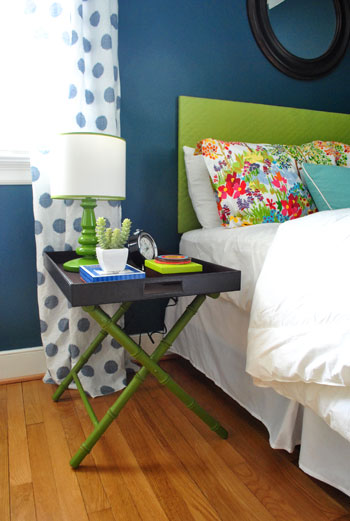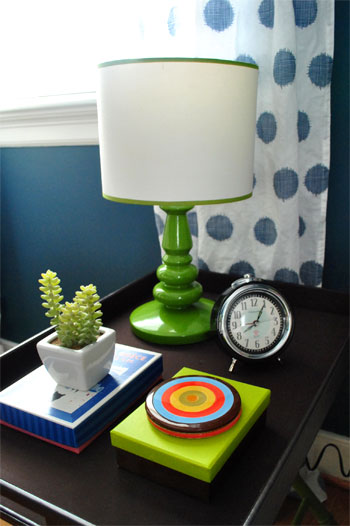 … and hanging the oil-rubbed bronze mirror above the bed…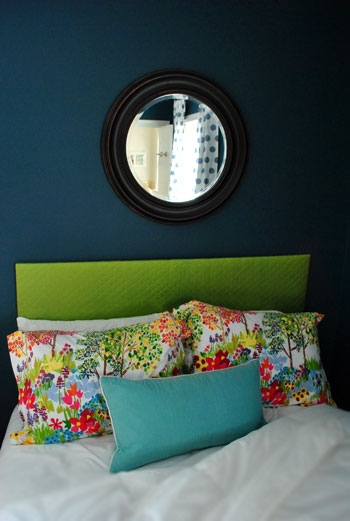 …we both really loved the idea of bringing in the leather storage bench that was sitting unused in the playroom for the foot of the guest bed.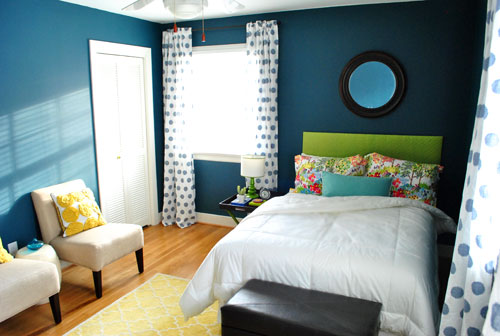 That way we could remove the patterned brown blanket that we had folded at the foot of the bed (for a splash of dark color) in exchange for the more "classic" and less busy brown ottoman (which would also serve as a place to sit down, store linens, drop bags, set out magazines for mom, etc). All hail function. And ottomans. Seriously, we can't get enough of them. So for those of you who hated the brown blanket with a passion that can only be described as intense, rest assured that it's been beaten and burned. Just kidding, it's sitting in playroom purgatory with all of our other "leftovers."
And on the subject of stuff we already have, we knew that our guests would love a place to charge their cellphones, so I brought in a ceramic stool from the sunroom and placed it between the two chairs that I shifted apart so the outlet was easily visible right behind the stool. Bam: cellphone charging central. Note: I've since come to my senses and removed the cute blue vase to actually make room for cell phones.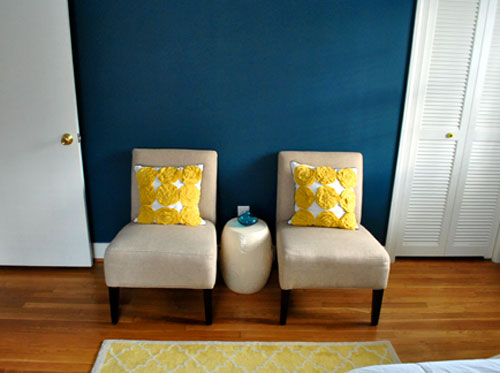 And in separating those chairs I nixed the faux sheepskin and brought over the two happy yellow pinwheel pillows for some easy balance. Of course we still have to hang some art above those chairs, but we'll get there someday.
So that's the room as it looks today with mom and Jack on the road from NY. Just for fun, here's another shot of our cute little $1.25 closet door pull and the empty closet with a bunch of wood hangers just waiting for our guests: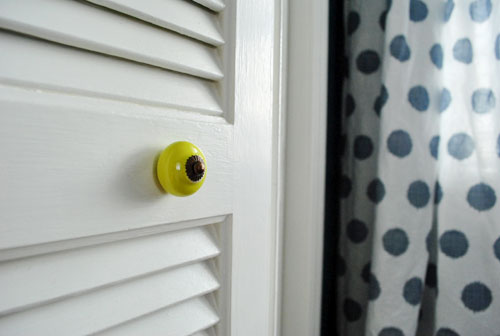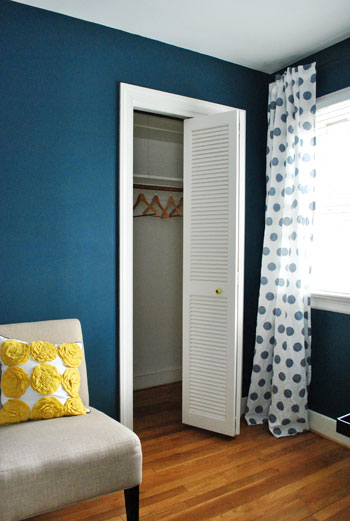 The funny thing is that I'm pretty sure my mom would sleep on the floor for a chance to hang out with Clara, so she probably won't even notice the walls or the curtains or the bedding because she'll be so busy staring at the bean.
Speaking of our little helper, here she is hanging out while we hung the mirror above the bed.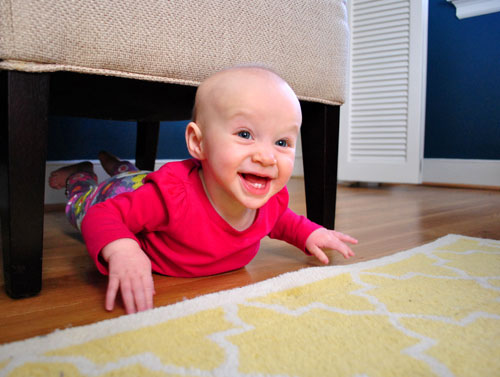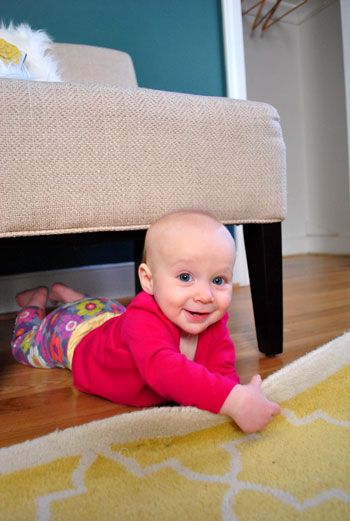 Gotta love that girl. She already has an appreciation for rugs and other accessories.
Oh and since you know we love a good budget breakdown, here's what we spent for the guest bedroom & adjoining guest bathroom makeover:
Olympic Premium No-VOC primer: $12
Olympic Premium No-VOC paint (color matched to Martha Stewart's Plumage): $22
Target bedskirt: $10
Ikea curtains: $76 (around $19 a panel)
Target curtain rods: $18
Hobby Lobby closet knob: $1.25 (50% off thanks to a hardware sale)
Target oil-rubbed bronze mirror: $49
Target tray for luggage rack: $24
Target table lamp: $19
Target bathroom shower curtain: $20
Target bathmat: $20
Target Waterpik showerhead: $14
Home Depot toilet seat: $12
TOTAL: $297.25
Thanks to working with a ton of things that we already had (like our DIYed headboard, existing linens, the two slipper chairs, the ceramic drum stool, our yellow Pottery Barn rug, and our old bookcase) we came in well under a 1K Trading Spaces budget, even if you add our $488 bed purchase to the total above (which takes us to a grand total of $785.25). Now we just have to do a little last minute vacuuming and dusting before my mom swoops in and steals my child. That's right, our family voted her as Most Likely To Steal Clara for a reason.
Psst- Wanna know where we got something in our house or what paint color we used? Just click on this button: