I did it. I finally completed Clara's closet stamping project (you know, the one I started here)! And yes, if you couldn't tell from the title, I made a potato stamp. It was actually really fun. Don't roll your eyes. It was. And it was free. In fact this entire project cost me 99 cents since I used one tube of Folk Art Paint in Champagne (a soft and pretty metallic gold color) and two potatoes that we already had (never thought I'd list potatoes as existing DIY materials). As for landing on a pattern, last week I shared how my first idea, a $1 rubber stamper from Michael's, didn't work (the rubber stamp pattern was too fine, so it didn't read at all in person (although in the photo it wasn't as hard to see):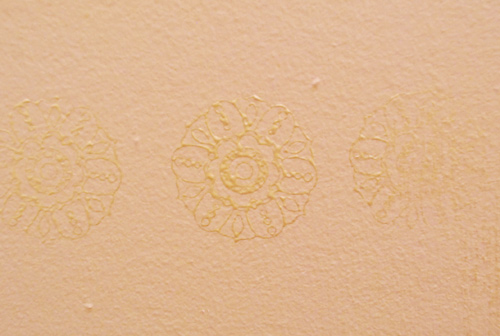 And then I moved on to a few freehand painted attempts like imperfect horizontal lines, x's (aka: kisses), and random little rows of dots made by squishing a small craft paintbrush against the wall: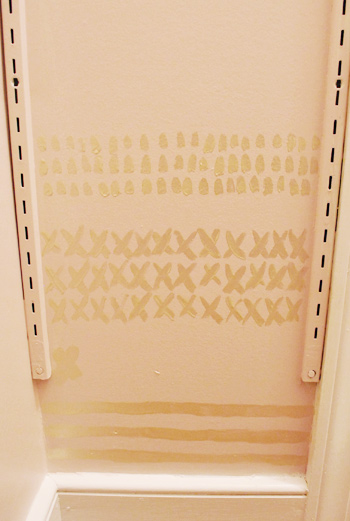 As for my potato stamps, I just tried a few shapes that I did my best to freehand (from a weird little quatrefoil-ish thing to a star and a bee-hive-ish hexagon). As for the bottom right stamp, I saw this on Pinterest (originally from here), and decided to give it a try. I just carved a circle first (using the top of a salad dressing bottle as a guide) and then made little pizza-slice slivers around it to leave the asterisk-like shape.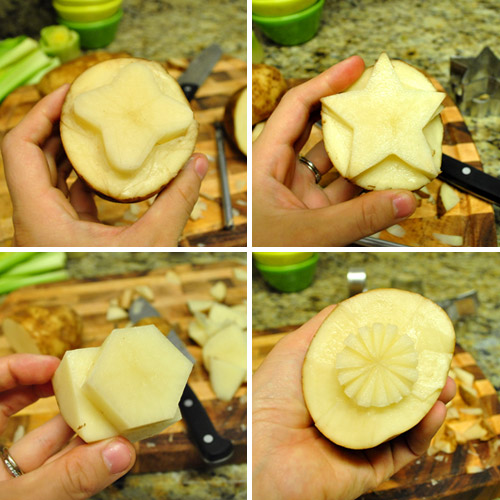 I also saw this celery stencil idea on Pinterest (originally from here) and gave that the ol' college try too: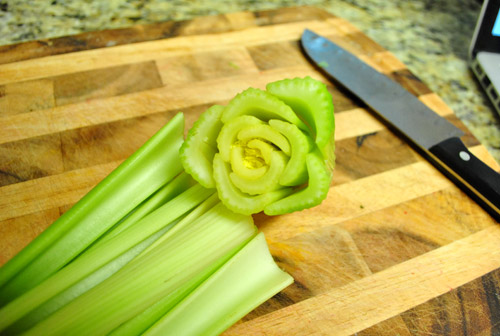 Then it was time to test all of my "stampers" out on paper with the Folk Art metallic paint (in champagne) just to see how they did: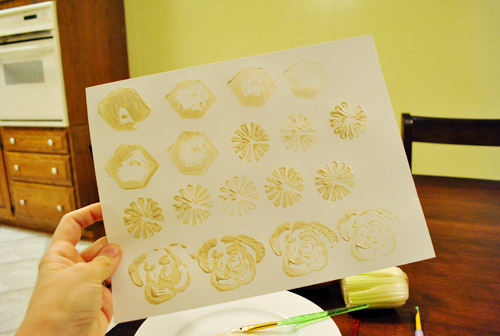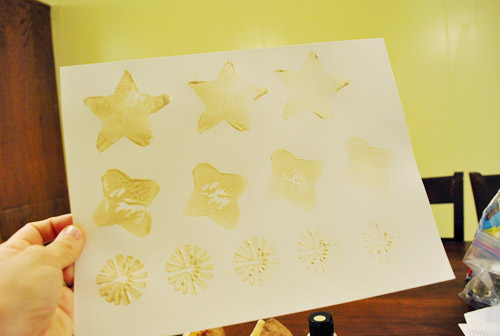 Out of all the potential patterns, the little starburst circle one was our favorite. So off to the closet I went, just to see how it would look on the wall.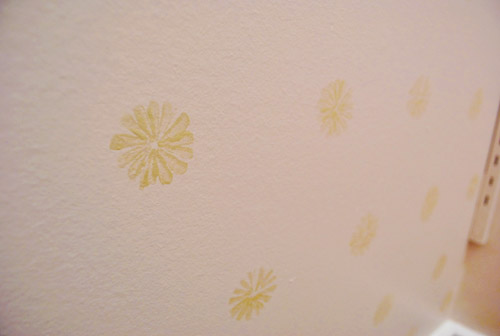 I learned that it worked a lot better if I brushed the paint onto the potato with a small craft store brush (so I could remove the excess and prevent globs) as opposed to stamping it into my plate of paint (like you would with a rubber stamper).
Here's a good shot of how the paint looks really metallic from certain angles. So soft and pretty.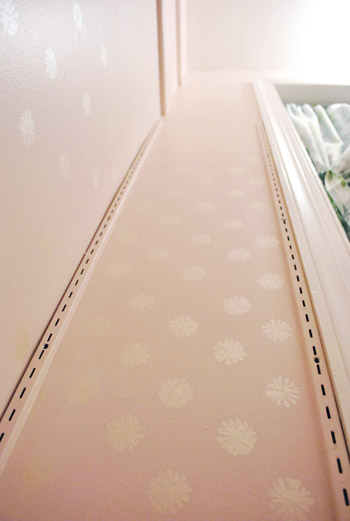 After about an hour I had done the wall with the door on it and about a fourth of the adjoining wall to the left as you face it. Then I had to pause for a Clara nap and the rest of the day got away from me. But she did love the part that I had done once she woke up from her nap: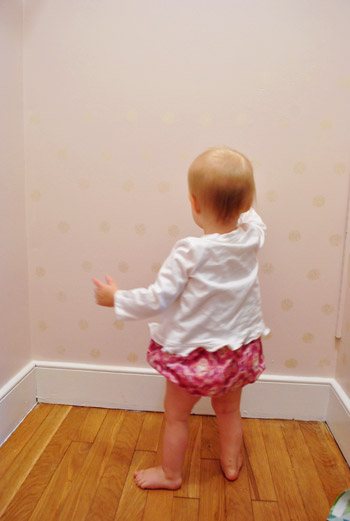 No worries, I thought. I'll just finish it tomorrow. But in the morning I realized something that sent me into a mild to moderate potato panic. My stamp had sort of withered overnight. Not too crazy like a raisin or anything, but the whole potato was substantially less firm than it was the day before. More like a sponge than a solid stamp. But I decided to give it a try just to see how it worked out (while holding my breath and crossing my fingers/toes/eyes). My method had to change slightly (since the edges weren't as flat as they once were, I had to gently rock my wrist back and forth and up and down as I pressed it down to ensure that all of the starburst tips got applied to the wall). But miracle of all miracles it still worked.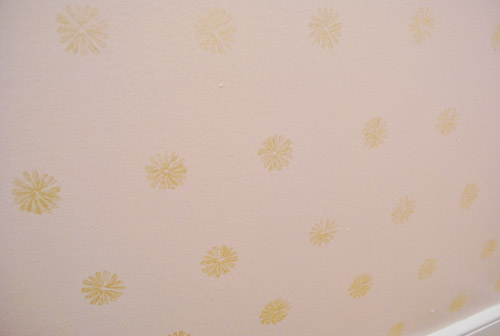 So onward I pressed. Literally. I must have pressed that potato into the wall 500 times. But it was surprisingly soothing. I know you're rolling your eyes again, but there are some projects that are extremely tedious that I'm not a fan of (heck, painting the closet was totally boring) but for some reason I got into a nice little rhythm with my potato and my paint brush so it was kind of nice. Brush paint on, press while gently rocking wrist back and forth, move over a few inches, repeat. Oh and as for my spacing, I just eyed everything, but each stamp is about 5″ away from the next one and I just applied staggered horizontal rows so if you connected the dots it would make a ton of zig-zag chevrons.
I decided as I was stamping to the oldies (yes, I had Pandora on) that it was as good a time as any to think back about the last almost-15 months with the bean. So I sat/crouched/stood in there stamping my heart out and thinking about hilarious blowouts and first words and lost socks and restaurant meltdowns and all the other good/bad/ugly/amazing parenting stuff that has come been flung our way since Clara joined the family. Not a bad way to spend two hours.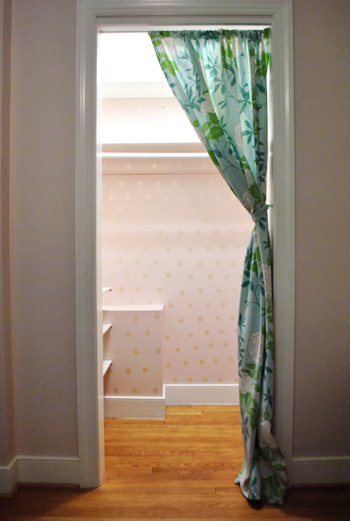 And guess what? Once it was dry and I granted Clara some closet clearance, she was so excited! She literally wanted to point to every last shiny stamp that was in there and squeal "stah!" (her version of star).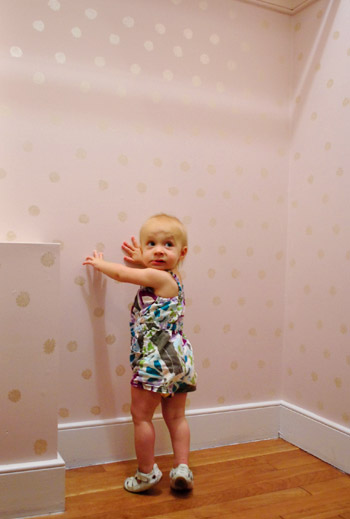 The total time spent on the project (including various rubber stamper/potato/celery experiments and two installments of stamping) came to around three and a half hours. So worth it for the magical little subtly metallic reading nook we're on our way to creating.
Next, we added the white shelving systems back in (that we removed before painting):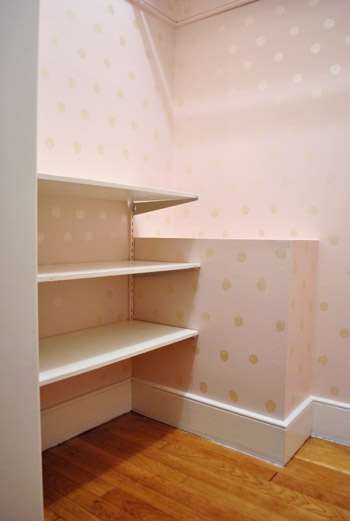 And finally I loaded in all of her clothes, toys, and blankets. I even tossed down a fluffy faux sheepskin rug from Ikea and some pillows that we already had while adding some of her favorite board books to the little Clara-level corner shelves: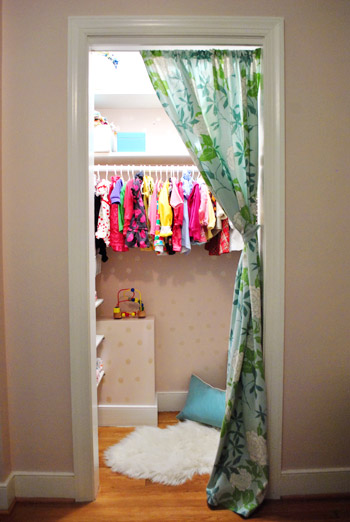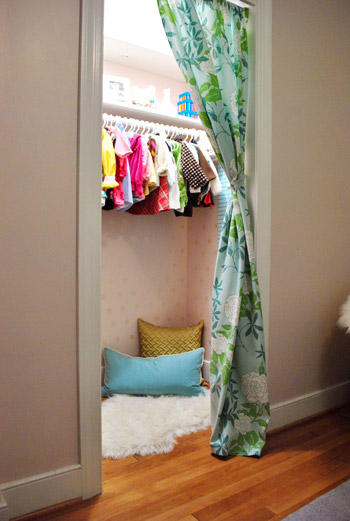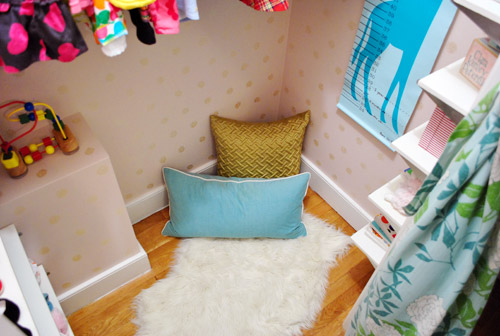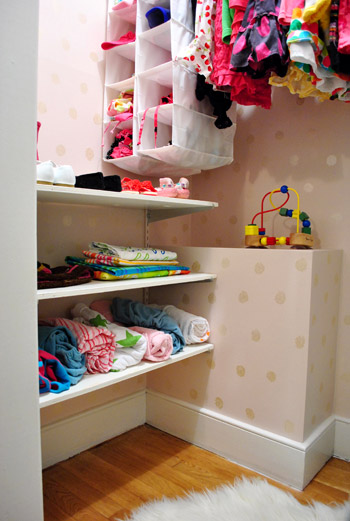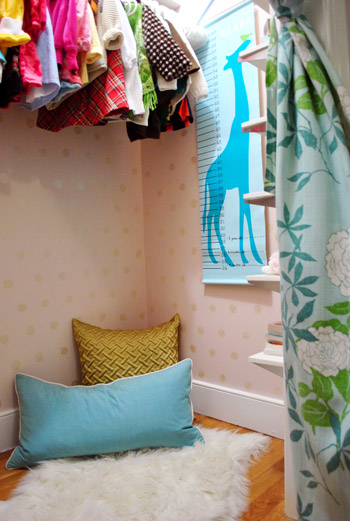 I still want to DIY a beanbag (I've pinned lots of tutorials and ideas) but it's pretty darn sweet in there already. And Clara had some fun taking it for a test ride. I think she likes loves it.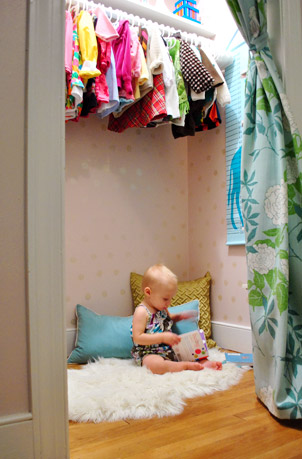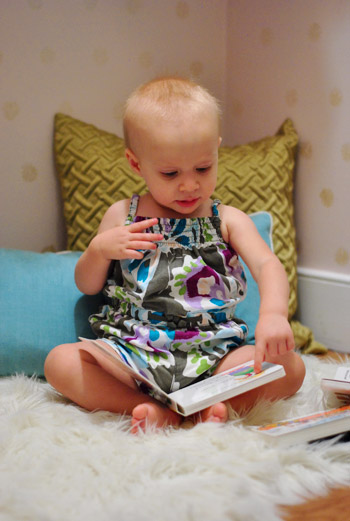 As for John's impression, this convo ensued:
Me: It's cool, huh? What do you think?
John: Yeah, it's really Sweet Sixteen in there.

Me: What does that mean? It's cheesy? Over the top?
John: No you know… (long pause)… expensive. Like the Louis Vuitton cakes they get. It's really cool.

Sherry: Huh? (equally long pause) This might be our strangest conversation to date.

I'm so glad we all love it (even if some of us don't really know how to put that love into words coughJohncough). And even my cheap-o work-with-what-you-have self is kind of shocked at the difference that 99 cents and 3.5 hours made in there (well, more like 5 hours if you count the closet-painting phase too).
Ok, so who's surprised that I got all old school and made a potato stamp? I totally had flash backs of middle school while doing it. Who out there has stamped a wall instead of just painting or stenciling it? I must say there's a surprising freedom to it since you don't have to carefully place the stencil and make sure that there's no paint on the back of it and that nothing gets smeared or anything. You just eye it and go. And it kind of looks like handmade wallpaper (imperfect, but kind of perfect because of that). This might be one of my favorite solo projects that I've done in the new house. Just because it's from me to the bean with love. And quite possibly because it inexplicably reminds John of an expensive Louis Vuitton cake. Sometimes it's the little things…