Our new kitchen rug has arrived! Yes, it was actually something we ordered online, which is somewhat nerve-wracking since finding a rug for this spot has proven difficult so far (although we have had success with online rug orders before). But based on what we learned from our little rug fashion show, we were pretty confident that we'd figured out the winning formula. At least we were hopeful…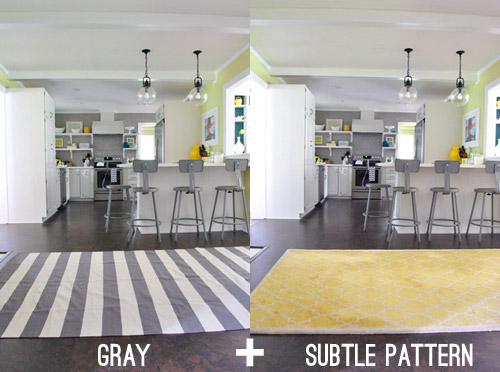 The "winning" rug was actually from Urban Outfitters. The color, pattern, and price were all great – so we thought we'd give it a shot. With a spring discount code they were running, it came to just $69 with shipping – which is obviously a lot cheaper than a 5 x 7′ wool rug, which most likely have been around $125+.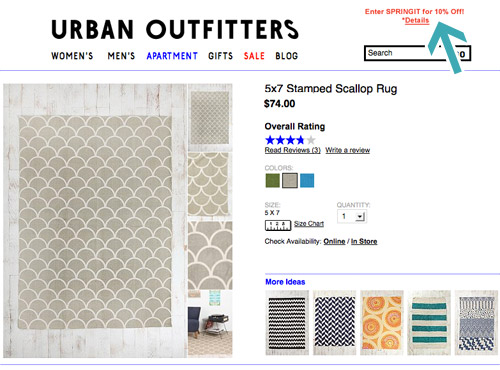 We also thought a flat weave would be better for our kitchen (no worrying about food being mashed into a plush wool rug). And as for why we went with that size, we tried a few different rug sizes before ordering (we have many different sized rugs on hand, and preferred it the most in that space). Anything bigger/wider interfered with the stools being pulled out, and anything shorter/smaller felt oddly tiny – like a bath mat in the middle of the room.
So without further ado – here it is!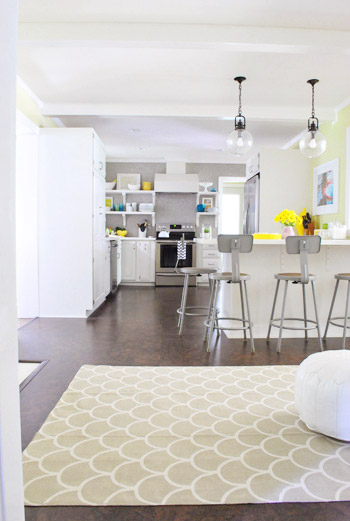 We did put a nice thick rug pad under it (from Target for about $30) which not only helps it stay in place (it doesn't move or slide an inch, even when Clara and Burger are charging around after each other) and it also gives it some nice cushion. We took these pictures just a day after it arrived, so some of the lines from where it was folded are still there – but if it's like our other flatweaves, those will work their way out as time goes on.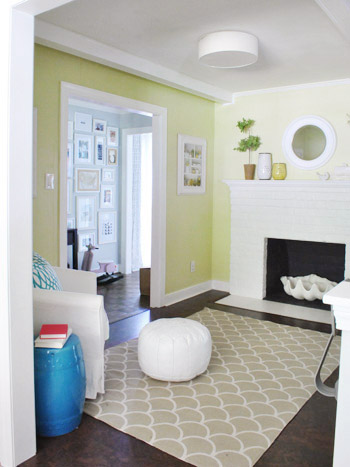 We think it looks pretty darn awesome. It does exactly what we'd hoped (defines the area as a living space without having a color or pattern that's too demanding – especially since we'll be adding in more color by painting the stools). The scallop is a nice simple pattern without being too in-your-face (because no one likes an in-your-face scallop…).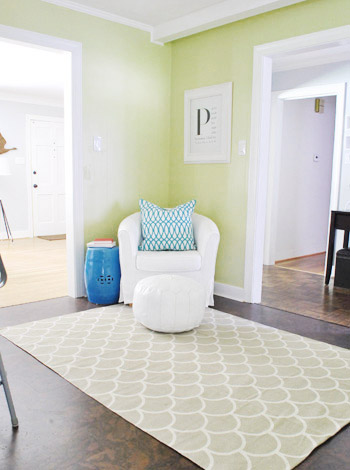 See how from the other side of the kitchen it's really sort of soft and subtle? We just wanted something that didn't scream "look at me! I'm a rug! Focus all of your attention on me!" and instead just sort of slipped in for a nice layered look. I guess we'd rather gaze at the wall of penny tile or the hallway of frames or the over-sized pendants over the peninsula or the open shelves by the stove – ya know?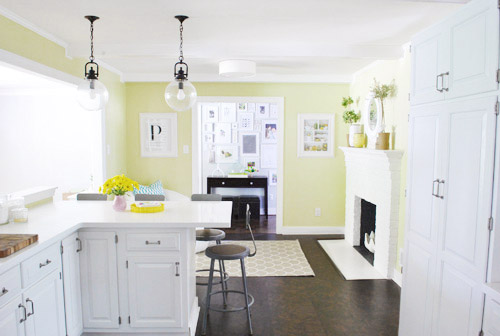 And in a weird way, the roundness of the rug pattern kinda echoes the gray penny tile backsplash on the other side of the room – which actually brings some pretty sweet balance to this 25′ looong room of ours: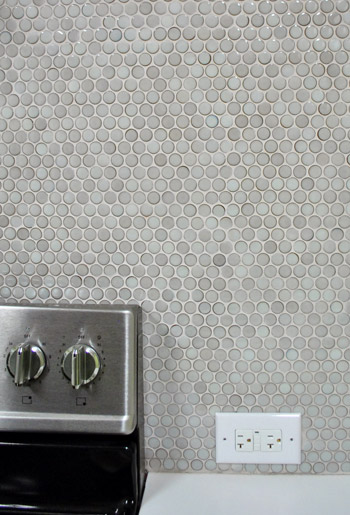 Kinda penny tile-ish, right?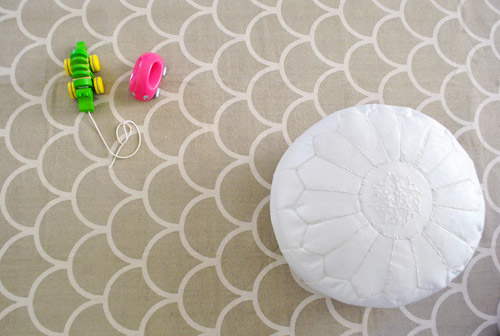 Another reason we're happy to have a rug there is to give Clara a little play space. Granted these days a lot of her playing involves running around, but we still find her sitting in this area of the house flipping through a book or dancing to the radio (sometimes while wearing a tutu and three headbands). So it's nice that the area is soft, but not so plush that we've gotta worry about crumbs and junk getting stuck in some dense rug forest.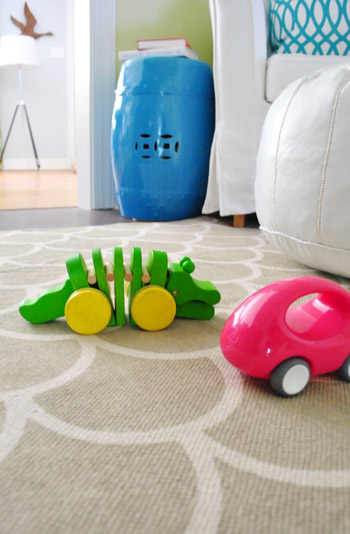 As for Burger, he doesn't really care too much about the rug as long as he still has a pillow to curl up on.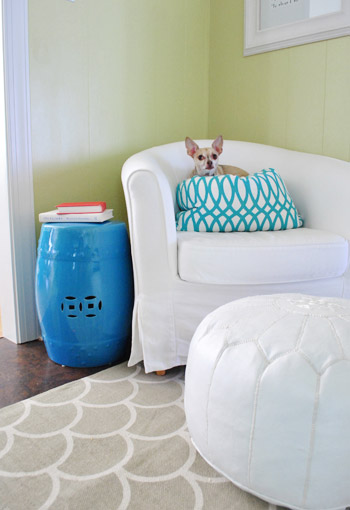 So, long rug story short – I think we're sold. We've found our kitchen rug!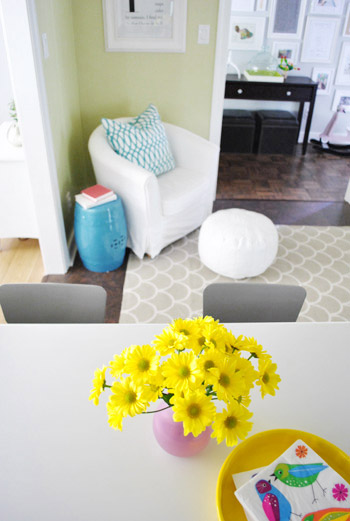 We do LOVE a showstopping rug (like the one in our living room and bedroom) but I think this more subtle tone-on-tone guys is just the ticket. And as a little bit of a epilogue to this story, we thought we'd show you one other little update that we made in the dining room – a sort of a mini "Dude Get On That" assignment, if you will. We finally hung the art that I made John for Christmas. Yup, just five months later. Haha. Here it is catching a mad reflection from the front window: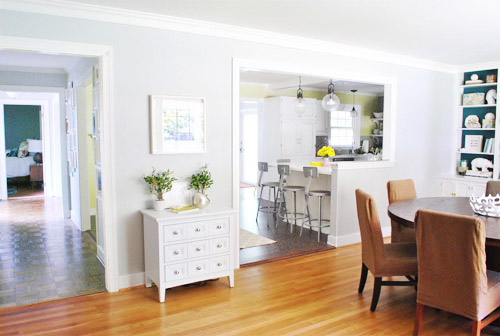 Oh and don't mind the baggy brown chair covers that are back on our dining room chairs. We put them on when we brought them outside for Clara's party (for an easy-wash surface to avoid stains) and just have been too lazy to take them off. So yeah, we haven't even washed them yet. Haha.
Anyway, here's a better view of the Chrstmas art that we finally got on the wall: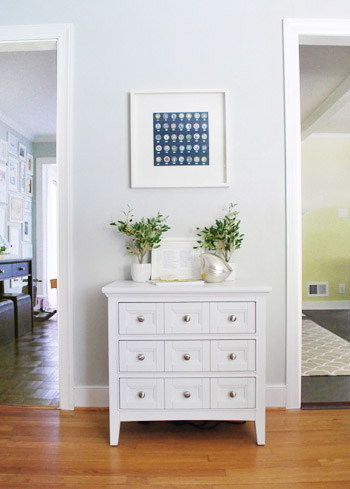 It's hung right above a little cabinet (it's actually a nightstand) that we bought from Joss & Main last year that has kinda been floating around the house in various spots for the past six months. Remember we mentioned it here and you got a peek of it here? Well, it seems to keep ending up back on this wall, so for now we're calling that his home. Can't guarantee he'll be there forever though, haha. You know us…
Since the art consists of a bunch of boy scout badges that I scanned, printed, and matted into a grid, I also made a key in a separate frame (to explain that John deserved badges like "Personal Fitness" for being a runner and "Rowing" for taking me kayaking a couple of times – more on that here). So that's what the smaller frame that you see leaning on the wall below it is all about.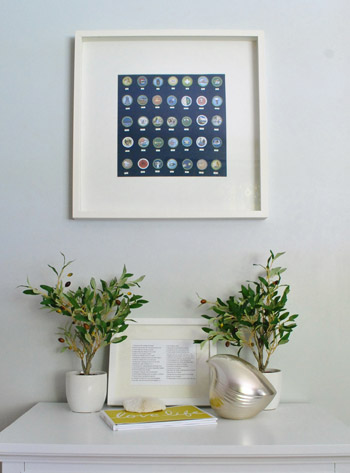 Hmm, I'm not sure how this post went from scalloped rugs to kayaking, but I think you're all filled in. Next up: a big painted stool reveal. Oh yeah, baby. We're closer than you think. As in, this is your 24 hour notice. Haha. What have you guys been doing with rugs? Any online ordering? Any searches for something softer that layers into a room instead of a bold guy who becomes the focal point? We can definitely appreciate both approaches to rug hunting, in fact it's pretty fun to have a few makes-the-room rugs and a few best-supporting-actors, so I recommend a diverse cast of rugs, haha.