Hey, we're Sherry and John, and our family of four (plus a nine pound chuhuahua) lives in a 1,400 square foot house with one bathroom (it's really not as bad as you might think). We're located in the Florida Panhandle (the Northwest part of the state that's so far over that it's Central time, not Eastern), and we just moved there this year in the name of dramatically downsizing and living somewhere warmer where our family could be outside pretty much year-round and walk to everything from the beach to the grocery store (more on that here).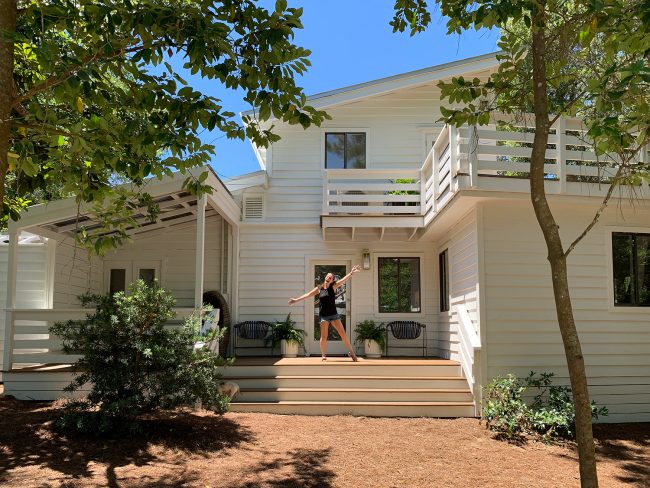 We previously lived in a big white brick house in the suburbs of Richmond, Virginia that was a whopping 3,150 square feet on almost an acre of land. It was lovely, but large.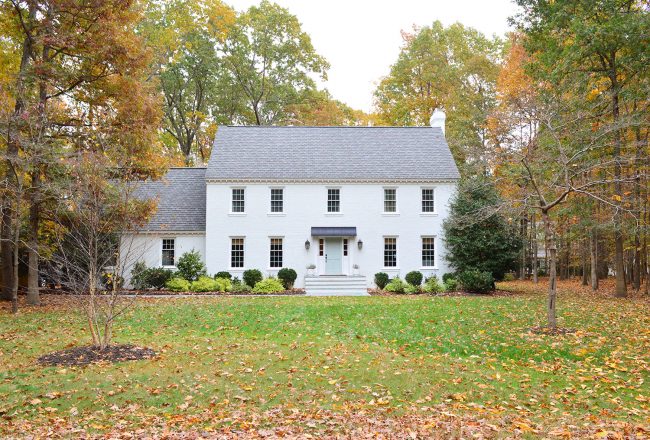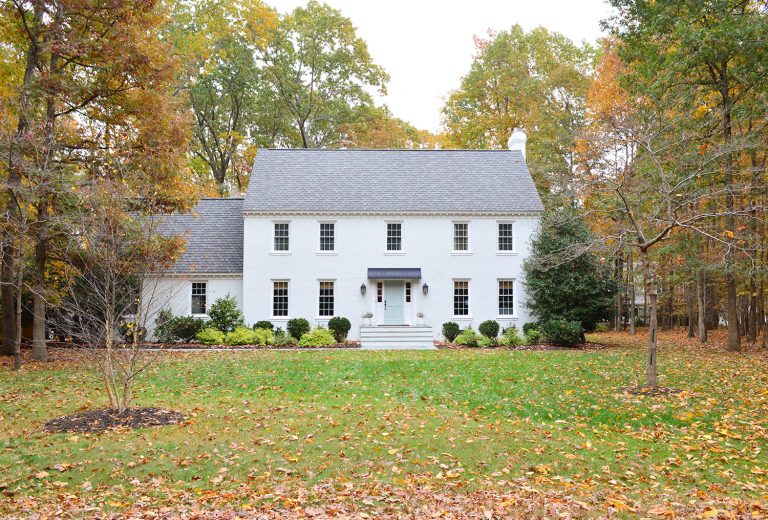 New house = one tenth of that lot size with zero grass and WE. ARE. THRILLED.
We started this blog way back in 2007 (13 years ago!) just to chat about transforming our home, living in it, and all the random bits in between. It's pretty crazy to think about where this journey has taken us. When we clicked "publish" on that first post with tiny dark photos back in 2007, we never could've guessed blogging would lead to us renovating seven homes, sharing 3,000+ DIY projects, writing books, designing products for Target and Home Depot and Wayfair, starting a podcast, buying an old beach house to fix up (and then another one), and then deciding to sell it all in the pursuit of having less and doing more (a much smaller yard + a much smaller house = a whole lot more time for family fun, especially when you're just a few blocks from the gulf of Mexico).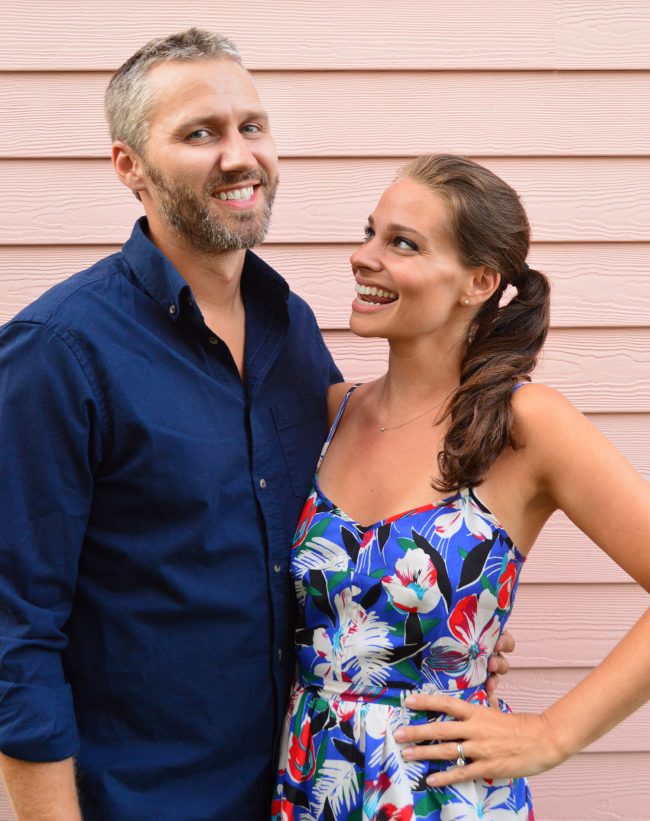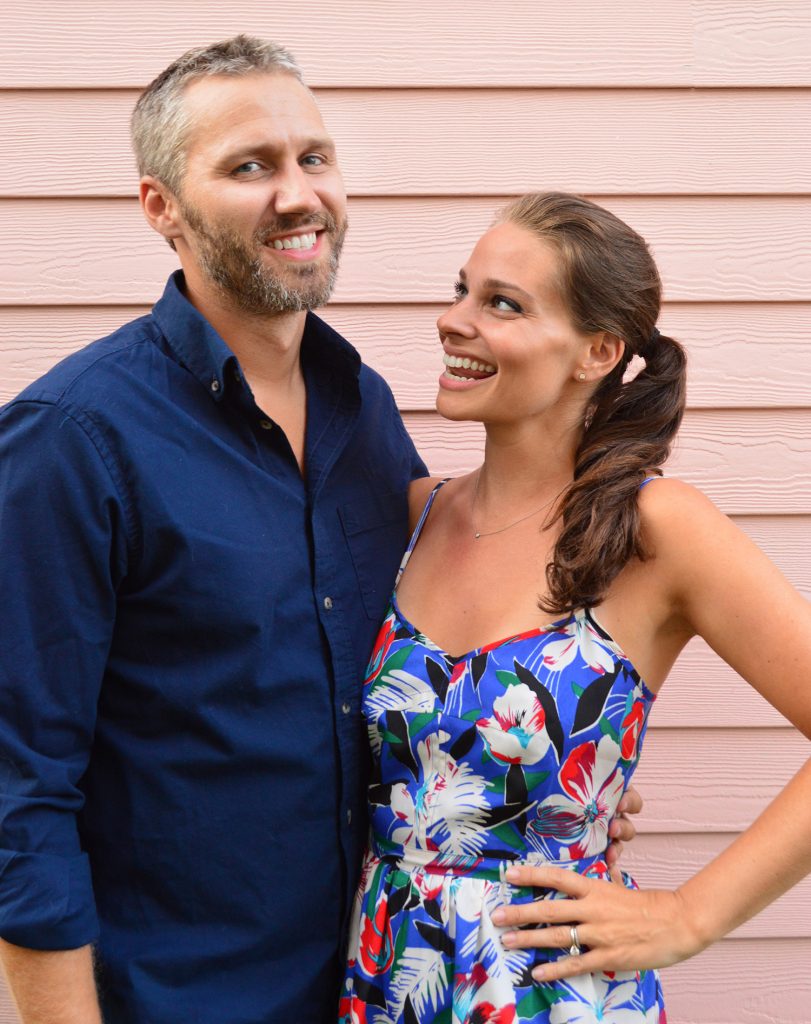 Our obsession with DIY & all things home started back in 2006 when we bought our first house. In the summer of 2007 we even DIYed our own backyard wedding. After years of painting & hammering away, the dust cleared and our beloved first house was totally transformed, which meant it was time to move and start all over again. Especially because our family grew to include the best DIY project we had tackled to date: our sweet daughter.
We had just as much fun making over our second house, and when an intriguing fixer-upper popped up in our dream neighborhood that was actually within our budget, we totally played it cool. Just kidding, we jumped on it like a spider monkey. Somewhere along the way we also wrote our first book (called… wait for it… Young House Love).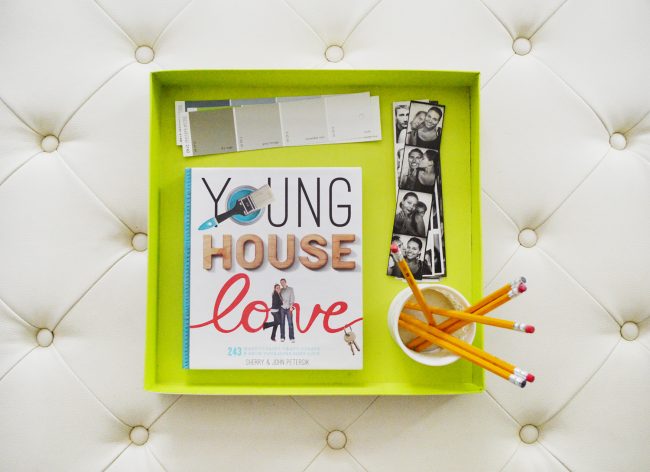 It came out in November of 2012 and somehow became a New York Times Bestseller (there was a lot of pinching ourselves). In 2013 we began our lighting collection, and a year after that came our line of hooks and rails, which (we still can't quite wrap our heads around it) ended up being sold exclusively at Target.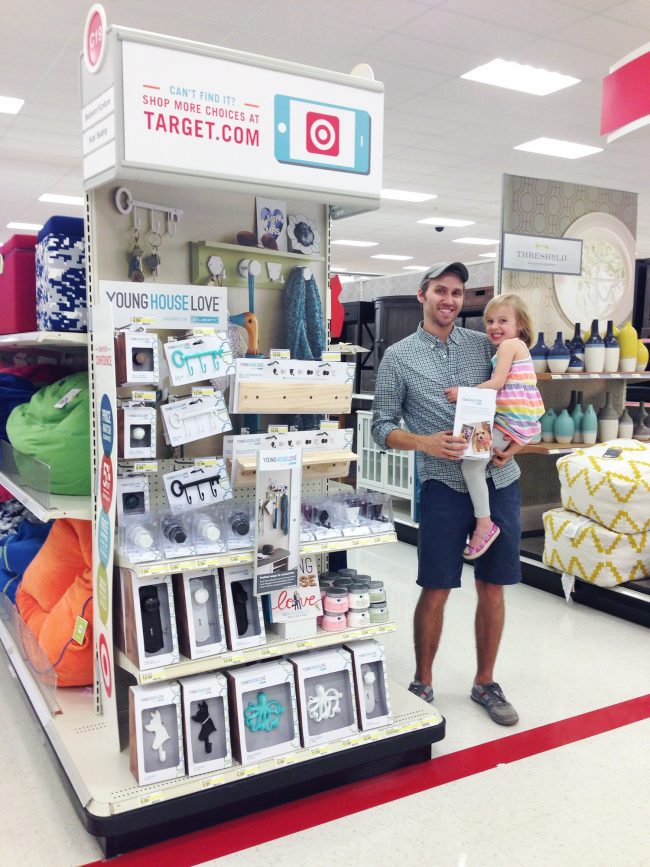 In April of 2014 came the birth of our son, who stole our hearts the second he came into the world. We also spent a lot of the year shooting and writing our second book Lovable Livable Home, which came out the following year.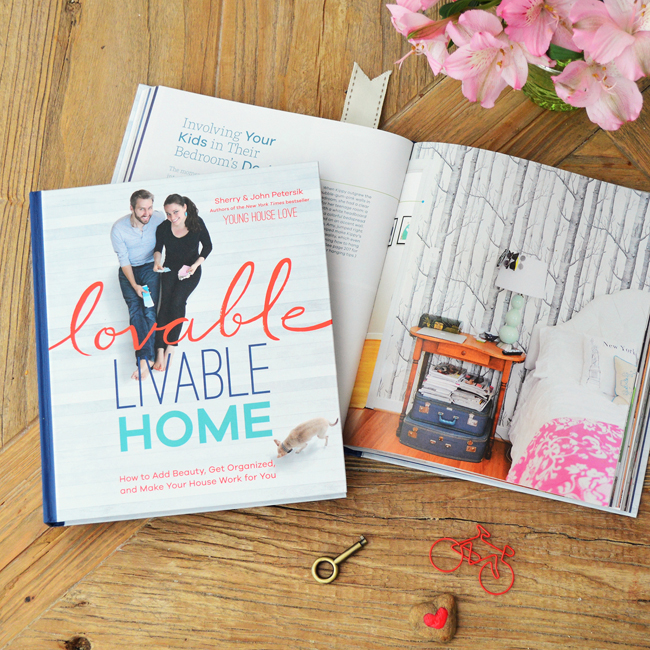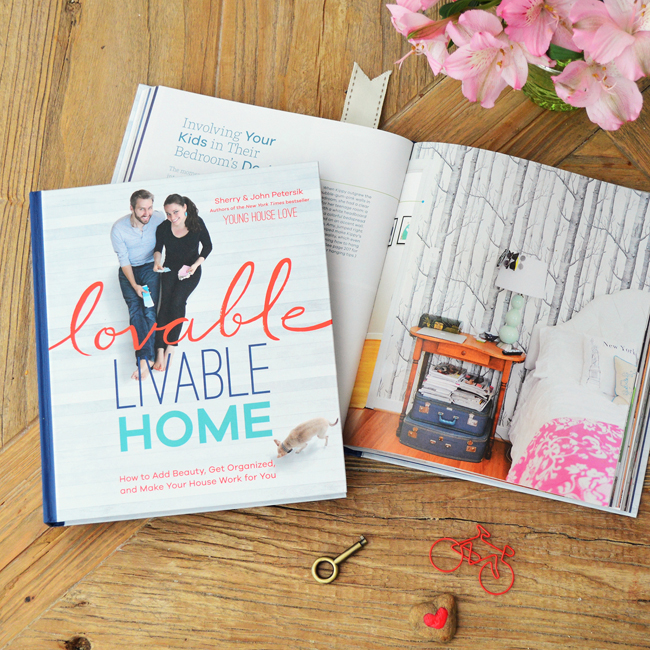 Speaking of the following year, in early 2015 Home Depot picked up some of the hardware we designed, with more rolling out down the line. Then in 2016 came the release of our third book, Color at Home, a hands-on home coloring book that can be surprisingly helpful when it comes to figuring out how you like to add color to your house.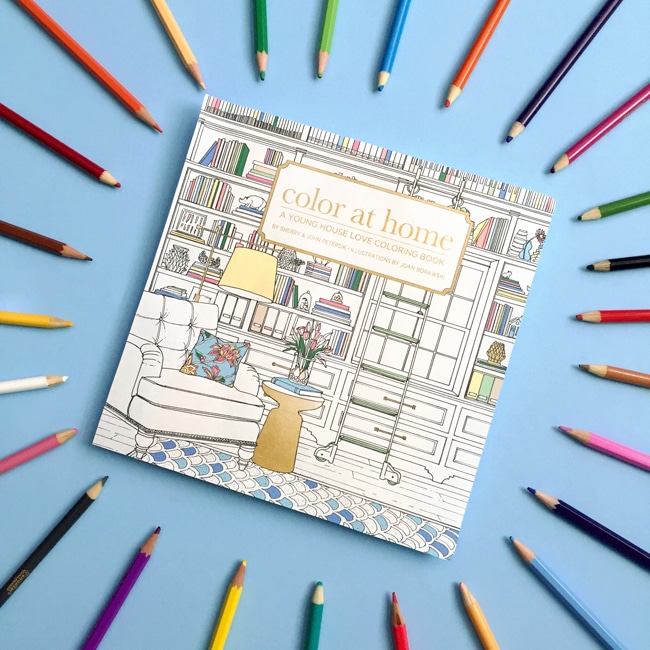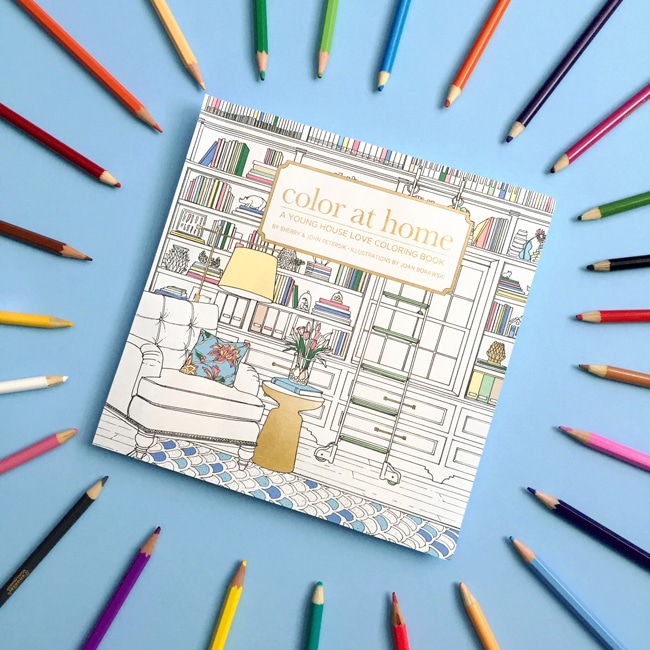 2016 was also the year that we birthed our podcast! It's such a fun way to chat with you guys about DIY/home stuff as well as answer listener questions and interview people who really inspire us. Plus, sound effects. They're a good time.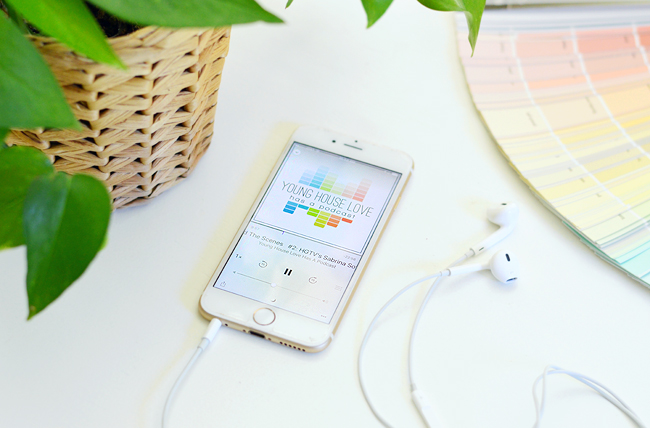 The end of 2016 also brought our biggest renovation so far! A 100-year-old beach house on the eastern shore of Virginia in Cape Charles that we fixed up from the studs. This house needed it all: foundation repairs, completely new electrical and plumbing – pretty much a total rebuild. Here's the exterior (after new siding, new roofing, new windows, new steps… new everything!). You can see the before pics here and catch up on every post we wrote about the process here.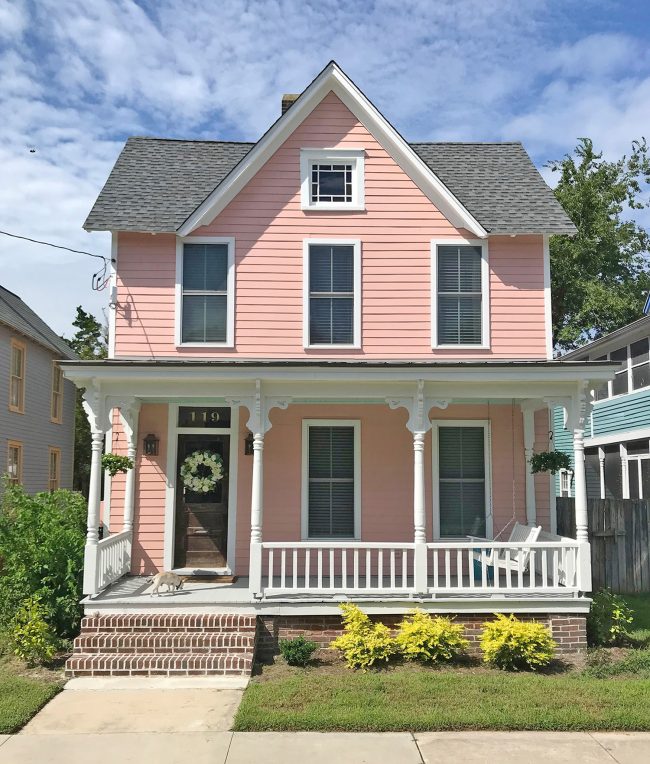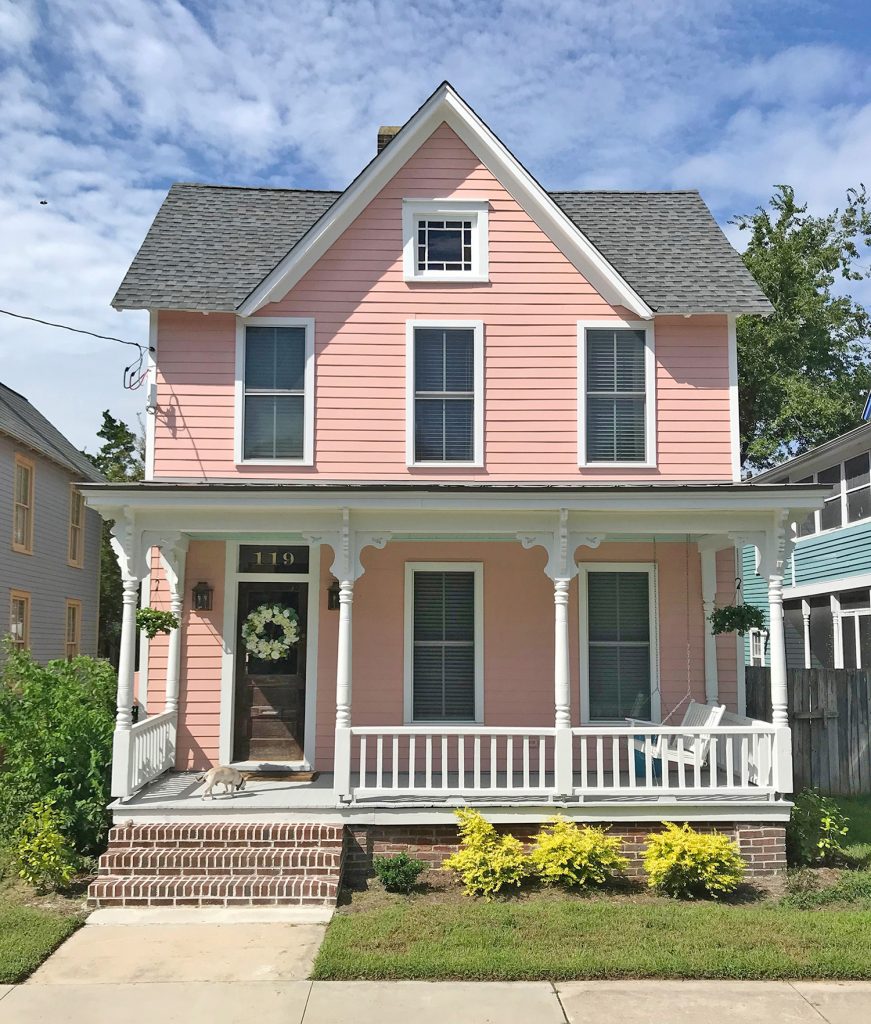 And right when we were in the thick of renovating that house, we bought a duplex (which is technically two attached houses) that was one house away on the same street! Are we crazy? YES! Do we love showing these old homes some love? YES! And slowly but surely, the duplex came back to life and we couldn't have been prouder (you can read more about that project here).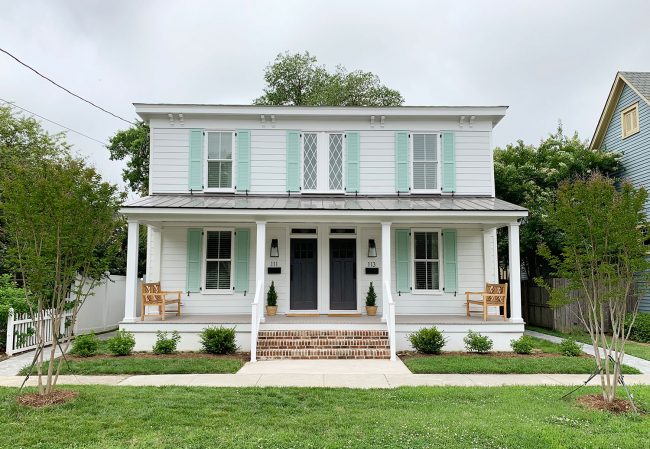 Then in 2018, our furniture line came out, which was sold by Wayfair (and Overstock and Amazon and Houzz) as well as some other places online.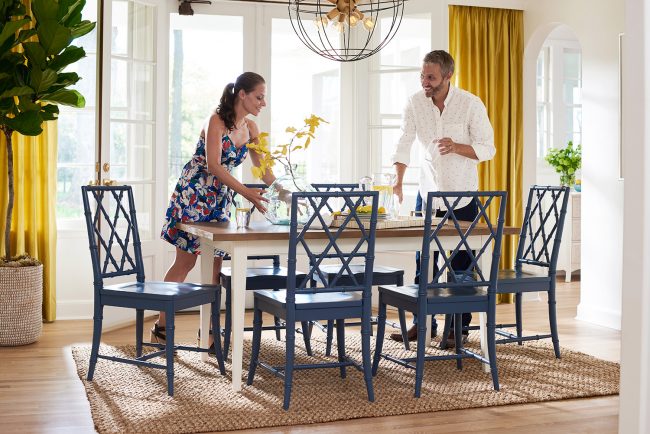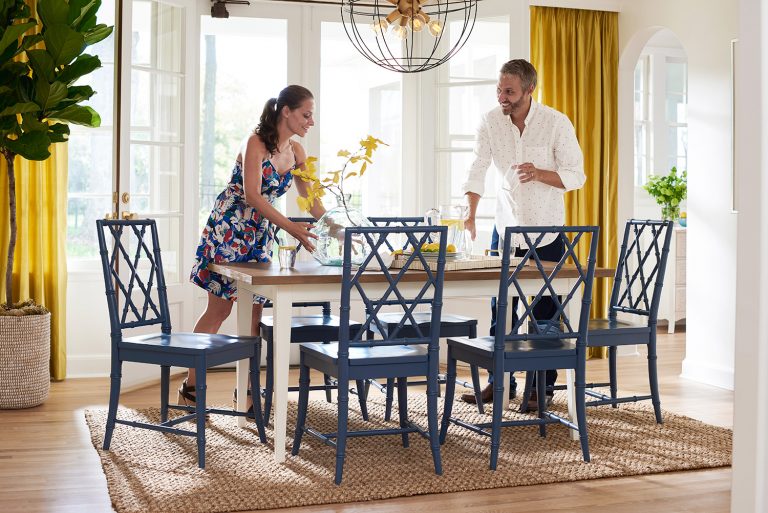 And then came February of 2020, when we thought deeply about everything that we were aiming for and realized… we were aiming in the wrong direction. Mo houses = mo problems (leaking things, maintenance, utilities, driving from one to the other to take care of it – pretty much all the things). So we majorly course corrected and aimed for something smaller and sweeter and a whole lot simpler, which is how we found ourselves here a few blocks from the gulf, living the beach life in our small-but-very-cozy house among the trees. You can read all about that journey so far right here.
So yeah, wild ride doesn't even begin to cover it, but we couldn't have asked for a more amazing, hilarious, and dust-filled adventure. Thanks for following along!
Still wanna keep clicking around? You can:
And to see what paint colors we used or where we got something in our house, click this button: