So as much as you guys gushed over our temporary string handles for our new Effektiv file cabinet (note: this is sarcasm), we did scoop up some actual hardware that we much prefer.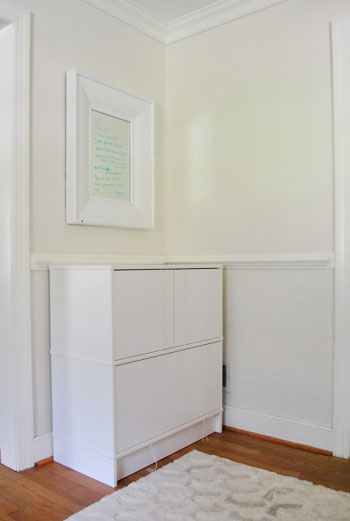 They're black glass handles that were originally $9, but Hobby Lobby (aka Schlobby Bobby) was having one of those perpetual 50% off sales, so they were $4.50 a pop instead.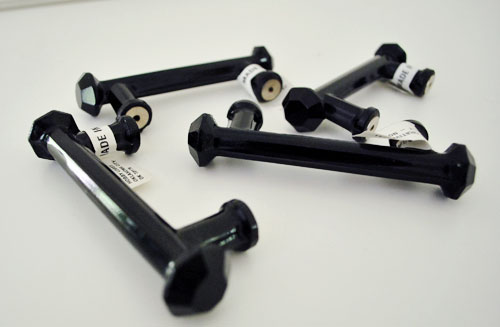 As I mentioned here, I was a bit nervous about installing them, since it was up to me to make sure they were all centered and level (Sherry + measuring = meltdown). So I triple-measured and even made myself a little guide out of card stock. First, I figured out that my holes needed to be 6.25″ and 9.25″ in from the edge if I wanted it to be centered (which is why I drew those two vertical lines), and we decided we wanted the handles to be placed 2.5″ down from the top of the door (so I added that horizontal line 2.5″ down from the top fold). I used the crease in the paper to line it up consistently for each handle and some tape to hold it in place while I screwed through it to create guide holes. Maybe I should've splurged the $3 or so to buy the little plastic hardware guides that a lot of you mentioned from various places (Ikea even had one), but this actually ended up working really well (and I wasn't sure the Ikea one would work with non-Ikea handles).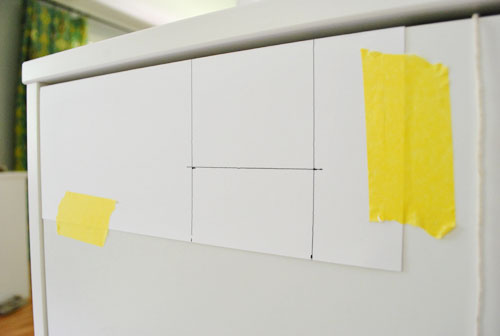 Once the holes were made in my guide, it also made it easy to flip the piece of paper over and use it on the opposite cabinet door (ensuring perfectly symmetrical placement).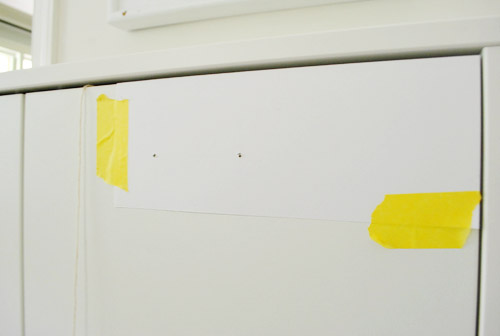 Luckily all of my holes came out perfectly. But it was only after drilling them that I noticed not all of the handles were perfect. Urgh. Notice how the holes on the right handle are perfectly centered? And the right hole on the left one kinda looks wonky, like it's raising an eyebrow?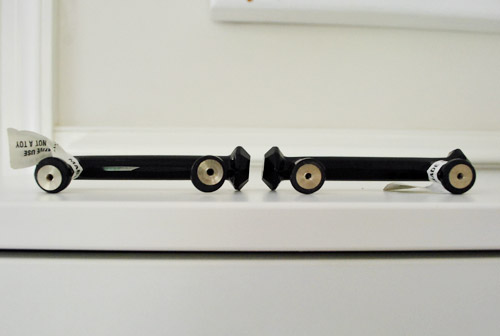 If Hobby Lobby weren't on the other side of town (good news, we just heard one is coming closer to us in October) I would've driven back and exchanged the two bad ones. But instead I just drilled the corresponding holes in the door a bit longer (you know, taller?) to account for the crookedness. Then we could just tighten the hardware to hold them in place so they were nice and level. That worked out just fine, thank goodness. Note: this all looks very whitewashed, we can't wait to get some color on those walls.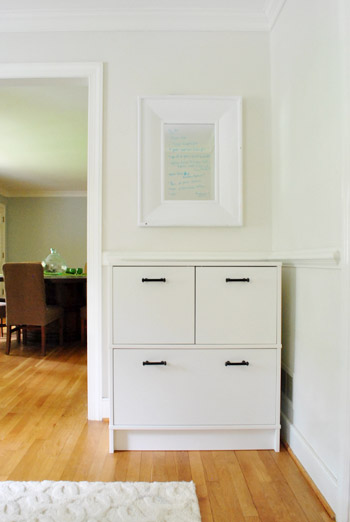 They're definitely a subtle addition from afar, but up close they make us glad we waited to find these outside of Ikea's big blue doors (or are they yellow?).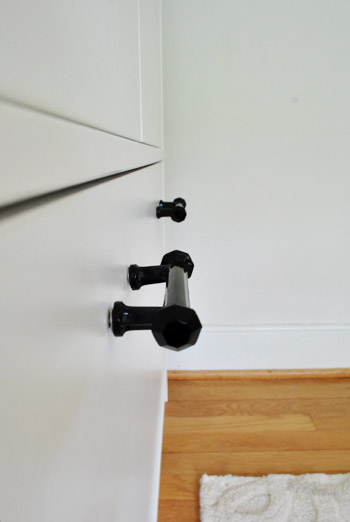 Sherry calls them "her lovies" and says things to them like "don't you look posh today?" when she walks into the room. Gotta admit that I really like them too.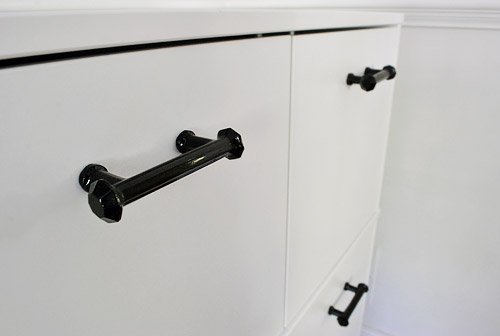 We especially like how the shape kind of plays off of the caning in our office chairs (which will look a whole lot better when we make some desk upgrades among a thousand other things):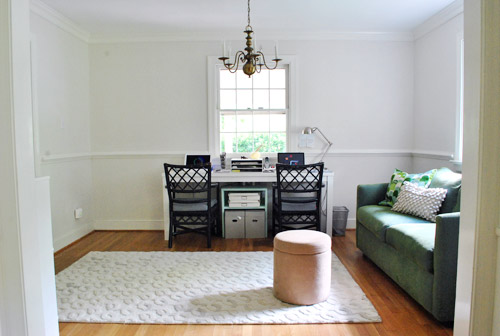 Oh, but no post about a file cabinet is complete without a look behind the doors at the glamorous things that we store in there. A printer & camera bag. Oooooh. Extra paper & hanging files. Ahhhh.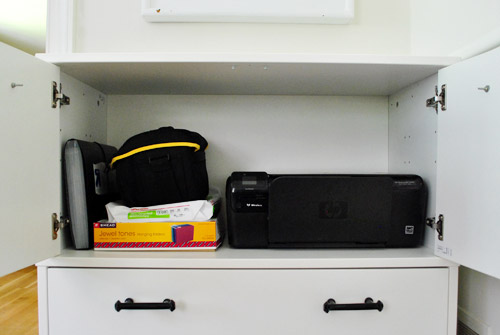 Our wireless printer (an HP PhotoSmart C4780 that we don't love – let's just say it's quirky) fits in there quite nicely (it's 17 x 11 x 6.5″) since the paper tray folds up when not in use. Of course it still has a wire for the power cord, which I first attempted to slide through the back by drilling a hole. Then I realized it'd be easier just to detach the top shelf of the Effektiv momentarily (since it installs in three vertical parts) and then lift it slightly and tuck the cord through the crack in the back (thanks HP for making a tiny flat cord!).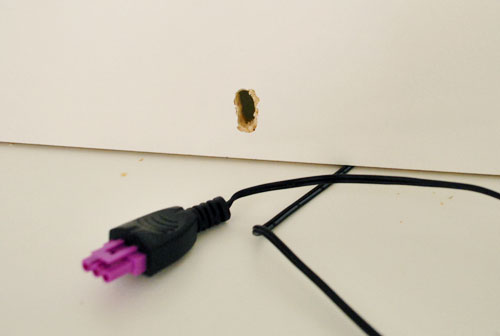 See, you can't even see it: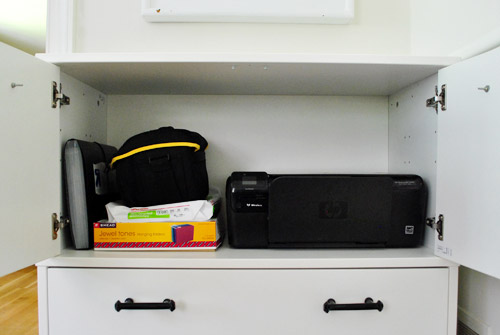 In the file cabinet drawers there are lots of, well, files. Surprise!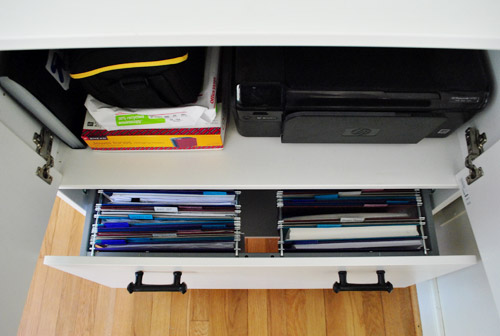 We bought some colorful hanging ones from Office Depot (for something like $7 for 25) to make filing a bit less manilla. If only there were some green ones in the mix, we could almost call them Sue the Napkin's more productive sister: Susan the File Folders.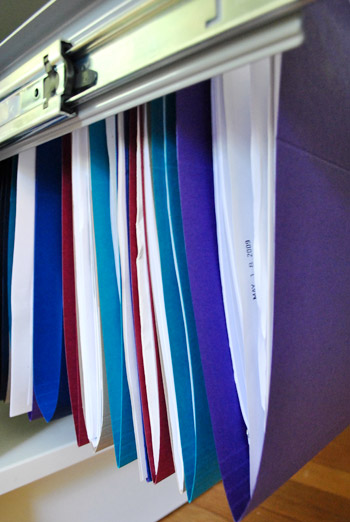 We even decided to store some various printer papers in there for easy access. You know, for that one time a month when we actually print something.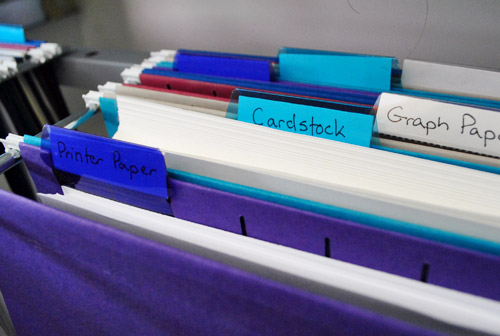 So thar she be for now. Effektiv is officially decked out with handles (string, you will be missed) and various office necessities (pile in the corner of the room, you will also be missed). Up next? Perhaps some furniture rearranging and definitely some building/lighting/general upgrades.
In the meantime, who else is obsessed with hanging files? Have you ever ended up with crooked hardware that has a sarcastic eyebrow-raise-thing going on? Did you notice I spelled card stock as all one word in my file tab (Sherry gently mentioned that to me a second ago)?