Laundry room update? Don't mind if I do. To jog your memory, so far we've replaced the washer/dryer, taken down window shutters & cluttered shelves along with frosting the door (all here), filled some ceiling cracks, and painted the room the same color (Benjamin Moore's Sesame) as the kitchen. And voila, we're all up to speed.
Well, if you really want to be up to speed, now it looks like this: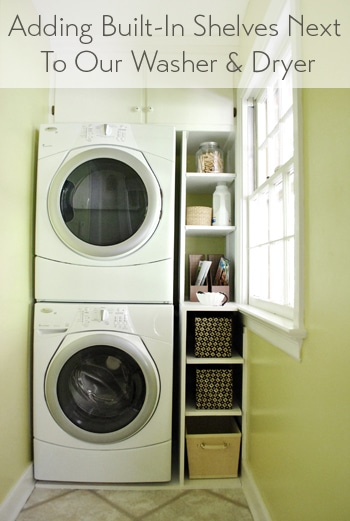 But let's back up so I can blather on about how those shelves came to be. Even during our initial walk-through of this house we decided to maximize that sliver of space with some built-ins to add a lot more function.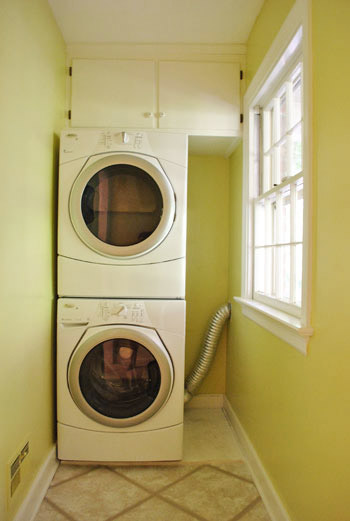 Did we mention the room is just 3.5′ wide? That means the washer and dryer doors wouldn't even open if they were placed on the other wall under the window or fuse box. So if anyone's still having trouble getting how narrow this space is, I broke out my spider monkey skills (and crazy toes) to demonstrate. Don't try this at home, kids.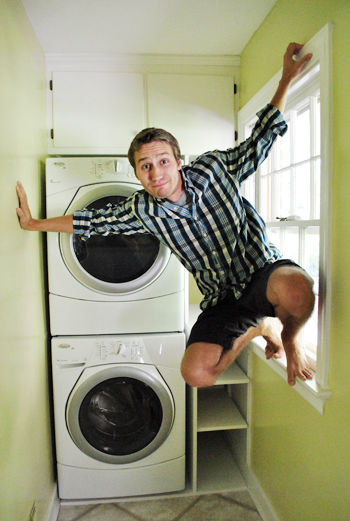 Since the room is so skinny, we knew adding that vertical storage next to the washer would be key (we can't really go "out" for fear of bashing into fold-out shelving or counters or drying racks – so we might as well go "up" instead!). Speaking of up, since the built-in cabinets above the dryer are completely out of Sherry's reach (poor thing, but at least she can reach the dryer buttons), more accessible storage was just the thing. And since no ready-made bookshelf skinny enough to fit into that 14.5″ gap won us over (they were all too shallow to allow us to take full advantage of the nook), we opted to build something instead. It certainly couldn't be harder than the behemoth console that we built, right?
Wrong.
Just kidding. It definitely was easier. So here's a quick-ish recap of how it went down. First I measured the space and marked up a little sketch that I did with a few measurements. I'll pause while you marvel at my technical drawing skills.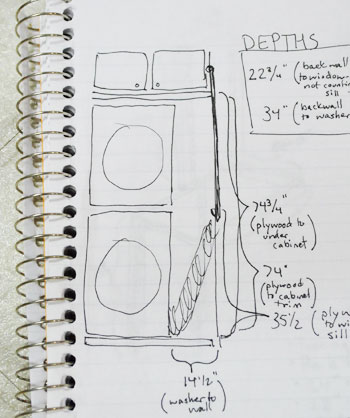 After much consideration, we opted to use the right wall (with the window on it) as side #1 of the bookshelf and to build a vertical divider of sorts to be side #2. We wanted the whole thing to be as deep as the appliances, but then it would partially cover the window. So instead we're decided to split it. The bottom half would be washer-depth and the top-half (above the window sill) would be window-depth. Confusing, I know. And I'm sure this drawing below (which helped me determined wood cuts) doesn't help. But here it is anyways. Enjoy!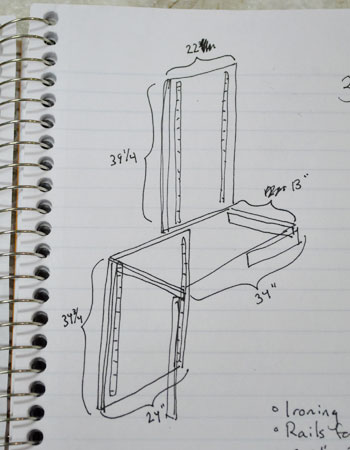 I got the guys at Home Depot to make most of my cuts, so here's the bulk of my wood pile by the time I got home. We used whitewood with 1 x 2″ poplar boards mixed in (since they don't sell whitewood planks that thin) just like the console. Also like the console, I'd be screwing two 1 x 12″ boards side-by-side to get a wider board for the bottom and top portions of my vertical divider. And then a 1 x 10″ trimmed with 1 x 2″s for the middle shelf that would connect the two divider halves. Not pictured, nor sketched above, are some more 1 x 12″ boards for my shelves and some miscellaneous 1 x 2″s for trim.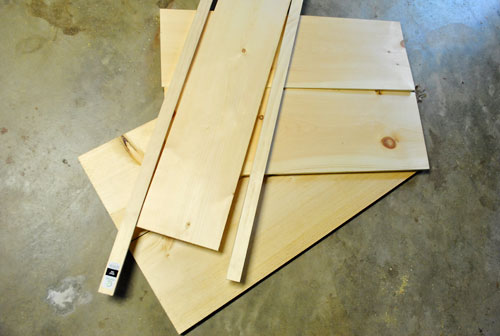 The middle shelf would sit flush with the window sill, so I cut and attached the 1 x 2″ trim pieces so it'd leave a sill-sized notch. Here I am testing the placement, which fortunately worked out really well.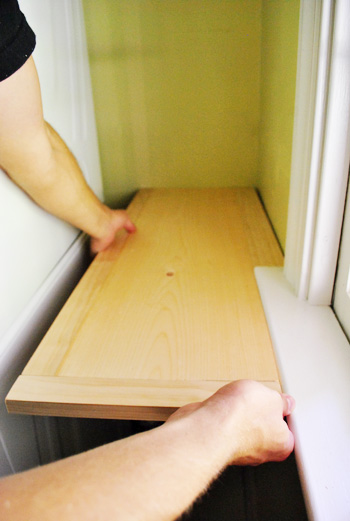 Then I screwed bottom half of the divider directly into the "floor "(which is actually a piece of plywood that runs under the appliances for extra stability – more on that here) and into the middle shelf using my Kreg jig. It hung over the plywood a bit (I forgot to calculate the added trim on the middle shelf when cutting my board) but I solved that later with another piece of 1 x 2″ trim on the floor to finish things off.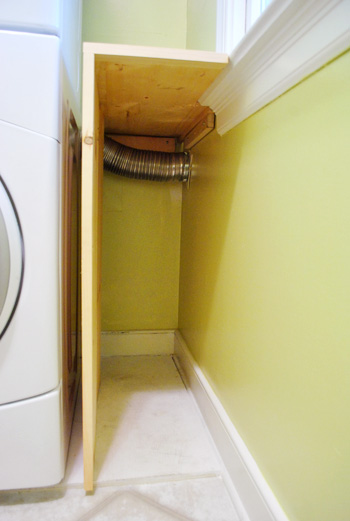 You can see above that I screwed in a couple of pieces of wood on the back and side walls for the middle shelf to rest on. That's because the vertical divider doesn't go all the way back to the wall (to leave some access to the washer and the dryer duct).
Speaking of which, I updated our old aluminum-foil-ish dryer duct to a safer rigid all-aluminum version from Lowe's (since we hear they're less of a fire hazard). It was an easy switch (remove the other guy, clamp new new one in place with metal clamps and metal wall piece, that's it).
Here's the top divider now attached, just like the bottom guy. Notice how he's set back to be even with the window? Is this making more sense now? It's sort of a two-tiered profile so it uses all of the depth that we can use without oddly overlapping the window.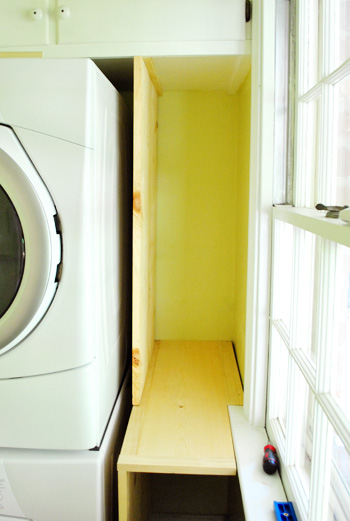 As for the rest of the shelves, we wanted them to be adjustable and removable. Adjustable because, well, sometimes you want to adjust your shelves dagnabbit. Removable because it'll help us gain access to the back of the washer/dryer if need be. So I purchased four 6ft lengths of metal shelf tracks at Home Depot (the same kind that we have in our built-ins and master closet) and snipped them with metal cutters to the right lengths.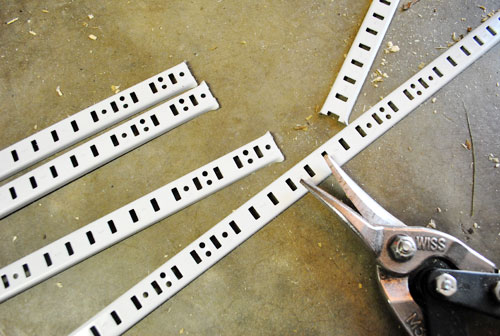 The space between the divider and the wall was shaping up to be a smidge wider than my 1 x 12″ shelf pieces, so I added some additional 1 x 2s to bridge the gap. In the long run, I think this actually make the metal tracks more secure (since otherwise they'd just be nailed into drywall). So maybe a happy accident?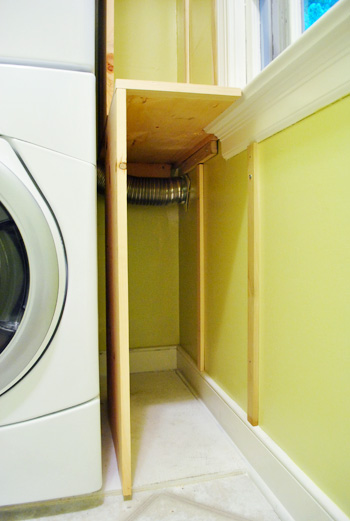 A not so happy accident? Realizing at this point that it'd be very difficult to paint all of the wood in place. So out it all came so we could access everything more easily. The good news is that it was pretty quick and easy to take out, which will be appreciated if ever it has to come out for some serious appliance maintenance.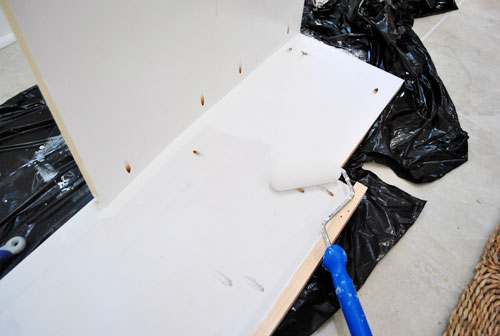 In the sunroom (the laundry room is waaay too small to attempt to paint these big pieces) we applied two quick coats of primer (Kilz No-VOC) followed by two coats of white paint (Olympic Premium No-VOC semi-gloss off-the-shelf white paint) on all of the framing for the built-ins to make sure we were getting our whitest white without any wood bleed going on. But after lazily painting the shelves with just two coats of paint the next day (no primer) we realized we probably would've been fine without primer on the framing too. Oh well. It certainly didn't hurt.
Oh, and we also painted that side wall on the right white (to make it look more like it was part of the bookshelf). But we left the back alone for a shot of color that would be seen through the shelves.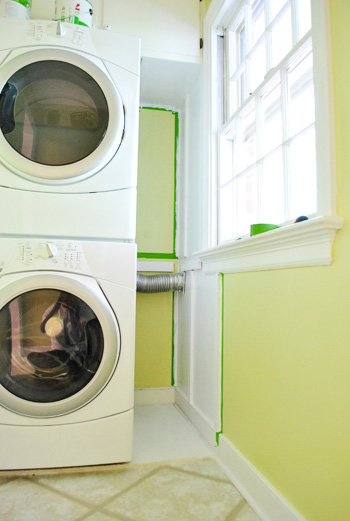 Then I reinstalled everything, nailed in my metal shelf tracks, added the clips, and took them for a spin.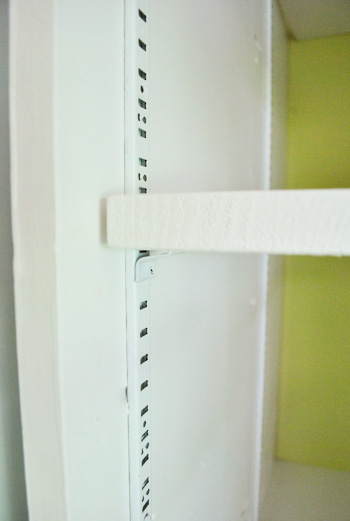 On the bottom half I also added a little lip at the back of the shelf since, unlike the top, they don't go all the way to the wall. This will hopefully prevent things from sliding off and getting lost back in there. But if something does sneak back there over the lip somehow, we can still easily retrieve it thanks to the shelves being removable.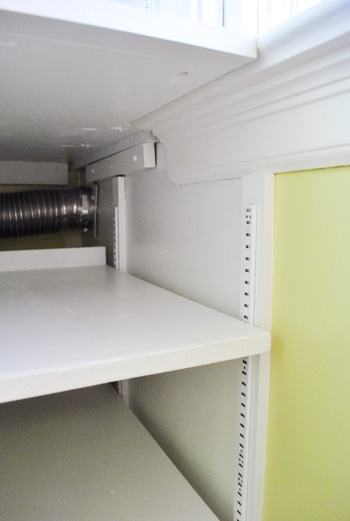 But enough "how we built it" mumbo jumbo. Let's check out the finished product: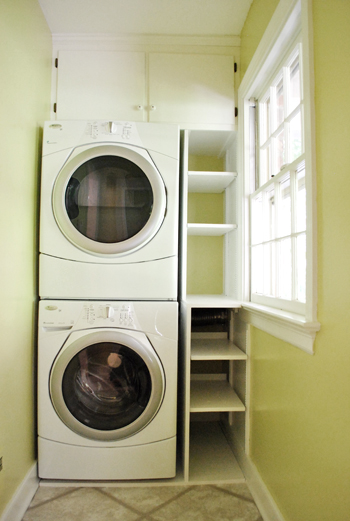 That 2″ gap between the appliances and the shelf was intentional so that when the washer starts a-rockin' things on the shelves don't start a-knockin' (if you know what I mean). Actually, that's literally what I mean. It's not a euphemism.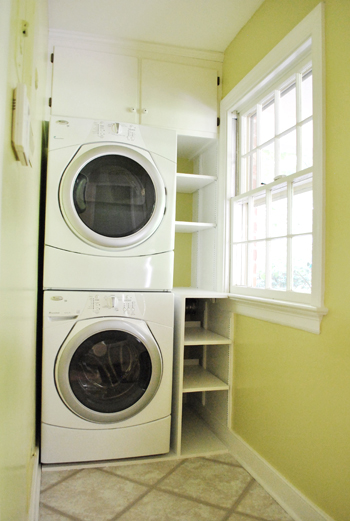 Admittedly she's not the prettiest thing in the world when she's empty (I think I would've preferred the look of fixed all-the-same-size shelves). But the function of adjustable shelving made a lot more sense, and we can now store something small and something tall without worrying that things won't fit.
And there's no denying that we've gained a lot of usable storage space when it comes to the max-depth that we worked hard to obtain. We haven't quite figured out all that we'll put here (besides the obvious detergent, iron, etc – maybe a basket that can be used for winter gloves & scarves and a larger one for flip flops and sandals). Just for fun Sherry went ahead and fancied it up a bit with some – you guessed it – baskets.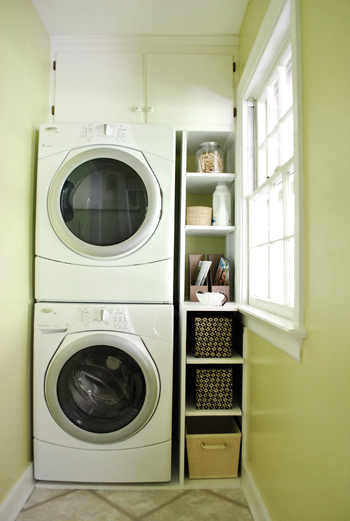 Along with a few other things we already had (magazine files, a scalloped bowl, a jar full of clothespins, etc).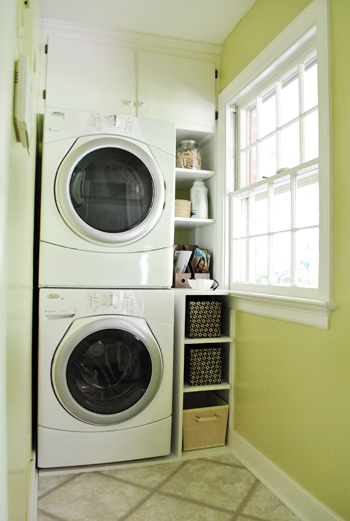 We're toying with the idea of this becoming our new drop spot for mail, coupons, and other miscellany. So maybe it'll look like this in the long run?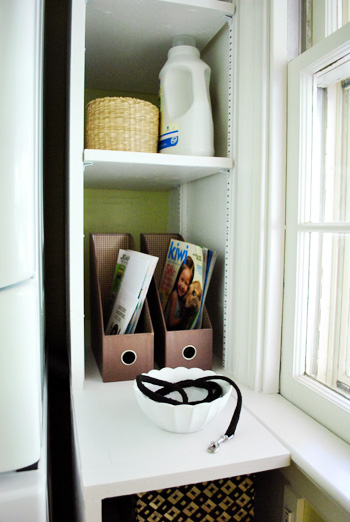 As for the cost on this one, it definitely was more than if we'd gone with a not-quite-right existing solution (like this narrower, shallower version from Ikea). But we totally think it was worth getting something that looks more seamless and really makes the most of the space (so we can use the full width and depth and adjust the shelves to customize it even further whenever need be). Here's the ol' budget breakdown:
Wood (from Home Depot & Lowe's): $59
Metal shelf tracks & shelf clips (from Home Depot): $15
Primer & paint (Kilz No-VOC primer & Olympic No-VOC paint): already owned
Baskets, magazine files, the bowl, etc: already owned
TOTAL: $74
Oh, and the aluminum dryer transition duct was $10 from Lowe's.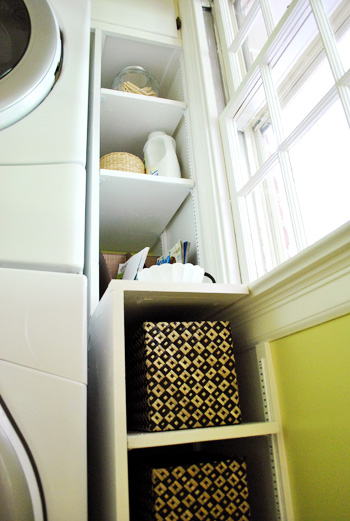 As for our laundry room to-do list, these days it's looking more like this:
Paint the odd brown quarter round near the baseboards glossy white

Redo all the dinged up trim (also in semi-gloss white)
Paint the walls
Replace our dryer hose with a safer all-metal one
Add adjustable built-in shelving in that nook next to the stacked washer & dryer
Replace the hinges and knobs on the upper cabinetry
Get a new light fixture <- DIY something? maybe a small chandelier?
Add a window treatment (maybe a homemade one?)
Add other functional storage near the door for shoes, Burger's leash, etc
Hang some art to keep it cheerful and obscure the giant metal fuse box
Even though we're only about halfway through, we're feeling pretty good that in the past few weeks, this space has already gone from this…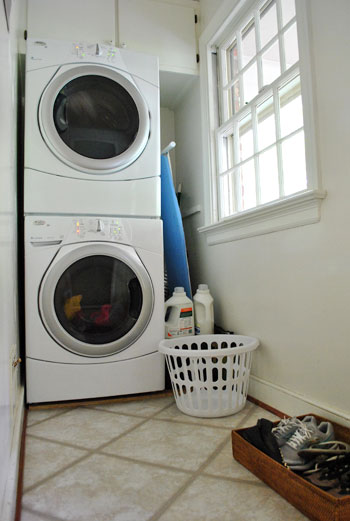 …to this: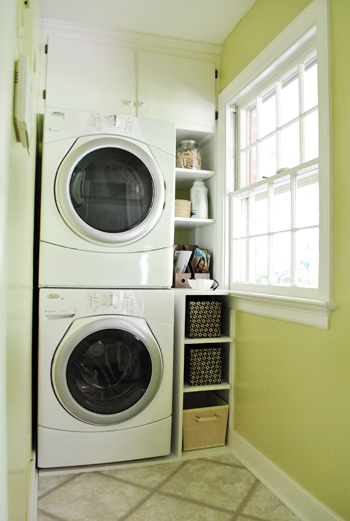 As for where we'll store the ironing board- we have a plan for that. More details to come after we tackle it (we wanna make sure it works first, haha). In the meantime we'd love to hear what storage solution you're loving (or lusting after) in your laundry space. Got some sweet cabinets or drawers? A cool collapsible drying rack or ironing board? Your very own laundry sink? We know there are some pimped out laundry rooms out there, so let's hear it.