We're trying to redo the sunroom on a budget using as much that we already have as we can (since we have other projects like Clara's big girl room, a guest bathroom, and a porch & carport overhaul that we're saving our pennies for). But there's a delicate balance between function and saving money. Sometimes you can use 100% of what you already have and achieve 70% function in a room, or you can spend a little money along with using 90% of the things you already have and end up with 100% function. So as you might guess, we're going for 100% function on a small budget.
So far all we've bought is one gallon of paint for the walls & ceiling of the sunroom and everything else has been furniture, accessories, and art that we already have (except for these $7 frames we built here). But the time recently came to buy one more thing. The room needs storage, so instead of adding more seating or another table that we already have, we decided that a bookcase with eight whole grids of storage space was the way to go.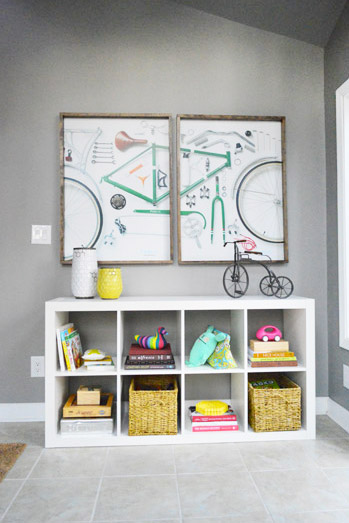 And thanks to Ikea's not-too-bad prices, we scored this bad boy for $69. It's this one (in the "white" finish, since the "gloss white" one was $20 more) and John and Clara had some bonding time on Saturday morning putting it together.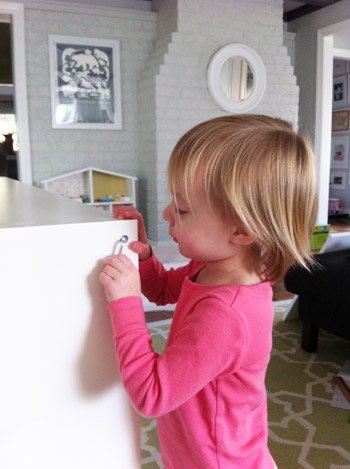 Looks like we have a little DIY lover on our hands…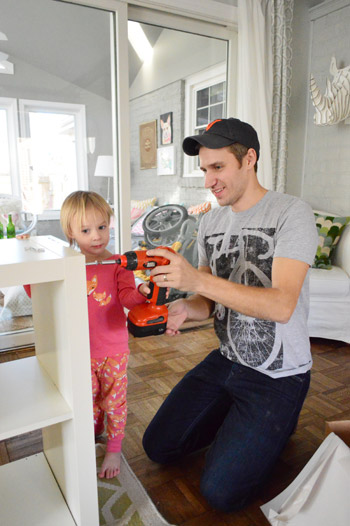 As for how long it took to assemble, it wasn't too bad. Maybe half an hour? Here it is all put together in the sunroom: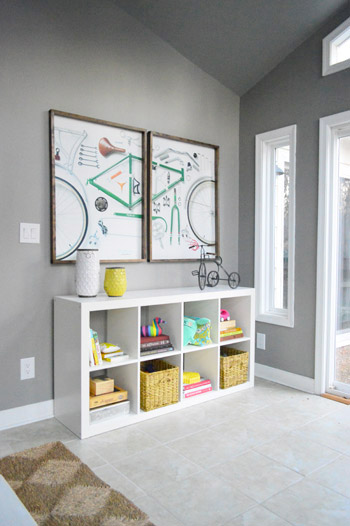 We opted to store items that would be the most functional for us, so it just made sense to use it to store board games, books, and a few toys for Clara since she plays in there sometimes and we play the occasional board game at the table in front of the daybed. And as for the books… well… we just love storing books in bookcases. Ha. And while there are some on the built-ins in our dining room, those are actually really narrow shelves, so our bigger design books don't fit up there. Now those can live here in the sunroom. Cha-ching.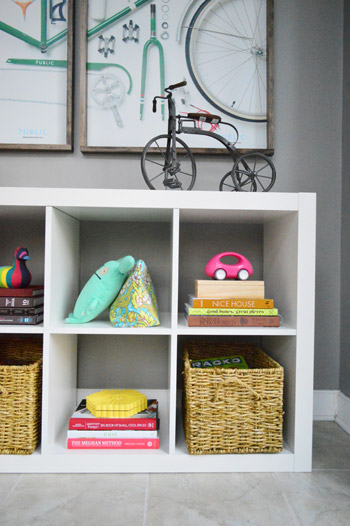 As for the things on top, I just thought adding color with some vases that John got me for Mother's Day last year and tossing down a secondhand bike that Clara picked out a few years back would be fun. Does two pieces of bike art + a 3D bike = the bike trifecta? I think it does for John. Also, he's wearing a bike shirt in this post. He's gone off the deep end guys.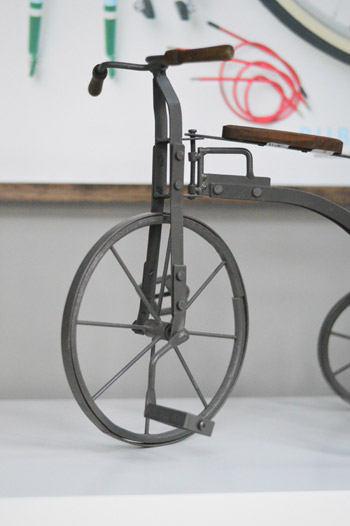 So here's where the room is now: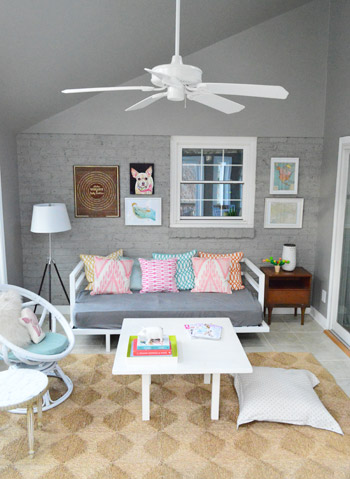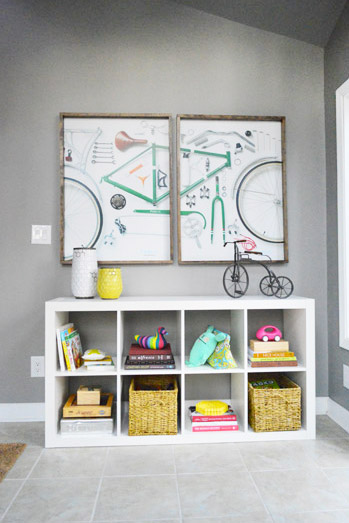 And as for a little budget breakdown, everything in here was already owned except for the paint on the walls, those $7 frames, and this new bookcase, so we've spent under $135 to upgrade a room that used to look like this: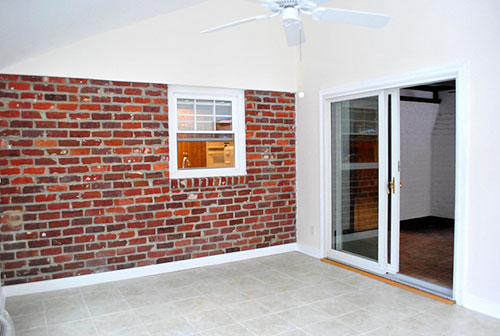 But we still have an empty corner to attend to, as well as adding some finishing touches to help polish things off (for example, that wooden side table still feels a little unbalanced to us, but we have a plan). You know we'll keep you posted!
What Ikea furniture are you guys assembling these days? Or are you hunting things down on Craigslist? One tip: before you buy anything from Ikea, check if it's on Craigslist (in this case the right size/color wasn't available, but sometimes it is and you can save some money). Are you building bookcases instead? We thought about building something, but for this much chunky wood, it actually would have been more than $69! Hootie hoo for affordable shortcuts.
Oh and before I stop rambling, guess what Clara's favorite part is?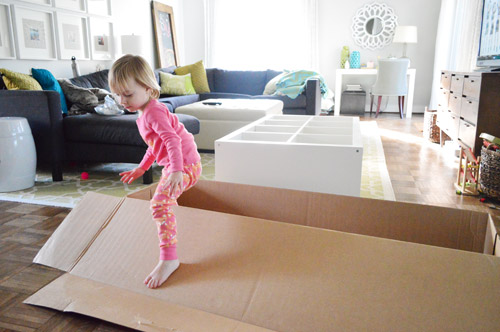 Yup, the box. Who's surprised?